The Struggles of Relationships with a Big Age Difference
May-December relationships are nothing new in the world of Hollywood. But, for people who are not rich and famous, being in such a relationship comes with many struggles. Regardless of whether you're the younger or the older one, dating a man or woman, there will be issues you might run into. Here are some ways to deal with them that will help you strengthen your relationship.
You might not have much in common
Considering the difference in years, your interests probably differ as well. You could have a hard time choosing the type of music you both like during car rides or finding topics to talk about while having breakfast. This might make you or your partner frustrated at times, but the key is in thinking outside the box. There are always things you can do together, there must have been something that drew you this close in the first place.
In other words, focus on the similarities and don't spend too much time thinking and arguing about the differences. Also, don't be afraid to meet each other's friends and make new ones together. It can offer a different perspective you'll both find inspiring and help you feel more a part of each other's lives.
Your relationship will be judged and questioned
One annoying thing that you can expect to happen is being asked all kinds of questions that should be nobody's business but yours. People think that the "unusual" nature of your relationship gives them the right to comment on it. Not to mention that in the eyes of such observers, every problem you might have, no matter how insignificant, will automatically be the result of your age difference. Also, the society is still less accepting of women dating older men than men dating older women. So, if you're in the less-flattering position, don't be surprised when people automatically assume that you're with your partner because of money.
The important thing is not to let the inconsiderate remarks get to you. People are cruel and they tend to judge everything that deviates from the norm, even if it's a little bit. The best way to deal with these remarks is to think of a simple and polite way to shut them down and move on with your life. However, if those types of comments are coming from your family members, you might have to spend some time explaining the choice you've made. Nevertheless, don't let the words hurt you or make you question your relationship. You know why you're with your partner and that's the only thing that matters.
You might be treated like a child
If you're the younger one in the relationship, you might sometimes feel like your partner is not taking you seriously enough. They might be a bit too controlling or acting as if they have all the answers. The reasons vary – they could be jealous of your youth, or there may be some deeper issues at hand. If they start patronizing you in front of other people though, it certainly becomes a serious problem.
The best way to deal with this problem is to communicate. Explain how their behavior makes you feel, try to understand the reasons behind their actions and see if you can work out the solution together. After all, age does not equal maturity so the fact that you are younger than your partner is not a reason for them to treat you any differently than they would treat somebody their own age.
Meeting the family members can become awkward
If you're dating an older man, introducing him to your family can become quite awkward. Your family members might not be very understanding at first, but don't get discouraged. They will come around when they see how happy you are together. Your boyfriend and your dad may even become best friends as they are closer in age than your partner and you.
Another important thing to keep in mind is not to hesitate. Don't let your parents think that you are unsure about your choice or that this is "just a phase". You might not be able to convince them to take your relationship seriously right away, but you can show them that you yourself are completely serious about it.
Planning for the future is not as easy
You might be uncomfortable talking about your future together, but it's still an important part of your relationship. One of the biggest issues with May-December couples is children. You need to discuss whether you want to have them. If one of you already does, whether you want to have more. Of course, the biological factor shouldn't be ignored either, especially if you know your partner wants to have kids and you are not capable of fulfilling that wish.
You also need to accept the possibility that if you're the younger one in the relationship, you might one day become your partner's full-time caretaker. Living in the moment is great, but you shouldn't ignore the inevitable truth that your partner will always be older than you.
Although people say that age is just a number, dating somebody who is much younger or older than you often comes with certain complications that take patience and effort to be overcome. The bottom line is that you are the only person who decides who you date, so be confident about your choice, work on the issues together, and as long as you love and respect each other, age will really be just a number.
Share this article on
Want to have a happier, healthier marriage?
If you feel disconnected or frustrated about the state of your marriage but want to avoid separation and/or divorce, the marriage.com course meant for married couples is an excellent resource to help you overcome the most challenging aspects of being married.
You May Also Like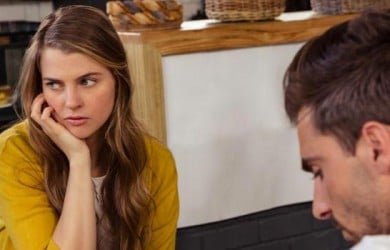 Popular Topics On Married Life