How to Handle Age Gap in Relationships: 10 Tips
Love has many forms and you can't ignore it when it knocks on your door. As you spend time and develop a meaningful and intimate relationship with someone, differences begin to fade, and all that matters is the bond you're creating. This holds true even for age gaps in relationships.
Love that bonds age gap relationships is just as real and tangible as the love that connects any other relationship.
It is often difficult to progress at a safe and comfortable pace when an age difference couple is involved as there are many hurdles to overcome. With the proper tools and a love-centered relationship, the bond can grow stronger and overcome hurdles.
The age gap stigma
Does age matter in a relationship?
Unfortunately, a stigma exists surrounding the concept and reality of age gap relationships. The perception of transaction-based interactions, where a power imbalance is implied, is scorched into the minds of critics. These critics are often very vocal and are happy to bring your relationship down if given a chance.
These perspectives are not without merit. Generally speaking, someone later in life has more life and career experience, and the younger person in the relationship is perceived as naive and taken advantage of.
On the flip side, the older half of the relationship can be perceived as desperate and willing to do whatever it takes to find happiness and love. Both halves of the age gap relationship can have the power, creating an imbalance.
While these stigmas can be true in some relationships and the concern held by others grounded in concern and care, it doesn't negate the truth in your relationship.
Your bond with your significant other is real, and your love for them is nothing short of eternal. Despite the stigma and the concerns of those around you, your relationship is valid and can work.
Overcoming the stigma associated with age gap in relationships and letting your love flourish is possible.
10 tips for doing better in your age gap relationship
Fortunately for you, you can find an amazing connection with someone on Agematch, and you may see your relationship grow into something more.
You might be surprised at just how effective these sites can be at connecting you with someone so perfect for you, helping you switch your focus from meeting someone to making your relationship something more.
But, can age gap relationships work?
Understand that connections that start with and involve distinguishable differences involve a little more work than the average relationship. Here are some simple tips that will ensure the success of your age gap relationship:
1: Share expectations
Both sides of an age gap relationship are at different stages of life. With that in mind, there are likely some expectational differences between the two involved.
The younger one may desire to be supported as they get their education and develop their career, while the older half may be looking to settle down and enjoy a slower pace. These plans come with the expectation that the other half be a part of it.
Remaining upfront and transparent about where you are in life and what you expect to happen in the coming years is vital. As your love grows, your other half needs to know where you want your relationship to go in the coming months and years.
Establishing clear expectations will ensure your relationship is strong and progressing as you desire.
Related Reading: 

Relationship Expectations – What Should You Do with These?
2: Acknowledge and accept differences
Should age matter in relationships?
Love is blind. You cannot always see that your other half is different than you in more than one way, and because of this, you don't acknowledge that there can be essential differences in your life.
In a relationship age gap, the difference may be obvious and you are more than aware that your other half is at a different stage in life, but you may not be fully aware of what that means.
Take the time to identify, acknowledge, and accept that there are differences between you and your other half. The younger half likely has more energy, goals, and aspirations, while the older half may have a career or might be retiring soon and has a different understanding of how the world works.
Ignoring differences when there is an age gap in relationships may cause a divide later, so acknowledging these differences early can prevent hardships later.
Check out this video by Life Coach Lisa Nichols to learn more about why we need to accept our partner's differences:
3: Agree to disagree
Agreeing to disagree is paramount in every relationship, regardless of whether or not there is a significant age gap in the relationship. But it can be essential for an age gap relationship as one half may be stuck in their ways while the other is still exploring their reality.
Accepting that you may have to agree to disagree with some issues will ensure that your relationship progresses successfully. You don't have to agree on everything, but if you agree that you have different viewpoints, you can avoid frustrations and resentment when your other half doesn't change.
Related Reading: 

How To Deal With Disagreements In A Relationship
4: Provide reassurance
Reassurance is a two-way street. While they may not express if they are confident in their love for you, your other half may be struggling with the reality of age gap in relationships.
Assurance and reassurance are a valid part of traditional relationships but are necessary to develop and progress in a relationship involving an age gap.
Reassure your other half that they are your focus and that you are in it for the long haul.
The older half likely fears that the younger one will find someone their age, while the younger half may fear that they are not contributing enough to the relationship. Both halves must actively reassure that other that the relationship works and will last.
5: Understand that you're at different stages of life
While it may be clear that your age gap relationship psychology involves the other half at a different stage in life, understanding what that means is important.
Your older half may have kids that are adults, and the younger half may be in the beginning stages of their careers. Understanding this matters.
Having a healthy focus on this reality will help both halves make decisions and focus on relevant aspects of the relationship as it grows. While it is expected that you will forget this in light of your newfound love, don't fall into the trap that this isn't a relevant part of your life.
6: Focus on mutual interests
Learning and leaning on mutual interests is a normal part of developing every relationship and should not be overlooked in an age-gap relationship. As there will be many differences in your relationship, identifying and holding onto mutual differences will strengthen your bond.
Try to learn and develop your relationship with your other half by prioritizing activities and interests that you both enjoy. Of course, you will need to learn to enjoy activities the other person enjoys, but prioritizing your mutual interests will ensure greater happiness overall.
7: Be patient
Patience is crucial. Your other half has experienced many different things in their life and is at a different stage than you. This will create noticeable behavioral and social understandings that you may not have.
Exercise intentional patience. This is different than simply being a patient person.
Both halves will likely be stubborn in their own right, where the older one may have more experience and won't want to explore new things, while the younger half may want to change things up.
When there is an age gap in the relationship, actively offering your partner patience will ensure these contrasting behaviors don't create a wedge.
Related Reading: 

15 Ways to Have More Patience in a Relationship
8: Be flexible
In conjunction with patience, flexibility is required. You may need to accommodate the needs and wants of your other half because of their different understanding of life and needs. This is ok.
Being flexible does not mean that you are compromising on hardline issues. You are simply giving the person you love to have different ideas and perspectives, and that's ok. Joining them and being a part of their lives as they explore new things involves bending from both halves.
9: Communicate
Communication may seem like an obvious element of any relationship, but a relationship that involves distinguishing differences requires a little more communication.
Your other half needs to know that you care and love them. They also need to know when you have dissenting opinions or perspectives so that they can meet you where you are.
Communicate your needs and desires so that your partner can be what you need them to be, and you can be what they need you to be. You two are very different people, and thus the relationship requires intentional effort and communication to make it work.
Pro Tip: You two will communicate in different ways. The younger generation needs more kind words, especially with text-based communication. Emojis and short sentences show more love than explicitly saying that you love them.
Understanding communication requirements can help avoid hard feelings and age gap relationship problems.
Related Reading: 

10 Effective Communication Skills in Relationships for Healthy Marriages
10: Don't forget to love
When differences and arguments arise, it is crucial in a relationship involving an age gap to focus on the fact that you love the other person. Expressing that is necessary as the distinguishing difference can make the bridge holding you two together may be more fragile.
This is not because there is less love holding you together, but because the insecurities and societal stigma are already an element you are overcoming. Overuse "I love you." Be affectionate.
Constantly shower your other half with care and love, and your bond will be much stronger.
Bonus: Ignore the stigma
The stigma exists. Don't pretend it doesn't. You will get criticism that is mostly coming from a place of care.
While you don't want to act like it is not a thing that exists in society, you need to ignore the stigma for the sake of your relationship. Offer love freely without fear of judgment and criticism. They deserve it.
Find love
If you are in doubt and unsure about your relationship, start implementing some of the tips above. Your relationship deserves a fighting chance and taking the steps necessary to ensure its success is a must. You both deserve someone that works for you.
Share this article on
Want to have a happier, healthier marriage?
If you feel disconnected or frustrated about the state of your marriage but want to avoid separation and/or divorce, the marriage.com course meant for married couples is an excellent resource to help you overcome the most challenging aspects of being married.
More On This Topic
You May Also Like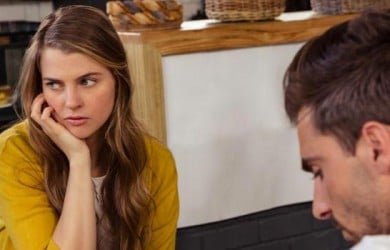 Popular Topics On Married Life