A Perspective on the Increasing Number of Large Age Gap Relationships
As American society ages, psychologists say there's a pressing need for older generations to receive sustenance from youngsters and for those who are young, in turn, to benefit from the wisdom and guidance of elders.
Normally, it's as simple as grandparents deciding to spend more time nurturing their grandchildren or agreeing to serve as a volunteer mentor for teenagers at a nearby church or school.
But some oldsters are pushing those boundaries and opting for large age gap relationships. Age gap in relationships is normal but, they've begun dating and even marrying women more than 40 years younger to them.
These old men with love on their lips aren't divorced dads that left their wives for women half their age. Many of them never married at all, and late in life, they're looking for big age-difference relationships.
And increasingly, they're finding them. How young are they? To know more about large age gap relationships, read along.
Love across the ages
To delve deeper in the concept of large age gap relationships, consider the case of the 62-year old man in Kansas who goes by the name "J.R." In 2018, he hooked up with a 19-year old, Samantha, and convinced her to marry him.
The two bought a house together and plan to live happily ever after, they say. But, many of their neighbors and townsfolk don't approve. Strangers often assume that the two are grandfather and granddaughter.
Samantha, who just entered college, says, "It's even worse when people call JR a 'child snatcher' or a 'pedophile' when they see us hold hands or kiss in public."
She told a local newspaper, "There's not a moment when we are out and about that someone doesn't make a comment about our relationship, and it's just exhausting."
Samantha, who's now expecting her first child, says she dated men her own age before she met her husband but found them immature and disrespectful toward her. "Being with JR is completely different — he's so mature and treats me like a queen, there's nothing that I would change about him or our relationship," she says.
"We hope that by sharing the story of our relationship, people will realize that it isn't a joke and we are very serious about one another despite our age gap and appearances," Samantha says.
Samantha may be something of an exception because she dated and married the first sexagenarian she ever met. Other women target this age group repeatedly but never seem to find their everlasting love.
Let us consider another example of large age gap relationships. A 37-year old woman named Megan tried a relationship with 68-year old Gary, but it didn't last.
Soon after their break-up, she went to a wedding and met the groom's 71-year old uncle, who made a pass at her. But it turned out that he was married, and Megan said she refused to be a "homewrecker."
Megan's reasons for targeting much older men are largely the same as Samantha's. She has found these men more stable and settled and more willing to treat her like a lady. They have "no time for bullshit. If they want you, they want you" she says.
Younger men invariably still have "training wheels" and need to be "mothered" through their schooling and careers. She'd rather find a man who's already "accomplished" and has "nothing left to prove," she added.
The psychology of inter-generational sex
Many psychologists don't know what to think, either. The standard response is that the woman must have "Daddy issues" and was perhaps the recipient of unwanted attention from older men as a child.
Even accepting the sincerity of intentions, many people question how the two partners can find enough in common to sustain a relationship bond over the long haul.
There's even a clinical term for people, men or women, who are drawn to older, even elderly partners, it is gerontophilia. But there's no serious study available to suggest how prevalent the phenomenon might actually be.
What's in it for the man in large age gap relationships? The sustenance of youth, for one.
A young woman brings a fresh spark of energy and vigor as well as youthful admiration and even adoration that an older man may find downright intoxicating.
But beyond physical intimacy lies emotional intimacy as well. And this is what the two people involved in large age gap relationships might be seeking.
Enter Hollywood
The one place in America that seems to extol the virtues of inter-generational romance is Tinsel Town. No less than nine major Hollywood movies of the last two decades feature happy romantic couples with an age difference of 30 years or more.
Woody Allen was first to break the taboo, first in Manhattan (1979) and then in Husbands and Wives (1992). In the latter film, his character was 56 and his love interest, played by Juliette Lewis, was just 19.
The film proved to be scandalous when it was revealed that Allen was leaving his real-life wife, actress Mia Farrow, for their adopted Korean-born step-daughter, Soon-Yi Previn, who is 34 years his junior.
In fact, Hollywood's fascination with inter-generational romance has only grown since then. A-list actors such as Sean Connery, Liam Neeson, and Billy Bob Thornton have all played dashing sexagenarians pursued by much younger women.
In The Man Who Wasn't There (2001), Thornton's character is seduced in his car by 16-year old Scarlett Johannson, who was playing a girl her own age.
Notably, none of these films echo the portrait of romantic and erotic obsession contained in Lolita (1962), one of Stanley Kubrick's masterpieces.
A much older man is no longer seen as simply preying on a younger girl in part, perhaps, because the girls in question, as a rule, are not quite so young anymore.
Also watch:

Are the sexual attitudes changing
In the dawning feminist era, young women in film are increasingly depicted as mistresses of their own fate, which means their fatherly male partners, when they evince genuine affection, are often deemed "worthy" of them.
Still, none of these film romances seem to end up in lasting partnerships, and few feature women as the elder inter-generational partner.
Men, it seems, can age gracefully with their looks and virility intact even a doddering Connery, in his 70s, could credibly woo Kathryn Zeta-Jones in Entrapment (1999), for example. But, a woman's beauty and sex appeal are still thought to fade with time.
Undoubtedly, the reality of inter-generational romance is more complex and nuanced than their depictions in film. As Alfred Kinsey taught us long ago, American sex habits have long defied taboos.
Nevertheless, we have a real life to live outside of the movies as well. Even if you come across several studies or psychologies on large age gap relationships, it is you who has to decide for your own life.
As discussed in the case of Samantha at the inception of this article, although people around had apprehensions of their relationship, Samantha and her 62-year-old husband were happily married to each other.
Apart from the stigma surrounding the age difference in relationships, there are a lot of challenges involved while considering large age gap relationships.
There can't be a definite answer to does age matter in relationships or can large age gap relationships work.
You need to keep your priorities straight before plunging in relationships with age differences and be ready to face the unpleasant consequences as well.
Share this article on
Want to have a happier, healthier marriage?
If you feel disconnected or frustrated about the state of your marriage but want to avoid separation and/or divorce, the marriage.com course meant for married couples is an excellent resource to help you overcome the most challenging aspects of being married.
Learn More On This Topic
You May Also Like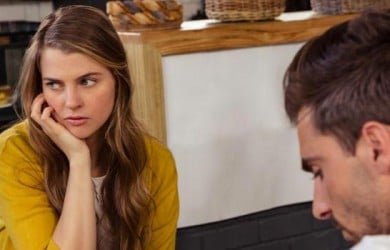 Popular Topics On Married Life