15 Vision Board Ideas for Couples to Improve Their Relationships
A vision board for couples helps increase the bond between partners. What is a vision board, and how do you create ideas for a vision board? Learn more in the following paragraphs.
What is a vision board for couples?
A vision board for couples is a tool that helps couples clarify what they want and focus on essential things in their relationship. It is a board with images and ideas representing your goals, aspirations, and objectives in your relationships and lives.
Two individuals have distinct backgrounds, experiences, and interests in a relationship. When these people come together, it's vital to set new principles that will guide you as you relate and build connections. This is where the couples' vision board or vision board relationship is needed.
A relationship vision board can be a vision board planning worksheet, a vision board worksheet, a couples goal setting worksheet, or a marriage vision board. Regardless of what a couple's vision board represents, it is a fun and exciting way for partners to be clear on their goals and have a constant reminder of them.
The main reason for creating a love vision board or vision board ideas for couples is to align your differences to create common goals for your family's future. When creating a couple's vision board ideas, ensure you are a bit creative. For example, a marriage vision board can be any of the following:
A vision board worksheet

An adventure board for couples

couples goal setting worksheet

Avision board date night

Vision board prompts

Dreamboard ideas

Manifestation board examples

Vision board questions
Essentially, your vision board ideas can be anything if they depict what you want in the relationship. So, what are the benefits of creating a vision board for couples?
Related Reading

: 

20 Communication Games for the Couples to Grow Closer
Learn how to become emotionally mature in this video:
What are the benefits of creating a vision board as a couple?
Vision board ideas for couples or vision board prompts to increase the connection and bond between partners. It helps them work as a team. Learn the other vision board benefits below:
1. It helps couples be on the same page
A union is often between two individuals with unique personalities and experiences. Suppose you don't communicate the goals of the relationship. In that case, there is bound to be a clash as you view issues differently.
However, when you create a vision board together as a couple, you have the chance to discuss your different goals and expectations. Then, you can reach a common ground.
2. It increases the bonds between partners
They become closer when a couple works together on their marriage vision board. Opinions are shared, strengths and weaknesses are revealed, and discussions are tabled. The time you spend together brings you closer than before. There is no place to hide because the goal is to set your priorities in the relationship.
Related Reading

: 

Benefits of an Emotional Connection Between Loving Partners
3. It makes you know your partner better
Creating a relationship vision board requires partners to communicate their individual needs and expectations. Aside from that, you also need to explain the reason for wanting a particular idea.
For instance, you may wish to have a vision board date night because it is an avenue to date your partner. Similarly, your partner may wish to have a vision board planning worksheet because they like to be prepared ahead of anything.
4. It makes you vulnerable
Building a vision board worksheet is an opportunity for you to be open-minded. Note that building a vision board requires you to trust your partner. When you do, you can talk freely with them without hesitating for any reason.
When couples are vulnerable with each other, will there be honesty? As such, it helps to build and maintain a healthy relationship.
5. It allows couples to spend time together
Setting aside a weekend to work on your love vision board gives you the chance to be together. This is especially important if you are always busy with work and other personal projects on the weekdays. With that, you can spend time together, catch up on different activities and plan for the upcoming week.
15 vision board ideas for couples to improve their relationships
If you are looking for vision board ideas for your relationship, look no further. The following couples' vision board ideas are the best ways for partners to build their relationship on a healthy foundation. Here they are:
1. Your strengths and weaknesses
Before creating your vision board idea, you must see your partner as someone you are just getting to know. Therefore, begin by discussing each other's strengths and weaknesses. This can be in the form of vision board questions like the following:
What is your partner like under different circumstances?

What

triggers them to anger

?

What makes them happy?

How do they relate with others?

What do they like most?

What do they hate?
Knowing these answers and more will lay the foundation for other vision board ideas. Remember, knowing your partner's traits will help you know how to align your relationship goals with them. Write these questions in a tabular form with a space in front for answers.
2. Highlights your differences
In creating your vision board planning worksheet, remember to highlight the differences and similarities between you and your partner. This idea reminds couples that although they are different, they have similarities to build a strong relationship.
3. Health goals
If you want to achieve a lot together, you and your partner must be healthy and strong. Start by discussing how you want to maintain your health and commit to it in your relationship.
Do you plan on focusing on food alone to stay healthy or register in a gym?

Do you want to lose weight?

Do you wish to run a 5kms every day

Do you want to learn to swim?

Are you planning to quit smoking or drinking?
4. Our time is now
This relationship vision board dictates that couples highlight the things they plan to achieve together on the board. By naming it "our time is now," it reminds couples to work towards the visions highlighted within a specific time.
This step involves having honest and open communication about the direction of the relationship. When you are done having this conversation, gather your input and place it on the vision board.
5. Learning goals
Depending on the career paths of you and your partner, it's vital to set your learning goals. What do you want to achieve in your profession? What courses do you plan on taking? What certifications do you need to move up in your career?
Do you plan on going back to school to take another degree? This vision board idea allows partners to grow within the profession they choose. It also ensures that everyone is growing without leaving another behind.
6. What matters most
When setting up your couple's board, it's vital to remember the most significant things in your relationship. You must write these aspects boldly for easy identification. The reason is that whenever you feel tired emotionally in the relationship, it reminds you of what to focus on. For example, things that matter to you most may be in vision board categories like the following:
Staying healthy

Staying strong for each other.
7. Dreamboard ideas
You would like to do your dream board ideas in the future, even though you don't know how. They are similar to having fantasies – you don't know when you might achieve them. Just because you don't know when these dreams might come true doesn't mean you shouldn't pen them down.
8. Manifestation board examples
Manifestation board examples help you imagine the best things for yourself. We all have thoughts that we carry around. Perhaps, you plan to build a house before you clock 40, or you have a dream car you want to buy.
Maybe you hope to give birth in a few years. Whatever goal you want to achieve, place all the words and images related to them on the board and keep repeating them.
9. Priorities
One of the ideas for a vision board is setting priorities. Vision board ideas don't have to be about goals and aspirations. They can also be things that matter to each partner in the relationship.
All you need is to create a space on the board and put them down as they come to you. Meanwhile, you don't necessarily have to finish writing them in a day.
10. Family goals
Setting family goals is vital if you plan to have a marriage vision board. Do you plan on having kids together? If you do, how do you plan to raise them? What kind of school will they attend? How often do you want to visit your extended family? What's the plan for welcoming visitors into your house?
Related Reading

:

 

25 Ways on How to Be a Better Parent 
11. Adventure board for couples
Another idea worthy of your vision board worksheet is an adventure board for couples. Sometimes, setting goals together as a couple can be challenging. That's because you might be busy all day, and the only time you have left is for rest.
With an adventure board, you can decide to go on trips and vacations at specific periods in a year. You will look forward to these moments even when you are very busy.
12. Date night
If you want your partnership or marriage to last long, don't ever stop dating your partner. One way to make dating a routine is to include a vision board date night in your plan. This ensures that you both have pleasant moments regardless of your busy schedules.
13. Best life
What do you consider the best life? For you, it may be living in your own house and having a thriving career. On the other hand, your partner may want to frequent vacations in a year and be a stay-home partner
14. Important principles
What principles or statements do you both want to live by as a couple? What are the words that describe your lives? Write them down on the board.
15. Finances
How do you plan to manage your finances? Are you buying a house together? Do you feel you should set up a joint account? What about having savings account for the family together? Or is one person ready to shoulder the responsibility while the other takes care of the home and kids?
Final Thought
When two individuals with unique personalities come together in a relationship, it is crucial to set common goals. That's where a vision board for couples comes into play. Couples' vision board ideas dictate what individuals want and need in a relationship. It is a roadmap for couples to navigate their partnership successfully.
The vision board ideas in this relationship guide can help couples transform themselves and have a fulfilling and healthy relationship. You may visit a relationship or marriage counselor if you need more help creating a relationship couples vision board.
FAQs
How do you make a vision board for a relationship?
You make a vision board for a relationship by highlighting everything that matter to you and your partner.
What is a vision board for couples?
A vision board for couples is a board that highlights what couples want to achieve in their relationships.
What goals should couples set?
There is no limit to the goals that couples can set. Nonetheless, the most important goals should be family, career, health, and financial goals.
Share this article on
Want to have a happier, healthier marriage?
If you feel disconnected or frustrated about the state of your marriage but want to avoid separation and/or divorce, the marriage.com course meant for married couples is an excellent resource to help you overcome the most challenging aspects of being married.
You May Also Like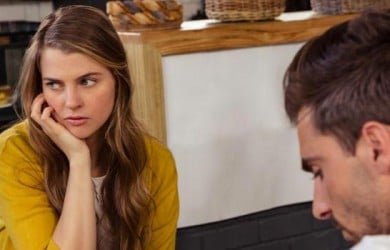 Popular Topics On Married Life