18 Relationship Lessons From Happy and Loving Couples
If you're fortunate, the time will come when you find the optimum loving relationship. To recognize it and then truly be able to settle in and enjoy it, you'll need to have some history under your belt.
Meeting the suitable mate will make it apparent that the heartbreak of lost partnerships you might have thought were the ones were meant to be experienced to prepare you for the moment that you actually met the true match.
While these losses were painful and sorrowful at the time, valuable relationship lessons accompanied each second of discomfort.
If we had the forethought to question what we're supposed to gain from experience instead of asking why it had to end, we could progress with that knowledge sooner instead of looking for that wisdom later on down the road.
What lessons come from relationships
If you're lucky, you'll take relationship lessons with you when you walk away from a partnership.
You might not work as a long-term couple, but the time you spent together had a purpose, and it's up to you to pull what you learned from the experience, even if you seem to have to really dig deep to find it.
Learn some love lessons with this book titled "I Wish I Knew This Earlier." Some of the most sincere messages from a mate include
1. Forgiveness and letting go
Some partnerships are brought to you to teach the path to forgiveness and how to let go healthfully.
Related Reading: 

4 Types of Forgiveness in a Relationship: When and How to Apply
2. Infatuation is brief
When young, notably, many couples believe the honeymoon phase is authentic love, often leading to rude awakenings when infatuation fades and reality sets in.
3. Change your thought process
While you can encourage and motivate a mate to make improvements and grow as an individual, you won't transform who they are; instead, you need to change your thought process or move on to someone more to your liking.
4. Identify individuality
No two people should spend every waking moment together. Independence is critical with time spent enjoying personal interests, hobbies, and individual friends before coming back together as a couple.
5. Control is toxic
No one belongs to another person. Attempting to control someone creates toxicity. There should be boundaries and intentions set at the beginning of a relationship. If these are crossed, decisions about the future need to be discussed.
What makes a couple happy in a relationship
Most "research" will list the same components that comprise happy relationships. These include
The key and a priority is communication

Genuine love (like) and respect for each other

A deep sense of commitment and trust

Acceptance of who the other person is

Valuing what each is capable of, seeing the best in the other

Intimacy, sexual, and affection that is nonsexual

A desire to know what's happening in the other's life.
These things contribute to a thriving, strong, healthy connection and will deepen a bond that will progress a partnership into the long term.
Still, aside from what we already know, the things contributing to a loving, happy relationship are the little things that not everybody might have.
The predictability that some might call boring can be exceptionally comforting. For instance, when you wake up every morning, and there's a piping hot cup of coffee on the night table or a mate pops in the door at the same time every afternoon but never loses the vitality at the thought of seeing you – so you can't wait to see them.
There's also the ability to be in separate rooms completely silent but suddenly hear an I love you bringing a feeling of immense joy as you go about individual activities even after numerous years together. The words "I love you" never go stale despite what some might believe.
It's all in how you say them or who says them. You can complete each other's sentences or know what the other is thinking with just a look. These are some things research can't tell you; you have to experience them to understand.
Are you in a happy and healthy relationship? Watch this video to know more.
18 relationship lessons from happy and loving couples
Relationship lessons come from past experiences, but they should also come from your current love; yes, even the happy relationship.
We should always strive for improvement or hope to learn something new every day from not only our mate who is continuing to evolve, grow, and enhance themselves but hopefully from ourselves, for which we should have no less of an expectation.
Partnerships will die a slow and painful death if we don't put a lot of time, effort, and energy into making them special. Maintaining healthy relationships is work, especially when you run into rough patches, which there will be many over the long term.
Happy couples don't exude happiness 100 percent of the time. They disagree, argue, face conflict, and fight. This is because they have passion and care. Without these intense emotions, there would be no battles, no effort, nor would this couple survive.
Let's check out a few life lessons about relationships we could all stand to learn.
1. Love needs to be authentic and continuous
When you finally find the person who's meant for you, the conscious choice to love that person every day is effortless. There's a certainty and sincerity that eludes some relationships. These are usually fraught with confusion about feelings.
Related Reading: 

How to Develop Authentic Relationships
2. It's okay to love someone more
When questioning what relationships teach you, one thing to be mindful of is not to be afraid to love with all your heart, even if that means you might love someone more than they love you.
There is the chance for you to get hurt, but it's a risk you need to take to try to create something potentially memorable.
3. Love is a lesson
Not only are there relationship lessons, but love itself is something you need to learn over time. You won't go into a relationship understanding the concept.
You'll pay attention to loving couples around you like parents, friends, and maybe romantic movies, or by getting healthy relationship advice. Find some relationship lessons on this podcast – "Learning To Love."
Trial and error experiences will ultimately be what exposes you to the biggest love lessons like going through infatuation, which can disguise itself as love.
4. There needs to be liking
While you will probably find your mate endearing on every level as I do mine, even happy couples in love have to actually "like" each other.
Because there will be moments where love is stewing on the back burner while anger is in the forefront, and the only thing preventing it from boiling over is you genuinely enjoying the individual.
Being friends or even best friends and finding pleasure in participating in activities together is fantastic.
5. Allow for individuality
Loving couples can spend time apart enjoying individual hobbies, interests, or quality time with personal friends, and as partners, they support each other in these activities.
It can benefit the partnership since each person feels satisfied and fulfilled in their own right.
6. Consider your response
As a mate, we must consider how we respond to a partner who might not always do what we feel is appropriate. These are part of our relationships lessons.
We have the power to change our reactions, the way we think, and our moods to see a better outcome or find a more beneficial solution for everyone.
7. Space is not a bad thing
One of the things you learn in a relationship rather quickly is that you need to either walk away to gather your thoughts before holding a conversation or allow your mate space so the discussion is not hostile.
8. Taking a break is important
In that same vein, sometimes a break is necessary when a rough patch happens.
That isn't indicating a break-up or a separation. All relationship rules apply during a break with the implication that you still have a good relationship; you just need a timeout for roughly two weeks.
It's where you don't see or talk to each other to determine if this is something you want to do on a more permanent basis.
Related Reading: 

How to Understand Taking a Break in a Relationship: When and How
9. Let go of the little things
If you want to know how to keep a relationship happy, the easiest way is to avoid getting upset over the little things. A partner might have quirks and flaws that make you bats, but these were likely there when you got to know the mate and were over the moon.
Compromise is key to getting along in almost any partnership unless trust becomes an issue or the integrity of the union is in jeopardy.
10. Laugh at each other
Many friends and family members aren't privy to a couple's inside jokes. Mates need to carry their own private sense of humor, being able to laugh with each other over similar situations and jokes. A partner with a good sense of humor who can make you laugh is a gem.
11. Say what you mean literally
Communication, converse, say what you mean verbally, literally, with no need for someone to try to guess if you want to learn to be happy. These are relationship lessons 101.
No one can read your mind, and no one should have to. If you have a need, desire, or are not satisfied, say that plainly so things can be resolved. Simple.
12. Continue to date
Romantic time is different from all the other times you spend together. It's vital to ensure that you have these moments uninterrupted and without distraction.
There's something to be also said for "pillow talk." When you lie down before you go to sleep or wake up early in the morning in the quiet, you can have the most intimate conversations that you wouldn't be able to have any other time of the day.
13. Say "I love you" as much and as often
Say, "I love you." As time passes, couples start to feel as though the feeling is understood, so the sentiment seems redundant or unnecessary. That's sad. It can still send chills regardless of the years that have passed.
Related Reading: 

How Often You Should Say "I Love You" to Your Partner
14. Express gratitude and appreciations
Couples together are constantly working to ensure the responsibilities are handled. It can be time-intensive when adding in a career, self-care, possibly extracurricular activities, plus taking care of the partnership.
It's essential to ensure mutual respect and appreciation for even the simple things, whether there's a small gesture or a note of thanks.
Related Reading: 

Why You Should Harness the Power of Appreciation in Relationships
15. Be the other's cheerleader
Relationship lessons that pass from one partnership to the next include acting as the optimum support system. That becomes more fine-tuned as you progress with your relationship experience.
When a partner feels secure that you have their back in any circumstance, it gives them the confidence to progress regardless of the situation.
16. Recognize not all days will be pleasant
A happy, loving couple will recognize that not all days will be roses and sunshine. They understand that even the most successful relationship will experience conflicts and rough patches and could even need time apart.
That doesn't mean you're failing; it's simply a part of a healthy partnership. Follow this workshop for guidance in finding happiness in your relationship.
17. Positivity is a practice
Relationship lessons that need practicing include learning to focus on the positive aspects of the partnership with the understanding that the things that need work can be handled gradually over time with patience and always compromise.
18. Toxicity is not tolerable
There's no room in a healthy relationship for a mate to try to exude their power or control. No one has a right to tell someone else what they should feel, believe, or think.
Relationship lessons will teach someone who finds themself in that situation to walk away and move on to something more healthy.
Related Reading: 

What Is a Toxic Relationship and Major Types of Toxic Partners
Final thoughts
A happy, loving relationship can look different for each couple. Of course, the specific things that make a partnership thrive are necessary. Still, the nuances that make your couplehood special deepen the bond guiding you into a successful future.
Share this article on
Want to have a happier, healthier marriage?
If you feel disconnected or frustrated about the state of your marriage but want to avoid separation and/or divorce, the marriage.com course meant for married couples is an excellent resource to help you overcome the most challenging aspects of being married.
More On This Topic
You May Also Like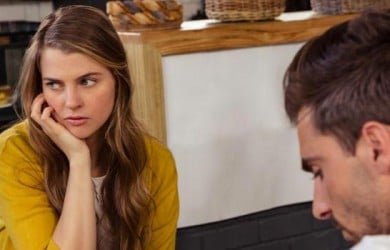 Popular Topics On Married Life