How to Stay Together When You Are Different From Each Other
We are all familiar with the old saying "opposites attract." There's a deep truth to that, especially as it applies to relationships.
It may seem counterintuitive, but couples who are different from each other actually make for a stronger marriage. How can that be?
Couples that are different from each other use their differences to learn and to grow. This explains the attraction between introverts and extroverts, timid people and confident ones.
Differences strengthen a relationship when they are recognized for how these distinctions add richness to the couple as a whole.
Differences in marriage – Reasons to appreciate them!
You might think that the magic formula for a loving relationship would be to put two very similar people together. After all, birds of a feather flock together, right?
Certainly, there are core values that couples should hold a similar view on, such as honesty, faithfulness, finances, and family values. If two individuals' core values are polar opposites, a strong marriage would be nearly impossible to achieve.
Values and beliefs are one's preference. For these important core values, it is important that they overlap.
Two people can be very different when it comes to professions, interests, hobbies, and daily pursuits. They can even be on opposite sides of the political spectrum. But those differences matter little in comparison to the big issue: core values. And the strongest couples tend to share those.
Marriage differences bring balance to your relationship.
Let's look at how being different from each other makes us stronger as a couple. In this way, we can learn to appreciate how being different from each other enhances our marital bond and our lives in general.
What if you are married to someone exactly like you?
First, imagine if you married someone who was exactly like you. How would this impact the two of you?
Here are listed a few aspects that are commonly observed when two similar people get married.
You would never have an opportunity to experience personal growth, as you would never be required to work through how to accept people's differences.
Life would be fairly boring
You would not learn how to resolve conflict, reach a compromise, or respectfully exchange different views with your significant other.
Your empathy skills would remain undeveloped
The notion of "we are two different people" does not enter into your discussions. You would not get a chance to see issues from your spouse's perspective since theirs would be identical to yours.
Your differences deepen your marriage by allowing you space to grow through observing and understanding your partner's way of walking through the world.
Exploring your differences
Identifying each other's differences is a helpful exercise to do with each other. This can be the start of some valuable discussions.
Remember: your differences are legitimate and important parts of who you each are.
Here are some ways you might be different from each other:
1. Your sense of obligation towards your community
Your spouse might be an avid volunteer, helping at the soup kitchen or the school bake sale. You may have never been much for this type of community involvement, but being with your spouse has rubbed off on you.
You are now the first person to offer to clean-up the neighborhood park on a Saturday or go from house to house collecting clothes to give away to the homeless.
2. Healthy lifestyle
Your commitment to healthy eating, outdoor exercise, and hour-a-day meditation session has helped your formerly-couch potato spouse embrace a more-vibrant lifestyle.
Before knowing you, they had no interest in vegetables or a more plant-based diet. But after they saw how much energy you had, they got on board with this way of living.
This difference between partner and spouse has had a positive effect on your couple, and you can look forward to many years of good health together!
3. Intro and extroversion
You may be the party queen, able to stay out all night and still get up to go to work in the morning. Your partner may be less enthusiastic about large parties that last until dawn.
By honoring his needs from time to time, you show that you care about his baseline personality type (the introvert), and, even if you don't realize it, do yourself some good as well: a good night's sleep never hurts!
4. Do it now vs. The Procrastinator
One of you wants to take care of pesky tasks–like bill-paying–right away. The other lets the bills stack up, saying they will get to it "eventually."
Discussing how to meet in the middle will be helpful in getting things done on a timely basis, all while preserving your individual way of approaching this life obligation.
What needs to happen is for each of you to explain your perspective on taking care of tasks without striving to invalidate the other's viewpoint. After that, you can negotiate an acceptable compromise.
The above are just a few examples of couples that don't match. Once you have identified your differences, take some time to acknowledge them. Yes, you are different from each other. This is a good thing!
Being different from each other allows you each to be your true selves.
Having differences in relationships is not something to be alarmed about. On the contrary, you will want to leverage these differences. Use them as learning points to make your marriage stronger.
Also Watch:

How to make your marriage stronger when you are different from each other.
Being different from each other actually makes things more interesting in your married life. How can couples work together to leverage the power of their differences?
How do you stay together when you are different from each other?
"My husband and I are so different!" We hear this a lot. It does not have to be seen as a negative thing. It is important to keep in the forefront of your mind, especially during moments of conflict, that having different values in a relationship does not mean the relationship is a toxic one.
When communicating with your partner, here are some tips:
1. Voice expectations and negotiate
Different habits can be challenging to address. It's tough to know when to let it go and when to address each other's differences.
Set aside some time to discuss expectations, boundaries, and ways that you can support one another when your differences are causing issues.
Even for two people who are different from each other, It is possible to create a win-win situation from a disagreement. Work together so that you are both gaining something you want.
Making a change doesn't seem as daunting if you don't feel like you're losing out. Learn some compromise skills to help you get to that win-win.
Talk about how you can reconcile the sticky issues in your relationship.
To be fair, each of you should be ready to give something up when moving towards compromise.
Making your marriage stronger means that each partner may have to tweak something that they do so that it fits with their partner's lifestyle.
Instead of having one person sacrifice everything all the time, each person gives a little to create harmony. If you ask your partner to make a change, be ready to make some changes for yourself. It is only fair.
Making adjustments doesn't have to feel like a sacrifice when both of you are willing to make changes to strengthen their partnership.
You can still be distinct in your relationship, all while giving a little to blend harmoniously. Just be careful to respect each other's core values.
2. How to accept people's differences
Yes, you are different from each other.
Let your differences draw you closer to your spouse.
You will never find two people who do everything in exactly the same way. Being somewhat different from your partner can make your relationship more fun and exciting.
It provides you with a chance to look at things in a new way or experience things you wouldn't have tried on your own.
Accepting the fact you are different from each other is an ongoing process within marriage and is part of a couple's personal growth.
As spouses recognize each other's differences to be as valid as their own, they allow themselves to be influenced by them as well. Then the saying, "You do you; I'll do me," becomes a joyful reality.
The differences in relationships can be viewed as a celebration of uniqueness. As long as both partners are willing to make adjustments or give things up for the sake of a better relationship, then the process of negotiation will be fundamental in making your marriage stronger.
Wrapping up
Let differences improve your relationship.
You don't have to give up who you are to be in a relationship. You can work with your partner to let your marriage differences bring out the best in each of you.
What is important is not so much the degree of being different from each other. It is how you manage these areas of difference and incompatibility.
When we concentrate on our spouse's strengths, we can appreciate and affirm rather than resent our differences. Your differences make you who you are, unique human individuals.
Share this article on
Want to have a happier, healthier marriage?
If you feel disconnected or frustrated about the state of your marriage but want to avoid separation and/or divorce, the marriage.com course meant for married couples is an excellent resource to help you overcome the most challenging aspects of being married.
More On This Topic
You May Also Like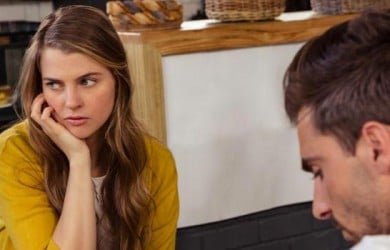 Popular Topics On Married Life