On-and-off Relationship: What Is It, Causes & How to Fix It
Just like every individual is unique and individual differences set people apart from one another, it's the same for relationships. This is especially relevant for romantic relationships. Every intimate relationship is unique.
What works for you and your partner might not work for another couple. That's just how it is. This is what makes relationships quite complicated. So, every relationship comes with its own set of challenges and joys.
However, some intimate relationships may be more complicated than others. For instance, an on-and-off relationship is often riddled with complications. Partners involved in such relationships may end up experiencing the highest highs and the lowest lows. It's a rollercoaster ride of complicated emotions.
If you're in such a relationship and you're confused about how to navigate your way through it, don't worry. You're not alone in this.
If you're feeling overwhelmed or worried about the erratic nature of your relationship with your partner, it's best you start by understanding the meaning of such relationships and their causes.
Related Reading: 

How to Manage A Complicated Relationship

 
What is an on and off relationship?
Let's start with properly understanding what an on-again-off-again relationship means. When you have a comprehensive understanding of a concept, it can help you gain some much-needed clarity.
Let's first start by decoding what on-and-off means. In this type of relationship, the partners get back together after they break up. And this rekindling of the relationship occurs several times, preceded by a breakup. Now the time gap between the breakup and the patch-up varies from relationship to relationship.
The striking aspect of such erratic relationships is the cyclical nature of these intimate relationships. When you're involved in such a relationship, you will find yourself caught up in this pattern of breaking up and patching up. This may be taxing for your mental health.
The common aspect of the on-and-off relationships is the initial phase of excitement when you get back together. It's like the honeymoon phase, full of passion. You've spent time without each other, so it feels good to get each other back.
When the honeymoon phase is over, the couple gets back to the natural pattern of the relationship. This is when feelings may get hurt, and the partners may experience stress. You may question why you even got back together and then probably break up again. This cycle continues.
There is no evidence to prove that all relationships characterized by breaking up and getting back together are bad. However, there is a chance that this cycle may be unhealthy for both you and your partner. On-and-off relationships even hold the potential to turn toxic.
Related Reading: 

Healing Relationships After Breaking Up And Making Up
What causes on-again-off-again relationships?
One of the best ways to understand whether a back-and-forth relationship can actually work in the long run is to look at some of the main causes of the erratic nature of such romantic relationships.
No one goes into a relationship with someone thinking that it's going to pan out like this.
So, let's take a look at the major causes of this situation:
1. Difficulty moving on
This is a prevalent cause of such relationships.
If you and your partner don't feel like you can move past the relationship, it can draw you two into the cycle of breaking up and patching up. If you're not completely over each other, moving on is difficult.
2. Incompatibility
Usually, people who are in relationships where they're constantly ending it and then rekindling the relationship, it might mean that the partners have really strong chemistry.
They might be very passionate about each other and share intense chemistry. But chemistry alone just isn't enough to make a relationship last in the long run. If the partners don't share the same fundamental values, beliefs, or morals, it may indicate incompatibility.
Related Reading: 

Understanding Relationship Compatibility 

 
Is this making you wonder whether you and your partner are incompatible or the relationship is good to go? Check out this video, and make an informed decision:
3. Life challenges
The important role played by the major challenges of life like having kids in the picture or other major responsibilities cannot be undermined. Sometimes people have a hard time juggling the different challenges and responsibilities of life along with an intimate relationship.
When it becomes difficult to balance both, people choose to end the relationship. It's unfortunate, but it happens.
4. Improper communication
Healthy and clear communication is one of the fundamental pillars of a strong, long-lasting romantic relationship. Couples who struggle to resolve conflicts through healthy and open communication may feel like it's easier to end the relationship rather than talk about the major issues.
Related Reading: 

Tips to Improve Communication in Relationship
5. Shared history
Now, this is a big factor. If you and your partner feel like it's not worth investing your valuable time in building a bond with another person, it can get you into this cycle of ending the relationship and patching up again.
You may feel like it's easier to just get back with your ex because you've known each other for years. You may feel like you don't have the time or energy to get to know someone new.
Related Reading: 

Things to Remember If You Get Back Together With Your Ex
Are on-and-off relationships normal and healthy?
If you're in an erratic relationship, you might often find yourself thinking about when to call it quits in a relationship. Your mind might be occupied assessing whether it's healthy or not to be in such an unpredictable relationship with someone.
So, do on-again off-again relationships ever work out, and are they healthy?
The extent of the normalcy of these relationships depends on how people navigate their way in such relationships.
Basically, there are two types of erratic relationships:
1. Capitalized-on-transitions category
People who belong to this category view the breakup as an opportunity to grow as individuals and in the relationship.
Such partners view these breaks in a positive light.
2. Gradual separation type
This category of people has complicated views on separating and reconciling. These couples that break up and get back together may feel unfulfilled in the relationship. They patch up because they care for each other.
The gradual separation category of on-again and off-again intimate relationships has been reported to be quite unhealthy. When these couples reconcile a relationship after break up, at some point, they again realize that they want to end it.
So, a couple's intentions, perceptions, and expectations of the relationship are very important when it comes to judging the normalcy of the relationship.
Related Reading: 

How to Renew a Relationship After a Breakup
Do on-and-off relationships really work?
Based on the previous section about the extent of harmony in these relationships, it depends on how you view your relationship and your breakups. Your intentions are important when it comes to reconciliation.
Do you want to reconcile with your ex because you feel like you need that break to grow as a person and work on yourself, and you're now in a better position to be with your ex? Or do you want to reconcile because you're feeling incomplete without your ex?
If you and your ex feel like you've both grown and matured in your time apart and you're ready to dedicate the time and energy needed to make your relationship work in the long run, there's a possibility of the relationship working out.
If you just want to reconcile with your ex because you miss your ex despite knowing that you'll never be entirely satisfied in the on-and-off relationship, then it may be unhealthy. Your expectation, your intentions, and your commitment matters.
Related Reading: 

Why Do Exes Come Back After Months of Separation
How to decide whether to stay or leave it?
Now you know why couples break up and get back together and whether these relationships are healthy or unhealthy, you probably have more clarity about this messy situation. But relationships can be so complicated.
Therefore, it's completely understandable if you're still a little confused about what to do. So, let's weigh out the pros and cons of such relationships.
Like mentioned earlier, perspective is key.
Just because you and your partner have broken up a few times doesn't mean there aren't valid reasons to stay. It all depends on whether it aligns with you and your partner's unique expectations, values, and goals.
Here are some reasons to stay:
Lifestyle
The occupations and lifestyles of both partners can play a huge role in determining the kind of relationship they prefer.
Some couples are comfortable with long-distance marriages and relationships. Similarly, if you like being on your own or you prefer a nomadic way of life, then this may work for you and your partner. But you need to be on the same page about it.
If you're unsure about your future together
Sometimes you or your partner may come across hurdles that may not be major, but they might have you questioning the long-term prospects of your relationship.
Now, if these hurdles are just better dealt with by spending some time apart and then reconciling, then this can work for both of you.
If commitment isn't your thing
If you've had frequent thoughts about not being the kind of person who is built for committed relationships, it's absolutely fine. Don't freak out about it. It can happen. It's valid.
Not everyone views being in a long-term committed relationship as a core value. You or your partner may enjoy those temporary breaks from each other to be with yourself and grow.
Related Reading: 

Signs of Commitment Issues and How to Overcome Them
Better communication skills
If you and your partner view these breaks from a growth-oriented mindset, that's wonderful!
The breaks can help you polish your communication skills so that when you get back together, the relationship can grow further!
Related Reading: 

Effective Communication Skills in Relationships
Here's the other perspective. So, why do relationships end?
These are some valid reasons:
How do you argue?
Do you have discussions with your partner to resolve conflicts, or do you just keep screaming at each other about the same problems every day?
If there's only screaming, you may be asking yourself, "can a relationship work after several breakups." In this situation, it's probably healthier to end it.
The cycle is addictive
For couples that break up and get back together multiple times, you might be getting addicted to this cyclical pattern.
And if you're still feeling unfulfilled in the relationship and just patching up to feel that rush of excitement of reconciliation, it's probably the right time to leave for good.
Missed opportunities
These erratic relationships can be very taxing, especially if you want that long-term commitment.
By going back to the same person, you're probably losing out on some wonderful opportunities to meet other people you'd be more compatible with!
There's a difference between happiness and familiarity
Owing to a lot of shared history between you and your partner, the idea of patching up may have a strong sense of familiarity associated with it.
There's comfort in familiarity. But that isn't the same as being happy.
Related Reading: 

Should You Stay Or Leave the Relationship Quiz 
How To Fix an On-Again, Off-Again Relationship?
As mentioned in the previous section, the cyclical nature of on-again and off-again relationships can be very addictive to one or both of the partners involved.
To break this cycle once and for all, if you've both decided to end the relationship for good, keep the following points in mind:
1. No-contact is the way to go
If you reflect on how you and your partner reconciled every time, you may see that one of the major facilitators for this was staying in touch or re-establishing communication. This is not to imply that you two can't be friends in the future.
However, it would just be best for you and your partner to not stay in touch via calls and texts when you're still in that state of vulnerability and missing each other.
2. Seek professional help
There's always room for self-improvement and growth.
Low self-esteem may be a contributor to falling into this cycle of breakups and patch-ups. So, when you're ready, it's a good idea to see a therapist or a counselor to work on yourself.
3, Avoid dating temporarily
If you get into the dating game with the goal of a long-term relationship in mind, it's best to lay off dating till you're completely over your ex.
If you dive into the dating system prematurely, you might not be open to truly finding "the one."
Keep these three important pieces of on-again off-again relationship advice in mind.
Related Reading: 

Tips for Getting Back with Your Ex Partner
Conclusion
Love is complicated. When it comes to questions like "Is taking a break in a relationship good?" you might find yourself riddled with confusion.
In a relationship, there is always a room for communication but if things happen to spiral out of control, honest efforts in the right direction go a long way in keeping the sanctity of the relationship intact.
So, keep the important pointers mentioned in this article and decide carefully!
Share this article on
Want to have a happier, healthier marriage?
If you feel disconnected or frustrated about the state of your marriage but want to avoid separation and/or divorce, the marriage.com course meant for married couples is an excellent resource to help you overcome the most challenging aspects of being married.
More On This Topic
You May Also Like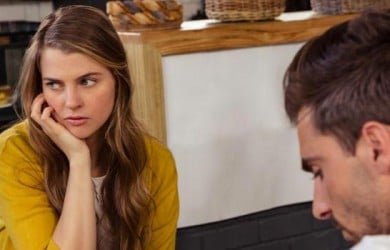 Popular Topics On Married Life