20 Signs of Tumultuous Relationship & How to Fix It
Maybe you are reading this article because your relationship is struggling, and you don't know what to do to save it and save yourself from it too. Maybe you want to help someone else who is trapped in a toxic relationship.
Whatever be the reason, read on to find out how to fix a tumultuous relationship or a tumultuous marriage and transform it into a healthy, loving unity.
But what does a tumultuous relationship mean?
What is a tumultuous relationship?
To define a tumultuous relationship or to be in a tumultuous relationship is to be like a ship sailing in a storm. It's a turbulent relationship with a very uncertain future due to lots of disagreements and fights, ups and downs, and confusion.
Does your relationship feel like a rollercoaster?
If so, then you are most likely in a tumultuous relationship, and you have emotional and physical agitations that you don't know how to deal with.
Being in a relationship or a marriage like this is not easy at all. You never know what's around the corner, and you're always living in expectation of the next fight.
Maybe you're even living in fear of breaking up because you feel it's inevitable, yet you are too afraid to leave the relationship or marriage because you don't want to be alone.
These relationships can be very toxic for both partners, but at the same time, they can be very passionate, and this is what makes it so hard to break up.
20 signs of a tumultuous relationship and how to fix it
Confused whether your relationship is a tumultuous one or not. Check out these signs to be sure.
1. It feels like a rollercoaster all the time
You have the most amazing time on Saturday, and then by Monday evening, you are breaking up and throwing things at each other, only to kiss and make up and spend a passionate night together.
Then tomorrow morning, the reality kicks in, and here we go again with endless and hurtful fights.
2. You keep fighting over same things over and over again
This is definitely a sign of a tumultuous relationship, and it's also a sign that you have developed an unhealthy dynamic.
If you feel stuck and you notice the pattern of the fights that usually revolve around the same things, you need to slow down before your relationship ends ugly.
3. You really HATE things about your partner
This is a serious one. We all have some habits that we dislike in our partners, but if you feel a strong feeling of hate towards them because of something they do, or their characteristics, it's a red flag.
The passion is probably keeping you tied in this tumultuous relationship, but what is the point if you can't stand them outside the bedroom most days?
4. You're pretending things are ok
If we pulled up your rug, we would probably find a pile of unresolved issues you have been trying to push and hide for ages.
What happens is that over time these issues just multiply and breed resentment which is a recipe for disaster, and it's a very poisonous feeling that can make you and your partner very bitter persons.
5. You can't breathe without each other
To define a tumultuous relationship, all you have to do is look at your behavior and feelings when you're apart and when you're together.
If you can't stand being apart, yet you keep fighting when you're together, it's a very obvious sign you're overly dependent on each other, and you are not a good fit for each other either because you cause irritation and anger when you're together.
6. You break up and makeup all the time
When people break up, it's usually because they are aware they are not a good fit for each other, but people in a tumultuous relationship or a tumultuous marriage break up and get back together soon after.
This is so because they are either afraid of being on their own, or they are just too dependent on the other person, and although they know the relationship is toxic, they would rather stay in it than be on their own for a while.
7. You fake it in public
There are so many couples who look like they have it all figured out:
They look perfect. They show affection in public, smile on IG pictures, post exciting things they do together. Yet when they are home by themselves, the masks slip off, and they go back into their tumultuous relationship where they fight all the time and make each other feel awful.
8. Bored to death
Boredom is a very obvious sign you might not have a future together after all because if you can't have a good time when you're alone and together, what is the point of being in a relationship with this person?
9. You badmouth each other
Nothing worse than partners talking trash behind each other's back. Not only is it ugly and disrespectful, but it is also ruining your reputation, and you will find it very hard to find true friends who will trust you later on.
If you have a problem with your boyfriend or girlfriend, solve it at home.
10. You keep trying to change each other
Nobody is perfect, and we can't expect perfection from others when we alone are not saints. People stuck in this relationship keep trying to change each other, and this is not a good thing at all.
We should help our partners grow and better them and better ourselves, but if we try to change their habits just because they annoy us, it's a sign of a deeper dissatisfaction and unhappiness.
11. You have "back up plans"
You're together, but you are texting with other guys or girls means you are not 100% committed to the relationship you're in. Why is that?
Maybe your intuition is telling you it's not the right person for you and you should meet someone else.
Whatever the case might be, one is for sure: either break up and date others, either stop texting and be loyal and faithful to your partner because you can't do both at the same time.
12. Things aren't hot anymore
If your sex life has drastically changed in the last couple of months, it's time to sit down and see what's not working.
Tumultuous relationships and tumultuous marriages are not fun to be in. When we're not happy with the other person, we are not attracted to them, so a lack of good sex life is definitely a warning sign.
13. Lack of trust
A very obvious yet often ignored sign of an unhappy and tumultuous relationship is a lack of trust.
Do you keep texting them to see where they are, and you get upset if they don't reply straight away? Or are they always checking who you are with, and when are you coming home?
Yup. It is unhealthy and very tiring to be in a relationship with no trust.
14. You don't have dates anymore
No matter how busy life gets, partners always have to prioritize their relationship or marriage because if they don't, they will pay a high price. Make time for each other and go on dates as often as you can.
If you are not going on dates anymore, there is something wrong there. Try to talk about it and stop looking for excuses not to make it happen. Look for ways to make it work.
15. Fantasizing about others
When we're not happy with what we have, we look for things we think will make us happier. We think of other people, and we imagine ourselves dating others.
If you often catch yourself thinking how your life would be different if you were dating someone else, you are 100% not happy in your relationship or marriage.
16. Where are you going?
Do you ever talk about the future? Do you make long-term plans together?
Not having a long-term purpose in your relationship is a sign you don't see yourself together in the next 5 or 10 years, and if you're unhappy now and definitely don't plan to stay together for a longer time, what's the point?
17. It's superficial
All humans are visual beings, and we love seeing attractive people. That's a fact.
But you know your tumultuous relationship is destined for disaster if you can't have a proper conversation together. You lack a deeper connection, and you feel you are not on the same page when it comes to "serious" questions.
If you can't share significant and deep stuff with your partner, you will always feel there is a lack of understanding, and this is a dead end.
18. You're questioning yourself
This sign is a subtle one and often overlooked. Tumultuous relationships can be very manipulative, and when things like this start to happen, we question ourselves and start doubting ourselves.
If you feel you're less worthy, or you keep asking yourself if you are doing the right thing, or even thinking what your partner wants you to do, and you do this instead of what you really want, it's clear as a day you're trapped.
You need to set yourself free before you lose yourself completely to this toxic relationship.
19. You snap easily
If everything seems like a trigger to you, something is wrong. When there is dissatisfaction on a deeper level when we're truly unhappy with our relationship or marriage, we are triggered by the smallest things, and we're triggered all the time.
Things can be pushed under the rug for way too long, and this is exactly the reason we use any opportunity to snap at each other and just vent out and hurt the partner.
20. Holding the grudges
If you are someone who is gathering ammo for a long time just to shoot and kill when the next argument happens, you're in a tumultuous relationship for sure because holding grudges is a very common thing.
We always remember times we were hurt or betrayed, and then we use these memories to hurt the other person.
It's like a snowball– a fight can start over something small, but it keeps rolling, and you keep adding oil to the fire in the rage, just wanting to hurt them as much as possible.
In the video below, Daryl Fletcher discusses how holding grudges does bad to the relationship, both the partners and their personal health, with an example.

How to fix a tumultuous relationship or tumultuous marriage?
First of all– ask yourself if you are willing to fix it?
Be willing to make compromises and to accept critique from your partner. If you both want this to work, you will both have to give up parts of your character and implement new habits that will bring you closer.
It's easy to define a tumultuous relationship, but it's very hard to admit we are in one. Be honest with yourself and talk about this to your partner. Tell them how you feel, how you are irritated by smallest things, how you are not happy, and want things to be better.
Adopt a change in your attitude
You will see that once you change your attitude and approach them with an open mind and open heart, truly wishing to save the relationship or the marriage, they will too feel your energy and will soften and be more receptive to your suggestions.
A tumultuous relationship is a burden that's stopping both partners from living a fulfilling and happy life. You can change this if you, first of all, change how you behave and how you treat your partner.
Treat them the way you would want them to treat you, and you will see how your patience and care, affection and understanding. You will see your relationship transforming into a harmonious unity.
Takeaway
Sometimes, anger and dissatisfaction with present results turn us into ugly monsters in the closet who are waiting to tear everything down because they want happiness on a silver plate, and they are not getting it.
In the end, we all want to be happy in a relationship and with the right approach, we can definitely fix our staggering relationship.
Share this article on
Want to have a happier, healthier marriage?
If you feel disconnected or frustrated about the state of your marriage but want to avoid separation and/or divorce, the marriage.com course meant for married couples is an excellent resource to help you overcome the most challenging aspects of being married.
More On This Topic
You May Also Like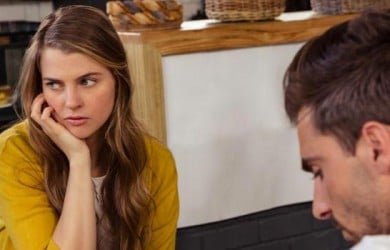 Popular Topics On Married Life