15 Signs You're in a One-Sided Relationship and How to Fix It
It is normal for anyone to give their 100% in a relationship, to shower their significant other with all their love, attention, and support. Both of them ought to keep the warmth of their relationship alive.
Despite the fact that a relationship has to be a mutual bond full of rich emotions and a sense of contentment, a one-sided relationship makes an exception. Such a relationship is the key to disgruntlement as it always keeps one party malcontented.
It hurts when your partner does not reciprocate the same to you. There could be situations where one person puts the entire effort to make the relationship work but does not receive any acknowledgment, love, and efforts from the other person.
When this begins to happen, this is the beginning of a one-sided relationship.
What is a one-sided relationship?
The relationships where one of the partners is carried away in love while the other is least bothered where the relationship is heading towards are called one-sided relationships.
One-sided relationships tend to be the most exhausting for the partner who is the most invested in the relationship. They feel it is unfair that they are the ones pouring in all the time and effort while their partner couldn't care any less about them or their relationship.
A one-sided marriage, one-way marriage, or a one-sided relationship usually reveals itself unless a person is blinded by their own insecurities and can't muster the courage to leave that relationship.
Why does a one-sided relationship happen?
one-sided relationships can occur due to various reasons:
It could be because the person is finding the relationship challenging. Just because they are not able to handle the various aspects of the relationship, they tend to fling back and not participate in the relationship.

The person has had an unfulfilled childhood, and the same reflects in the relationship when they are only the receivers and have a hard time understanding the need to equal participation.

The trauma from the past relationship can also be the reason for a person not participating in the relationship. They might have lost faith in the relationship and are still recovering from it.

It could be that they have outgrown the relationship and don't want to be into it. This makes them disinterested as they want to move out of it.
15 Signs of a one-sided relationship
If you feel like your relationship is one-sided or your marriage is one-sided, listed down below are15 major signs of how to tell if a relationship is one-sided.
1. You feel like an obligation
Your loved ones should always be your priority.
Typically, one is ready to spend time with the person they love, do what they like, and make efforts to make them happy. If you find yourself not being treated this way, it is likely that you are not your partner's priority.
Instead, they prefer spending time with people other than you, and if they even take out some time for you, it is maybe just because you've forced your way in.
Your partner won't be able to fake affection towards you and, in time, would, and eventually, you would witness their interest fade away. This is an apparent sign of a one-sided marriage.
2. You are the one making efforts
From sparking conversations to planning out dates, sending sweet texts, to going out of the way to make your lover feel special.
It is all you that is doing all of it with your partner, making little to no effort to make you feel the same way.
Even though this can be a clear one-sided relationship sign, do make sure to voice your concern with your partner, and if they willingly make changes to be more active in your relationship, then they might just have lost their way.
3. You can't count on them
Through thick and thin, you always make sure that you are there for your partner to provide them with the love, care, and support that they might need.
However, an obvious sign of a one-sided relationship is your partner's inability to meet your needs, and you can never rely on your partner to help you out.
4. Your partner tells you it's them and not you
When you are not your partner's top priority anymore and put themselves first, it is an ugly one-sided relationship.
You and your partner should be each other's part and parcel. There shouldn't be any amount of selfishness.
5. They don't care about the relationship issues
Mentioning the obvious issues of the relationship are often left unheard by your partner even when you bring them up.
They choose to stay numb to all of it or maybe even yell at you for 'annoying' them. They blame you for all of these problems, and they remain unbothered about all of your concerns.
6. You are stonewalled out
You make sure that your partner knows all about you, your friends, family, and even the tiniest details of your day, but they have kept you out of their lives. They have their own secret life that you know nothing about, nor do they wish to share it with you.
You feel like any other person in their life rather than that special someone. Such stonewalling is a sign you are in a one-sided relationship or one-sided love in marriage.
7. You love them despite their carelessness
It really hurts if you do not get loved back. You are in a dilemma if you are caring for someone, but you are not being cared for. At times it is nearly impossible to give up on a one-sided relationship because of children. The person that bears the responsibility of making it work gets agonized.
8. You apologize for almost everything
You find yourself apologizing every now and then, even for the silliest of things, is a big sign of being in a one-sided relationship.
Your partner tends to find flaws in everything you do, make you feel guilty and bad about yourself. Any partner who belittles you is not worth investing the time and energy.
9. You justify their behavior
Your peers are always questioning their behavior, with you feeling the need to justify it.
You make excuses and convince your friends and family that they truly care for you when deep down, you are aware that they do not. True love shows and does not require you to explain it to anyone.
10. Your importance in their life gets too narrowed
When family and friends seem too important, and you are only second to them, no tea- no shade, this is a one-sided relationship. You should be second to none in your partner's life.
If your partner, without caring much, insults you in a family gathering or a formal meet-up, you are worth all the sympathies as you are carrying the burden of a one-sided relationship.
11. They never return the favors
Your partner never hesitates to ask you for favors, ask you for your time and attention, but when you do the same, they are simply 'too 'busy' and do not have the time.
Nobody is too busy. It is all about making time for the ones you love. If they do not do so, it is clear they do not love you either.
12. You are always stressed
When a relationship is one-sided, you are always worried about your relationship, will it last or end up in shambles?
You are questioning your decisions and asking yourself if your partner really does love you or not. You should never feel unloved when in a relationship, nor should you settle for any less.
One-sided marriage or relationship rarely has a future, and even if they do, it is usually one of the partners putting in all the effort emotionally, physically, financially, etc.
13. You're there to obey your partner's commands
If your partner is way too dominating and acts like a hegemon, the chances are high that it is a one-sided relationship.
If he or she tries to give your relationship a slave/master dynamic, it isn't an absolute relationship for sure.
14. They downplay you and your opinions
You should be heard and not just spoken to. If your partner does not heed what you think or feel, it is no less than a one-sided relationship.
If your opinions are not welcomed, and if you are belittled for having a diverging opinion on anything, you are a lone warrior trying to survive a one-sided relationship.
15. You hear ''hmmm'' and ''yeah'' in response to your "I love you''
If you are feeling single in a relationship, it's definitely not a good sign.
If you try and express your love for your honey quite often and don't get any positive response, your partner is clearly underestimating you. Your partner might no longer be interested in you if they are neglecting every effort you make.
If you do not get to hear those three magical words from your beloved, there is a lack of interest on their side. In case you are trying to carry on with this one-sided relationship, you're tormenting yourself.
How do you deal with one-sided relationships?
Although it may be hard to walk away from someone you love so much, if they do not love you back, there is no point in staying in such a relationship.
Once free, you are bound to find someone who loves you for you and feel lucky to have you.
However, if you are a stubborn soul and are not ready to quit on your marriage or relationship, you might be interested in learning some way of coping with a one-sided marriage.
Here are some suggestions on how to deal with a one-sided relationship:
Be brave and tough it out. Being in a one-sided relationship would leave you very vulnerable.
Do not keep score or try to get even. If you truly want to work on your relationship, you would have to let go of your partner's transgressions.
Do not blame yourself. It is not you; it is definitely them.
Invest your time in other aspects of your life.
Also watch:
Should you end a one-sided relationship?
Ending the one-sided relationship should definitely be in the cards if you know it's a dead-end and your partner has given you a clear signal to end the relationship.
However, if you both are moving to and fro in the decision, you might consider fixing the relationship rather than running away from the problem.
How to fix a one-sided relationship?
1. Talk it out with your partner
Have a word with your partner. Let them know what you have been expecting from them and how they are not coming up to those expectations.
Tell them that their negligence jeopardizes you.
2. Remind them of your good old days
Make them recollect the sweet memories you gathered in the past. Make them feel the lost essence of your relationship.
Touch your partner softly, dive into their eyes, and make them recall everything they have forgotten.
3. Decide whether or not you can have a future together
Communicate with each other and decide for the greater good. You need to make each other aware of your mutual goals with regard to children and the future. Do not remain indecisive and reach a conclusion.
Along the way, don't lose motivation. When feeling demotivated, look at one-sided relationship quotes that will help you decide on something.
Unsure if your relationship is one-sided?
To hush all your confusions and to find a way out, take a one-sided relationship quiz. This will put into perspective a lot of things.
If you pass this query, it means you love your partner to the moon and back, and it's only them who need to contribute to the relationship.
Takeaway
Love is like a plant that needs both water and sunlight to keep growing into a fruitful tree.
Similarly, a relationship deserves a contribution from both sides. Both the partners, in collaboration, are obliged to steer their relationship in the right direction. So, if you are in a one-sided relationship, make sure you find a solution to it, take the right decision, and steer your life in the right direction.
Share this article on
Want to have a happier, healthier marriage?
If you feel disconnected or frustrated about the state of your marriage but want to avoid separation and/or divorce, the marriage.com course meant for married couples is an excellent resource to help you overcome the most challenging aspects of being married.
More On This Topic
You May Also Like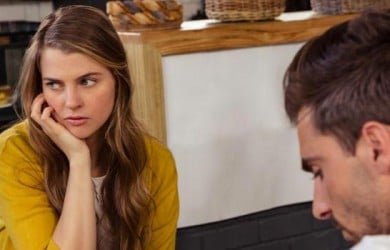 Popular Topics On Married Life