7 Rules of Being Friends with an Ex
It's not easy being friends with an ex if you're not following certain guidelines. You already know that person and have spent a substantial amount of time together. Being friends with them will either put you in a vulnerable spot where you may fall for that person, again or can totally sabotage the existing possibilities.
To help you maintain a healthy friendship with your ex here are some pointers that you must follow. Your ex can be your good friend, after all.
Rule 1: Have some time to recover from the break-up
We understand that you don't want to let go of your ex easily but before you make your ex your friend, give some time to yourself. Break-ups are painful. It takes you through all the good memories you have shared with your ex. Before you start a new chapter in your life, it's advised to take time to recover from the bad phase.
Once you're out and stable, once you're sure that meeting your ex will not disturb you mentally and emotionally, then you can think of being friends with an ex.
It's better if you seek the advice of your friends as well before you make this decision. It shouldn't happen that you are friends with your ex and then are pulled in into an emotional turmoil again.
Rule 2: Are you both on the same page?
Have you shared the idea of being friends post-break-up with your ex? Have you given them the time to think about the final decision? Have you both analyzed the situation and its outcome thoroughly before moving ahead with the decision?
It is necessary that you both are on the same page.
It shouldn't happen that either of you is still stuck in past whereas the other moves ahead in life.
In such a situation, you may think you're being just friends with your ex but the other might go through emotional breakdown later. So, make sure that you both are on the same page and then move ahead with the decision.
Rule 3: Consider why do you want to be friends with your ex
Generally, people bury their past and move ahead in life. This is how life is supposed to be. However, when you decide to do something unusual that others find crazy, it's necessary that you've evaluated every possible pros and cons of it.
Hence, before you even decide to propose the idea of friendship to your ex, make sure you know why you want to do it.
Evaluating the possibility gives you a clear mind and the reason for taking this step. This, surely, will assist you to make a wise decision and will help you separate your past from your present.
Rule 4: Don't flirt and treat them as your friend
You've ended your relationship with your ex and have moved on in your life, so had your ex. However, when you decide to be in touch with them again, as just friends, it's obvious to get the romantic feelings back. However, it's not right at all.
Even if you think it's okay to flirt with your ex in a friendly manner, it might reflect that you've not moved on and are still stuck in a loop.
You have to demonstrate your maturity if you want to be friends with your ex.
Rule 5: Move on and let them move on
In the most initial stage after the break-up, you mourn. You cry over the end of the lovely phase. Once that's done, you collect yourself and start afresh. That's called moving on with your life. In such a case, when you decide to be friends with your ex, you might see yourself getting pulled in the situation, yet again.
You move on and might start something fresh with some other individual. Likewise, they might start seeing someone else post break-up. The sign of you have moved on is seeing them happy with someone else. This would show that you're their true friend and not just an ex.
Rule 6: Stay positive, stay happy
Indeed! Often the unhappiness in being friend with an ex comes from the negative feeling one may have within. It's okay if the relationship didn't work out. It's okay you had to end something beautiful with a lovely person, but this doesn't mean it's the end of the world, is it?
If you've decided to be friend with your ex then you should stay positive and happy, not for them but for yourself as well.
The happiness and positive feelings will help you transform your ex into your good friend. You both have known each other well so having your ex as your friend will be a good idea, only if you're ready for it.
Rule 7: Stop calling them your ex
The more you would address them as your ex, the more you would remember your past. The relationship you had with your ex has ended and you're starting afresh with them.
You're accepting them as your friend and need not address them as your ex.
Once decided to be friends with your ex, it is necessary that you start addressing them as a friend and not as an ex. This will subconsciously indicate that you've moved on in life and are ready to accept this new relationship with them.
Share this article on
Want to have a happier, healthier marriage?
If you feel disconnected or frustrated about the state of your marriage but want to avoid separation and/or divorce, the marriage.com course meant for married couples is an excellent resource to help you overcome the most challenging aspects of being married.
More On This Topic
You May Also Like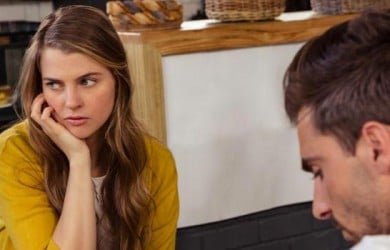 Popular Topics On Married Life