Surviving Marriage After the Honeymoon Period
The honeymoon phase is a glorious time with shared glances, tumbling in the sheets, and discovering each other. You feel utterly drunk in love. The beginning of your wedding is always glorious, and you probably feel like your love can conquer anything! The honeymoon stage feels like it will last forever. However, the honeymoon period is just that – a phase. It passes. Unfortunately, that is the hard reality, and you must face it sooner than later.
Most couples today expect this reality, but for some, it's still a difficult concept to grasp. There's a time limit to how much chatter, music, babble, habits, and kisses you can take. These feelings soon get old. No relationship is perfect forever, there always be rocky parts but it's important not to overblow these periods and look at everything objectively. This is not only true for marriage but also relationships. The beginnings are always heady and intense till reality sets in. Most couples will fondly recall the feelings that started with infatuation and ended in love. After you state your feelings, comes the proposal and eventually the wedding. Very soon the honeymoon period ends, and the weight of the marriage may feel like it's holding you down.
Marriages can be happy and fulfilling. But every marriage has some rocky spells – spells which some may perceive as the potential killer of a relationship, but through patience, love, and understanding you can salvage your relationship.
Let us look at how you can survive your marriage once the honeymoon period fades away.
Be aware of the signs:
There are many pitfalls in the honeymoon phase that can act as signs. If you realize you're getting bored very quickly or your partner is more interested in watching TV than spending time with you, don't immediately feel that your marriage is collapsing. This is the reality setting in. No one is perfect – neither you nor your spouse. These small quirks can seem humongous now, but in the future, they won't matter as much. Remember not to fight or argue over every little thing.
Learn to pick and choose which points are hard limits and which can be overlooked. Watching TV, burping loudly, or leaving the cups on the coffee table are not good enough reasons to break your marriage or imagine it falling apart. Don't be misled by these small issues. Speak to your spouse about these problems and see how you both can tackle them together. Communication is the key to a successful marriage.
Rationalize why you're upset:
You need to deep dive into your conscience and rationalize your issues. Figure out which aspects you are uncomfortable with and why they trouble you so much. What exactly is the real problem? Don't mourn the loss of the perfect honeymoon period. Instead, concentrate on how you're going to fix the issues. Avoid getting upset about every incident. Marriage is not easy. Speak to your spouse about these feelings in detail and with a relaxed and calm head. Getting angry and upset will not resolve anything.
Be very alert to your expectations. If you've built up a fantasy about the perfect partner, you're going to be in for a nasty surprise. Make a mental note about all the things that lead you to believe that your partner has changed. Establish new standards that conform to the changes in your partner. You must be patient with yourself and your spouse to make your marriage work.
Set boundaries:
Since this is a transitional phase from honeymoon period to married life, there are bound to be ups and downs. You need to be very clear about what the boundaries of your relationship are. Understand and work with this transition instead of against it. Communicate openly and without any reservations with your spouse. For all you know, your partner might share the same concerns. You won't know how to tackle them till you don't speak about these boundaries and issues together.
Make a list of all the things that you need to address. Make sure to discuss your emotions along with the things you don't like. Boundaries can be physical as well as emotional. Talk to each other in an upfront, straightforward manner and avoid talking in riddles. Maintain eye contact throughout the discussion and understand each other's boundaries and respect them. Remember that you both chose to get married and start your lives together.
Making a marriage work is never easy. It is tougher when the transition is from the honeymoon phase to the marriage phase. Remember the reasons you both agreed to live together and get married. Be honest, transparent, and speak from your heart. Addressing these issues and talking about them openly will help you rebuild your marriage and secure your future.
Share this article on
Want to have a happier, healthier marriage?
If you feel disconnected or frustrated about the state of your marriage but want to avoid separation and/or divorce, the marriage.com course meant for married couples is an excellent resource to help you overcome the most challenging aspects of being married.
More On This Topic
You May Also Like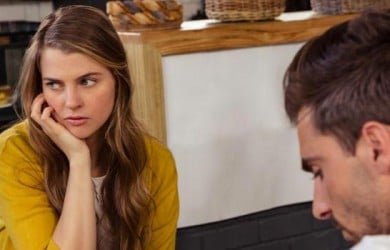 Popular Topics On Married Life