Relationship Expectations – What Should You Do with These?
You must have heard it a million times, be it about life or relationships that one should lower their expectation in a relationship or life. This advice, though, does not sit right with a number of people.
Among them is the University of South Carolina's Psychology Professor, Donald Baucom.
After being related to the field for more than a decade, doing research and analysis, he has concluded that people generally get what they expect – from life and relationships.
It is like releasing certain kinds of energy into the universe; you attract what you release.
Baucom is of the belief that if one would lower their standards thinking that this is what being in a relationship entails, and this is what life is supposed to be, then they are basically giving their significant other all the chances to walk all over them.
He found out that people with high standards deliberately look for significant others with better etiquettes, social and cultural values, and upbringing; and because of their higher expectations, their partner knows that they cannot be trampled upon and they tread lightly.
Realistic expectation in relationship
With that being said, it is important to keep relationship expectations realistic and achievable.
Understanding your spouse, their drive, aspirations, and goals are important.
One extremely wrong expectation is that every human being expects to have a home very similar if not exactly the same as they grew in. If their mothers were homemakers and fathers were bread earners, they expect their spouse to follow the same ideology. Ignoring the fact that their spouse could have been raised with a completely different mindset, they set expectations, which eventually lead to disappointment on one or both ends.
One has to learn the differences in marriage between their parents' and their own.
As the saying goes, we end up marrying or settling down with someone who resembles our parents the best.
It is mainly because of the sense of security or calmness their aura provides. However, harboring expectations that they will create the same home is just pushing one's limits.
Relationship expectations should be built with time and should remain in flux. One cannot expect their wife of ten years to behave in the same way as she did during the initial years.
Relationships between husband and wife
As suggested earlier, people should set their standards high and believe that their future significant other should love, honor, and respect them; that they will live happily ever after.
However, they should also know that there is no such thing. As soon as the honeymoon period ends, and it does eventually, and real-life kicks in, minute and minor conflicts start.
And one needs to remember that you and your significant other are two separate and different individuals. You have different ideals, values, mindsets, and thought procedure. No two siblings are alike, then how can two strangers be the same?
Understanding our differences
Personality differences in marriage are extremely common.
Ever heard of opposites attract? Your significant other is your opposite, your better half. There will be times when you will argue, fight, bicker, have spats, but there will be some form of respect in your partner's heart for you.
The bickering is natural as long as the goal for the couple remains the same. The only way to succeed in a relationship where two people are polar opposites of each other is when both parties will learn that understanding the differences is the only way to move forward and build a happy life.
Being understanding in a relationship is also a form of respect and courtesy that you extend towards your partner. It is like you are acknowledging them as a separate individual and you are giving them room to grow further, instead of dumping your expectations on them.
Keeping your relationship expectations low does not mean that you let others trample all over you.
The final nail in the coffin
Expecting the unexpected.
Every relationship – be it of friends, colleagues, lovers, or marital – has to have communication. One cannot expect their spouse to do things for them, which they have never communicated. At the end of the day, they are your spouse, not magicians to read your mind and step up to your every whim. Keep your relationship expectations high but realistic.
It does not mean that you cannot put up an effort.
Men generally try and get out of things by saying that understanding the mind of a woman is an impossible task.
We have all seen the plethora of memes and jokes. It's true that humans are not mind readers; however, after spending a significant amount of time, in some cases years or decades, one can have an educated guess regarding your partner's whims and expectations.
On the plus side, even if your partner was not expecting you to just do the dishes without asking, bring a bouquet of flowers without any occasion, or cook dinner or order food; it can be a pleasant surprise!
The same goes for the ladies as well; understanding your husband or at least trying to do so is an important part of a marriage. Knowing the wishes of your spouse, fulfilling them, or respecting them is part and parcel of every relationship.
In a nutshell
Expectation is such a tabooed word that people generally cringe away from it, and the one who expects a better treatment or a better character from others is made to feel as if they are the odd one out.
Relationship expectations do not have to be unachievable or scary.
They can be shared and worked on and should be malleable. People, with time, change for the better; so should expectations.
Share this article on
Want to have a happier, healthier marriage?
If you feel disconnected or frustrated about the state of your marriage but want to avoid separation and/or divorce, the marriage.com course meant for married couples is an excellent resource to help you overcome the most challenging aspects of being married.
You May Also Like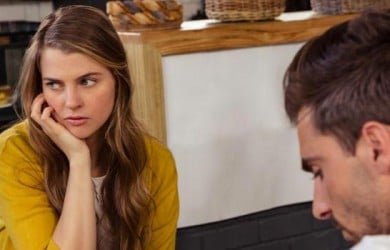 Popular Topics On Married Life