20 Ways to Improve Communication in a Relationship
Why is communication important in a relationship? Healthy communication in a relationship creates a foundation of lasting trust, fulfillment, and openness between couples. Communication is one of the key ingredients to a healthy relationship.
Why communication fails
You and your partner will face communication issues at some point.
Over time, people have difficulty getting across to one another. Emotions get in the way, the disconnect is frustrating, communication barriers go up, and before you know it, a point is reached where you rather not talk.
Fortunately, communication is a pretty easy fix but does require time.
Since communication in relationships is a huge part of our day-to-day lives, it really matters in a relationship.
Signs you need to improve communication
Sometimes, it can be hard to understand why things aren't mending despite the communication that has been taking place. It could be so because possibly the good communication skills in a relationship are lacking.
The right communication can help achieve great relationship results and make the relationship healthy. But how can you tell about the signs you need to improve communication? Check out these 5 signs to guide you:
Related Reading: Top 10 Characteristics of a Healthy Relationship
One way communication is where you are the only one speaking in the conversation without letting the other person present their point. Observe if your communication is one-way. It is one of the signs that you should sit back and listen to your partner.
Does either of you indulge more in criticizing each other rather than effectively communicating? Avoid talking negatively as this will not lead to any result.
If either of you is invalidating the other person's feelings, this is one of the signs you need to improve communication. Avoid saying things like, "I don't care."
If your statement begins with 'you', this means you have poor communication skills. It highlights that you are more gravitated towards blaming your partner than looking for a solution.
One of the signs you both need to improve your communication is when either of you feels that there are personal attacks being made in the process of talking. Avoid attacking each other's vulnerabilities.
What effective communication really means
Being in love means you both will be able to communicate quite easily, which is also vital because, without communication, the relationship will have no chances of survival.
Effective communication is when it involves two elements:
It might sound easy, but it needs good practice. Again, while speaking, you need to remember the elements of speaking in truth and in love. While you are listening, ensure that you are actively listening, understanding, and showing empathy.
In effective communication, there are various levels starting from cliche and ending at sharing thoughts without any reservations. Know about these below:
20 ways to improve communication in your relationships
How to improve communication in a relationship? Here are some communication tactics and tips on improving communication in a relationship.
1. Break down communication barriers
Establish an open communication relationship. There is no room for barriers when it comes to communication in relationships.
Good communication requires openness. The thing is, barriers are not broken just because you want them to go away. They don't disappear when you tell someone, "I want to break down our communication barriers."
One of the ways to improve communication in a relationship requires barriers to be broken down by gradual change.
When it comes to communication barriers in relationships, start by removing the criticism, blame, and/or defensiveness from verbal interactions.
Openness only occurs when both participants feel comfortable and safe.
Related Reading: Break The 6 Barriers to Effective Communication in Marriage
2. Stay in the present
One sure way to upset someone is to bring up the past.
When something prompts a negative response, that is a sign to stop. Communication in relationships must remain in the present because living in the past negatively affects the present.
As one of the ways to improve communication in a relationship, keep any conversation, even the unpleasant ones, calm and respectful by focusing on the topic at hand.
Referencing the past quickly turns small disagreements into huge arguments. Before you know it, completely unnecessary things are said, and the relationship takes a hit.
There is no reason to escalate something small.
3. Listen more than you speak
How to improve relationship communication?
Another in the list of important ways to improve communication in a relationship is to learn the importance of listening more than you speak.
If you take the time to hear and process what the other person is saying, you will gain a better understanding of their side and they will understand you by doing the same.
In the heat of the moment, we tend to catch onto little bits of what someone is saying but completely miss the full picture. This is the cause of people feeling misunderstood and as we know, misunderstandings lead to frustration and establish barriers that are hard to break down.
To implement this tip, give conversations more structure by not interrupting and focusing more on what a person is saying rather than what you plan to say next.
4. Watch nonverbal signs
Nonverbal communication is just as, if not more, important than verbal communication.
Work on communication in a relationship with the use of body language. Our body language and gestures say it all.
A few examples would be crossed arms, an indicator of being closed off or feeling attacked, positioning the body away, an indicator of defensiveness and a lack of eye contact, a sign of either dishonesty or disinterest.
Pay close attention to the person you are talking to.
Good communication is like a dance that requires both parties to take cues from one another. If you are getting the feeling that you should back off or direct a conversation elsewhere, take the cue.
When two people are able to read each other, they become closer because a mutual understanding of boundaries is established.
5. Never underestimate the impact of honesty
Communicating openly and honestly is one of the steps to strengthen the relationship.
Communication in relationships relies heavily on honesty. One of the relationship communication skills and ways to improve communication in a relationship is to cultivate is maintaining honesty in communication in a relationship.
Honesty not only means speaking the truth. It also means being honest with yourself concerning your feelings and viewpoints. One of the ways to improve communication is to remain genuine.
Building communication in a relationship means building a relationship where communication is not an issue in the first place, and both partners work at adopting effective ways to communicate better.
6. Timing is everything
Along with implementing the tips for better communication or how to communicate better in a relationship, don't forget about timing.
Timing plays a vital role when it comes to facilitating healthy communication in a relationship, as an untimely conversation and improper tone can wreak havoc in marital bliss.
7. Always talk face to face
Even topics that are remotely important must be discussed face to face. A face-to-face conversation is one of the most effective ways of communication in a relationship.
Phone calls, texts, and emails only leave loose ends since sometimes they can be unclear. It is easy to misunderstand what someone is saying, especially in texts and emails. These forms of relationship communication have a purpose but having meaningful conversations isn't one of them.
8. Wait a day or two
When upset about something, of course, you want to make your feelings known. So, how to communicate better about the rift or discord in the relationship with your spouse? Well, definitely do that, but take one or two days to calm down and think the situation through.
So, how to communicate effectively in a relationship?
Even when the desire is strong, wait. You want to be the one to speak, not your anger. Anger in relationships entails nothing but negative and accusatory language. Ways to improve communication in a relationship include practicing a 24-hour rule.
Here's a quick and easy tip on acing the art of communication in a relationship. If an oversight on your lover's part won't matter after 24 hours, then letting go of voicing complaints is the best route to facilitating better communication in a relationship.
9. Understand your own feelings
It is only natural to want to discuss an issue right when it happens, but you need time to facilitate fruitful communication in a relationship.
Before you begin to communicate with your significant other, be clear about your feelings.
Sit for a while and process what's going on in your head. Emotional awareness helps unclog your brain and communicate better. You can do that by exploring your sensations and keeping a log of how you feel each day.
10. Use 'I' statements
Ways to establish that comfort and safety are avoiding starting sentences with the very accusatory "you," start expressing feelings with "I feel" or "I am," and make requests by leading with, "Can you" or "I would appreciate it if you."
"I" statements in conversations help your partner understand your feelings. Such statements express your strong feelings about the situation and help your partner understand your preferences.
Some of the examples of "I" statements are:
I feel lonely when you leave the dinner table.
I feel anxious when you talk about my past.
I feel distressed when you don't tell me your worries.
11. Set a goal to resolve
Unless the whole agenda of starting the conversation is to reach a solution or a conclusion, it won't do you both any good and only add to the already existing distress. So, set an intention to resolve the problem before you begin the conversation.
Once you have the goal in mind, both of you will not deviate from the aim.
12. Establish boundaries
In a relationship, it is essential to draw the lines. It tells the spouses how they would want to be treated by each other. It also makes clear the personal values that they would like to protect. Spouses can do that by asking for permission, being honest, and showing respect when differences in opinions come to light.
13. Avoid screaming
Screaming and yelling will lead to no good. It will only lead to more distressed conversations. So, talk patiently, and in cases where your partner begins to blame you for something, halt the conversation instead of getting angry and shouting back. If necessary, openly ask for a break.
Here, it becomes your responsibility to mentally assess the situation.
14. Leave love notes
Sometimes, written words will do more magic than face-to-face conversations. So, as one of the important ways to improve communication in a relationship, remember to leave sweet notes for your partner at their most visited spots. It could be inside the wardrobe, inside the car refrigerator door, etc.
You can write general love-filled statements, apologize for any of your past behaviors, or hint at them about the sex plans.
15. Don't be sarcastic
Don't be sarcastic or condescending in the relationship. This will show you have ill feelings for your partner, and this will only harm the relationship.
While humorous repartees are most welcome, crossing the line will lead to insult jokes. Partners should watch their actions and wait for a while to find appropriate words when they feel inclined to make a sarcastic comment.
16. Pick the right place
You must resolve communication issues in privacy and at the comfort of your home. In cases of issues, avoid fighting in public or at social events. If you both feel a surge of anger, avoid talking in public and wait till you both reach home.
This will also buy you both some time to calm down.
Related Reading: Common Communication Problems in Marriage
17. Understand your partner's needs
Most issues occur because partners fail to understand each other's needs. You both need to observe deeply and ensure the needs of both partners are paid heed to.
This can happen with calm communication and foster relationship satisfaction.
18. Don't interrupt
When you want to have a conversation, do not initiate simply because you want to talk. Don't interrupt your partner or expect them to drop their current task to chat.
Rather, ask if they have a moment or if the two of you can speak later. Initiating conversation with an interruption adds an unnecessary irritant right from the start.
19. Send positive expressions
As one of the essential ways to improve communication in a relationship, it is necessary to let the other person know you are really involved in the conversation. It will encourage them to express themselves freely. You can nod your head in times of agreement or smile from time to time to show your interest.
20. Respond rather than reacting
Responding includes the consideration for the result of the discussion and involves emotional intelligence. However, reacting can have both positive and negative meanings and is based totally on emotions.
Last but not least, in the list of ways to improve communication in a relationship, remember not to react to whatever your partner says impulsively. You must respond to their issues calmly and patiently.
Takeaway
To understand how to effectively communicate, know that the right communication skills can do wonders in making the relationship smoother and healthier. It will add a lot of transparency to the bond you share with each other as well.
So, learn to communicate with your partner by practicing effective communication in relationships and foster a stronger love bond, trust, and empathy in a relationship.
Share this article on
Want to have a happier, healthier marriage?
If you feel disconnected or frustrated about the state of your marriage but want to avoid separation and/or divorce, the marriage.com course meant for married couples is an excellent resource to help you overcome the most challenging aspects of being married.
Learn More On This Topic
You May Also Like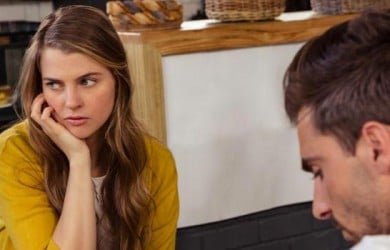 Popular Topics On Married Life