15 Ways on How to Accept and Move on From a Relationship
People often talk about how it is to be in a relationship, not how to move on from a relationship.
We all aim to have a long-lasting relationship. However, things are not always as we dream. There comes a time when one is in a toxic or a bad relationship.
It's important one move from a toxic relationship and starts living life afresh.
It's not easy to move on from a bad relationship once you've developed a bonding with the other person.
When relationships end on a bitter note, you are left to deal with the memories.
Moreover, it gets increasingly difficult if you are alone throughout the process of moving on.
Related Reading: 

The True Meaning of Being in a Relationship
What does moving on mean in a relationship?
The meaning of moving on in a relationship is about getting back into a healthy routine.
But, for most of us, life after a breakup sucks, and we inadvertently withdraw ourselves from all the other good things in life.
Sometimes, people carry out their daily activities and claim that they have moved on, whereas, in reality, they only pretend to be okay with the turn of events. This can often cause high levels of mental stress and is therefore unhealthy.
Here are a few steps to help you move on after a breakup or move on from a bad relationship (not necessarily romantic).
Also Try: 

Signs of a Bad Relationship Quiz
Acceptance and acknowledgment in a relationship
When the situation comes to move on from a past relationship, most people fail because they refuse to accept and acknowledge the end of the love between them.
The quicker you would accept the end of a relationship, the easier it will be for you to move on. You can't start something new unless you put a proper end to the past relationship.
So, accept the end of a relationship. Drop the baggage and plan your next course of action. Remember, life never ends with a breakup. It just takes a break. There is more that lies ahead.
How do you accept and move on from a relationship?
Listed below are some pivotal ways to move on fast from a relationship.
1. Cut off the connection from your ex
If you think you can be friends with your ex, you're mistaken.
It's not as easy as it seems. Besides, these situations look good on big screens. In real life, being friends with an ex is a huge mistake.
The best way to move on in life and bury your past is to end the chapter. So, cut your contact with your ex and focus on important things to you. The moment you start focusing on important things, you will see the memories vanishing.
2. Get rid of everything that makes you miss your ex
Having things connected to your ex or past relationship will only make you resent yourself. It will make you miss them and feel nostalgic and guilty. It can impact you mentally in a worse way.
To move on from a relationship, you need to eliminate everything connected to your ex. Please put it in a box, throw it out, or do whatever fits best. If you think that some of those things are meaningful to your ex, give them all back.
3. It's okay to cry
Everyone has their coping mechanism while moving on from a relationship.
If you've been through a bad breakup recently, you can grieve in any way. Don't bother about who's judging you.
Crying is okay and if it helps you vent out, do it. But, makes sure that you don't lose yourself to the ritual of constant crying.
If crying is all you have been doing for a while, seek help immediately. Make every possible effort to get out of this whirlwind of melancholy.
4. Learn forgiveness
It is impeccably challenging to forgive someone who has ended a relationship with you and broken your heart, but you need to understand that the best way to get through the pain is to forgive.
Before you forgive them, forgive yourself. People mostly blame it on themselves, thinking about endless possibilities of what could have happened if they tried harder. It would be best to know that sometimes you can't control things, and it's okay.
Forgive yourself for playing any role in the breakup, and after that, try to forget your ex. Think about the endless suffering this relationship would have caused you both. Though it was a bitter experience, their decision has saved you from misery. It hurts, but it is good for you.
Related Reading: 

Learning To Forgive: 6 Steps to Forgiveness In Relationships
Watch this interesting video on self forgiveness and how it can save your life:
5. Make peace with the void
To move on from a long-term relationship is painful. In search of how to move on from a relationship, one must learn to fill in the void with something creative and essential.
When you're with a person for a long time, their absence will profoundly impact your life. You are bound to feel the void, and it will haunt you if you don't replace it with some activity or a newly developed habit.
So, to move on, make peace with the emptiness, accept it, and fill it with exciting and life-changing habits.
6. Speak with loved ones and family
The most common mistake one makes in how to move on from a relationship is keeping their emotions packed within.
This isn't the right thing to do. When you're sad or feeling emotionally overwhelmed, speak up. It would help if you shared your feelings and thoughts with your loved ones or family.
When you speak about your emotional breakdown, you would feel the light within. This will overrule any negative thoughts that generally come after breakups.
7. No 'what if'
Post-breakup, it's usual to reevaluate the entire situation.
Then, there comes a time when one enters the 'what if' mode. In this mode, it's possible to revisit the entire episode and think of all the possible solutions that might have stopped the breakup or would have changed the course of the relationship.
This is disturbing, and it does leave a long-lasting negative impact, not letting one look for options on how to move on from a relationship. So, stop reevaluating the situation and stop considering 'what if.'
Related Reading: 

What to Do After a Breakup?
8. Know that you're still in love
You've deeply loved a person, so it will be challenging to undo everything; it's technically impossible to sabotage those beautiful memories. To move on from a relationship when you're still in love with your partner is the most challenging condition.
The only solution to a path to recovery is to know that you're still in love with them. Later, accept the fact that they don't love you anymore.
Make peace with the situation that your companionship with them won't be flourishing, and it's good that you put an end to it.
9. Acceptance
You've been grieving for far too long now. It's time you stopped and moved on with life. You need to snap out of negativity and accept that the relationship you once had with a particular person is no longer there.
Acknowledging this harsh reality is essential if you want to go on with your life.
Know that life doesn't stop for or without anybody. So, stop overthinking and start working towards improving yourself as an individual.
Moving on from a relationship is easier said than done. But ruminating over the past is certainly not worth a hill of beans.
So, take time to grieve, but accept the reality as fast as you can, and get going with moving on from a relationship. Life is too short to not live!
10. Get in touch with old friends
One of the best ways to improve your mood is to catch up with old friends. Few things in the world are as refreshing as this.
Old friends have a way of bringing out the child in you, which is the best moving on' definition.
When you're moving on from a relationship and trying to forget things for a while, your childhood friends can be of great help.
11. Make new friends
Get to know more people. Don't try to constrict yourself to a box of toxic emotions and distressing feelings.
While moving on from a relationship, try to socialize with people at work or in your neighborhood. You can even make new friends on social media by safeguarding your safety first.
You never know who has an interest similar to yours unless you make an effort to know them.
And, even if you are not ready for any romantic encounters, there's no harm in making new friends with whom you can connect to laugh aloud and share your emotions.
12. Start loving yourself
This sounds easy but is quite tricky. All these years, you were giving importance to someone you love.
When suddenly they have walked out of your life, you would feel the pain and will start blaming yourself for the entire thing. You may start ignoring yourself and might become the worst version of yourself.
Instead, start focusing on yourself and emerge as a different person.
Take ultimate care of your self and appearance. This will keep the confidence alive, and you will find yourself in a better position than before.
Related Reading: 

5 Steps to Help You With Learning to Love Yourself
13. Do more of what makes you happy
If you've got free time on your hands, try to look for something that keeps you busy. Please find a new hobby and spend more time doing it rather than sitting idle and sulking around.
Do things that keep you happy. This will help divert your attention and make it easier for you to move on.
You can even plan a solo trip or a trip with your besties to some fantastic location or try nature trails to move on from a relationship and renew your strength.
14. Join a support group
If you're looking for a solution to how to move on from a relationship, then joining a support group helps.
Some people have gone through a similar situation and have successfully pulled themselves out of it. If you think you're getting deeply involved in it, a support group will help you tremendously.
There are people with similar mindsets and feelings who surely will assist you in overcoming this setback.
15. Take professional help
If you're not comfortable discussing your issues with people, friends, or family, you can seek professional help.
Talk to a professional who can guide you on how to go about things. There is no harm in seeking help, and one must never feel shy.
Counseling can help systematically unveil the underlying issues that you are not aware of. A therapist or counselor can help you address your toxic emotions and equip you to tackle them effectively even in the future.
Related Reading: 

6 Reasons to Get Professional Marriage Counseling Advice
Conclusion
Life is a series of changes, one after the other. If you sit back and look at how things have changed over the years, you would be surprised to see how some of your life's once seemingly permanent features are nowhere to be seen.
Whether you look at things in the context of relationships or simply general tangible items, you will realize that nothing stays the same. Like you, your relationships are also evolving with time. Embrace the change and build a good life.
Share this article on
Want to have a happier, healthier marriage?
If you feel disconnected or frustrated about the state of your marriage but want to avoid separation and/or divorce, the marriage.com course meant for married couples is an excellent resource to help you overcome the most challenging aspects of being married.
More On This Topic
You May Also Like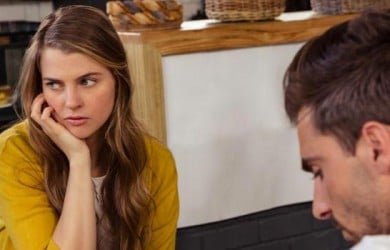 Popular Topics On Married Life