How to Handle Relationship Arguments: 18 Effective Ways
Relationships can be challenging. When you enter into a long-term partnership with someone, you have to accept that the two of you have different life histories, family backgrounds, and values systems, all of which can lead to different opinions.
These differences can cause relationship arguing, which isn't necessarily negative. For the success of your partnership, it is critical to learn how to handle arguments in a relationship so that disagreements don't lead to the breakdown of the relationship.
Types of arguers in relationships
If you're struggling with constant arguments in relationships, it might be because you are engaging in one of the four unhealthy argument styles.
Relationship expert and therapist Dr. John Gottman refers to these argument styles as the "Four Horsemen," and he has found that they are likely to lead to divorce or breakup because they increase conflict.
Gottman's four types of arguers, labeled as the "Four Horsemen," are as follows:
Criticism
Arguing a lot in a relationship may result from criticism, in which a person complains or attacks their partner, resulting in the partner feeling offended.
Related Reading: 

5 Types of Conflict in Relationships and How to Deal With Them
Defensiveness
When arguing in a relationship, a defensive person will protect themselves by insisting they are correct or by interrupting their partner to explain their position.
Related Reading: 

How to Stop Being Defensive in Relationships
Contempt
A husband and wife arguing can become constant when partners display contempt for the other during disagreements. Someone who uses contempt will show a complete lack of respect for their partner by intentionally hurting them with their words.
Stonewalling
As the name might suggest, stonewalling involves putting up a wall during times of conflict. A stonewalling arguer will physically distance themselves from their partner by withdrawing or refusing to respond during disagreements.
If you want to know how to handle arguments in relationships, a good starting point is to avoid the behaviors above.
Why do couples argue over trivial matters?
People often ask, "Is it normal to have arguments in a relationship?" The answer is that it is pretty typical to have some disagreements. No two people are entirely alike, so they will have conflicts from time to time.
Arguments in relationships can become unhealthy when you are constantly arguing over trivial matters. This signals that you are picking small fights because of an underlying issue in your relationship.
Some causes of arguing over small things can include:
Having too high of expectations for each other

Being intolerant of each other

Having a tendency to take out frustrations on your partner

One partner is taking on too many household responsibilities

Lashing out because of stress at work or in another area of life
Small arguments often signal that you are trying to distract yourself from another issue, such as the fact that one of you is overwhelmed or that you are simply not communicating well.
If this is the case, some of the best relationship argument advice will tell you to try to focus on the underlying issue rather than continuing to pick fights over small matters.
Are arguments healthy in a relationship?
So, are arguments normal in a relationship? To some extent, the answer is yes. At the same time, arguing a lot in a relationship, if it is harmful, such as through contempt or stonewalling, is not healthy.
On the other hand, productive arguments can increase the trust you have with your partner and help you grow closer.
Sometimes, you need to disagree to reach a compromise that strengthens the relationship and helps you and your partner to remain on the same page.
It's not about how often you argue or whether you argue at all, but rather, how you argue that makes a difference in your relationship.
Research has shown that relationship arguing can increase marital satisfaction if couples compromise or use other healthy conflict resolution styles.
On the other hand, the same research has observed reduced marital satisfaction if partners use an avoidant conflict resolution style or if one person is dominant and disregards the other person's needs.
Based on what we know from relationship psychology, knowing how to handle arguments in a relationship requires an understanding of what constitutes a healthy arguing style.
Instead of being fearful of arguments, couples need to accept that disagreements will happen, and it is possible to learn how to resolve an argument positively.
18 tips on how to handle arguments in a relationship
It is pretty well-established that a relationship without arguments or fights isn't likely because there will always be differences between you and your partner, even in a healthy relationship.
You can learn how to deal with arguments in a relationship with the 18 relationship argument tips below.
1. Get to the root of the problem
Stop spinning your wheels by having the same argument over and over. If you're constantly nit-picking your partner about leaving dirty dishes in the sink or the type of cheese they buy at the grocery store, take some time to assess what might be going on in the relationship.
Is one of you not pulling their weight around the house? Does someone need a little extra support for coping with stress? Get to the root of the issue so you can have a productive discussion and arrive at a compromise.
2. Don't be afraid to express your needs
Some people think the best method to learn how to resolve an argument is to give in and give their partner exactly what they want. This may work over the short term, but you'll eventually feel resentment if you constantly accommodate your partner's needs.
The next time you have a difference of opinions, take the time to express what you need.
Watch this video to learn the signs that indicate that you are too nice for your own good:
3. Refrain from attacking
Criticizing your partner by calling names, or placing all the blame for a problem on them, isn't likely to lead to healthy arguing. When you're in the midst of a disagreement, it's important to focus on the facts to arrive at a solution.
Attacking your partner dumps fuel on the fire.
4. Show physical affection
Arguing can affect relationships, especially if it involves unhealthy conflict resolution styles like contempt or name-calling. If you want to handle relationship arguing more healthily, consider using physical touch.
A hug, a pat on the shoulder, or holding hands can go a long way toward diffusing a heated argument.
5. Own up to your role in the argument
No one likes to deal with someone who thinks they are always right, so take time to show accountability instead of blaming your partner every time you disagree. Recognize your role in the disagreement, and offer your partner an apology.
6. Have a conversation, rather than a fight
Conflict doesn't have to involve a fight. Instead of having a full-blown fight every time you disagree with your partner, commit to sitting down and having a rational conversation about the issue. Take time to listen to their perspective, and ask that they do the same for you.
7. Let the small things go
Sometimes, you have to pick your battles. Constantly nagging your partner about leaving their shoes in the wrong place will lead to negativity and increased conflict.
Show some grace and move the shoes on your own, without feeling the need to criticize them every time they do something small that upsets you.
8. Don't argue when you're in a bad mood
Sometimes the phrase "Never go to bed angry" isn't the best relationship argument advice. If you try to handle a conflict when you're in a bad mood, you're more likely to say something you don't mean, which only escalates the conflict further.
Cool off until you're able to have a rational discussion.
9. Set a goal for the argument
Keep in mind that the goal of an argument isn't to be right or to make your partner feel bad. Think about what your true motive is.
Are you trying to reach a compromise on finances? Are you attempting to discuss a parenting issue? Work toward that goal, and resist the urge to distract yourself with accusations against your partner.
10. Don't make assumptions
One of the best strategies for how to handle arguments in a relationship is to never assume you know where your partner is coming from.
Please don't assume that they act a certain way because they don't care about you. Instead, listen to their side of the story, and try to understand them rather than fight with them.
11. Make direct statements about your present feelings
When your partner does something that hurts you, it's tempting to throw an insult at them, such as, "You don't even care about me!" Resist the urge to do this, and instead focus on how you're feeling in the present moment, using "I statements."
For example, you can tell them, "When you are late for our dates, I feel as if you don't care about our time spent together." Expressing yourself in this way is a healthier way of communicating your feelings, leading to more effective conflict resolution.
12. Try not to let your emotions get the best of you
If you want to figure out how to deal with arguments in a relationship, you have to learn how to set your emotions aside during a disagreement. When you're feeling angry or hurt and you approach the conflict in an emotionally heated state, you're not likely to resolve anything.
When you're overtaken by anger or pain, you'll probably say something hurtful that perpetuates the conflict. Take a deep breath, set aside your emotions, and approach the situation rationally.
13. Remember that this is someone you love
In a heated moment, it's easy to let feelings of resentment get the best of you. Remember that you love your partner to prevent an argument from damaging the relationship.
It can even soften an argument if you remind your partner that you love them and want to resolve this for the benefit of the relationship.
14. Have realistic expectations
Relationships without arguments or fights are not normal, but you may have developed an unrealistic expectation that you and your partner will never disagree. If this is the case, it's time to change your expectations so that every argument doesn't feel like a tragedy.
You'll be better prepared to work through conflict if you recognize that it is healthy and expected.
Related Reading: 

Relationship Expectations – What Should You Do with These?
15. Be willing to change
A relationship takes two people, so if there is a conflict or disagreement, you need to recognize that you played at least some part in it. If you want to resolve arguing in a relationship, you have to be willing to make changes to remedy your role in the conflict.
16. Accept that your partner will never be perfect
Just as you can never expect yourself to be perfect, you cannot expect that your partner will be perfect at all times. We all have flaws, and when you recognize that you cannot change all of your partner's little imperfections, you will stop arguing about them.
Decide what quirks you can accept, and stop trying to change them.
Related Reading: 

10 Tips to Creating Your Perfect Relationship
17. Assume positive intent
In most cases, your partner doesn't go about their day purposely trying to hurt you or start a fight. When your partner makes a mistake or engages in a behavior that leads to an argument, they may assume that they meant to do the right thing.
If you assume that they meant well, rather than jumping to the conclusion that they intended to hurt you, you'll be able to approach the disagreement from a place of compassion and understanding.
Related Reading: 

How to Improve Understanding in a Relationship
18. Reframe your views about conflict
Suppose you've determined somewhere along the way that conflict should be avoided at all costs. In that case, you're likely to either sweep problems under the rug or become panicked and overly emotional in the face of conflict because you think that it means the relationship is destined to fail.
Instead of viewing conflict in this fashion, reframe it as an opportunity for growth within the relationship.
Suppose you're able to see the value in conflict. In that case, you'll be able to remain calmer and more level-headed during moments of disagreement, which puts you well on your way toward figuring out how to handle arguments in a relationship.
Takeaway
Even the healthiest of partnerships will sometimes involve conflict. No, two people will see things exactly the same way at all times, so arguments in relationships are expected. They are an opportunity to grow closer together and better understand each other.
That being said, knowing how to handle arguments in a relationship is critical. Suppose you argue in an unhealthy or unfair fashion by criticizing your partner, becoming defensive, or shutting down emotionally. In that case, relationship conflict can become so harmful that it leads to relationship breakdown.
On the other hand, learning how to resolve an argument with your partner through healthy, productive means can improve communication and increase relationship satisfaction.
Suppose relationship argument tips have not helped you to resolve frequent arguments in your relationship. In that case, you and your partner may benefit from seeking couples counseling, where you can learn healthy communication and conflict resolution styles.
Share this article on
Want to have a happier, healthier marriage?
If you feel disconnected or frustrated about the state of your marriage but want to avoid separation and/or divorce, the marriage.com course meant for married couples is an excellent resource to help you overcome the most challenging aspects of being married.
Learn More On This Topic
You May Also Like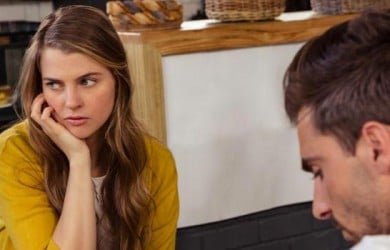 Popular Topics On Married Life