Why Conflict Resolution Skills Are Important in a Relationship
Relationship dynamics is a subject of interests by moralists, psychologists, philosophers, sociologists, and many other fields of study since ancient times. A group of at least two people with constant interaction can be defined as a relationship.
Two individuals will never agree with one another 100% of the time. It doesn't matter how intimate they are, or what level of ethical understanding they have in their relationship, some problems will arise. Individuals rely on conflict resolution skills to keep it feasible.
What is conflict resolution skill
It is the set of abilities that ends a conflict in favor of the person with such abilities. It's necessary to add the word "favorably" in the definition because whining while bullies take your cookies, is not an example of conflict resolution skills, even if it prevents you from being hurt more than you already have. Contemporary thinking is attempting a paradigm shift to include the word "amicably" in the modern definition. The truth is a lot of big conflicts were solved through war, coercion, and murder. However, those methods are costly, even to the victor giving rise to the term Pyrrhic victory. A person with true talent in conflict resolution is able to get a favorable outcome at a minimum cost.
Anyone interested in acquiring conflict resolution skills should understand that vested interests and gunboat diplomacy is always the name of the game. Everyone involved wants to get as much as they can from the other party without costing too much. Conflict resolution skills by definition are more or less a part of negotiation skills.
Conflicts arise when more than one person is after the same piece of the pie. In a perfect world, those people would learn to share just like what they were taught in kindergarten. Unfortunately, it's not a perfect world. Conflict resolution examples include peace treaties, trade agreements, and two people shaking hands after a spat.
Conflicts will have to end one way or another either through the victory of one belligerent or an amicable settlement. Conflict resolution skill is the ability to reach that conclusion using the least amount of time and resources.
Communication and conflict resolution skills
At the end of the day, conflicts are resolved through a mutual understanding. It happens after a long negotiation, a bloody war, or both. A lot of pacifist idealists believe that the bloody war can be skipped and civilized society can go directly to negotiations. Those people forget that violence is the authority where all other authorities come from, and authority and leverage is necessary for any negotiations.
A person with good conflict resolution skills knows that fact. He knows that peace is achieved either through fear of mutual assured destruction, balance, or victory. All conflicts big and small works in on the same model.
It's approached two ways, achieving the objectives of the parties involved offset by the cost of acquisition. The second is convincing one or both parties that the objectives or the conflict itself are more trouble than it's worth.
How are interpersonal communication and conflict resolution skills similar? It's important to be able to get points across to belligerent parties while they are in a negative frame of mind. They both require charm, a high EQ, and the masterful use of words. It is also necessary to get the trust and assurance of both parties while remaining objective and neutral as a mediator. If you are part of the conflict, then it's even more challenging to remain calm, communicate, and get both parties to trust each other.
Communicating during conflicts is difficult. If people understand each other, there wouldn't be a conflict in the first place.
You would first have to determine if the conflict is a miscommunication, misunderstanding, or a real dispute.
Identifying the source is also part of conflict resolution skills. Once the source is identified, it is time to break apart the issue and resolve the matter one by one. A lot of difficulties are just a manifestation of a deeper underlying problem, it is no different from symptoms of a disease. Attacking the symptom directly such as a fever will help alleviate the symptom and comfort the patient, but it will return if the source, say an infection, is not handled at the same time.
Also watch: What Is a Relationship Conflict?
Conflict resolution skills in marriage
Marriage is one of the most important relationships a person can have during their lifetime. Conflicts in marriage have a long-lasting impact and affect other important people in your life.
Because of the emotional attachment to the matter, it is much harder to remain calm during marriage conflicts as opposed to business problems.
Conflict resolution skills in marriage are more important and difficult to implement because it's closer to home.
Couples bicker and argue all the time, and more often than not, the solution is to let the spouse with a stronger personality have their way. Ignoring problems is also part of maturity and a conflict resolution skill. Letting things pass and treat it as water under the bridge is the fastest way to resolve a conflict, especially when it's not worth the trouble.
There are sensitive issues that matter needs to be discussed. If neither spouses have conflict resolution skills to settle the matter, consider hiring a neutral third party professional such as a counselor or therapist. It is important to note that when two individuals, especially married individuals with children, argue emotionally, there is a chance to make things worse.
Some people dig up old wounds, resort to insults, name-calling, and other ways to berate their spouse that even if half-meant could further deteriorate the situation, and add more fuel to the fire.
Conflict resolution skills require a mix of hard and soft skills. Critical thinking and logic are necessary to break apart the problem and find actionable and practical solutions to solve the underlying sources. Soft skills such as the ability to take responsibility, criticism, and flexibility are also necessary to get things moving along to an amicable solution.
Patching up problems in your relationship is part of life. Mature long term couples go through rough times just like toxic relationships. However, couples in healthy relationships identify their problems and work together to resolve them. It is a never-ending cycle as problems arise and couples sharpen their conflict resolution skills as they grow older and experience more hardship in their union.
Share this article on
Want to have a happier, healthier marriage?
If you feel disconnected or frustrated about the state of your marriage but want to avoid separation and/or divorce, the marriage.com course meant for married couples is an excellent resource to help you overcome the most challenging aspects of being married.
More On This Topic
You May Also Like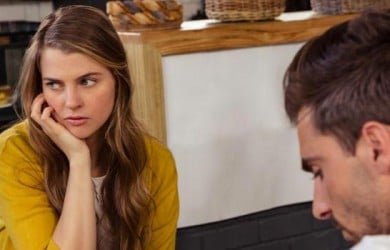 Popular Topics On Married Life