The Ladder of Healthy Communication and Conflict Resolution in Marriage
In this article, I will highlight a healthier approach to communication and conflict resolution for married couples. I will discuss 7 steps to guide you towards creating a healthier framework on how to communicate to your spouse. The 7 steps are
(1) Creating a safe space
(2) Commitment
(3) Awareness
(4) Empathy
(5) Support
(6) Vulnerability
(7) Intentionality
I believe that we communicate to learn. If we began with this approach then we must ask ourselves what is the issue we would like to focus on and why. This tactic creates an opportunity for us to clearly state and examine the problem with our partner and provide them a chance to learn what and how we feel and why. Moreover, permits your husband or wife time to hear your concern and gain understanding and respond to the issue.
In my experience, the couples whom I have worked with over the course of 15 plus years didn't approach one another to learn, but rather to prove their point. They were focused on them and their point of view. There was no room for their spouse to speak or learn because the discussion was led by their feeling. They created an environment that was hostile and non-safe, and the conversation was dictated by their feelings alone leaving no room for their wife or husband to respond.
Create a safe space for communication
In order to create a safe space, it can't be one-way thinking, negative attitudes or behaviors, using the dialogue to tear down your mate, use words that cause harm, or illustrate negative non-verbal actions and behaviors. In order to create a safe space, you have to be willing to have a bilateral conversation. Meaning it takes two to communicate. There must be talking and listening. When you speak with your spouse your marriage should not be held hostage. You should not be threatening to leave them. You must demonstrate a posture of dedication, promise, and devotion. If you use your marriage to threaten your husband or wife then nothing is going to be learned because they will become defensive. There needs to be a commitment to the process of communication. If you use it to intimidate them into getting your way then what have they learned from your verbal and non-verbal communication.
Show concern
Be alert and demonstrate that you are concerned about your spouse. When you exhibit that you are bothered by their pain and hurt it lets them know that you are paying attention and open to hear what they need from you in the relationship. Your awareness of their desire is necessary within the conversation. This small gesture goes a long way and shows them that you are interested in learning about their needs, want, and/or desires. This leads to understanding the issue or conflict from their perspective and permits you the opportunity to show empathy – meaning you feel what they feel, how they feel it. You are attempting to understand your spouse. When we are empathic it creates the opportunity for us to be supportive. We are able to show that we are a team player and willing to help resolve or compromise on the matter at hand.
Vulnerability
Another important component in building healthier means of communication is, vulnerability. This is achievable when we have successfully established creating a safe space, commitment, awareness, empathy, and support. Vulnerability generates openness, sensitivity, tearing down of walls, and creating heart space. This allows for couples to grow closer together and is a form of intimacy.
Also watch: What Is a Relationship Conflict?
Intentionality
Lastly, when engaged in promoting a healthier way of communication there must be intentionality. You should be willing to focus on restoring the discord or difficult situation. This does not mean you will always agree, however you are intentional about taking the necessary steps towards being thoughtful concerning moving the relationship forward. There must be a deliberate and purposeful attempt to learn from one another and journey towards creating an action plan regarding the conflict. Intentionality allows for grace.
You nor your spouse is perfect and learning how to resolve conflicts is a necessary part of building a healthy relationship.
Be encouraged and communicate with a goal, purpose, and vision.

Free from one-way thinking

A positive attitude and behavior

Build your spouse up

Do No Harm with words, actions, and behavior

Illustrate a posture of dedication, promise, and devotion towards your spouse

You don't hold remaining in the marriage hostage to manipulate your spouse

You are dedicated to the process of creating a healthier relationship and means of communication

To be open Sensitive

Don't put up walls

Create heart space

Teamwork

Help one another

Build up each other

Give assistance to your spouse

You are focused on restoring the conflict is deliberate and purposeful

You offer grace

Ladder of Healthy Communication Conflict Resolution in Marriage

You are concerned about your spouse

You validate your spouse by paying attention and showing them that your care

Providing eye contact during the dialog

Demonstrate understanding of what your spouse needs, wants, and desires from you as a spouse

Feeling what your spouse feel, as they feel/experience it

Attempt to understand your spouse from their perspective
Share this article on
Want to have a happier, healthier marriage?
If you feel disconnected or frustrated about the state of your marriage but want to avoid separation and/or divorce, the marriage.com course meant for married couples is an excellent resource to help you overcome the most challenging aspects of being married.
More On This Topic
You May Also Like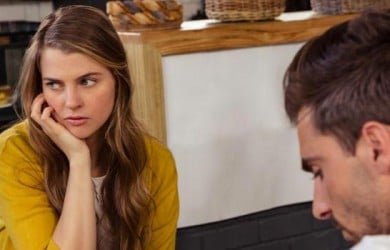 Popular Topics On Married Life