30 Tips on How to Be a Better Husband
No relationship is perfect, and we'll all agree that there will be many challenges along the way. As the man of the house – a lot is expected from you, and sometimes it can be so overwhelming.

How to be a better husband? How to keep your wife happy? What are the ways to show your wife you love her so that you can be a better husband?

There are no secrets on how to be a better husband, but there are definitely some pointers to remember to be one.
5 Characteristics of a good husband
If you are constantly worried about being a great husband or trying to be a better man, you must know what the dos and don'ts are.
But you should also know what characteristics make you a good husband. It's all about how great a person you are if you want to learn the traits of a good husband.
So here are some characteristics and qualities that a good husband should have:
1. He should be trustworthy
A good husband always makes sure that his wife can trust him. He should make her so comfortable that she feels secure and confides in him.
If you are trying ways to be a better husband, just make sure that your wife knows that she can trust you with anything.
Related Reading: 

Important Tips to Build Trust in a Relationship
2. He should be able to compromise
Marriage needs constant work, and sometimes people have to come to an arrangement where both the partners in the marriage feel secure.
There are many things where a partner disagrees and another agrees. You have to make sure that sometimes you are putting your spouse first.
Compromising to find a better solution or for the spouse's happiness is a way to make your relationship better. Be ready to come up with solutions that both of you can feel comfortable with.
Also Try: 

Do You Know How To Compromise In Your Relationship Quiz
3. A passionate personality
A passionate person never backs down from making efforts, and a woman appreciates a man capable of that. Passion is not only about physical intimacy, but it is there in every action of a person.
Being a great husband requires more than what meets the eyes. Being passionate about the choices and hobbies of your wife is a quality of a good husband.
4. A sense of loyalty
One of the best ways to be a better husband is to be faithful and loyal to your partner.
If you go looking for advice for husbands, being loyal is probably the first thing that people will mention under good husband tips.
Related Reading: 

What Is Loyalty in Relationships?
5. Should love his kids
A husband who shares the responsibilities of his kids and is caring for them is an example of a wonderful husband.
Whether you are tired of workload or any other reason, a good husband always takes care of kids and has fun with them.
Related Reading: 

Qualities of a Good Husband That Tell He's Marriage Material

How do you change to be a better husband?
The road towards becoming a better husband starts with simple things. It would help if you made sure that the communication between you and your spouse is crystal clear.
It would be beneficial to try to understand your wife and make sure that she understands you.
There are ups and downs in every relationship, but if you both know how to communicate well and understand each other, nothing will strain your relationship.
For a better understanding, you must spend quality time with your spouse. It would help if you also were patient as not every day will be a garden of roses.
Most of all, if you want to know how to be a better husband, be your spouse's best friend. Be there for your partner, do things together, be vulnerable with each other, travel together, express love, share constructive feedback and learn to make time for physical intimacy.
Related Reading: 

How to Be a Better Spouse: 25 Ways to Help

 
30 Ways to be a better husband
You may do things that will upset your partner, and sometimes it is all because of your bad mood. If you don't want to hurt your partner and are looking for tips to be a better husband, here are some ways that you can start with.
1. Be confident
We don't just mean with your career but with your marriage too. If you're wondering where you can start, you can just start by being confident about how much you love your wife and being confident with how you provide and support her. Remember, confidence is sexy.
2. Show your feelings
Some say that showing your true feelings and being mushy is not a man's trait, but you know what? It is the most beautiful thing that you can do for your wife.
Show her how you feel; if you want to hug her – do it. If you're going to sing her a song – who's stopping you? This is your marriage, and it's just right to be true to yourself and enjoy love.
3. Be patient
When your wife goes shopping or gets ready for a night out, she might take a while, and this is just one way to show your patience.
Other times when you're experiencing trials or troubles and things might not go as planned – be patient.
Related Reading: 

Ways to Have More Patience in a Relationship
4. Appreciate her
If you want to know one of the secrets of being a good husband, just appreciate her. She doesn't have to do extraordinary things for you to notice her, she can just cook you a warm meal, and that's already an effort to appreciate.
Often husbands are so tired at work, and then when they go home to a clean and organized house, they fail to see how their wife manages to juggle being a mom, cooking, and making sure the house is well-maintained. These things deserve some appreciation.
Related Reading:

 8 Ways to Show Appreciation to the Love of Your Life
5. Don't forget to make her laugh
Any man who wants to know how to be a good husband knows that a good laugh is one of the best keys.
Being married allows you to show who you are, which means that you can be as cheesy and funny as you please. Always have time for a good laugh. It doesn't just make our wives happy. It makes the whole marriage light and jolly.

6. Date her again
Don't think that this is a waste of time and money because it's not. Most often, some may feel that you don't have to exert any effort to date and pamper your partner because she's already married to you, and that's it.
Contrary to this, you must never change how you treat her; in fact, you must double the effort to keep her. A little night out or a movie date will strengthen your relationship.
Related Reading: 

Importance of Date Night in a Marriage and Tips to Make It Happen
7. Be honest
This is really hard but one of the most essential tips to be a better husband. First, you must understand that there will be times when your honesty will be tested, and you'd be surprised how a little thing can mean so much when you're not telling the truth.
Before you decide to lie, think that it's a given that your wife will get angry, but it's better to accept that and have a clean heart than go through a lie and face your guilt.
Sure, a little lie won't harm anyone, but it will turn into bigger lies when you get used to it, and soon you might be surprised how good you are at manipulating stories.
8. Respect her
Marriage involves two people who are very different from one. Meaning you just don't decide for yourself. If there are decisions to be made, respect her opinion.
Let her have a say. If in any event that you want to go out or spend some time with your friends, let her know. These little things are very important. It allows mutual respect, and this strengthens the relationship.
Related Reading: 

Tips to Bring More Love and Respect in Marriage
9. Stay faithful
Let's face it; temptations are everywhere. Even just texting or chatting with someone in secrecy is already a form of infidelity.
We may say that it is only some harmless chat or text or just fun flirting but think about this, what if she does it to you – how would you feel? This may be one of the most demanding challenges of being a good husband, but for someone who knows his priorities – it's possible.
You can find many marriage advice for husbands or tips on how to be a good husband, but ultimately, the answer is within you because these guidelines would only work if you want them to.
It's your love, respect, and fidelity to our vows that make you the man that you are and the husband that your wife deserves.
10. Maintain Integrity
One thing that will keep your wife happy will be to keep your word. If you cannot be a man of your word, you are far from being the best husband.
Maintaining your integrity is one of the most important tips to be a better husband. If you have promised something, no matter what the circumstances are, try to live up to that as much as possible.
Money is a vital part of integrity, try to be honest to your partner about financial matters.
Another critical area where you need to maintain integrity is to give honest opinions to your partner. But also make sure that you never sound discouraging.
11. Give your partner some space
When your partner wants to have some alone time or doesn't want to talk, don't assume something is wrong.
Every once in a while, people need their time and space. You need to respect their boundaries and let them have it.
Most of the time, spouses ask for space because of a bad mood or to unwind. Understand that there are times when you, too, feel the need to be alone.
Related Reading: 

Let There Be Some Space in Your Relationship
12. Learn the art of listening
Most of the problems get resolved only by listening to each other carefully in a marriage. If you want to know how to be a better husband, be an active listener. Listen to your spouse and understand what they are saying and why they are saying it.
There might be times when you feel that the problem is nothing but just a misunderstanding or a communication problem, and the rest of the time, you both will find a solution to it.
In simple words, listening makes everything accessible in a marriage.
Related Reading: 

The Importance of Art of Listening in a Relationship
Here is a video on 10 ways to make better communication:
13. Stop being a savior all the time
When a spouse tells a problem related to work or relatives, husbands feel that the best way to support their partner is to jump in and come up with a rescue plan.
One of the ways to be a good husband is to be empathetic. The solution is important but not as much as listening to the whole problem and understanding if your partner wants a solution or just wants to unwind.
14. Work-life balance
Leave work at your workplace; that's the most important thing to remember if you are trying to be a better man for your partner.
It can be hard at times, but you have to make sure that you do everything in your power not to talk about work. However, rather than complaining or whining, if you do talk about it, share important things and achievements.
At least it would make your partner feel valued, and it won't harm your romantic life.
Related Reading: 

Achieving Work Life Balance for a Healthy Relationship
15. Be nice to your partner's friends and family
Your partner's close friends and family are important to them. It would be constructive if you can respect them as your own.
One of the best husband tips is that you should be nice to your partner's friends and family, and you should demand no reason for it.
Related Reading: 

5 Secrets to Becoming Your Spouse's Best Friend

16. Leave your phone
Technology has affected relationships badly. Nowadays, most couples ignore each other and try to find comfort in their phones. It could harm your relationship.
It can make your partner think that they are less important, and that's no way to be a better husband.
17. Be kind to your partner
If you want to know one of the best ways to show your wife you love her, be kind.
There are so many people in this world who are mean, and life isn't easy, but your marriage doesn't have to be sour.
Please make sure you and your partner are kind to each other as it makes many things in life easy.
18. Mention and appreciate the accomplishments of your partner
When you appreciate your partner's achievements, not only in personal space but also at social and family gatherings, it makes them feel happy and secure.
That's what being a good husband means.
19. Split physical and emotional effort
If you split household chores, kid's work, scheduling other appointments, etc., it becomes easy for your partner to have breathing space. Similarly, dividing the emotional effort, such as taking big decisions, planning a big event, etc., saves them from frustration.
If you are thinking about becoming a better husband, try to find out if you are sharing equal responsibilities or not.
20. Ask what your partner likes in bed
A good husband always makes sure that his partner is sexually happy. You may have done it a thousand times, but you can, from time to time, ask if they would like to try something new or is there anything they want you to do.
Related Reading: 

How to Make Your Partner Sexually Satisfied?
21. Love your partner when you can't
You can't be happy with someone all the time, and there will be times when you will not like your partner, but the important thing is to love them even when you don't want to.
Your love should not be affected by temporary feelings if you are trying to be a better husband.
22. Keep your expectations real
Some people think that after marriage, their partner will change fundamentally according to their preference.
It would help if you understood that no one could change fundamentally, but they can develop realistic ways to keep your relationship strong.
Related Reading: 

Relationship Expectations – What Should You Do with These?
23. Be flexible
Life throws unexpected situations, and not everything can be according to your expectations. So make sure that you have made up your mind to react with flexibility.
It would be helpful if you understood what is important to your partner.
24. Never be defensive
If your partner is giving you feedback and you cannot take it, tell them nicely. There is no need to take everything to a level where everybody loses.
Being receptive to things that your partner tells you, rather than being defensive, is an essential part of learning how to be a better husband.
Related Reading: 

How to Stop Being Defensive in Relationships
25. Remember you both are on the same page
Your marriage is a bond that is between two people as one. You need to remind yourself that your partner is not an outsider with whom you need to compare yourself or compete for anything.
If there is a game, you both are playing for the same team. If you win, your partner wins; if your partner loses, you lose.
26. Don't neglect the thoughts of your partner
A good husband would never come up with a quick fix to a problem or diminish the issue altogether. If you want to be a better husband, stop telling your partner that they are overthinking or overreacting.
People with different viewpoints may seem silly, but there could be more to them. You need to respect your partner's opinion and value their point of view.
27. Keep flirting
Marriage can be monotonous, but it can make your relationship so much better if you can keep the flirt going in marriage. It will be one of the ways to show your wife you love her.
28. Always focus on positives
Telling people they are at fault or thinking about problems will never get you anywhere. Becoming a better husband takes more effort than you thought. It would help if you focused on the positives of your partner and your life together.
29. Be available for your partner
With all the workload, personal, professional, and social responsibilities, it can be tough to be there for your partner. However, if you could try to be as available as you can be, it will help your partner to feel secure.
When you spend enough time with your partner, they will not be frustrated or irritated from all the miscommunication that happens due to the lack of your presence.
30. Take care of your partner
One simple marriage advice for husbands is to take care of your partner. Look after them, if they are sick, take proper care of their physical health, and if they are worried, take care of their mental health.
Whatever the problem is, show your partner that you care and you are there for them.
Also Try: 

What Kind Of Husband Are You?

7 Tips for Being a Better Husband After 40
A great relationship is made up of many efforts through time, and when you spend so much time together, you tend to take each other for granted.
Most people think that nothing can be resolved in a relationship after an age, but if you believe, you can turn things around at any age.
So if you have shared a bond for years and now you think that things have gotten monotonous or you need to be a better husband, here are some tips that you can follow.
If you want to improve your relationship after 40, you should keep in touch with your partner. Text more, call more, even if your schedule is busy, take out time every week for your partner.

You may be tired of all the cuddling and snuggling over the years but know that

sleeping in the same bed

improves the physical connection and improves the emotional relationship between you and your partner.

When you are 40 or above that age, it's hard to push some physical boundaries. Make sure your routine is the same as your partner's. It will help you share more time.

If you want to be a better husband after 40, practice forgiveness. It would help if you remembered that there is nothing that you both can't move past.

One of the most important things to remember after 40 is to love without expectations. You and your partner both will be mentally happy if you practice selfless love.

The best thing to do for your partner at any age is to make them laugh. Keep the humor juggling in your relationship.

Most of all, you need to make your partner feel loved at all times.
Related Reading: 

How to Love Your Wife: Ways to Show Love
Conclusion
Best marriages experience rough patches, but your relationship will be successful if you give your partner enough time and commitment.
There is no sure-shot recipe of how to be a better husband, but you can be one just by spending some quality time with your partner, taking care of them, understanding them, and expressing love every day.
Share this article on
Want to have a happier, healthier marriage?
If you feel disconnected or frustrated about the state of your marriage but want to avoid separation and/or divorce, the marriage.com course meant for married couples is an excellent resource to help you overcome the most challenging aspects of being married.
More On This Topic
You May Also Like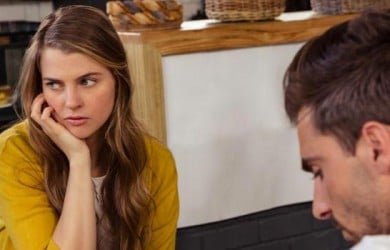 Popular Topics On Married Life