How to Love Your Wife: 100 Ways to Show Love
You love your wife. She is your inspiration to do better. Her happiness is your priority. You are fairly sure she knows this, right? Would you like some additional ideas on how to love your wife?
Here are 100 ways to show love to your wife. While these may seem like common sense, we sometimes forget how important the love languages or quiet acts are when seeking ways to show love. If you are looking for some new ways on how to love your wife, read on! We've got a hundred ways to make your wife happy!
Really see her.

Looking for something nice to say to your wife? Remind her of her importance in your life. "I bless the day I met you."

Never leave the house without kissing her.

Kiss her first thing when coming home from work.

Tell your wife you love her at least once a day.

Send an impromptu love or

sexy text

(and not just on Valentine's day!)

Hug her tight and stop there; no fondling of body parts. Just a tight hold.

Take her hand when out and about.

If she is going running, fill her water bottle for her so it's ready by the door.
Is it a nice balmy evening? Suggest a walk around the neighborhood. Hold her hand as you are walking, or put your arm around her.

Take initiative with a task that normally she has to "nag" you to do.

Give her a massage. By candlelight.

Make her an awesome playlist.

How to love your wife sweetly: Stock up on her chocolate. Milk or dark?

Polish her work shoes so she finds them nice and shiny in the morning/

Take her running shoes to be resoled.

Is she a reader? Track down a first edition of one of her favorite author's books.

Give her a back scratch.

Give her a head massage.

Say an unexpected "thank you". For example "Thank you for being such a great partner/mother to our kids/organizer of our lives."

Do the laundry. Completely. From gathering all the dirty clothes, putting them through the wash cycle, the dryer, folding and putting everything away. For added points: iron what needs ironing!

Invent a special nickname for your wife, one that only you get to use with her. When she hears your special

pet name

, it will let her know you love her.

Compliment your wife

in front of family and friends.

Cherish your wife.

Has your wife fallen asleep on the sofa after a long day? Pulling a soft blanket over her so she won't be chilled is just one of the small ways to show your wife you love her.

If you need to wake her up from a nap, do so gently. Rather than just saying her name, sit next to her and slowly stroke her legs, her arms. It is a wonderful way to be awakened, so quietly and softly.

How to love your wife and get a pesky task accomplished: Fill up her car for her when you see the fuel gauge getting low.

Take her car to the mechanic when it needs a tune-up.

To make your wife feel special,

give her gifts

that support her passions.

How to love your wife and sneak in some snuggles: If your wife is taking a shower, pop a large bath towel in the dryer for a few minutes. Wrap her in it when she comes out of the shower.

Show her you love her by asking her good questions. Rather than the generic "how was your day?", why not try "Tell me three good things that happened to you today."

Are you a musician? One of the ways to tell her you love her is by writing a special song just for her. (This is a great birthday present, and one that will make her feel so very special if you perform the custom-song at her birthday celebration!)
How to love your wife like Shakespeare: Are you a good writer? Make your wife feel loved by penning a love poem for her. Read some love poets such as Rumi, Emily Dickinson, , Elizabeth Barrett Browning for inspiration, then take your pen to paper and let it flow. You could start with "To Love Her Is To Know Her" and go from there!

Are you a good artist? Paint her portrait.

Does she love to thrift shop? Give her a wad of cash and encourage her to spend it all. In the meantime, take the children to the park so your wife can have all the time she wants.

How to love your wife and burn some calories: Get your blood moving together. Put on some great tunes and dance together in the living room.

How to love your wife with a surprise: Send flowers to her office for no reason.

Did you meet via a

dating app

? Take screenshots of your initial messages to each other, print them out, and turn them into a book.

Searching for an old-fashioned way on how to impress your wife? Handwrite her a

love letter

and send it through the postal service. Use your best penmanship and a nice, quality piece of paper to write on.

Breakfast in bed, and not just on Mother's Day.

Break routine. If you always go out for brunch at a certain place on Sundays, pack a picnic and have brunch in a park.

Husbands! Love your wife by dedicating time to relax together each evening.

How to love your wife and give her some girl time: Encourage her to spend the day with her BFFs.

Take drives together with no set itinerary.

Voice your admiration for what she accomplishes both at home and at work.

Voice your appreciation

for the same.

Show your enthusiasm for her dreams and future projects.

Ask her what she needs to support the same.

How to love your wife the old fashioned way: Open her car door, let her enter a building before you do, hold her coat out for her.

Be there for her when she is venting. Just listen. Don't judge.

Spend time together

with screens off.

Go to the movies and make out while the credits roll.

Blow kisses to each other from across the room.

How to love your wife subtly: flirt with each other at a party.

Let her wear your college sweatshirt.
Get into board games together. A great way to get out of the evening-TV habit.

Meditate together.

Do yoga together.

Sit in silence together.

If in the wrong,

apologize immediately

. Own it.

Best way to

please your wife in bed

? Ask her!

Cook together. Then you do the clean up!

Do the grocery shopping together, don't let this be "her" chore.

Get tickets to the hottest museum exhibit in town.

Wash her hair, giving her a long and slow head massage during the conditioning treatment.

Send her a "I'm thinking about you" text during the day.

Is there a full moon out? Go for a midnight walk or swim.

Want a sexy way to show how to love your wife? Try something brand new in the bedroom.

Share your fantasies.

If you practice prayer, pray together.

Give her a foot massage.

A spa day is a great way to show how to love your wife.

Never take her for granted. Always

show your respect

and gratitude.

Be involved and hands-on with the child-rearing.

Be thoughtful towards her family.

Cuddle together on the sofa when watching TV.

Be transparent with all finances.

Long kisses in the hallway.

Smell her perfume and ask her what she is wearing.

Give her a warm, soapy bath.

Remind your wife how hot she is.

If she has a list of home maintenance tasks for you, do them without stalling.

How to love your wife gently: Show your affection without expecting it to lead to sex.
Defend her if others put her down

Compliment her often

Make short and long-term goals together

Don't overcommit yourself. Leave time for your wife.

Show her you need her.

Tell her three things you love about her

Go to bed at the same time

Tune in to her sexual needs

Slip a love note into her coat pocket

If you see she is exhausted one evening, order in.

Learn a foreign language together.

Book a trip to that country so you can use your new language skills!

Fly a kite together

Make a print copy photo book out of some of her favorite photos

Talk lovingly of her in front the children

Be her number one fan.
The video below discusses additional tips to keep your wife happy. Check
There you have it! Our 100 ways on how to love your wife should provide you with some great inspiration! Now get out there and spread some love; your wife will love you even more for it!
Share this article on
Want to have a happier, healthier marriage?
If you feel disconnected or frustrated about the state of your marriage but want to avoid separation and/or divorce, the marriage.com course meant for married couples is an excellent resource to help you overcome the most challenging aspects of being married.
More On This Topic
You May Also Like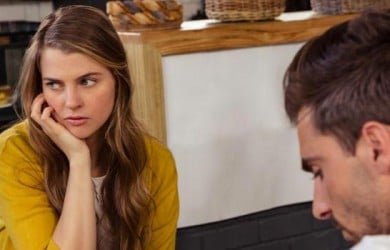 Popular Topics On Married Life