Sex After Birth: What to Expect and How Long to Wait
Most expectant moms worry about what their sex life might look like after the baby arrives.
With all the loose abdominal skin, enlarged breasts, stretch marks, scars, and excess weight, it's no wonder pregnant women and new moms have a hard time picturing themselves hopping in the sack with the same desire and self-confidence as before.
Since the days of partying until the wee hours and traveling to a new country on a two-day notice are behind you, it's only natural that in this new role, you find yourself worrying about two things- your libido and satisfying your partner's sexual appetite when your lives are literally turned upside down.
Our couple's guide offers insight into the changes that you and your partner can expect in the first year following the arrival of your baby, as well as some useful tips on how to overcome the obvious challenges and enjoy each other sexually even though so many things are now different.
What does postpartum sex mean?
When a woman has given birth, she is likely feeling a wide range of emotions and may not be in the mood for sex. For some women, postpartum sex can be a way to reconnect with their partner and feel close again.
For others, it can be a way to feel a sense of normalcy after having a baby and feel like their sexuality is not lost after having a child. However, for some women, having sex soon after giving birth can be painful and physically challenging.
Postpartum sex means different things to different people – it can be sexual in nature, or it can simply be a way of reconnecting with your partner after the baby is born.
Why is postpartum sex so difficult?
While it's okay for things to cool down for a while after a baby is born, don't consider the post-pregnancy phase as the beginning of the end of your sex life.
There are hormonal changes and feelings of tiredness to consider. Take some time to tide over these things, and then start getting back to your normal routine of cuddling with your partner.
Don't go on worrying on and on about when you can have sex after a baby.
Related Reading: 

Marriage Challenges You Will Face After Baby
What is sex like after having a baby?
First-time parents-to-be face the most dynamic transition and are hardly ever truly prepared. The arrival of a new baby or the welcoming of an adopted child always yields a much higher demand on a parent's energy than was expected.
In every culture across the world, marital planning is inspired by family values, and most newlyweds will plan for children. Though many couples wonder how long after birth can you have sex? They may wait longer than was typical in decades past, but the challenging dynamics of family life are unchanged.
So, can you have sex after having a baby?
As a result of the changes children bring, parents often face a decline in their lovemaking after children. So you may think that sex life after kids will be sorted out individually, but it takes two to tango and make love, remember?
Scheduling time for sex after birth or seizing moments of intimacy after the baby may seem awkward and like hard work at first, but once you are into it, you'll think, "Hey, why didn't we do this before?"
Related Reading: 

Secrets to a Happy Sexual Relationship
Women: your sexual feelings after giving birth
Usually, after the birth of a child, you might feel physically and mentally drained from having sex. You might also question, "Will I ever be able to have sex again?" Know that not wanting sex after having a baby is normal.
There are various factors that lead to a lack of desire for sex after giving birth. Some of them are:
Vaginal trauma

Tiredness

Stress

Anxiety-related to body image

Breast-feeding
Relax. You will heal.
In the end, motherhood will help you comprehend your needs and desires more deeply. You will long for intimacy with your partner, and things will fall back to normal. Also, self-care is the key.
Related Reading: 

Tips for Couples to Survive Postpartum Depression
9 surprising truths about postpartum sex after birth
There's no doubt that postpartum sex is an amazing experience. But there are a few surprises you may not have known about it. Here are 9 of the most surprising truths about postpartum sex.
1. Loss of libido after birth
If this question is plaguing your minds as a couple, we understand. Do not feel guilty about not having sex as often as you used to. The important point here is to stay connected. Think of it this way.
Even as you take over the role of a nurturer to look after your kids, try nurturing each other with intimacy.
There is a significant loss of libido after birth, but depending on your lifestyle, eventually, the frequency of having sex for married couples increases from once a week for new parents to 3-4 times a week as a few years pass by. So, do not worry.
Also, if you are wondering how to have a healthy sex life after children with the kids running around is possible, know that it is if you put your minds and bodies into it.
Maintaining a rockin' sex life after kids or rekindling a sex life is not just a task to do. Consider it as an absolute necessity to stay connected with your partner.
The video below discusses the reasons for the loss of libido after birth and how that can be improved:
Related Reading: 

Low Sex Drive and Lack of Intimacy After Childbirth
2. Your feelings and your partner's feelings about sex
During the first year, most couples say the solution is to get busy while the baby is in the room.
Scientifically speaking, a baby in the bedroom is no cause for concern. Research shows that children younger than three don't retain memories in the long run, and most kids only have a vague recollection of anything that happens before their seventh birthday.
In other words, you and your partner have nothing to worry about when it comes to exposing the baby to your sex life.
It's important to note that the frequency of having sex doesn't depend much on age, but younger and older moms disagree on whether they should do it with the baby within earshot.
Both partners might feel exhausted, overwhelmed, and tired with the baby and adjusting as per its routine, but getting creative is essential, and as new parents, you need to find new ways to incorporate sex after birth into your daily or weekly routine.
Related Reading: 

 

Sex Tips for Women After Pregnancy

 
3. Birth control after a baby
As new parents, you might not be ready to consider having another child just yet, which is why it's a good idea to talk to your doctor about birth control suitable for new moms.
Your doctor might bring it up when you and the baby come in for your six-week check-up for several reasons, the two most important ones being that it's safe to start having sex again about 1.5 months following the birth of your baby and not all birth control methods are suitable for breastfeeding moms.
You might have heard that it's unlikely you'll get pregnant if you're breastfeeding day and night, don't give your baby any other food, the baby is less than six months old, and your period isn't back yet.
However, there is no guarantee, and if you have sex, chances are you could get pregnant.
Related Reading: 

Effectiveness of Different Family Planning Methods
4. What's new in the bedroom
Having sex and being intimate with your partner is tough once the baby comes. Undoubtedly, couples have less time and feel more tired, in addition to all the hormones still running wild and questions about post-pregnancy birth control arising rapidly. Sexless marriage after the baby often turns into a reality.
If you and your partner lose interest in sex, it's no problem, but if your sexual desires differ, the relationship will be under some added stress.
So, does sex change after having a baby?
For most couples, things return to normal, but adjusting to the new circumstances definitely takes time and patience.
Speaking of normal, every couple is different, and their post-baby sexual habits depend on a variety of factors, with time and mood being at the forefront.
According to a survey conducted by a group of editors from WhatToExpect.com that included 1,200 new moms, the results show that couples of any age have sex one to two times per week on average in the first year after the baby comes, regardless of whether it's their first or second child.
More than half of surveyed women say they first revisit sex two or more months after the birth of their child, and some even compare having post-baby sex to getting back in shape – the hardest part is to 'get their behinds off the couch.'
If you find your sexual relationship has suffered more than expected, there is absolutely no reason why you shouldn't talk to your GP or your gynecologist about it.
Related Reading: 

Romantic Bedroom Ideas to Spice up Your Married Life
5. You don't have to wait months to have sex after having a baby
There's no reason you should have to wait months before having any kind of sexual activity again, even if you've had a C-section. In fact, most doctors say that you don't have to wait at all. That said, there are a few things you may want to keep in mind first.
For example, check with your doctor to make sure that you're cleared for any type of physical activity after your surgery.
Also, ask your partner how they feel about being intimate again after your baby is born. If they're hesitant, try to give them some time to recover before having your first sexual encounter again. If you're both ready, go ahead and have that first post-baby hookup!
6. Your libido may come back stronger than ever after giving birth
When you become a mother, your sex drive usually goes down quite a bit. However, this is often not the case with women who give birth to children through Cesarean section or induction. In fact, their sex drive may increase rather than decrease following the birth of a child.
So, don't be discouraged if your libido doesn't return right away — it may take a little longer than others to come back!
Related Reading: 

Low Sex Drive and Lack of Intimacy After Childbirth
7. Your body may not look the same as it did before you got pregnant
Unfortunately, one of the most common side effects of pregnancy is weight gain, and a lot of it.
This can have an impact on the way your body looks and feels, and you may start to notice small changes such as swelling, stretch marks, and a heavier feeling in your belly after you've had your baby.
The good news is that these things are completely normal and should go away over time. However, if they haven't gone away after a few weeks and you're not comfortable with the way they look, talk to your doctor about getting additional treatment for postpartum body changes.
8. You may be more tired than usual after having sex
If you're breastfeeding, there's a good chance that your sex life will be a little limited for a while. That's because you'll be spending most of your time and energy caring for your baby rather than focusing on your romantic relationship.
That being said, it won't take long before you start to get your energy back and enjoy a more regular sex life again!
9. You may find it challenging to get comfortable at first
Being intimate with your partner again after having a baby can be challenging at first. This is mainly due to the fact that you won't be as physically comfortable as before since you no longer have the same body shape.
You may feel self-conscious about the way you look and feel during your first few encounters. But don't worry. This will likely go away after a while. And if you're struggling to get comfortable during sex, try different positions until you find one that works for you.
Related Reading: 

30 Signs You're Getting Too Comfortable In A Relationship
When can you have sex after a baby?
Indulging in sex after birth can be pretty amazing. In fact, many women say that they feel more sensations, have better orgasms, and feel more comfortable about their bodies than before.
So, how long after birth can you have sex? Having a certain amount of marital problems after having a baby is common (the 2013 movie Sex After Kids was based on it, too!), but it is certainly something that both of you need to identify and take care of.
And it all begins with better communication and lots of romance plus sex!
First of all, start doing some Kegel exercises to snap those pelvic muscles into shape

Talk to your partner about the need to connect

Try to de-stress yourself and your hubby by doing stuff that you both like

Utilize your baby's nap time for some rockin' sex sessions

Divide domestic and baby care chores to reduce conflict

Wear sexy maternity dresses. Who says you have to put on a sack every time?
Spicing up your marriage after having kids is totally doable. It may take around 3 months for couples to recover from this phase but don't start worrying if it stretches to a few months more. Improving sex life after having a baby is not one day's job.
Related Reading

:

 

Dealing With Marriage Trouble After Baby
5 tips for maintaining sex life after having children
How to have sex with a baby?
You might be confused if you're not interested in sex, and your partner might feel like a sperm donor who has outlived his purpose. This is all perfectly normal, and you can start working on rebuilding your intimacy before you actually have sex after birth again.
To get you through the pain of not being able to manage kids and spice up sex after a baby, we have some postpartum sex tips. Let's make your bedroom moments smooth.
1. Plan the sex dates
Yes. Plan it.
You might have heard that intimacy comes with the flow and that one cannot simply plan sex dates. But once you have some kids around, better to plan. Keep track of time when the kids are not around, and you don't have other business to finish.
For an amazing sex life after the baby, plan when you are not under any family obligation. For a good sex life after a baby, do not keep intimacy at the bottom of your priority list.
2. Keep a check on doors
Children do not understand privacy (at least most of them don't). They are not used to knocking on doors before entering. So better lock the bedroom door. There might be instances when your kids are sleeping, and there is no chance of them getting up. Still. Take precautions. You never know.
Let's just keep it locked in order to safeguard against surprise visits.
Also, this will ensure that you have time to get back to your normal self. You don't want to hush after hearing the footsteps of kids entering the room. That will be a scary sight for your kids.
Related Reading: 

Your Physical Relationship Doesn't End at Your Bedroom Door
3. Leave surprise notes
Surprise notes or cute reminders are a must to keep the spark alive like before and maintain a healthy sex life. Recall how during the dating days, you used to send cute messages with hidden signs of affinity. You need to revive that.
Put a note on his/her computer table or keep it on the towel. Sometimes, keep it in the briefcase or text some cute message with quite a visible display of the agenda, *wink*
This will bring a smile to their face and will urge them to finish their work obligations as soon as possible.
4. Let the kids doze off
Ensure that your kids sleep on time or sometimes before bedtime.
Read that story and make them sleep in their room. After they sleep, you can get into action. You can have some personal time with your loved one without worrying much about the kids. And hey, sleeping early is actually good for them, right!
5. Plan your kid's day out
You need some relaxation and alone time with your partner when you both can have the liberty of freely enjoying sex, alone at home. You can do this by hiring a certified babysitter (with good reviews and track record for safety) or by sending the kids to your parents or a responsible friend.
This will also work as an outing for your kids. Ensure you plan this and it is not spontaneous. Otherwise, it may create a mess in everyone's schedule.
Plan it thoroughly and make your kids feel excited about the same. If they feel sad about it, maybe they are not comfortable with the people and thus, always plan and talk first, only then execute.
Related Reading: 

Tips to Connect with Your Partner After Baby
Sex after birth: Questions to ask yourself
Life after marriage is like reincarnation. If this is happening a lot lately, you need to recall the fun times of the past and try to give yourself a breathable change.
Here are a few questions you must ask yourself about sex after birth or postpartum sexuality concerns to bring harmony in the relationship:
Am I ready for having sex after birth?
You need to ask yourself when you can have sex after birth or if you are ready for sex, both physically and emotionally. Frankly, there are a lot of hormonal changes after childbirth which can alter your sex drive. So, be honest with yourself in terms of your willingness and ability to have sex.
Am I putting myself under pressure because my partner wants sex?
At times, you might feel you are ready for sex after childbirth but try to gauge the situation. Is it you who wants it, or is it because your partner wants it, and you are saying yes because you are scared of losing intimacy with your partner?
Related Reading: 

10 Ways to Handle Being Pressured Into Having Sex
Will my cut (episiotomy) cause changes in my sex life?
Your stitches will take nearly 10 days to heal, but in the case of a third or fourth-degree tear, it can also take a month or more.
So, take a while before beginning to have sex. Also, try less difficult sex positions that allow less penetration to see what suits you.
Do I need contraception after childbirth?
You can get pregnant even when your periods haven't started after the birth. So, look for contraception that will suit you after consulting with your doctor.
Does sex after birth feel the same?
There are hormonal changes after birth that can make your vagina dry, causing pain during sex. So, if you experience discomfort, you can seek pain-relieving options, use lubricants, or consult your doctor.
Related Reading: 

How to Keep a Relationship Strong After Having a Baby
How does postpartum affect sex?
When a woman becomes pregnant, her body undergoes dramatic changes in preparation for childbearing. This includes an increase in testosterone, which can impact her sexual desire and ability to have enjoyable sex.
Postpartum affects sex in a few different ways. Women usually experience a decrease in libido due to increased fatigue and/or hormone fluctuations that occur after childbirth.
Some women may also suffer from vaginal dryness and discomfort while healing after delivery. However, most women are able to return to a fulfilling sex life once their bodies have recovered following the birth of their child.
Relationship counseling may also be helpful during the first few weeks after giving birth as couples adjust to their new role as parents.
The bottom line
Maintaining sex after birth is mandatory because intimacy is important for any relationship to work. So why not take some tips and be a pro at it?
So, don't put your marriage on the back burner after having babies. Keep up the postpartum intimacy level with consistent efforts. Follow these tips on sex after birth and see the difference!
Share this article on
Want to have a happier, healthier marriage?
If you feel disconnected or frustrated about the state of your marriage but want to avoid separation and/or divorce, the marriage.com course meant for married couples is an excellent resource to help you overcome the most challenging aspects of being married.
More On This Topic
You May Also Like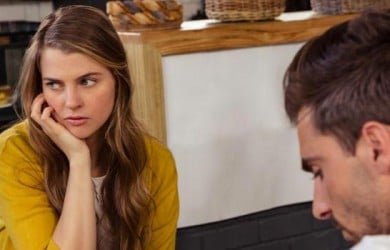 Popular Topics On Married Life