Your Physical Relationship Doesn't End at Your Bedroom Door
Most married couples understand the importance of physical intimacy within their relationship, but some may not understand the wide breadth of physicality that can enhance their marriage.
It's not just the four walls of your bedroom that require physical touch and intimacy. There are areas and moments of your life that could use some more physical love as well. Starting with the bedroom and then moving outward, let's explore some aspects of your love life that yearn for more physical touch.
The bedroom
This may be obvious, but we all know how the heat that once fueled your relationship can cool over time. Be honest and aware of your lack of physical intimacy as the years pass and you'll be more prepared to improve the state of your sex life. By ignoring the lack of intimacy, or hoping that it reverts back to its once steamy state, you will exacerbate the lack of physicality in your relationship. The only way it's going to improve is through intentional work from both you and your spouse.
Spontaneity
The common antidote to decreased sex is to be more spontaneous with your approach to sex. Be more wild. Be more crazy. Surprise your loved one like you would have back when you were 20 years old. It's not that this is bad advice, but let's face it; as we get older, our knack for spontaneity all but fizzles out. With each year that passes, we get more and more comfortable in our way of doing things. The cliche "you can't teach an old dog new tricks" doesn't just apply to our canine companions. A command like "Be Spontaneous!" won't exactly foster big changes to your mode of operation.
Schedule for sex
Rather than suggesting something that I have a feeling you won't take action on, let's talk about a tactic that appeals more to the regimented nature of someone set in their ways: schedule your sex. Now, I know that may seem against the nature of sex itself, but stay with me. Most people see sex as something that should be a natural occurrence, and by making a formal schedule for it, you would be removing that aspect of the act. However, if you're not getting intimate with your partner, creating a schedule may be necessary to get things back on track.
Physical touch is not just for sport like it was back in college. In your marriage it's a necessary tool to keep you and your spouse close on an emotional level. Scheduling in your sex may feel awkward in the beginning, but once you make it a part of your habitual routine, it will pay incredible dividends in your relationship overall. Promote the physical touch in your bedroom by making sure it occurs. Get that planner out and schedule your next session of sensual sex today.
Within the rest of your home
There are countless areas within your home where you and your spouse can create more physical touch. Some married couples only touch each other with a kiss good morning and a kiss goodnight. It's not that these are the only opportunities during the day to be physically intimate, it's just that the routine has been withered down to just these interactions.
Instead of the minimal physical contact, look at other areas within your home that you can get close. If you're cooking dinner together, there can be physical touch throughout the whole routine! It doesn't have to be sexual touch, either. It can simply be a kiss your wife's cheek as you stroll by while she preps the meal. It could be rubbing your husbands back or shoulders as he stands over the stove. Physical touch is simply a transfer of energy between the two of you. It's a nonverbal statement of "I'm here with you." Without those minor touches, you're left to verbal conversation. Even if this is your forte, a little physical touch in between exchanges will elevate the intimacy of the conversation.
Find moments like this to increase the amount of physical touch in your home. It could be while doing chores, watching TV, or laying around reading a book. Simple moments can all be enhanced with just a touch, hug, or loving rub.
Outside your home
One way to improve your physical relationship outside of your home is to start exercising together. Joining each other for a hike, a run, or strength training workout can be an incredible bonding experience. You can lift each other up emotionally and physically as you both strive towards the same end result. Physical exercise also has been shown to be an aphrodisiac, so the more you workout, the more magnetic you will become to one another.
Another way to improve your physical contact while you're out of the house is by turning up the PDA. As we get older, we tend to shun those that show a little too much love in public. But I think part of the shunning comes from our own insecurities that we can't act like that with our spouse. We feel like it would be inappropriate. We think we're too old for that kind of behavior. That's what 20 somethings do, we can't be like them, right? Wrong.
Showing your partner love in public can do two amazing things:
They feel the love from your physical touch, whether it be a hug, kiss, or hand that gets held. It will warm their heart and make them feel closer to you.

They feel like a prized possession. If you're showing your partner love in public, you're showing the people around you that you're

proud

to have that person standing next to you. You're showing them off and it will make them glow with adoration for you.
Never underestimate the power of some well placed PDA. I'm not suggesting that you strip each other down and have your way with each other in the middle of the movie theater. Just make a point to make some physical contact. When's the last time you kissed your wife in public? When's the last time you walked arm in arm with your husband?
No matter where you're making a point to create more physical contact, understand that it will all result in closer physical intimacy in the bedroom. By touching each other outside of the bedroom, you won't feel as awkward or out of turn by initiating contact in the bedroom. Start touching your partner people! They want to feel the love…literally.
Share this article on
Want to have a happier, healthier marriage?
If you feel disconnected or frustrated about the state of your marriage but want to avoid separation and/or divorce, the marriage.com course meant for married couples is an excellent resource to help you overcome the most challenging aspects of being married.
Learn More On This Topic
You May Also Like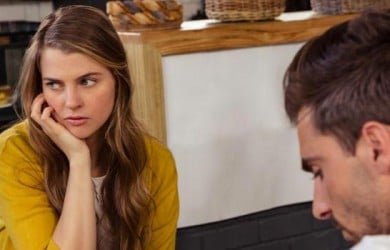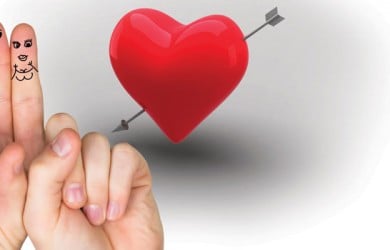 Popular Topics On Married Life