What Are the Basics of Sex for Pregnancy
When you come up to the decision that you are ready to have a child, it becomes an exciting event of our lives to wait for the big news. Though sometimes, along with the anticipation of getting pregnant is the fact there will be disappointments.
When you think you're pregnant, only to end up with a negative pregnancy test can be devastating. Before choosing to go to a fertility clinic, maybe it's time to check the basics of sex for pregnancy first.
Also watch: How to get pregnant?:
Sex for pregnancy basics –How important are they?
Getting pregnant or conceiving will happen when a man's sperm fertilizes a woman's egg. Reality is, some women get pregnant quickly, and for others, it can take much longer.
Knowing the basics of sex for pregnancy, along with the right time as to when the highest chance of pregnancy occurs, will help you and your partner conceive. By knowing the top sex for pregnancy tips, you have a higher chance of conceiving.
Things to know to help you get pregnant
1. Know your body
This is the first thing to focus on. If you want to have sex for pregnancy, then you need to be knowledgeable about your body and your spouse's body as well. Why is this important?
Having sex a day before ovulation gives you a higher chance of pregnancy. Pregnancy sex works if you are ovulating, that's the only time your man's sperm can fertilize your egg – thus getting pregnant.
Sex for pregnancy can be quite frustrating if you are not aware of your own body and your menstrual cycle.
2. Know your menstrual cycle by heart
Again, it's all about knowing your menstrual cycle. You have the best time to have sex for pregnancy within a day or so of your ovulation. Ovulation is when your ovaries release an egg.
This happens around 14 days after the first day of your last menstruation. That is if your cycle is around 28 days long.
Note that there are regular cycles and irregular cycles, which is another topic to discuss. If you have an irregular cycle, the chances of sex for pregnancy will be a little harder to predict, but it is still possible.
A sex calculator for pregnancy might help, but you can also try asking your ob-gyn for a more detailed way of determining your cycle.
3. Your Eggs
Usually, a woman's egg lives for about 12-24 hours after being released from the ovaries; this is the perfect time to have sex for pregnancy. Another pro pregnancy sex tip is to listen to your body.
If you are ovulating, your sex drive is higher, your cervical mucus changes, and you might even have a little abdominal pain. All of these are signs that you can now have sex! Ultimately, pregnancy happens when a sperm fertilizes your egg.
4. His Sperm
Having an idea of how your partner's sperm works are also part of this pregnancy sex tips. Why? It's because we need to know how we can be fertilized, right? A man's sperm can live for up to 7 days inside a woman's body.
This means that if you've had sex a few days before your ovulation, the man's sperm is still there to wait for your egg. Now, you have an idea of when to do sex for pregnancy.
5. Your Health
Before planning to have sex for pregnancy, it's important to know the status of your health. Your eggs, his sperm both will be affected by your overall health.
Make sure that you are healthy, and you are eating the right foods, and more importantly, it's also important to note if you are taking any medications. The best sex for pregnancy is when you are both well and healthy.
6. Ditch the lube
When you are too eager to have lots and lots of sex to conceive, chances are you are to feel a little dried out. So, most likely, we turn to the use of lubes, right?
Stop! Did you know that with the use of lubricants, a man's sperm can actually be affected? This may prevent it from reaching your egg.
7. Are you stressed out?
This is another thing to focus on. Why? We all know how stress can play a huge part in our bodies, right? This is especially true with sex for pregnancy as well. The best time to know when to have sex for pregnancy is when you are stress-free.
Being too stressed about not conceiving will make it more difficult. Along with that, the strain that this issue can put on your relationship is also as big.
8. Are you having fun?
Pregnancy and sex should be enjoyed. If you are doing it out of the pressure of conceiving, then it will not really work. The best sex for pregnancy should be enjoyed; this way, you and your partner can connect and make love to conceive.
Bonus sex for pregnancy tips
With the basics of conceiving, you will have a higher chance that your eggs would be fertilized and if you would have your regular check-up with your ob-gyn. Your reproductive health is vital, and you should remember that.

Have frequent sex not because you are pressured to conceive but because you are having fun, and you are happy. The goal here is clear, but stressing yourself about it is definitely not advisable.

If you are successful in conceiving, also remember that you can still have sex. Although practicing safe sex positions during pregnancy is a must!

Remember, that in any event that you may feel that you have done your best and you are really being stressed out with trying to have sex for pregnancy, then you can seek professional help. Don't be shy about it too. Think of it as guidance and help.
Sex for pregnancy can sometimes bring stress and pressure, and that's normal, but we also have to understand that this should be something that we should enjoy doing, out of love, of course.
Share this article on
Want to have a happier, healthier marriage?
If you feel disconnected or frustrated about the state of your marriage but want to avoid separation and/or divorce, the marriage.com course meant for married couples is an excellent resource to help you overcome the most challenging aspects of being married.
Learn More On This Topic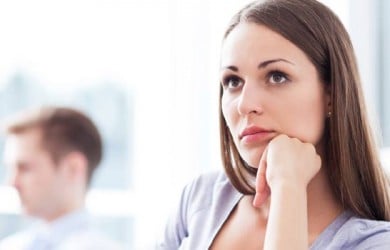 You May Also Like