Restoring Intimacy in Your Marriage: Quality Time, Sex, and Friendship
When you think back to 'I do,' that day is filled with excitement, joy, anxiety, and even fear of the unknown. But after that blissful day, you began building your life together. You were enthusiastic about spending time together, sex, and creating a friendship.
Then a couple of years later, you find that things have changed. The stressors of life have kicked in, weight gain, health challenges, and even children. The spark that was present in the beginning is now fleeting. It is replaced with the reality and responsibilities of life.
But I believe that you can restore your intimacy, and I have five easy steps to help you get there-
1. Gratification
What does gratification mean to you as we explore intimacy, quality time, sex, and friendship? I define gratification in marriage as a sincere pleasure being fulfilled to and by someone you love, value, and trust.
Love consists of a deep level of affection, admiration, and respect. This is important because it provides the framework for gratification, as it is the container that embraces all that is sacred to you as individuals and a couple. Love is more than a word. It is your action that is put forth to demonstrate your care and intention of the other.
Value holds your spouse in high esteem. Your partner is meaningful and valuable to you, and together, you create a precious treasure, which is your marital covenant between one another and God. You demonstrate appreciation for one another through acceptance of the other. Not attempting to change one another, but focusing your attention on your partner's positive qualities and traits.
Focusing on the negative creates stress and tension. However, aiming our thoughts to our mate's positive attributes allows us to value them as a person and makes space to communicate our concerns at the proper time.
Trust in a marriage is an essential element. It allows you to be free, especially as we engage in understanding gratification in a relationship. Trust is the ability to demonstrate your strength as an individual and spouse because you exhibit that you are reliable, dependable, and dedicated to your loved one.
2. Desire to connect
Desire states that you long for one another. Yearning to be connected physically, emotionally, and spiritually. Connecting on each of these levels allows couples to have a sense of security and realize that they can make it through anything.
As a result, it positions them to have a liberated perspective within the sexual relationship. Open to give in to the desires of connectedness blessed by God. It is not denying one another because of our feelings but creating a nontoxic atmosphere, permitting your significant other to connect on a deeper level of intimacy.
3. Emotional Awareness
Constructing a healthy emotional awareness of your feelings is a fundamental aspect of fostering intimacy, quality time, sex, and friendship within the marital framework. Healthy emotions allow for each person to be aware of what they are feeling and why.
This allows them to explore their mood and not explode on their significant other, allowing them to be proactive and not reactive.
Proactive means that you are aware and in control of your feelings and don't allow your emotional state to have power over you. Therefore, you can respond to your attitude. However, you don't let it cultivate into a venomous experience between you and your spouse, which can cause you to become emotionally disconnected.

Breaking away from your loved one and destroying any chances of intimacy is what I define as reactive. Reactive is the opposite of proactive and causes an unpleasant experience in the relationship.
You act in response to what you're feeling, causing your mood to controlling you, rather than being in charge of your feelings. This leads to an unhealthy encounter and creates disengagement and a lack of intimacy between you and your companion.
So to connect on an emotional level, you must be proactive and not reactive.
4. Physical Attraction
Physical attraction is when one is enticed by how the other looks. Many couples I see use this aspect of why they cannot connect with their spouse, from weight gain, body type, and dressing. From a health perspective, we need to be healthy.
However, in a marital relationship, I believe that out of love, concern, and respect, when you work together, it allows you to address the apprehensions that may be present within the relationship. For example, if the issue is attire, husbands can buy clothing they would like to see their wives wearing, and wives can do the same. But when it comes to body type, don't use negative communication to tear down your partner.
However, respond by providing solutions or helpful and encouraging options to your partner. Over time our bodies can change, but that does not negate the covenant that we entered into with one another and God. Think about ways that you can seduce each other. Discuss what you would like to see and go from there. Teamwork permits each other to be heard and creates an atmosphere of possibilities. Your imagination is a great place to start.
In the video below, Tomi Toluhi says that attraction is on four different levels. It starts with a physical attraction, which is the base level. It sparks curiosity. Know more here:
5. Roleplay
That brings us to role play. Roleplay in the marital relationship can be a healthy way to maintain enjoyment and contentment in the marriage. I define a role to play as fantasizing in a married relationship that encourages couples to keep a healthy and vibrant sex life that is stimulating, energizing, and exciting.
Roleplay is not designed to defame or insult but to create the opportunity to discuss how to enhance your sex life that makes it inviting and impulsive.
Final Takeaway
Understanding that intimacy means being interested in one another is a vital function of marriage. Restoring intimacy in your marriage is possible and needs commitment, investment, and reinforcement.
Be committed to the 'I do' and all that it represents, invest the time necessary to rebuild the relationship, and reinforce your attitude of love, value, and trust to create intimacy that is healthy, genuine, and durable. As a result, you'll establish the opportunity for quality time, sex, and friendship.
Share this article on
Want to have a happier, healthier marriage?
If you feel disconnected or frustrated about the state of your marriage but want to avoid separation and/or divorce, the marriage.com course meant for married couples is an excellent resource to help you overcome the most challenging aspects of being married.
More On This Topic
You May Also Like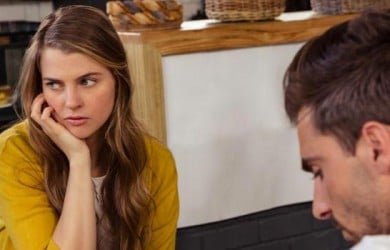 Popular Topics On Married Life