7 Ways How to Get Your Mischievous Toddler to Sleep Easily
Are you frustrated at bedtime because your toddler refuses to go to sleep? One of the most frequently asked questions is how to get your toddler to go to sleep.
This is a problem that has plagued parents for centuries.
Exhausted moms and dads drag themselves out of bed in the morning with far less sleep than their bodies require and it becomes wearing, but there is hope and there are a few good methods that will help your toddler to fall asleep more quickly.

The battle for bedtime
Some toddlers fall asleep quickly while others fight a battle royale to prove to their parents that they don't have to go to sleep.
The tantrums and pleading can go on for an hour or more. If nothing you try is working to get your toddler to go to sleep peacefully, it's time to change your technique.
Yelling, pleading and bribery aren't usually the best solutions, but here are a few that are effective.
1. Turn the battle into a game
One effective technique is to stop fighting with your toddler and switch roles. Tell your child that they are the parent and challenge him or her to try to make you go to bed. You'll need to begin the game long before bedtime.
It's ideal to do this during the daytime.
When the child sends you to bed, keep sneaking out and mimicking the behaviors you've seen. Have your toddler tell you to stop coming out of the room and to stay in bed. Cry and try to sneak out. Let your child put you back in the bedroom.

By doing this, you're giving the child something that every human craves and this is power, connection, and experience. You will learn a lot about how your child views you by their behaviors during the game.
If it's something that bothers you, then you'll have an idea of the things you need to change.
2. Develop a consistent routine
A consistent schedule and routine are important for toddlers.
Set their bedtime for the same time every night and try to stick to that schedule. It will get the child used to it and they will know that this is bedtime and there are no exceptions.
A good routine includes eating dinner, taking a bath or at least cleaning up after the meal.
The environment after the evening meal should be calm and the house should be relatively quiet. If there is a high energy level in the house, your child will feel this and it will be harder for the child to fall asleep.
Avoid stimulation or rowdiness in the presence of the child.
A regular routine prior to bedtime signals to the toddler that these are the things you do before you lay down to fall asleep. It will become a habit if you stay with it consistently.
3. Scent the room with essential oils
Using a diffuser to scent the house or the rooms in your house where your child is winding down for sleep can help to promote calmness and a better willingness to go to sleep.
Lavender, cedarwood, and chamomile are excellent choices for toddlers and adults.
Don't make the scent too heavy because a little can go a long way. Cedarwood is known to aid in the release of melatonin in the body and this is a natural calming agent that is produced by the pineal gland. One word of caution with essential oils.
Make sure that the oils you choose are pure and from a reputable distributor.
4. Avoid treating sleep or the bedroom as a punishment
This is a common mistake that many of us as parents make. We send a child to bed as a punishment. Instead, present it as a privilege.
When they perceive it as a positive event, children won't fight it as much. Look for other methods so they don't correlate the bedroom or being sent to bed as a negative.
5. Make bedtime a special routine
There are a lot of different things that you can do to make bedtime special for your child.
It can be a time where mom and dad spend time with the toddler and cuddle or read a soothing bedtime story. When your child is soothed and comfortable, the likelihood of gently falling asleep is higher.
When you talk to your child about bedtime use positive reinforcement with words that talk about the benefits of sleep in a way that your child will understand. Talk about dreams in a positive way. Sing soothing lullabies and children's songs about bedtime.
There are some great resources out there including great story-books with characters that your child can relate to.
6. Listen to your child's concerns
There may be an underlying fear of going to bed. Instead of taking a harsh approach that shows your frustration, listen to what your child is saying. If necessary, ask why he or she doesn't want to go to sleep. Something as simple as a picture that frightens them, a stuffed animal or toy can be the culprit. This is something that can be easily fixed.
Validate your child's feelings by showing that you're listening and take the appropriate action to alleviate the fear.
7. Praise your toddler for staying in bed
During the daytime greet your toddler with a smile and tell him or her that they did a great job sleeping in their bed all night. Tell the child how proud you are. Remind them that they are growing fast and that sleep helps them to feel better and have a better day.




Share this article on
Want to have a happier, healthier marriage?
If you feel disconnected or frustrated about the state of your marriage but want to avoid separation and/or divorce, the marriage.com course meant for married couples is an excellent resource to help you overcome the most challenging aspects of being married.
More On This Topic
You May Also Like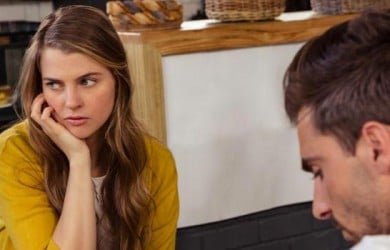 Popular Topics On Married Life