Showing Your Husband Affection in Unique and Inventive Ways
It's not always easy to find a way to show your affection for your man. It can often feel as if we've done the same things over and over to the point of boredom. And if you are feeling bored, it's a natural assumption to believe that he is bored as well! It is at this point in a marriage it is vital to get creative. There are so many ways to show a man how much he is loved and appreciated; the list is endless and without boundaries.
1. The not-so-obvious physical touch
It may seem silly to incorporate intentional physical touch in your relationship with your husband. Sexual contact and physical closeness is a natural part of marriage, so it seems too obvious that this would be a way to show your man affection. However, what many women fail to identify are the non-sexual needs of their men! Hugging, cuddling, dancing together, holding hands – men who enjoy physical touch with their partners as a way to show affection will likely respond positively to any of these options! Be creative in the ways you engage with your husband. You can offer a massage or a night cuddling, but what about a game of tag or a hand-in-hand walk to a nearby grocery or convenient store to grab a soda? These gestures, though not expensive or extravagant, can speak volumes.
2. Intentional time with one another
It is so easy to get lost in the shuffle of day-to-day life. What seems like time spent with one another is actually consumed with deadlines, schedules, cleaning, cooking, and work assignments. Stop and take a breath. Not only will you benefit from stepping away from the chaos, but likely so will your marriage. When spending time with your husband, be intentional. You do not have to talk or do something out of the norm, but plan to make the most of the time together. Give him room to talk or to be affectionate. For a more unique spin, have a physical object that represents shutting the rest of the world out. For example, using a box to put away your cell phones while spending this time together – no cell phones mean more time for just the two of you!
3. Doing rather than simply being
There will be times when he is overwhelmed and finding time to show affection can feel stressful. Instead waiting until he is available, take on some of his tasks to show him how much you value what time you do get to spend together. Lighten his load by taking out the trash if he's running late to work or by making sure dinner is hot and on the table when he arrives home. Mow the lawn if you arrive home earlier than expected; he will likely be relieved to not have to worry about another task upon coming home for the evening. He knows your time is as valuable as his, and he will likely be appreciative of your hard work and have plenty of time to be affectionate.
4. Surprise!
Nothing says 'I love you' quite like a well-timed gift. Whether it is a bouquet of flowers or a small token that reminds him of you, your man is likely very good at finding the perfect present for even the most random of days. Gift-giving is not just a man thing! Giving him a unique and special gift can show just how valuable he is to you. To be more creative, you could set up a scavenger hunt with clues. The prize can be something as simple as a freshly baked batch of his favorite cookies or surprising him with the new golf club you know he's had his eye on. Gifts do not have to be expensive to be meaningful – although it doesn't hurt to spend a bit more on him every once in awhile!
5. Speak life
Above all else, speaking words of life to your man is an unmatched sign of love and affection. Only you can stir his emotions and provoke his thoughts in the ways that you do. Using words of encouragement and positive phrasing can have a lasting impact on your marriage. So how do you do this creatively? Talking is easy enough, but get creative! Hide a love letter in his briefcase or write a message on the mirror after your shower. When he sees the words you've written, his heart will be overwhelmed knowing just how much you think about him and love him.
As a tip, pay attention to how he typically shows you affection. If you respond by showing him affection in similar ways, you could see a drastic change in the temperature of your marriage. What may seem lukewarm right now is certain to heat up if your man feels loved and appreciated in unique and special ways!
Share this article on
Want to have a happier, healthier marriage?
If you feel disconnected or frustrated about the state of your marriage but want to avoid separation and/or divorce, the marriage.com course meant for married couples is an excellent resource to help you overcome the most challenging aspects of being married.
More On This Topic
You May Also Like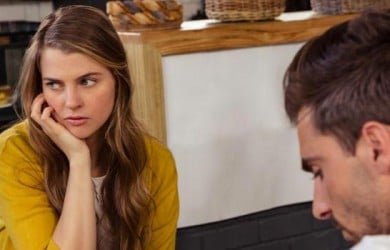 Popular Topics On Married Life