35 Helpful Tips on How to Keep the Romance Alive Between You Two

Keeping the romance alive!
When you think about 'Keeping the Romance Alive,' think about generosity and being intentional.
You are either moving toward it or moving away from generosity and intentionality in your relationship. What are you intentional about in your everyday life? Are you generous in spirit or selfish? Are you intentional and making romance and intimacy in your relationship a priority?
To keep the romance alive, you want to be 'intentional.'
Intentionally share your love, your time, and resources to support your partner in all they do. See your relationship through the lens of your partner's eyes and unconditional love.
When you use generosity in spirit your heart follows.
You are putting the other person's best interest first and making them a priority in your world.
How can you use this in your relationship? Do you put your partner 1st in all you do, or are they at the bottom of the list of many demands you have on you every day?
I'm so tired I have nothing left to give, is what I hear from many couples in relational counseling.
Sex? Who has the energy for that? We haven't done that since when, hmmm, it's been 10 months or, so I think. Not a good sign.
Are you selfish, or do you give generously and intentionally of yourself and your time and compassion?
Also watch: How much romance does a marriage need.
Here are 35 tips to keep the romance alive –
1) Flattery – one compliment a day. Share what I liked best that you did today was
2) Choose to fall in love with each other every day
3) Leave each other love notes on mirrors with glass markers, on sticky notes, with text messages, in your partner's car, briefcase, suitcase, drawer, or any place you can think of to bring a smile to your partner's face
4) Add romance to your routine by creating special alone time each day. It can be 5 minutes before you get up and 5 minutes before you go to sleep focusing only on each other
5) Build sex into your routine to be close, to connect, to have fun, to show love. Some think sex must involve rituals or be magical every time, but it just needs to be connecting in some way in reality. Make it your home base
6) Flirt and remember what your love story was every day. What attracted you to each other, and what it felt like to see that glance, that look, that touch and recreate those moments.
7) If your husband or wife is naked getting into the shower, what are you thinking-
He always leaves his clothes on the floor.

She never leaves hot water.

S/He is so hot! – None of the other things matter!

I wish they would hurry up or we'll be late.
8) Have a weekly date night, schedule it, and stick to it. Be intentional and protect that time. If you need to move the time, reschedule; do not blow it off as "optional
9) Picnic and a movie or binge-watch a TV show you both pick out at home
10) Make a meal together & have it outside or by candlelight
11) Phone and/or text him/her during the day to let him know that you are thinking about him/her, want them, love them, admire them, appreciate them
12) Take a walk on the beach, holding hands, and talk only about your love. Ask: What am I doing well in our relationship? What things do I do that make you happy?
13) Take up a new hobby together or commit to do a hobby with your partner that they love to show how much you care
14) Schedule a date to "make out."
15) Have a breakfast date on a weekend morning/holiday
16) Take a mini home vacation. Turn off devices, close the blinds and sleep in together and then cook pancakes, eggs, bacon, and have strawberries & whip cream with Champagne for breakfast in a specially picked place
17) Read a book together when driving. Readout loud to your partner and share thoughts about it along the way
18) Bake cookies together and decorate them
19) Take turns monthly surprising each other with special dinner date night cooking the other's favorite meal
20) Had a stressful day? Leave it behind and go for ice cream, share a sundae, or an ice cream soda. Feeling better already?
21) Watch a comedy and laugh together!
22) If you have friends with a baby (and you have a baby), set up babysitting swapping nights to have the night free
23) With a baby or children, have date nights at home at 8:00 after the kids go to bed. Or bring in the babysitter from the neighborhood and have him/her babysit at home and take care of the night routine like you are out and lock yourself in your bedroom for a date night
24) Dessert First night….have fun having your favorite dessert first one night and eating dinner later
25) Feeling less connected? Touch is the answer. A foot or hand massage, neck massage, back massage, then switch. Reciprocating is the key
26) Drop it! Let go of all the past and anything your partner has done. Start fresh, right now. Begin making new memories. Discover each other all over again. After all, your dating a new, wonderful, wild woman/man. Let yourself be fully present on your dates
27) Be passionate! No more little pecks on the cheek, little shoulder top hugs, or weak love was. At least once a day, kiss each other like you really mean it. When you hug each other, make sure you give a full-blown, juicy, full-body bear hug (stiffness or tense hugging does not count). When your partner says love ya, stop what you are doing, walk over, look them in the eyes, and say, I love you, too. I mean, I really do love you! Enjoy the feelings this invokes
28) Notice each other as humans. What? When your partner comes home, stop for a minute, and welcome them home. Whichever of you get home first, acknowledge the other's presence in a loving way
29) Plan Ahead. Before kids, you could go out on a date whenever you wanted or stay up all night chatting with a baby, it takes a lot of planning ahead to make any of that happen, but it can still be done!
30) Be each other's best friend. Have inside jokes, crack movie quotes with one another, let him/her be the first person you want to talk to when you have good news, bad news, or juicy gossip
31) Take care of yourself. Remember when you first started dating? You always tried to look & act your best. Attraction to physical appearance is usually the first thing that draws us together. It is easy to get comfortable & forget this as we become comfortable. Basic hygiene to nice clothes and makeup is the foundation for closeness
32) Share a Secret Code. Pick a word that's likely to come up occasionally in conversation (heat, midnight, bedroom, whipped cream…) and agree that every time someone uses it, you have to touch — anything from a kiss to a lingering thigh stroke under the table
33) Change the sheets and make the bed up like an exotic hotel with chocolates on the pillow.
34) Keep the bedroom door locked and teach children how to appreciate & respect private time & boundaries
35) Keep the romance alive by creating, and I LOVE YOU, and I WANT YOU signal so that you can flirt with them even in a crowded location!
Share this article on
Want to have a happier, healthier marriage?
If you feel disconnected or frustrated about the state of your marriage but want to avoid separation and/or divorce, the marriage.com course meant for married couples is an excellent resource to help you overcome the most challenging aspects of being married.
More On This Topic
You May Also Like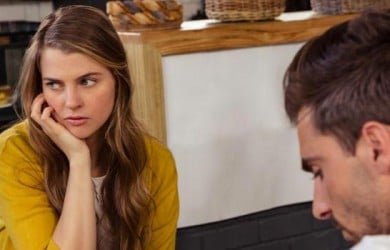 Popular Topics On Married Life