40 Romantic Dinner Ideas at Home for Couples
Ever thought of romantic dinner at home ideas? Have you been looking for romantic dinner ideas at home?
We give you some romantic dinner ideas for the perfect date at home in this post. Recipe ideas, wine pairing, and how to set the table. The works!
When was the last time you had a romantic dinner at home?
If you're struggling to remember, this post is for you! We have put together an article with some romantic dinner ideas at home – drinks and dishes included.
A romantic dinner can be fun to prepare, and your other half will appreciate the effort and time spent planning and preparation. So how do you go about setting up a romantic dinner at home?
Don't panic – even if you are not a great home cook, these date night dinner ideas and recipes are super easy!
Related Reading: 

Making Time For You And Your Spouse
If you want to learn how to set a dinner table, watch this video.
40 romantic dinner ideas at home for couples
Here are 40 romantic dinner ideas at home you can execute on your date night. If you are looking for romantic dinner ideas at home for him or romantic dinner ideas at home for her, keep reading.
1. Roast chicken
Roast chicken is super easy to make.
Put a whole chicken in a roasting pan in the oven at 180 degrees celsius.

Add vegetables of your choice, like carrots, butternut, and baby potatoes.

Season with herbs and spices, add some fresh garlic and set the timer for 1 hour and 20 minutes.

Dinner is ready when the juices run clear out of the chicken and soft vegetables.
Serve with crusty bread and butter or some seasoned couscous. This romantic dinner is a leave-it-in-the-oven and forget-about-it recipe!
Romantic dinner ideas at home would not be complete without a yummy steak recipe.
Here's how to blow your dinner date away!
Season strip steaks with salt and pepper.

Fry them in a hot cast-iron skillet for 3-4 minutes on each side.

Remove the steak, but leave the juices in the pan.

Add a teaspoon of butter, two cloves of chopped garlic, and some red wine to make an easy red wine reduction for the steak.

Serve with fries, garlic potatoes, or vegetables of your choice.
To end your romantic dinner, serve store-bought ice cream or cupcakes for dessert. If you want to bake something, find an easy pastry recipe online and give it a go!
2. Cod, Scallops, and Spinach
This super easy recipe is likely to give you major Chef feels. Both you and your partner are not just going to enjoy how tasty this is, but also how beautiful this looks. The convenience of this recipe makes it a sure-shot winner on the list of romantic dinner ideas for couples at home.
3. Shrimp in champagne sauce and pasta
If you and your partner are lovers of seafood, and champagne, and pasta, then what could be better than combining the three? This is a great, easy one-pot recipe that will keep cleaning up very easily.
4. Marie Antoinette Champagne cocktail recipe
Champagne is a celebratory drink and is everyone's favorite. Here is a cocktail, royal twist to the alcohol that can make your date night even better.
5. Homemade Dutch baby
No rule book says you cannot have pancakes for dinner. If your partner has a sweet tooth, surprise them with a homemade dutch baby for dinner. They are going to cherish it.
6. Garlic parmesan duchess potato recipe
With this recipe, you can upgrade your mashed potatoes game and take it up a notch. This tastes great and is also a good recipe for vegetarians and vegans.
7. Marry me chicken
The marry me chicken is a recipe that has become very popular recently. It is easy to make yet super delicious. It sure lives up to the hype and will make for a great dinner idea for couples at home.
8. Lobster mac and cheese
Mac and cheese is a classic. Add lobster to it, and give it the much-appreciated twist it deserves. This will make for an easy and tasty recipe for dinner idea.
9. Caprese garlic bread
What is better on a date night than a three-course meal? The caprese garlic bread will act as an excellent appetizer for your dinner date.
10. Crab cakes
Crab cakes are a very popular dish, and if your partner enjoys seafood, this can be a great dinner idea.
11. Cheese fondue
Is cheese your heaven? Then this dish is for you. Simple to make, very tasty, and creamy, cheese fondue can lift your spirits.
12. Creamy garlic parmesan risotto
Garlic makes everything better. Add a little creaminess and cheese to the risotto, and you can make the healthy dish very tasty as well.
13. Chocolate covered strawberries
This is a romantic classic and can help you take your date night to the next level. Chocolate-covered strawberries taste delicious and are super easy to make.
14. Chocolate cake
Nothing says romance like a tasty chocolate lake. Chocolate is the flavor of love, and a homemade chocolate cake sounds like a great dinner idea for couples at home.
15. Honey glazed salmon
Salmon is one of the healthiest and tastiest fishes out there. Check out the recipe for honey-glazed salmon.
16. Asparagus stuffed chicken
Chicken stuffed with asparagus sounds so good! This is one of the most wholesome meal ideas for couples at home.
17. Chicken parmesan
Chicken, good. Parmesan cheese, better. Mix the two, and you have a tasty dinner meal recipe. This is one of the best ideas for a romantic dinner at home.
18. Risotto for two
Risotto is a popular dinner meal. Give it a tasty twist with this recipe and make it the perfect romantic dinner idea for couples at home.
19. Meatloaf
Looking for romantic dinner ideas for two at home?
If your partner likes the classics when it comes to food, you cannot go wrong with meatloaf.
20. French onion soup
Some people like to eat a light dinner, and soups and salads are the best romantic dinner ideas at home for them. If you and your partner are one of those, try this french onion soup for a tasty meal.
21. Spicy tuna stacks
If you and your partner are spice-lovers, you must try these spicy tuna stacks. They are a great snack to start your date night with.
22. Mediterranean veg pizza
If one or both of you are vegetarians, this may be the best dinner idea for you. Tasty, healthy, and easy to make, the Mediterranean veg pizza is the perfect dinner idea for couples at home.
23. Butter chicken
Indian food has gone places and how! If you both love savory butter chicken curry with rice, it may be the best dinner idea for couples at home.
24. Lasagna
The best part about lasagna is that you can make this in advance and do not have to worry about dinner while the two of you sit and have a good conversation.
25. Spaghetti
There is something romantic about spaghetti pasta, especially since we have seen lovers eat it from two ends, only to meet up in a kiss at the end. You can make this in various ways, but this recipe is amazing.
26. Tacos
If you love tacos, you should try to make them at home for dinner. Very easy to make and super delicious, tacos are an effortless dinner idea for couples at home.
27. Italian egg bake
There are no rules when it comes to food! You can have eggs for dinner, even when everyone thinks they are the breakfast food.
28. Shrimp fried rice
This is an easy-to-make dish that can make your partner go "wow" on your cooking skills.
29. Crispy lemon pepper chicken
Seasoned well, the crispy lemon pepper chicken is a flavorful dish to enjoy for dinner.
30. Stuffed meatballs
Meatballs are enjoyed in various cuisines, and we know why – because they are delicious. Check out the stuffed meatballs recipe for a great dinner idea for couples at home.
31. Surf and turf
This is a classic. If you are feeling like donning your chef skills, this can be a great dinner idea.
32. Greek stuffed peppers
These look as good as they taste. If you are feeling experimental, do try this recipe.
33. Pesto chicken pasta
If you want to give the pasta a twist, try to make it with pesto sauce. You can also make the sauce at home for a fresh, tasty pasta dish.
34. Baked mac and cheese
Mac and cheese is a classic. And goes well with everything. Check out the recipe for baked mac and cheese.
35. Penne pasta with vodka sauce
This became a social media sensation some time back, and it is one of the easiest kinds of pasta to make.
36. Honey garlic shrimps
Honey garlic shrimps – among the three words, is there really something to not like?
37. BBQ ribs
Do you both not mind getting your hands dirty? Try the BBQ ribs recipe that you can also make in an air fryer.
38. Chicken alfredo pasta
Try this classic for a romantic dinner idea for couples at home. The creamy alfredo sauce goes perfectly with chicken.
39. Thai peanut chicken wraps
If you like to explore different cuisines, you must try the peanut chicken wraps.
40. Thai beef and vegetable curry
Another Asian dish you can try is Thai beef and vegetable curry. This dish is very flavorful and is sure to be a hit.
10 tips to make the dinner memorable
Apart from making a great dinner, here are some tips that you must know if you want to make this night memorable.
1. Choose the right drinks
A romantic dinner is not complete without drinks – but your choice of beverages depends on your dishes.
A steak dinner can be paired with an earthy red wine.

You could serve a crisp, chilled white wine if you decided on chicken.
Whatever your decision, make sure you have a bottle opener handy – either the hand-operated ones or an electric wine bottle opener.
If you're not into alcohol, pick up some fruity, fizzy drinks to go with your date night meals.
Be sure to have your date's favorite drinks on hand for after dinner – so stock up on beers, whiskey, or gin.
Their favorite drink will go well with dessert.
2. Choose easy, simple recipes
When people are trying to find out how to make a romantic dinner, they probably forget that the most romantic dinner recipes are a piece of cake.
You don't want to worry about too many aspects, complicated sauces, and preparations. Choose a dish that is easy to make with only a few ingredients.
This is probably not the time to try some bizarre food or flavors – if your partner does not like it, they won't be comfortable with ordering something else from the menu.
Remember this one tip as one of the most important romantic dinner ideas. Else you would be thrown in for a loop!
3. Create the perfect setting
When you are looking up romantic dinner date ideas and trying to figure out how to plan a romantic dinner, you might think of recipes and ingredients.
But here's the thing – you want to create the entire package. That means food, drinks, and the most important of all – the setting!
That means lighting some scented candles, flowers, shiny silverware, and putting some romantic dinner music on.
A special and relaxed atmosphere is the perfect backdrop for a romantic dinner.
If you are sure that the menu and drinks are sorted and you've spent some time setting the table and selecting mood music, pamper yourself with a long hot shower or bubble bath.
Put on some nice clothes and don't forget the perfume.
4. Relax and enjoy the meal and the company
Don't forget to sit back, relax, and relish the romantic dinner. If something goes wrong with the food, let it.
You don't want to be stressing over everything so much that you forget to enjoy the experience.
Related Reading: 

5 Best Romantic Dinner Ideas for Couples at Home
5. Talk about the good things
You can spend some time reminiscing about the good times, especially if you both have had very little time together recently.
6. Do not exert yourself too much
As much as you want to make this special, make sure you are not too tired by the end of all of it. Take time to rest and feel good about the night.
7. Dress up
Even if you are both staying home, dress up nicely for each other. You will feel so much better when you put on nice clothes and sit with each other.
8. Take photos together
Take out some time to take photos of each other, of the food, and together. Pictures are a great way to create memories, and you can always look back on them and relive these moments.
Related Reading: 

7 Memorable Date Ideas for You and Your Spouse to Reignite Your Relationship
9. Try something new
Make it a point to try something new on every date night. It could be a new cuisine, drink, or dish. New experiences with the one you love are a great way to bond.
10. Get rid of distractions
Put your phone, laptops, and other gadgets away. Put away anything that distracts you and your partner, and spend time only with each other.
The takeaway
Who knows, if this is a success, then the romantic dinner night might become a regular date night! After all, date nights are effective in fostering the love bond between couples.
So, what recipe and romantic dinner ideas at home are you going to consider for your next romantic dinner for two?
Share this article on
Want to have a happier, healthier marriage?
If you feel disconnected or frustrated about the state of your marriage but want to avoid separation and/or divorce, the marriage.com course meant for married couples is an excellent resource to help you overcome the most challenging aspects of being married.
Learn More On This Topic
You May Also Like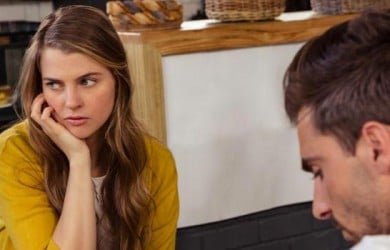 Popular Topics On Married Life