10 Signs You're in the Honeymoon Stage of a Relationship
The honeymoon stage of a relationship feels like a never-ending joyride filled with fun, laughter, carefree happiness, and boatloads of intimacy. Everything is exciting and fascinating, and conflict is nowhere in sight.
Are you still in this passion-fueled relationship phase, or have you progressed to the next stage?
Knowing this can go a long way in building a successful relationship, as you can start working out the kinks in time using the honeymoon phase as a source of positivity.
In this article, you'll find the top ten signs to tell if you're in your relationship's honeymoon period. You'll also get a glance at what comes next after the honeymoon phase.
What is the honeymoon stage of a relationship?
The honeymoon stage is the beginning period of a relationship marked by euphoria, intense attraction, the idealization of one's partner, and a sense of being carefree.
When you're in the honeymoon phase of your relationship, you're strongly infatuated with your partner and want to spend all your time with them. Swept over by the perfectness of your new love, you may even tend to ignore the world around you as if it's invisible.
To better understand the meaning of the honeymoon phase, let's look at the ten most common signs of being in the honeymoon period of a relationship.
10 signs you're in the honeymoon stage of your relationship
Certain relationship dynamics and physical and behavioral changes define honeymoon-stage relationships. Let's take a peek.
1. You rarely fight (or even disagree)
In the honeymoon phase of your relationship, you almost never fight. You always want to please your partner. You prefer agreeing with your partner instead of quarreling over trivial matters, making it very easy to find common ground.
In doing so, you're also unlikely to feel like you've had to compromise or give something up. You love agreeing to your partner's wishes to make them happy, and your partner loves to do the same.
Another reason why there's almost no fighting in the honeymoon period is that you tend to ignore your partner's flaws. For example, if your partner habitually talks over you, you won't get annoyed. You may wish they amended their flaw, but it's unlikely to bother you much.
Related Reading: 

15 Most Common Fights in a Marriage
2. Your physical intimacy is sky high
You find it almost impossible to keep your hands off each other when you're in the honeymoon stage of a relationship. You frequently indulge in public displays of affection, love to make out, have lots of sex, and drift off cuddling every night you're together.
If you've started living together, you never forget to kiss each other goodbye even if one of you is getting late to the office. Kissing each other is also always the first thing you do when you're reunited in the evening.
Related Reading: 

11 Stages of Physical Intimacy in a New Relationship
3. You have increased energy
In the honeymoon phase of dating or marriage, you seem to have endless reserves of energy. Driven by heightened emotions and sexual feelings, you're always up for anything so long as you can spend more time exploring your new and exciting relationship.
For example, you'd be ready to stay up till morning with your partner even after a strenuous day. You also never feel too tired to go out for a dinner date.
Related Reading: 

New Relationship Energy and How to Make It Last
4. You're constantly talking or thinking about them
Do you constantly think about your partner, whether at work or out with friends? Have your friends told you you're always bringing up your partner in your fun stories? If the answer to these questions is yes, you're probably in the honeymoon stage of your relationship.
Besides thinking or talking a lot about your partner, you may even try to turn conversations toward your relationship when in the honeymoon stage. You may even find that your friends know every important detail about your love affair, even the ones you should've kept to yourself.
5. You want to always look your best in front of each other
If you're in the honeymoon stage of your relationship, you care a ton about presentation. You try to look your very best even if it means spending an inordinate amount of time getting ready or having to wear something uncomfortable for a long duration.
If your significant other is coming over, you'll also make sure your apartment looks as sharp as you by cleaning it top to bottom and dressing it up using the quick tips you found online.
6. You focus more on similarities and less on differences
While differences are not necessarily bad for a relationship, having too many of these can be risky, making it essential to manage them effectively.
Do you know how you manage your differences in the honeymoon stage of a relationship?
You simply turn a blind eye to them!
Instead of navigating your dissimilarities, you prefer focusing your attention, time, and energy on all the hobbies, interests, beliefs, and opinions you have in common so you can enjoy your time together as much as possible.
If your list of similarities is a little thin, you may pretend to like each other's interests or adjust your opinions to your partner's liking.
7. You always try to prioritize your partner
You might be the most responsible or considerate person. But if you're in a relationship's honeymoon phase, you tend to prioritize spending time with your partner no matter what. Lost in the novelty, you may neglect friends and family and blow off work deadlines and other obligations.
While it may feel right to ignore friends to make your partner happy, this isn't a good idea since friends play a very important role not just in your life in general but specifically in your relationship down the road.
8. You can't help smiling in your partner's presence
Smiles come easily, involuntarily, and without reason when you're in the honeymoon stage of a relationship. All you need to do is make eye contact, and you'll start grinning from ear to ear.
Even when you're away from your partner, you may start smiling just thinking about them or talking to someone about them.
9. You love each other's eccentricities
'Wearing rose-colored glasses'
There's a reason why this turn of phrase is so often used to describe the honeymoon stage of a relationship. It's because, during this phase, you always see your partner in a positive light.
Their bad habits will seem like eccentricities to you, while their eccentricities will seem like the most adorable thing in the world.
For example, you'll like all of their jokes, good or bad, and their occasional, OCD-like behavior will be funny for you, not anger-inducing. You may even be accepting of some level of selfishness on their part, deeming it a quirk.
10. Every vacation with your partner feels like a honeymoon
This one is a sure-shot sign for married couples. If you feel like you're on your honeymoon every time you go on a holiday, the honeymoon stage of your relationship hasn't ended.
Walking around in a scenic and exotic location with your partner, you'll feel the same hormone-driven sweetness, excitement, and ecstasy you felt on the actual honeymoon and find everything magical and unbelievable.
Related Reading: 

What Is Honeymoon? And Why Is It Important
When does the honeymoon phase end?
For most couples, the honeymoon stage of a relationship lasts between a few months to a couple of years. Your honeymoon phase may be shorter if you move in quickly with your partner.
While many people want to extend their honeymoon period to as long as possible, a short honeymoon period isn't a bad thing. Ultimately, what matters is how strong a bond you're able to form once this phase ends.
Having said that, feel free to slow down to savor your honeymoon stage if that's what you prefer.
What happens when the honeymoon period ends?
The end of the honeymoon stage of a relationship brings many changes, some desirable while others not so much. The most noticeable change is that you'll see your relationship in a more realistic light.
The idealization of your partner and relationship will fade. You'll notice flaws, feel less attraction, and start having arguments and fights. You'll also find spending time with your partner less exciting and energizing.
This change may be jarring for many people, destabilizing the relationship. But don't think that you've entered a gloomy period of your life.
While the passion and perfectness fizzle out, you'll find that you can be much more open and comfortable with your partner. Meanwhile, the hardships you'll face and the relationship skills you'll learn in the stages of a relationship after the honeymoon phase will help you build lasting love.
To better understand how to build a lasting relationship once the honeymoon phase ends, watch this video:

More relevant questions
In case you have got more questions on how to navigate your love life once the honeymoon phase is over, here is our next section providing you with answers to some such relevant questions.
What does love feel like after the honeymoon stage?
Love after the honeymoon phase feels much more rooted in reality. While it doesn't feel as perfect as before, you start to see your partner as who they are in the real world and not as an idealized version of them.
This adjustment can result in decreased attraction and increased arguments and fights and may require a lot of effort, but you'll find yourself more deeply connected to your partner once it's run its course.
Is the honeymoon phase over, or am I falling out of love?
The answer to this question depends on what you've lost. Have you only lost the intense passion you felt for your partner and the feeling that your partner is the most amazing person in the world? If yes, you're just experiencing the end of the honeymoon phase.
On the other hand, if you no longer feel affection for your partner and find it hard to envision a future together, you may need to reassess your relationship and whether you're right for each other.
Marriage is more about the later phases
As blissful as the honeymoon stage of your relationship may be, you may find yourself on a rocky road once it ends. You must keep in mind that it's all part of falling in love and not getting disheartened.
Once you make a touchdown, in reality, you'll gradually get in sync with a more comfortable and fulfilling aspect of your relationship.
Still, if you and your partner have a hard time coming to grips with the new reality, you can rely on relationship & marriage therapy to take you on a smooth journey toward lasting love. You can also check out our research-based relationship courses for healthier and happier relationships.
Share this article on
Want to have a happier, healthier marriage?
If you feel disconnected or frustrated about the state of your marriage but want to avoid separation and/or divorce, the marriage.com course meant for married couples is an excellent resource to help you overcome the most challenging aspects of being married.
Learn More On This Topic
You May Also Like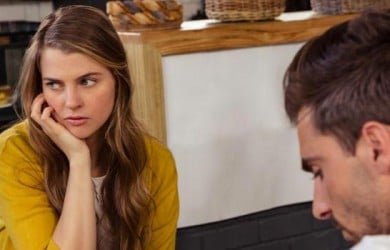 Popular Topics On Married Life