How to Find Ways of Spending Time Together on Holidays
The pressure to spend more and more in our United States capitalist society is never more evident than during the holidays.
We're bombarded with more and more advertising and may even fall prey to the "keeping up with the neighbors" mentality that has us spending more money than spending time together with our loved ones.
I've heard tales of compulsive shoppers, for whom holiday shopping on a budget is never on the cards, and they have gone far into debt, maxing out credit cards and emptying savings accounts simply to "make it a good Christmas."
I believe this is wrong thinking!
You're not doing your family or your pocketbook any favors by overspending. It's time (not money) that you should be allocating to the holidays and families.
Things are temporary; toys break, gifts are put away and forgotten. But, by spending time together, with family and friends, the memories you make are long-lasting.
These memories will be prized possessions for your partner and family that they can open and revisit again and again.
This can be achieved only by spending more time with family!
Practice budgeting for holidays
If you're not independently wealthy, you should stay within a reasonable budget. Start early in the year with budgeting to enjoy the holidays and spend time with the family to avoid overspending.
You can open a separate account in the spring and sock away some money to use during holiday time. If you do this faithfully, you will have a tidy sum to play with and can use it to make some wonderful memories during the holidays.
This should be a shared endeavor with both you and your partner contributing a set amount each payroll cycle. Then you can agree on how you want to divide and spend it.
Budgeting is a great discipline to cultivate that will teach you the importance of spending time with family and friends. If you're not in the habit of doing this, it will be a definite learning experience for you both.
You might have to sacrifice a little now so that you and your partner/family can enjoy the holidays debt-free. Don't fall into the "we can just put it on the credit card" cycle.
It will surely come back to bite you later!
What can couples do for fun?
The first step towards planning the activities for married couples to do together is to carve out a couple's time from your busy schedule. Make date nights a priority.
There are always fun events happening during the holiday season; take your partner out, and have some fun. Holiday parties and events make memories for the future and give you more shared experiences to bind you together.
There are many things couples can do for fun by spending time together, like taking photos and celebrating the season by spending time together and enjoying one another's company.
Participate in some sort of service together, visit elders, or contribute to your community in a way that lets you do something meaningful with your time.
Take blankets to homeless shelters, towels to the dog shelter, go through your closets, and donate some coats for needy folks. There are so many people in need, and you and your partner can help.
These are things more important than money in a relationship. So, always remember to spend holidays with family rather than focusing on splurging and competing with peers.
At-home activities for couples
Stay in at least one night out of every few nights during the holiday rush for spending time together.
Catch your breath, and catch up with each other by snuggling up to watch your favorite holiday movies together. This can be a family affair or an intimate cuddle fest with your partner.
The point is to shut out all the noise and just be together, relaxed with no demands on either of you beyond popping some popcorn or a wine cork.
You can also take up relationship-building activities while you are spending time together at home. This can be a great way to bond with each other while having fun.
How to save money during the holidays?
One of the vital holiday spending tips is- Limit gift-giving – avoid impulse buying!
Your kids don't need a bunch of things. They need you. Give gifts with meaning.
A great suggestion is to use the "four gift rule".
Something to read, something they want, something they need, and something to wear. If you have a lot of kids, this is a great guideline to use.
For your partner, it's a little bit different. Guys (!) don't buy household appliances as gifts for your partner unless specifically requested.
One practical gift is nice, but it should also be accompanied by one thoughtful, wanted, and meaningful gift. A gift for both of you is also acceptable.
If you're unsure about what to gift your partner with, you've not been paying attention!
You should listen to them when they say, "I wish I could" or "Wouldn't it be fun to ___". If it's within your budget and ability, give your partner something that fills in the blanks.
Another piece of essential holiday money-saving tip is- Be romantic and be frugal!
You don't need to spend a fortune on gifts or activities for spending time together meaningfully on a holiday.
Be there, show up, act loving and sweet, give gifts that surprise and delight and make an effort to put a smile on your partner's face every single day.
It's also okay to have a tradition of giving each other a list of desired gifts to pick from!
Suggestions for Thanksgiving
Each day in the month or week leading up to the holiday, give your partner a text or call and tell them one thing you're grateful for about them being in your life.

Give your partner their favorite foods for the feast.

Give your partner your favorite recipes and participate in planning and/or preparing these dishes.
Suggestions for Christmas and Hanukkah
Observe the Advent calendar and do one small meaningful gift, gesture, or surprise for your partner in the days leading up to the holiday.

Get your partner's friends and a few other couples together and have a gift exchange /gathering to

celebrate holiday togetherness.

Dress up and go out on a couples' overnight date night or a weekend getaway (plan ahead, taking care of details such as childcare and lodging).

For each gift of Hanukkah, make sure you give with intention and meaning. A fun gift is okay as well.

Invite a secret friend from far away or a relative who hasn't visited in a while. Make it a fun surprise for the family on your holiday table.

Do a white elephant gift exchange or some sort of game. These are always fun, and you never know what you'll end up with. Put a dollar limit on these gifts. The cheaper, the better!
Also watch:

Final thoughts
Be creative, have fun, be romantic, and be together. Eliminate worries about finances and just have a great time hanging out with family and friends.
Remember: Whether on holiday or not, spending time together instead of spending money is the key to a happy and healthy family life.
Share this article on
Want to have a happier, healthier marriage?
If you feel disconnected or frustrated about the state of your marriage but want to avoid separation and/or divorce, the marriage.com course meant for married couples is an excellent resource to help you overcome the most challenging aspects of being married.
More On This Topic
You May Also Like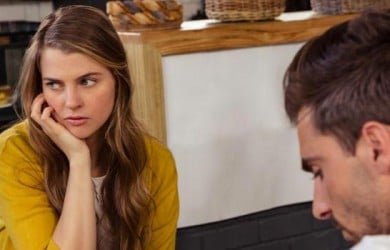 Popular Topics On Married Life