When You Feel Attracted to Someone Do They Feel It Too? 15 Signs
There are certain questions you may start asking yourself when you have a strong attraction to someone. One of these questions might be, "When you feel attracted to someone do they feel it too?"
The signs of flying sparks can be almost too intense to be ignored. Your cheeks may flush, butterflies may flutter in your stomach, and your knees may buckle at the sight or sound of their voice. And somewhere deep down, you may usually want to know if they feel the same way about you.
Then again, if you're casually dating or just hanging out, it's natural to want to know what the other person thinks about you. An easy way to do this is to read their body language and look for cues.
Therefore, in this article, we will discuss how to know if someone is attracted to you and also how to know if you're attracted to someone.
Can people feel when someone is attracted to them?
If you have been wondering, "When you feel attracted to someone do they feel it too," you might be under much stress.
Well, the simple answer is, "Yes!"
Many times, people can sense when someone is attracted to them. This feeling that exists between two people is frequently referred to as "chemistry" or a "spark."
Medical studies show that a tremendous attraction can develop between two people when a complex combination of physical, emotional, and mental components is present. Physical manifestations of attraction can include blushing, sweating, anxiousness, dilated pupils, and elevated heart rate.
When you are around someone you are attracted to, you may experience excitement, anticipation, or butterflies in your stomach (figuratively). You might also possess a strong urge to touch or converse intimately with that person just to feel close to them.
Some people may discover that they frequently consider the other person, daydream about them, or experience a powerful desire to always be with them/get their affirmation.
Only some people feel chemistry or attraction similarly, and cultural, social, and personal variables can also influence attraction. This, however, doesn't mean that a strong attraction to someone will not be felt by them – especially if you don't mask your feelings well.
The decision to return those feelings to you lies with them.
15 signs someone you're attracted to feels it too
Do you want to discover how to figure out if someone is attracted to you sexually and emotionally? Here are 15 signs to help clear the air.
1. Your conversations flow smoothly
One of the signs to know if someone is attracted to you is when your interactions don't feel like interrogations and are naturally enjoyable. You can converse with them for hours and not feel like any time has passed.
Even if you're texting, you won't have to overthink each response, trying to strike the perfect blend of humor and charm. You won't be thinking about how to keep a discussion with them going because everything feels natural.
You'll say whatever comes to mind without worrying about whether or not what you're saying is lame, and you won't be memorizing topics of conversation before you see this individual. This is because there's almost no need to prove any point.
Take note of the way your conversations are. Do they sound tedious and drawn out? Does it feel like you're the only one trying to push across to them? Do your interactions make you cringe inwards?
Yes? Then that's not what attraction feels like. If they're attracted, it should be natural.
Related Reading: 

12 Ways to Have an Intimate Conversation With Your Partner
2. They are interested in knowing you more
What does it mean to be attracted to someone? It simply means you are always ready to learn everything there is to know about the person. Their preferences, dislikes, pastimes, haunts, and the way their voice cracks when they're thrilled.
You'll see that the other individual is also interested in getting to know you. You won't only talk about them in conversation. You will feel more than comfortable disclosing information about yourself when they ask you questions to get to know you better (please don't divulge your Netflix password just yet; you're not there yet).
You are more likely to get to know someone better if you are attracted to them. If you're attempting to determine whether or not a person feels attracted to you when you do, pay attention to how eager they are to get to know you.
3. Body language
When you feel attracted to someone do they feel it too? You can easily detect this from their body language.
The best part is that you don't have to be a professor to comprehend someone's basic body language. Simple behaviors like nervousness around you, fumbling over your words, or fidgeting are indications of anxiety; good anxiety this time around.
These indicate they are desperate to leave a favorable impression on you. Studies show that if their arms are not crossed, their shoulders are open, they hold your gaze, they fix their hair, and they lick their lips when interacting with you, they might also be into you.
4. Blushing
Blushing is a telltale sign that someone is experiencing butterflies in their stomach. Additionally, it is common for people to feel uncomfortable around someone they like. Therefore, speaking quickly or acting clumsily may also suggest the same.
5. Mirroring your actions
When someone is strongly attracted to you, they will unintentionally imitate elements of your behavior, such as how you hold your glass, order your coffee, or move your hands in the middle of a conversation.
These indicate that the other person wants to establish a connection with you. Mirroring is one way to get the attention of anyone, build rapport, and open communication lines immediately, according to psychology studies.
It could also imply that they find your conduct endearing and want to be more like you. Isn't that flattering?
Related Reading: 

What Is 'Mirroring' in a Relationship & How Does It Help?
6. Reciprocity
Are you feeling a spark with someone? One way to ensure this isn't one-sided is to look at the speed with which they respond to you. Do they respond to your calls, emails, and texts promptly?
Additionally, check if they share your enthusiasm about speaking with or meeting you. Plan a date and keep an eye open for their excitement levels. Consider backing off if it feels lopsided.
7. How often do they smile?
A grin is a sign of contentment, comfort, and attraction. It speaks of good things and means that you enjoy an experience. Hence, it goes without saying that if the person you like has a spontaneous smile around you, they are probably attracted to you.
8. Frequent accidental touches
Sometimes, when a guy likes you back, you might find his hand brushing against yours accidentally. When this happens often, it indicates that he is either doing it deliberately or they are inadvertently so close to you that you end up brushing hands.
9. Undeniable physical touches
Studies show that simple touches could increase your body's adrenaline levels and cause physiological reactions that make you feel closer to someone. This is why couples with constant physical contact tend to experience deeper emotional satisfaction.
Here, "physical touch" refers to more than just "accidental brushes against your skin." They are interested in you if they try to hold your hand, put their hand on your back as you cross the street, or guide you through a crowd in a protective manner.
Related Reading: 

What is the Physical Touch Love Language®?
10. They pay attention to you
If someone is as attracted to you as you are attracted to them, they will pay close attention to your words and behavior. They'll look you in the eyes as you talk and give you their undivided attention every chance they get.
Do they constantly look at their phones or get distracted by everything that happens when you're talking to them? Well, those are not signs of attraction to someone.
11. A glowing skin
If you are feeling a spark with someone, it stimulates joyful hormones, which show through a dazzling brightness in the skin.
If they like you, they will beam when they're around you. When you are with someone you're attracted to, your heart beats quicker, making the skin look flushed and radiant.
12. Their voice changes when they talk to you
Key to understanding how to know if someone is attracted to you sexually is that the person makes efforts to sound sensual when they talk to you. They would speak in slower, deeper tones if they're males. The females, on the other hand, will attempt to make their voices sound sultry.
13. They plan for you
A sign that someone is interested in you is if they take the initiative to make plans, organize surprises for you, handle tiny details, pick you up and drop you off at home, or invite you on a date for dinner or a show.
If someone is attracted to you, they usually do the little things that mean so much to you, even when you don't outrightly ask.
When someone is attracted to you, they won't wait for you to initiate a conversation every time. They will be as eager to schedule activities with you as you are.
Related Reading: 

6 Tips on How to Plan Your New Financial Life Together
14. They tend to lean into you
Another sign that someone is into you is if they tend to lean into you whenever you interact with them. They'd take every excuse to do this, including whispering something in your ear, picking imaginary stuff off your face, or even brushing your hair away from your face.
This is how to know that someone is attracted to you sexually.
Suggested video: 7 body language signs that indicate that he definitely likes you.
15. You can feel it deep within you
One of the most effective answers to the question, "When you feel attracted to someone do like feel it too?" is to check with your gut. If your gut tells you so, then it is possible they feel the same way for you as well.
It is easy to convince yourself that nothing is going on between you and someone else by turning a blind eye to other signs. However, your gut feelings are almost never wrong.
At first, it may start as a nagging voice at the back of your head and you can shut that voice out for a long time. However, those feelings soon come back with intensity – especially if they keep showing signs that they're as into you as you are into them.
So, as you try to find an answer to the question, "Can someone feel your attraction to them," keep in mind that your guts may never lie to you. Trust your instincts.
Related Reading: 

15 Ways to Learn How Deep Is Your Love
Some frequently asked questions
Do you think that someone you're attracted to is also attracted to you? These questions will help you better explain your feelings.
How can you tell if someone finds you attractive?
Increased eye contact, a smile or smirk, leaning in, toying with their hair, mimicking your body language, and conversing with you are just a few indications that someone might find you attractive.
Keep in mind, however, that these indications don't necessarily imply desire and should be understood in light of other elements like verbal communication and personal boundaries.
How do you tell if there is a spark between you?
If you are considering whether there is a spark between you and another person, you might be feeling attracted to them. A powerful sense of connection and chemistry can be produced by a combination of physical, emotional, and cerebral sensations, which is what attraction might feel like.
When you are near the other person, you could experience excitement or an adrenaline surge in your body. You would also have feelings of joy, happiness, or contentment every time you spend with them.
You might also notice that you're thinking about them a lot or that you have a lot of sympathy and compassion for them. In the end, you might sense a strong and magnetic draw towards someone if there is a spark between you.
What makes you attracted to someone?
A complex interaction of elements, such as physical, emotional, social, and cultural aspects, affects attraction. Attraction can be triggered by a variety of physical characteristics, including look, fragrance, and body language.
Shared interests and values, personality traits, and level of confidence are all emotional elements that might influence attraction. Who we are attracted to can also be influenced by social and cultural elements like group dynamics, social position, and cultural standards.
All in all, you're the only one who can identify what makes you attracted to someone else.
Final thoughts
We hope that after reading the indicators in this article, you can confidently respond to the question, "When you feel attracted to someone do they feel it too?" At least you now know better than to let yourself drift off into a world of fantasizing if, sadly, the indicators aren't there.
On the other hand, if everything points to a positive outcome, congrats! You've just met someone with whom you can have a beautiful love story in the future, all things equal.
However, it doesn't end here. If you feel you are still finding it difficult to know someone that is attracted to you, consider attending couples counseling while reading more books about relationships at the same time.
Share this article on
Want to have a happier, healthier marriage?
If you feel disconnected or frustrated about the state of your marriage but want to avoid separation and/or divorce, the marriage.com course meant for married couples is an excellent resource to help you overcome the most challenging aspects of being married.
Learn More On This Topic
You May Also Like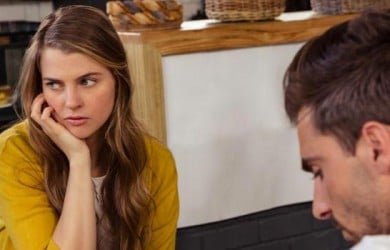 Popular Topics On Married Life