10 Ways to Cope When Your Spouse Refuses to Apologize
The journey of marriage, and yes, emphasis on the term journey, is characterized by identifying and realizing certain things about your better half. Sometimes these realizations may be pleasant and rebuild your faith in the relationship, and other times, it may be upsetting and even shocking.
One of these realizations may be that your spouse never apologizes. What do you do? What's your next move?
Yes, you may be wondering what to do when your spouse refuses to apologize. This is undeniably a difficult realization.
You probably thought you knew your beloved inside out before saying "I do" at your unforgettably wonderful wedding, especially about their imperfections.
And then boom. A significant realization that your spouse refuses to apologize gets added to that list.
You've unexpectedly found yourself picking your brain about coping when your spouse refuses to apologize.
Yes, this is hard. It is extremely challenging. What makes it all the more unbearable or upsetting is that you're potentially well-aware of the importance of apologizing in a marriage or a romantic relationship.
So, having to even think about how to deal with your other half when your spouse refuses to apologize is difficult.
But, acknowledging an issue is the first step. You're doing it right now!
You will be able to navigate your way through this tricky realization. To figure out what to do when someone won't apologize, effective coping strategies, what it means when a spouse refuses to apologize, and more, read on.
Your spouse won't apologize: What this means
When your spouse refuses to apologize, there is, more often than not, a deeper meaning associated with it. Why? It's because apologizing is a highly significant aspect of sustaining a marriage.
So, when your spouse refuses to apologize, there must be something deeper to explain why your wife or husband never apologizes.
There could be several reasons that you need to identify within your spouse to figure out why your partner never apologizes. When your spouse refuses to apologize, these could be some of the probable reasons:
Also Try: End Of A Relationship Quiz
Apologizing seen as a weakness
This is, unfortunately, a common yet extremely unhealthy perception of the concept and practice of apologizing. As your beloved views apologizing as an individual being weak, they try to avoid this practice altogether.
Your spouse's upbringing could be a potential reason
If you're feeling like she or he won't apologize for hurting me, a big reason why may be attributed to their upbringing. There is a high chance that your partner is not familiar with the concept of apologizing because they grew up in a family environment where it was rare to apologize.
Also Try: How Much Do You Trust Your Spouse?
Not apologizing may be a tendency for perfectionism
If your husband or wife never apologizes, it may also be because they are a perfectionist or have tendencies of perfectionism. So, they may be extremely hard on themselves. Being extremely critical of themselves may leave very little space or room (emotionally) to apologize to you.
A fundamental aspect of apologizing is being vulnerable and admitting to the fact that you have made an error. To do this, moderate to high self-esteem is important. If your spouse refuses to apologize, it may be owing to their poor self-esteem.
Also Try: How's Your Self Esteem Quiz
Your partner may be ashamed of apologizing
This reason ties in strongly with your spouse's upbringing, perception of apologizing as a sign of weakness, and poor self-esteem. These three things could lead to experiencing a lot of shame about genuinely apologizing to one's partner.
Also, check out this video to understand the reasons for not apologizing:
The beneficial outcomes of apologizing in marriage
Now that you're very well aware of what it means when your spouse refuses to apologize, it is important to acknowledge the various beneficial outcomes of apologizing to one's significant other.
Openly practicing apologizing and forgiveness in a marriage is a great reminder to both partners involved that they're human beings. They're flawed and imperfect. But the love that they have for each other is genuine.
Apologizing in a marriage ensures that the relationship is based on direct communication, trust, respect, humility, and love.
Your spouse won't apologize: What you can do
Even if you're in a situation where your beloved refuses to ever apologize, it is still possible to have a marriage with two partners who are forgiving. Yes, even if your partner may be too stubborn to humbly ask for your forgiveness.
First and foremost, it's important to identify and acknowledge the reasons that your spouse may be unwilling to apologize. Once that's been done, it's also a good idea to consider that your beloved may actually struggle to simply verbalize those exact words.
Another important reminder is to try and avoid demanding an apology from your spouse. The following section will help you figure out what you can specifically do and cope when your spouse refuses to apologize.
10 coping strategies for dealing with a spouse that won't apologize
Consider doing the following things when your spouse refuses to apologize:
Allow your spouse to listen to their conscience
When your spouse refuses to apologize, a big reason could be because they found themselves feeling very defensive. There is a chance that there may have been situations where their mistakes were pointed out by you before they could have the opportunity to process and realize it themselves.
Allowing your spouse the opportunity to process and understand where they went wrong or hurt you without you pointing it out for them is important to encourage your spouse to apologize to you. Spending too much time defending themselves leads to a lack of space and clarity to listen to their conscience.
Also Try: Quiz: Are You Open with Your Partner?
Give your spouse the space needed to exercise their right to be wrong
The previous tip can work out very well for different situations. But it is difficult to stay quiet when it comes to bigger situations, right? You may feel a very strong urge to point out where your beloved went wrong. In your head, it may be completely justified.
But it is important to understand that just like your beloved's actions can hurt you, pointing out the major mistakes they have made may also hurt them. For major situations, it is very important to be patient.
It is crucial to allow your spouse to process how they went wrong. They also have to process how they feel and consequently, how you feel, due to their actions.
Practice what you desire from your partner
Instead of directly demanding direct apologies from your spouse for their shortcomings, it is worthwhile to consider working on your own shortcomings. It is a wonderful way to show how much you respect your beloved and the marriage.
Also Try: A Quiz: How Intimate Is Your Marriage?
Try to ensure that you don't freeze out your beloved
When your spouse refuses to apologize, it can be very tempting to try and take revenge in some way. But, it's important to fight this strong desire.
Freezing out your beloved will give you temporary satisfaction. But in reality, you'll just be pushing yourself farther away from the goal (to encourage them to apologize).
Consider forgiving your beloved even if they don't seek an apology
A direct yet difficult way to encourage your spouse to apologize is to show him that apologizing doesn't make him weak. A great way to associate positivity with apologizing is practicing forgiveness from your end, even if your husband didn't directly seek it.
Also Try: What's Your Apology Language Quiz
Encourage your partner to have "naked" conversations with you
Being in a situation where you're feeling like my husband never apologizes for anything needs to be tackled with open conversations.
Having direct conversations where you gently question your partner about his perception of apologizing in a marriage is important. Ask your beloved how they feel when they think about apologizing to you.
Communicate with your spouse about how their words or behaviors have hurt you
Another direct strategy when you feel like my wife never apologizes for anything is to let her know how her behavior or words have impacted you. How you felt, what you thought. The only thing to remember is not to come off as accusatory or nagging.
Also Try: How Often Do You Communicate With Your Partner?
Provide your spouse with resources to learn about apologizing
Oftentimes, in situations where you feel like- My partner never apologizes, it can often be due to the lack of knowledge about forgiveness and apologizing in a marriage. So, empower your partner with good resources (such as a course or research papers or books) about apologizing.
Don't blame yourself
When someone refuses to apologize, especially your spouse, please remember not to blame yourself for this. More often than not, the obstacles people face when it comes to apologizing come from within.
More importantly, remind yourself that you weren't purposely doing anything to discourage your partner from apologizing.
Also Try: What Am I Doing Wrong In My Relationship Quiz
Consider couple's counseling
When your spouse refuses to apologize, one of the best things to do would be to attend couple's counseling.
An unbiased mental health professional can do wonders for your marriage. Apart from couple's counseling, it may also be a great idea to opt for individual psychotherapy or counseling sessions.
Conclusion
Consider implementing the aforementioned strategies to cope effectively with a spouse that refuses to apologize or humbly seek forgiveness. Your relationship will definitely be stronger!
Share this article on
Want to have a happier, healthier marriage?
If you feel disconnected or frustrated about the state of your marriage but want to avoid separation and/or divorce, the marriage.com course meant for married couples is an excellent resource to help you overcome the most challenging aspects of being married.
More On This Topic
You May Also Like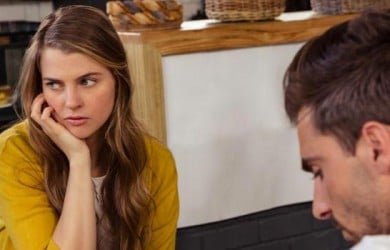 Popular Topics On Married Life