10 Conversations Every Couple Needs to Have for a Better Marriage
Ideally, the merging together of two people, in marriage, who love each other, should result in nothing but a lifetime of wedded bliss. Too alluring a promise, the reality of marriage is, often, starkly different. Sure, a couple can be happily married, but this takes a lot of hard work. A good, happy marriage requires intention, the ability to grow, a lot of patience and quite a bit of talking.
With the pressure and complexity of everyday life, it is imperative to take a moment to have conversations with your spouse about the things that truly matter.
1. Money
One of the top causes of divorce is the financial stress. This is expected because money is integral to everyday living, hence the need for candid discussions about finances. What are your expectations concerning your living standards? Critical to this discussion are individual spending habits, investments, debt, financial goals and plans and financial security. While one does not need to know exactly how much their spouse makes, having a general idea is helpful.
Ultimately these tenets of money management mean different things per individual. Hence having open discussions regularly, bearing in mind that financial circumstances may change, will enable a couple to merge their financial goals and plans and enjoy a life of their choosing.
2. Physical intimacy/sex
Successful relationships are founded on intimacy which is grounded in a deep friendship. Intimacy is about connection and often requires one to be vulnerable. People evolve and this can portend changes to the marriage. Hence having regular discussions about what makes your partner feel connected to you is important.
Another critically important aspect of intimacy is sex, which is often ignored under the pressures of everyday life. Talking about sex- what works for you and your partner, how often one would like to have sex, how important one feels sex is in the relationship- these intimate conversations can strengthen a couple's bond.
3. Children
Whether or not one wants to have children is an important issue that should be tackled before marriage. Over time, however, one's viewpoint on children may change. Hence having regular check-ins with your partner is essential. For a couple that wants or already has children, talking about their desired family size and structure is crucial. Couples don't always have identical approaches to parenting. Hence discussing the value systems to integrate when parenting will alleviate any parenting conflicts a couple may have, and ultimately strengthen the family.
4. Family ties
Talking about you and your partner's childhood experiences and upbringing is an insightful way to understand their perceptions and attitudes on the family. Understanding your different upbringings and how the role of family influences the workings of your marriage is important. Marriage institutes a blending of families; it is important to understand the traditions and dynamics of your partner's family to avoid unnecessary conflicts. Having regular talks with your partner fosters understanding and strengthens your marriage.
Having arguments is normal in any relationship. Marriage particularly accentuates this because it brings together two individuals with distinct mannerisms and habits in close proximity to one another, at all times. Most arguments stem from small everyday irritations that, if not talked about, build resentment. It could be something as insignificant as taking the trash out or doing the dishes. It is essential to understand that your approach towards mundane everyday activities is different from your partner's.
Therefore, approaching this discussion with an open, non-accusatory mind will enable both of you to come up with ways to enjoy daily living, complementing each other's abilities and allowing for individual idiosyncrasies.
6. Communication
It may seem superfluous to talk about talking. However, relationships end primarily due to a breakdown in communication. The key to effective communication between couples is to understand your partner's communication style. With the inevitability of conflict in any relationship, talking about how each of you approaches conflict enables you to decide on the best way to handle conflict, such that both partners feel heard and validated.
Also understanding your partner's love language will help you love them a little better. So talk openly, ask your partner the things that make them feel loved. Hopefully, these insights foster a stronger bond.
While marriage is the merging of two individuals; it is important to retain one's individuality. Initiate conversations with your partner about your goals, be they financial, health, spiritual, career, family. As individuals evolve, their goals and attitudes may also change. Sometimes individual goals may conflict with a couple's goals. Hence having regular candid discussions about personal goals enables a couple not only to ensure that their own goals do not clash with the couple's goals, but that they encourage and motivate each other to be the best versions of themselves possible.
8. Political viewpoints
As a couple, you may not always share the same viewpoint on matters political. In a heated political climate, couples may clash over particular political stances. Cultivating an atmosphere where one can freely express their political stance without said stance being taken personally is essential. A strong relationship, built on candid conversations, allows both parties to communicate opposing philosophies without creating divisions.
9. Culture/religion/spirituality
Cultural differences may prove challenging in a marriage. Even if you and your partner have similar upbringing and backgrounds, your cultural attitudes and perceptions may be distinctly different. Cultural upbringing dictates one's value systems. And while couples tend to have similar values, there's bound to be cultural conflicts that arise. Talking with your spouse about their culture will foster better understanding and enable you to merge your cultures in a way that works for you.
10. End of life care, wishes and plans
This might be one of the toughest, albeit critical conversations that a couple may have. No one wants to confront their mortality, let alone that of their loved ones. However difficult, it is important to talk about the end of life care. In the event one of you is incapacitated, what are your wishes? How would your loved ones be taken care of? Is there a need to take out a life insurance policy or to create a will? While these are difficult conversations to have, they are essential and can give you peace of mind
Wrapping up
All in all, marriage is a beautiful, loving experience that allows one to flourish and grow. It can be a source of joy and family. With the right skills, commitment to one another and open, honest communication, to say a couple can enjoy wedded bliss, is not too far a stretch.
Share this article on
Want to have a happier, healthier marriage?
If you feel disconnected or frustrated about the state of your marriage but want to avoid separation and/or divorce, the marriage.com course meant for married couples is an excellent resource to help you overcome the most challenging aspects of being married.
More On This Topic
You May Also Like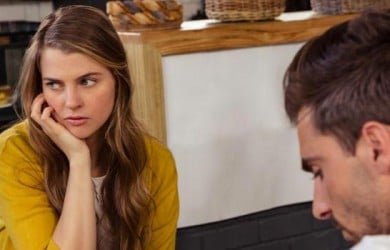 Popular Topics On Married Life