Sarcasm in Relationships: Examples, Reasons & How to Deal
A good sense of humor is always appreciated. Humor in relationships, especially romantic relationships, is great. And, when you and your partner have a compatible sense of humor, you're both sorted!
But what about sarcastic humor? What about sarcasm in relationships? Is it okay to be very sarcastic in romantic relationships or marriages?
How acceptable is sarcastic humor in marriage? Can sarcasm and relationships co-exist? These are some pressing questions that may be going through your mind.
Crossing that fine line where sarcastic comments cannot be classified as humor may be often encountered. Sarcasm in relationships is tricky. It's complicated.
But don't worry. You will learn about the meaning and impact of sarcasm in relationships. Not only that, you'll find an answer to that long-standing question: Does using sarcasm do damage in relationships?
And if yes, then why does sarcasm damage relationships?
Just read on!
What is sarcasm in romantic relationships?
We understand the sarcasm definition but it can be different when we relate it to romantic relationships. So, what does sarcasm mean in reference to relationships and connections?
In the context of a romantic relationship, sarcasm often involves saying something that is the opposite of what you really mean, usually with a humorous or ironic tone.
The concept of sarcasm sounds quite simple, doesn't it? But when you actually delve a little deeper, it does seem more complicated.
Sarcasm, in general, is an indirect speech form. This type of indirect speech is used by a speaker to facilitate a dramatic reaction from the recipient.
Simply put, when someone is being sarcastic or making a sarcastic comment, they want you to react in a dramatic way to what they've said. This dramatic reaction could be bursting out into laughter, shock, saying something equally dramatic back, and so on.
Sarcasm in relationships is a little more complicated to decode. Sarcasm in marriage can have different effects depending upon the intention of the person who is being sarcastic.
To use sarcasm in a relationship in a way that doesn't render a negative reaction in the recipient, the speaker should be well aware of the recipient's boundaries.
What complicates the use of sarcasm in romantic relationships even further is that sarcasm is often an indirect and polite way to criticize someone.
So, if you find yourself getting affected negatively by your partner's sarcasm, it may be because they're trying to criticize you indirectly.
The establishment of healthy boundaries, mutual respect, and trust between partners is essential to use sarcasm in intimate relationships positively and humorously.
What is an example of sarcasm?
Sarcasm examples in relationships often involve saying the opposite of what you mean, usually in a mocking or ironic tone. Here's a simple and relatable example:
Imagine you and your partner have planned a picnic, but it starts raining heavily. Your partner looks out the window and says sarcastically, "Oh, great picnic weather we're having today!"
In this situation, your partner is using sarcasm to express frustration about the unexpected rain, pretending that it's actually ideal picnic weather when, in reality, it's not.
Sarcasm is often used in a playful or humorous way, but it's important to be mindful of your tone and your partner's reaction to ensure it doesn't lead to misunderstandings or hurt feelings.
What are some of the benefits of using sarcasm in relationships?
Sarcasm can add humor and playfulness to a relationship, fostering a light-hearted atmosphere. It often serves as a way for couples to share inside jokes and create a unique, shared sense of humor. When used thoughtfully, sarcasm can be a tool for bonding and laughter, making interactions more enjoyable.
Sarcasm can also be a form of indirect communication. It allows partners to express their thoughts or feelings in a less confrontational manner.
For instance, instead of directly saying, "I'm annoyed with you," one might use sarcasm like, "Oh, you always leave your socks on the floor; it's my favorite decoration." This indirect approach can sometimes ease tension and open up a conversation about sensitive topics.
Furthermore, sarcasm can be a coping mechanism during challenging moments. When couples face stress or disagreements, humor can serve as a buffer, diffusing tension and helping both partners cope with difficulties more effectively.
Sharing a sarcastic remark in stressful situations can provide temporary relief and make problems seem less daunting.
The impact of sarcasm on a romantic relationship
Now that you understand the meaning of sarcasm in a relationship let's now delve into the effects of sarcasm in a relationship and answer the questions "Is sarcasm bad for a relationship?"
Is sarcasm rude? At times, yes! If you're a very sarcastic individual, more often than not, your relationship with your beloved will seem quite negative. This is because sarcasm focuses more on negative aspects than positive ones.
Other than that, sarcasm also significantly impacts the proximity and intimacy between partners in a romantic relationship.
Individual differences in the impact of sarcastic communication on people
These factors have been delineated as follows:
The personality of the recipient
How the recipient perceives sarcasm plays a major role in how sarcasm affects the recipient. If the recipients are sarcastic individuals, they will in all probability, react to the sarcastic comment positively. If they aren't appreciative of sarcastic humor, then they won't, most likely.
Nature of relationship between speaker and recipient of the sarcastic comment
If the individual making the sarcastic comment doesn't crack a lot of sarcastic jokes, it may either be understood or not. If the person is often seen to be making sarcastic jokes, it won't render a lot of reaction.
Here's how you can be sarcastic without seeming contemptible:
11 reasons why sarcasm can be so damaging to relationships
Check out these reasons why sarcasm can be detrimental to the relationship:
1. Thinly-veiled insults
Dealing with sarcasm in a relationship can be difficult, especially when your partner is always worried whether your sarcastic remarks are close to your honest thoughts.
With a healthy dose of sarcasm, relationships can be filled with fun. But, an overabundance of sarcastic comments may leave your partner feeling resentful of harmless but hurtful remarks that you make.
2. Reduced trust
Sarcasm in relationships isn't always bad. In fact, a sarcastic remark here and there may be funny. However, when speaking of sarcasm, relationships based mostly on sarcastic remarks can be a little tricky. Your partner may try to minutely analyze each remark, trying to find a kernel of truth.
3. A tool for shaming
When your witty remark doesn't incite laughter but shame instead, can you pass it off as a sarcastic remark?
It is important to remember that you're meant to make your partner happy and not shame them with your sarcasm. Relationships should bring happiness and not be a cause of stress in your life.
4. It is demoralizing for your partner
Many consider that sarcasm and passive-aggressive behavior in relationships can be a vehicle to promote certain changes in your partner that you want to witness.
However, it is not a healthy option. It would be best if you tried being forthright. There are times when your partner will not understand the intention behind your sarcastic undertones.
They can be hurt by the sentences that come out of your mouth, which will cause a lot of disharmony in your relationship.
5. It is often used as a means to manage and control
Even if you are not trying to manipulate your partner consciously, the sarcastic comments we make can transform into a piece of arsenal in your pocket.
Even if most people think that the blow that sarcasm gives is a softer one than brutal honesty, it is not always the case.
This is because, over time, our partner becomes tuned to the sarcastic comments to check themselves negatively. Their behavior can get modified every time they hear a sarcastic tone, and eventually, you will have a wrongful power over them.
These passive-aggressive tones often are associated with shame, harmful thoughts, and guilt, which moves them to behave according to your wishes. However, this robs your partner of their agency, and they become a puppet in your hands.
6. It fosters feelings of crippling self-doubt
Many people do not consider that sarcasm is guilty of creating feelings of self-doubt. Using sarcasm often is a bad habit, and it pushes our fears of the relationship onto our partner.
7. Words can have a huge impact
People might forgive, but they do not forget. A moment of laughter for you can be a painful memory for your significant other. Sarcasm hurts marriage as it might affect your partner emotionally.
It might take years for your partner to get over that one sarcastic remark made by you. You do not want them to look for answers to how to deal with a sarcastic husband. Or do you?
8. Sarcasm is an obstacle to intimacy
If you want to get closer to your partner, both emotionally as well as physically, you might want to ditch making sarcastic remarks. If you rely on sarcasm a lot, you might alienate your partner. Sarcasm in intimate relationships can increase the distance between you and your partner.
9. The credibility of the speaker is questioned
Loss of trust is, unfortunately, a common consequence of the frequent use of sarcasm in romantic relationships. This happens because your beloved is in a constant state of confusion about your true intentions.
10. Loss of self-confidence
You should make a mental note of all the examples of sarcasm in relationships that you are witnessing yourself guilty of. These are the ones that you should continually avoid to have a fulfilling and nurturing relationship. Do not let the haunting feelings of self-doubt cripple your partner.
11. Distrust of intentions
Frequent use of sarcasm in a relationship can lead to a distrust of intentions. When sarcasm becomes a habitual way of communicating, it can be challenging for your partner to discern your true feelings, thoughts, or motives.
They may start to question whether your words carry underlying sarcasm or if you genuinely mean what you say.
How to deal with mean sarcasm in relationships effectively: 7 ways
How to deal with sarcasm in a relationship? Or how to deal with sarcastic people in relationships?
There are certain simple ways of effectively dealing with mean sarcasm. This especially applies to sarcastic comments from your partner.
The strategies for dealing with sarcasm in relationships have been delineated as follows:
1. Avoid the tone
Just try to respond to content. Do not try to respond to the tone of the comment at all. The point is not to respond to the comment as if you've taken it quite literally.
2. Ignore
Try and ignore the person who has decided to make that sarcastic comment. Sometimes they want to make you feel miserable and put you down, but you can escape such sarcasm in relationships by ignoring them.
3. Highlight the emotions
Sometimes, your partner is sarcastic because he or she does not know how to express their feelings. Instead of reacting negatively, be their guide and sincerely ask them the matter with questions like, "It seems you are angry. What is the matter?"
4. Show the way
Sometimes, when people show sarcasm in relationships, they do not realize that they are hurting you. They just feel that they are being funny. Sincerely tell them that they might appear to be hostile, although you completely understand that they do not intend to be so.
5. Safeguard yourself
Sometimes, people invite sarcasm because of their own behavior. Do not make fun of yourself in conversations. Otherwise, your partner may misinterpret you and tend to become sarcastic. In other words, do not put yourself down, and you will go a long way in getting the respect that you deserve.
6. Express your feelings
Share how the sarcasm made you feel. Use "I" statements to express your emotions without blaming your partner. For example, say, "I felt hurt when you said that sarcastic comment."
7. Seek professional help
If mean sarcasm is an ongoing issue in your relationship and causing significant distress, consider seeking the help of a therapist or counselor. They can provide guidance on improving communication and resolving underlying issues.
Commonly asked questions
Sarcasm can be a double-edged sword in relationships. While it can add humor, it can also cause harm if used insensitively. Here are some common questions and answers.
Is sarcasm harmful in a relationship?
Sarcasm can be harmful if it's hurtful or excessive. It may lead to misunderstandings, hurt feelings, and erosion of trust. Using it thoughtfully and sparingly is key.
How can sarcasm negatively impact communication in a relationship?
Mean sarcasm can hinder clear communication, causing partners to doubt intentions and feel distant. It may lead to misunderstandings, frustration, and resentment.
How can I use sarcasm in a healthy way in my relationship?
Use sarcasm playfully, not hurtfully. Make sure your partner understands your tone and intentions. And always prioritize open, honest communication.
How does sarcasm affect your relationships?
Sarcasm can either enhance or harm relationships. It can create humor and bonding when used with care, but it can also damage trust and hurt feelings if used insensitively.
What are the emotions of sarcasm?
Sarcasm can evoke various emotions, from laughter and amusement to confusion or hurt. Its impact depends on the context and how it's received by the listener.
Cracking the right kind of humor
Too much sarcasm does no good to the relationship in any way. Remember these aspects of sarcasm in relationships and the strategies to deal with it. They are essential for saving any relationship where one or both partners are extremely sarcastic!
Share this article on
Want to have a happier, healthier marriage?
If you feel disconnected or frustrated about the state of your marriage but want to avoid separation and/or divorce, the marriage.com course meant for married couples is an excellent resource to help you overcome the most challenging aspects of being married.
You May Also Like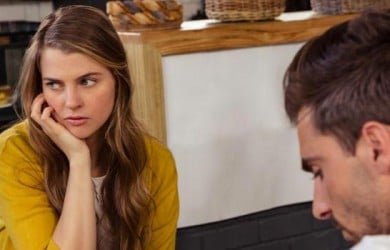 Popular Topics On Married Life