10 Ways on How to Deal With Criticism in a Relationship
Knowing how to deal with criticism positively is a lifetime skill.
At some point in our lives, we will all receive criticism. It may be from our family members, teachers, our boss, and even from our friends. We will also receive criticism in relationships.
True enough, criticism can sometimes be hard to accept and can also hurt us.
It's up to us how we will take these criticisms. We can use it to become better or take it negatively and allow it to lower our self-confidence and even destroy our relationships.
Related Reading: How to Give & Take Constructive Criticism in Relationships
Is criticism bad for your relationship?
For some people, criticism in relationships can be destructive when it's done with a harmful intention to belittle or humiliate. It can cause misunderstandings and ultimately put your love for each other in question.
Is your spouse always criticizing you?
Criticism in relationships can be bad if you constantly feel that you're not good enough for your partner. Your relationship can turn into a toxic one where you feel that you are not doing anything right.
This may already be leading to destructive criticism.
A destructive criticism doesn't aim to help you be better. It aims to nit-pick everything that you are doing to please the critic. The effects of this type of criticism can be emotionally and physically debilitating.
10 ways on how to deal with criticism
When we enter a relationship, we cannot expect our partner to be perfect or even close to being perfect. There will always be things about your spouse or partner that you don't like, and that's normal.
We also have the right to tell our partners about it, but not in a negative way.
If you know that you can't handle criticism, then here are ten ways on how you can start overcoming criticism from your partner without damaging your relationship.
1. Listen to what your partner has to say
Criticism in relationships can sometimes be complicated.
A partner may genuinely be concerned about you but has a poor way of relaying the message. There can also be criticism that aims to destroy a person's self-confidence.
To know which one is your case, try and listen to what your partner has to say.
Accepting positive and negative criticism starts by listening. By knowing what the other person is saying, you will know how to respond.
2. Ask more questions about the criticism
Now that you have heard your partner's thoughts, it's time to start the process of handling criticism. If the criticism is clear enough, then you can already skip this. If not, the second step is to ask your partner more about the issue.
Acknowledge their thoughts and reasoning, then start asking the follow-up questions. "This seems very significant to you. Can you explain to me why? I'm asking because I want to understand better."
By doing this, you will learn where the criticism comes from. This will also make you understand the situation in case there is an underlying resentment.
3. Understand if the criticism is valid
Criticism in relationships can hurt, but sometimes, it also has a point. Remember that criticism itself is not about you as a person but only a part of your behavior.
If your partner has a point, then it's time that you practice how to deal with criticism positively. Accepting criticisms doesn't make you a lesser person. It can even help you grow and be better.
Your partner loves you, and if your partner is only giving you constructive criticism, then set aside your emotions and accept it wholeheartedly.
4. Don't be defensive yet
Now, once your partner starts explaining their side, take criticism without getting defensive. It's hard, but you need to pull yourself together and be calm.
If you let your emotions get the better of you, it could lead to an argument, and worse, it could lead to more criticism.
5. State facts
How to deal with someone who criticizes you as a person? Start by stating facts to make things clear. Here is a scenario that can help you understand this point better.
Your partner comes home, and you prepare a home-cooked meal. Unfortunately, your partner criticizes what you've prepared.
"Is this all that you can do? I work hard and expect to go home and eat a good meal. This doesn't taste good!"
Your partner may not be aware of the efforts you put into preparing that meal. Let your partner know the facts before being defensive.
"I understand what you are telling me. I did my best to study that recipe and cook it for you, and you're criticizing it."
6. Let your partner know what you feel
Criticism in relationships is normal, but if you get defensive at the start of the criticism, your partner might not understand where you are coming from. After you have stated the facts, it's time to let your partner know how you feel.
"Hearing those words really hurt my feelings. It demotivates me from trying harder."
Being honest and letting your partner know about your reaction to criticism can influence their way of delivering the criticism. Your partner might say sorry and explain how you can do better with your recipes.
Related Reading: 20 Ways to Help Your Partner Understand How You're Feeling
7. Take time off
How do you handle criticism when you feel upset?
Don't hesitate to take some time off. It's normal to be hurt and confused when you receive criticism. So, instead of nagging your partner, it's better to just cool down.
Giving yourself time to think, even if it's just 30 minutes, can help you make the right decisions and reactions to any given situation. So, take some time off and breathe.
Tell your partner that you need a few minutes or hours to think about things.
8. Turn criticisms to requests
Did you know that it's possible to turn a hurtful criticism into a request? Here's how to take criticism and turn it into a request.
Support and help your partner to convert their criticisms into a polite request. Here's an example.
"I have a deadline tonight. Would it be okay if you'd help me out with the kids?"
Instead of pointing out that your partner is lazy, it is polite to ask for help.
It's less offensive and sounds quite sweet too.
Related Reading: 20 Steps to Becoming a Supportive Partner
9. Learn to be accountable
If you have understood your partner's criticism, then be accountable for everything that you will promise. Never promise something that you can't do. Coping with criticism won't end when you promise something.
If it's constructive criticism, it means changing for the better will help you grow, and that's good.
10. Raise your issues
Now that you have an idea of dealing with criticism, it's time to apply them. Depending on the situation, you would be able to apply some or all of the things mentioned.
If you notice that your partner has made it a habit to criticize everything about you, then find the perfect moment to raise this issue.
You can start by saying:
"I want to talk to you about something that has been bothering me. I have accepted and tried to put your feedback into action. Now, I also have some feedback to share with you. Could we talk?"
Your partner may be good with pointing out other people's mistakes but is blind to their own. Good open communication can help you and your partner meet halfway.
Thoughts on constructive criticism
We all need to learn how to deal with criticism because it's a part of life.
Destructive criticism is different and is toxic, but what about constructive criticisms?
We have to let our partners know if they are doing something wrong. It's for them to grow and mature. The reality is, sometimes, we're not aware that we are already doing something harmful.
For the critic
If you know that your partner is not good at accepting criticisms, try to change your communication style. After telling your partner about your criticisms, try to reassure your partner that you love them and only want what's best.
For the one accepting criticism
Listen to your partner and analyze if what you are receiving is destructive or constructive criticism.
Watch this video to understand the difference between the two.
Once you can do that, then understand that this will help you be better, and your partner only wants what is best for you.
Conclusion
Learning how to deal with criticism is hard, especially if you are sensitive. Also, if your partner delivers the criticism in a not-so-friendly way, it can be hurtful.
We are all human, we make mistakes, and sometimes, we have bad habits.
As we live our lives, we will encounter many situations where we will receive criticisms. So instead of holding a grudge, misunderstanding the comment, or being aggressive, isn't it better to analyze the criticism and see what you can learn from it.
As long as your partner isn't abusive, these tips would work and help you learn how to deal with and grow from criticisms.
Share this article on
Want to have a happier, healthier marriage?
If you feel disconnected or frustrated about the state of your marriage but want to avoid separation and/or divorce, the marriage.com course meant for married couples is an excellent resource to help you overcome the most challenging aspects of being married.
More On This Topic
You May Also Like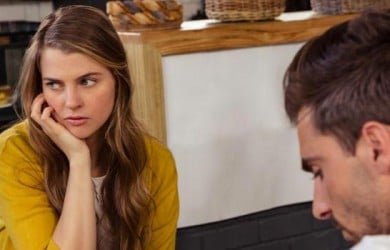 Popular Topics On Married Life