What Are ISFP Relationships? Compatibality & Dating Tips
Have you ever heard anyone describe themselves as an ENFP or ISTJ and wonder what that meant? These four letters represent a personality type based on the Myers-Briggs Type Indicator (MBTI).
Each type indicates a set of traits and characteristics that shine through a person's personality and interactions. The same goes for ISFP relationships.
Individuals with this type are usually reserved, sensitive, value their personal space, and have a rich inner world. Before we go in more depth about ISFP relationships, let's define first the traits a person of this type would have.
Related Reading: Personality Temperament Types and Marriage Compatibility
ISFP personality traits
The letters in this Myers-Briggs personality type stand for: introverted, sensing, feeling, and perceiving. The letters tell a story of a person who is energized by spending time alone; pays attention to facts rather than ideas; makes decisions based on emotions, personal values, and beliefs; puts focus on spontaneity more than planning and organization.
The most common nickname ISFP type has is the Artist. They are attuned to sensory experiences, and aesthetics hold an important place for them.
Considering their introverted nature, they gain energy when isolated, unlike extroverts, who acquire it by interacting with others.
The ISFP personality type is often characterized as quiet, hard to get to know, easy-going, and fully present in the moment. They are friendly, kind, and eager to share their inner world with people they deem close.
Strengths
Weaknesses
Also Watch:

What are ISFP relationships like?
Think of the ISFP personality type as a free spirit who becomes unhappy when someone tries to control them or fit them into a box.
Therefore, the ISFP best match is someone who understands and respects their need for space and lets them approach when they need intimacy.
Think of ISFP relationships as adventures full of encouragement, affection, and unpredictability. Being with them feels inspiring and motivating as they are full of joy, creativity, and encouragement for people they cherish.
They know how to commit and be loyal to a person they choose. Often that person is someone who also doesn't need much planning or order.
They will feel trapped with someone who is a military type or intrusive. Feeling comfortable with a partner is a big part of happiness in ISFP relationships.
Related Reading: What Are INFP Relationships? Compatibality & Dating Tips
ISFPs as lovers
Since they value feelings, they can often act as pleasers in the relationship. They focus on the experience and pleasure of their partner to the point of forgetting their own needs.
They seek a way to fulfill their partners' desires, and since they are spontaneous by nature, bedroom experiences can be innovative and intense.
Their lovemaking is a committed and meaningful act, not to be rushed or planned.
In the beginning, they seem more mysterious, but once they see their new partner as a trustworthy and empathetic person, they open up more. In ISFP dating, you will always find there is more to know about them regardless of how much they reveal.
Being intimate with an ISFP person involves the senses, awakening of the sensual side, and focusing on the pleasures of the body and soul.
ISFP Compatibility
A great ISFP relationship match is someone affectionate, romantic, and capable of providing gentle feedback instead of harsh criticism.
This is because they seek deep connection and take things rather personally, so they don't match well with explosive or harsh people.
They are attuned to other's feelings and show sincere interest in their partner's wellbeing. They live fully in the present, so they seek mates who share that urge.
They are adventurous yet can be loyal and committed. They seek a partner who can truly understand them, mainly because they easily put their own feelings aside to provide for their partners.
Additionally, physical appearance can play an important part in ISFP compatibility. Due to their sense of aesthetics, they place value on outer beauty likewise.
Related Reading: What Are ENFP Relationships? Compatibility & Dating Tips
What do ISFP's look for in a partner?
If you are thinking of dating an ISFP, check if you recognize yourself in the description of the desired ISFP partner. Partners who stand a high chance of getting into an ISFP relationship are:
ISFPs best match for a romantic relationship
Understandably, any of the personality types can be a good match for ISFP. However, some types work more harmoniously with ISFP. From an MBTI perspective, those types would be ESFJ and ENFJ.
There are several reasons why these types seem to have the biggest ISFP compatibility:
The relationship with ESFJ and ENFJ can prove to be growing experiences for ISFP.
As always, when partners value each other, commit to work on the relationship, and understand each other's individuality, the chances for a successful ISFP relationship skyrocket.
Related Reading: What Are ENFJ Relationships? Compatibality & Dating Tips
Challenges in ISFP dating & relationships
Based on their personality traits and the ways they connect, what are ISFP relationship problems you can expect?
They are not great with planning, so you might have to be the one who looks to the future since they focus more on the present moment.
They seek to tap the creativity wells, spend time around people or things they value, and money is often not on top of that list. It can cause financial problems, and often their partner is the one to be on the lookout for those.
Navigating discussions about the future and commitment may come as a challenge, especially at the beginning of ISFP relationships. Their easy-going and live-in-the-moment attitude contributes to it.
They need plenty of space, me-time, and independence more than an average person and become frustrated if they sense pressure or intrusion.
They are easy to communicate with, but they shy away from conflict. If you are too intense and seek to have heated arguments, you might scare them off.
Caring deeply for a partner's feelings can cause them to forget their own needs. You might need to be attentive to their desires as they tend to keep emotions under a mask and open up slowly.
Related Reading: What Are INTP Relationships? Compatibality & Dating Tips
20 considerations and dating tips for ISFP partners
If you are currently involved or wondering how to date an ISFP, it's a good idea to check out a list of ISFP dating tips.
Everyone is unique, and you will still need to tailor your approach, but these dating tips applicable to ISFP relationships can give you some clues.
1. Mind your tone and communication style
When it comes to ISFP relationships, the approach you take when dating matters immensely. Be kind, compassionate, and allow them to express their feelings.
If you want them to open up, you need to make sure to provide a safe and warm atmosphere first.
Also Try: What Is Your Communication Style Quiz
2. Inquire regularly on their needs
ISFPs are very considerate and focused on making you happy. They can overlook their own needs.
Carefully inquire if there is anything else you could do to make them happy.
3. Consider their feelings when making decisions
Because of the feelings aspect of their type, emotions are vital when they make choices.
To show them you include them in your decisions, ask them for their opinion and how they feel about your propositions.
4. Recognize and respect their boundaries
The introverted part of their personality needs sovereignty and autonomy. Try not to push or impose control as they will withdraw or even leave.
Make an effort to understand their boundaries and respect them.
Related Reading: Why Setting and Maintaining Healthy Boundaries in Dating Is Important
5. Learn their love language
Since they may not be expressive with words, try to see the love in the way they treat you.
To an ISFP, actions speak louder than words, and that is where you should look for signs of their affection.
Also Try: Love Language Quiz
6. Use your words to show your affection
Although they show love through action more than words, you need to verbalize more.
Try to be expressive about your emotions towards them, in spoken or written form. They thrive on knowing they are appreciated.
7. Readily support their creativity
Their search for creative and innovative ways to express themselves is one of the most important values to them.
Show your support for their artistic endeavors, and they will surely be grateful.
8. Talk about the future from a "feelings perspective"
Since an ISFP lives in the moment, if you might pressure them, you focus too much on the future. Instead, talk about how you feel and how you see your future together.
Don't voice your concerns about where the relationship is headed from a planning or goals perspective; rather, opt for how it makes you feel.
9. Ask clarifying questions
Since they focus on the emotional side, they might need objectivity.
So, in ISFP relationships, try to ask clarifying questions to help your partners there. Also, elaborate on their emotions and problems and get to their root.
10. Avoid competitive activities
Since ISFP can become competitive, keeping those to a minimum. Surely don't opt for them at the beginning of dating.
When in a committed ISFP relationship, put everything toward a cooperative perspective. It should feel like you are a team, not one against the other.
11. Consider their perspective in disagreements
Partner's happiness is important to an ISFP, and they will make it their mission to make you content. When you have a disagreement, they will focus on your feelings.
Return the favor – ask how they see things and check in on how they are. They are unlikely to vocalize those spontaneously.
12. Learn about their interests
When they opt to spend time with you, try to propose some of the activities they enjoy. They usually go for doing things that are interactive, such as sports.
To become more intimate in an ISFP relationship, participate in their interests, and accept their lifestyle.
13. Keep an open mind
ISFP will withdraw in a conflict even if they think they are right. Be mindful of this and keep an open mind.
If you show prejudice, they will choose to be reserved until they feel safe to share. To draw them out, make sure to be open-minded.
14. Make a big deal of their romantic gestures
ISFP needs you to recognize their efforts as they are less direct than other personality types. That is how they communicate their affections.
Make sure to notice their romantic gestures and small deeds.
15. Pay much attention to communication
When issues or conflicts arise, relationships can be in jeopardy because ISFP introverted personalities dominate, and they retreat.
So, in the case of ISFP relationships, you might need to be the one to bring the problems to light and invite them to communicate.
16. Respect their alone time
One of the most important things to remember is not to make them feel guilty for wanting separate time.
It is on you to figure out how to plan your time while they re-energize in the absence of others.
17. Show enthusiasm when they gift you
Gifts are a symbol of their consideration and love. If you fail to react with enthusiasm, they will feel hurt.
That doesn't mean you need to pretend you like it if you don't, but make sure to commemorate the effort that stands behind it.
18. Prepare to be the financial advisor
ISFP may not recognize the importance of savings or care for creating the budget.
They live in the moment and therefore you might need to be prepared to be the one more in charge of minding the finances.
Related Reading: Ways Couples Can Manage Household Expenses and Avoid Conflicts
19. Boost their confidence
They are optimistic and cheerful, yet they are easily hurt and often insecure.
Especially when it comes to their artistic efforts, make sure to send praise and admiration their way often.
20. Refrain from giving uninvited criticism
Prone to perfectionism and regularly vulnerable. That means their impression of themselves as not being good enough or adequate can easily be triggered, and their confidence can take a hit.
This is especially true for criticism coming from their loved ones, so wrap negative feedback in a sandwich of positive feedback before serving it.
ISFP relational growth & development
One of the best ways to help an ISFP grow is to show them how that change is going to positively affect others and create more harmony.
For them to learn to be more focused on the future, they need to understand what possibilities open up for the present. There needs to be a balance, so they don't lose touch with the present moment.
In order for them to avoid choosing the most enticing option now, they need to consider other short-term, along with long-term outcomes.
Feelings are a big part of making decisions for ISFP. Over time they can learn to include logical and objective factors too as long as it is presented as a means to create more harmony and connect with others.
They flourish in situations where they can help others fulfill their needs. Rely on that as motivation.
When they can relate change with one of their core values, they are going to be more likely to adjust.
Ignoring, endangering, or pushing on one of their core values is going to provoke stubbornness and resistance. Instead, go for a respectful, compassionate, curious, and reflective approach.
Takeaway
ISFP relationships are spontaneous, adventurous, warm, and creative. They open up when they want, and they are not keen on other's influence, pressures, planning ahead, or fitting into a box.
Individuals with ISFP personality types show love through action and care about other's feelings. If you pass the ISFP test of letting them enjoy their alone time, you are on a good path for a successful relationship.
They may not be ready to share easily or avoid conflict, but they provide much in relationships. ISFPs are loyal, devoted, and feel for their partners deeply.
Share this article on
Want to have a happier, healthier marriage?
If you feel disconnected or frustrated about the state of your marriage but want to avoid separation and/or divorce, the marriage.com course meant for married couples is an excellent resource to help you overcome the most challenging aspects of being married.
More On This Topic
You May Also Like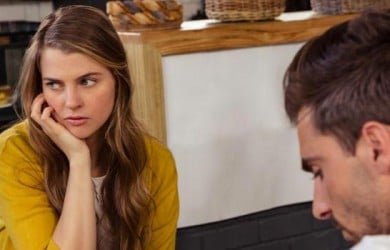 Popular Topics On Married Life