ENFJ Relationships: Meaning, Compatibility & Tips for Dating
ENFJ relationships are based on a personality test called the MBTI, produced by the Myers & Briggs Foundation. This personality test determines whether a person is introverted or extroverted, as well as whether they tend to take in information via sensing or intuition.
The test also determines whether a person makes decisions on the basis of thinking or feeling and whether they tend more toward judging or perceiving.
What are ENFJ relationships?
ENFJ relationships are characterized by one person in the relationship being extraverted, intuitive, feeling, and judging. According to the Myers & Briggs Foundation, the following words describe someone who is ENFJ:
Sociable

Expressive

Warm

Appreciative

Tactful

Imaginative

Enthusiastic

Insightful

Idealistic
ENFJ relationships can be very rewarding because this personality type puts considerable effort into ENFJ relationships and is very invested in them. The ENFJ partner also tends to be affectionate and nurturing, which are desirable qualities in an intimate relationship.
Related Reading: 

Personality Temperament Types and Marriage Compatibility
ENFJ Personality Traits- Characteristics
Strengths of the ENFJ Personality in Relationships
As previously stated, ENFJ relationships can be positive because the ENFJ partner is warm, affectionate, and invested in the relationship. The following are additional strengths associated with ENFJ personality relationships:
The ENFJ partner has strong people skills and communicates well.

ENFJ relationships are lively, as the ENFJ partner is energetic and has a good sense of humor.

ENFJ personalities in relationships are willing to compromise.

The ENFJ values

loyalty

and commitment and will be

faithful to the relationship

.

The ENFJ personality traits make for a great long-term partner, as they bring out the best in others, are inspiring, and have good

money management

abilities.
Weaknesses of the ENFJ Personality in Relationships
While the above strengths can make for a happy relationship with an ENFJ, some ENFJ relationship problems can develop as a result of the following weaknesses with this personality type:
The ENFJ may tend to be

controlling in relationships

, and the partner may feel smothered or as if the ENFJ partner is

overprotective

.

The ENFJ relationships may have difficulty because the partner has a hard time accepting opinions that differ from their own.

ENFJs in relationships can put their own needs aside for the benefit of the relationship, but this can cause

resentment

.

ENFJ partners dislike conflict and may avoid confrontation, so important issues are never resolved.
Related Reading: 

What Are ISFP Relationships? Compatibality & Dating Tips
Who are ENFJs attracted to?
It is not uncommon for someone with the ENFJ personality type to be attracted to an INFP or INTP. Infact, these are also the best match for ENFJ.
The INFP is quietly caring and compassionate and values harmony and results in ENFJ compatibility with them because it works well with the ENFJ's dislike for conflict. Both the INFP and the INTP are adaptable, which means they should be able to handle the ENFJ's need to ensure that the relationship is going well.
Beyond the above traits, the ENFJ partner will be attracted to the intuitive nature of the INFP and INTP, as this trait makes for clear communication and less opportunity for misunderstandings.
While the INFP and INTP are likely to attract the ENFJ, this does not mean an ENFJ partner cannot be attracted to other personalities.
Ultimately, the ENFJ personality type will be attracted to someone who wants a long-term relationship, sets goals for themself, and appreciates the ENFJ's efforts in the relationship.
What do ENFJs look for in a partner?
As previously stated, the ENFJ personality type values loyalty and commitment, so they are looking for:
Someone who wants a long-term relationship, as opposed to a short-term fling or hookup.

The ENFJ partner seeks someone who has goals, as the ENFJ wants to help their partner be successful in life.

Because the ENFJ wants to reduce conflict, they also look for a partner who is willing to discuss their feelings and let the ENFJ partner know what they need out of the relationship.

This personality type desires for their partner to be happy, so ENFJ relationships seek someone who will openly express their happiness through affection.

The ENFJ personality looks for a partner who is not put off by the ENFJ's need to check on the pulse of the relationship. Being in an ENFJ relationship requires a person to be open to questions about how the relationship is going and what they can do to improve.

They may come across as needy, so the ENFJ seeks someone who is able to cope with this without feeling overly smothered.
Related Reading: 

What Are INFP Relationships? Compatibality & Dating Tips
ENFJs as lovers: What to expect
Overall, you can expect the ENFJ in love to be a committed, stable lover.
ENFJs in relationships will be loyal and put full effort into the relationship. One of the ENFJ signs of attraction is that when they say they will do anything for you, they likely are not exaggerating. They will share your dreams with you and help you to achieve them.
In terms of the physical aspects of your relationship, the ENFJ lover will be eager to please and will want to make you happy sexually. While they value stability and routine, they will sacrifice their desire for predictability and routine to make you happy.
You can also expect ENJFs in relationships to be energetic and gregarious. They will enjoy social outings, and the relationship will be full of humor.
Challenges in ENFJ dating
Despite the positives of dating an ENFJ partner, you may encounter some challenges in ENFJ relationship matches.
For example, ENFJs in relationships can come across as controlling and manipulative at times.
Their desire to have an ideal, happy relationship may lead them to constantly try to improve the relationship. They may try to convince their partner to make changes for the sake of the relationship, which, over time, maybe seen as manipulation.
Another challenge is the fact that the ENFJ is so eager to please that they will put their own needs aside. They also will avoid conflict, so they may never express their disagreement. Over time, this can cause resentment to build, as the ENFJ loses themself in the relationship.
Lastly, the ENFJ can feel unappreciated if their efforts and commitment to the relationship are not acknowledged with affection. The ENFJ requires affection and warmth from their partner and may not feel cared for if this is lacking.
Related Reading: 

What Are ENFP Relationships? Compatibility & Dating Tips
Tips for dating an ENFJ
Given everything that is known about the ENFJ personality type, some key tips for dating an ENFJ are as follows:
Share your hopes and dreams with your ENFJ partner; they want to grow with you.

Don't expect a casual relationship. The ENFJ wants commitment.

The ENFJ personality type is sensitive to conflict. So, it is important to approach disagreements calmly and to express your concerns without being aggressive or accusatory.

The ENFJ partner will be eager to meet your needs. Be sure that you are also meeting your partner's needs, as they can fall by the wayside.

ENFJs in relationships will always be

open to compromise

. Be sure not to take advantage of this. While the ENFJ will likely give you your way, over time, this can lead to resentment if the ENFJ 's opinions and desires are never considered. Be willing to compromise or give a little to the ENFJ at times.

Realize that the ENFJ's desire to please may make them come across as needy. The ENFJ does not mean to suffocate you but rather wants to ensure that you are happy in the relationship.

It may be helpful to set aside time each week to do a "relationship check-in" This will help the ENFJ to fulfill their need to ensure harmony in the relationship and hopefully prevent daily conversations that lead to you feeling overwhelmed and suffocated.
10 considerations for ENFJs' partners
In addition to the above tips, the following 10 considerations can help you to better understand the ENFJ in relationships and determine whether the ENFJ partner is a suitable match for you:
ENFJs want a long-term relationship, so they are not a good match if you are looking for casual dating or a short-term fling.

ENFJs want someone they can build a future with, so it is important to have goals for yourself.

The ENFJ can come across as controlling or

manipulative

, but this is only because they want you to be happy and want the relationship to be successful

The ENFJ is sociable and lively and will enjoy activities such as going to parties and spending time with other couples.

ENFJs may shut down during conflict because they strongly dislike arguments. This means that the ENFJ may be unhappy about something in the relationship, but they will avoid telling you in order to keep the peace.

ENFJs are faithful lovers, and you will not have to worry about cheating or dishonesty.

The ENFJ can struggle with accepting different points of view, so it may be helpful to approach sensitive topics, such as politics, with caution. You may have to help your partner be objective when your opinions differ.

The ENFJ will be sensible with money and committed to saving for the future, so it is important to discuss big purchases if you

share finances

or live together.

Since the ENFJ wants you to be happy, you can expect them to help with household tasks like chores and paying bills.

ENFJs are very giving of themselves, but they have needs, too, so you have to remember to

express your appreciation

and take the time to do nice things for your partner.
Related Reading: 

What Are INTP Relationships? Compatibality & Dating Tips
Take a look at the video below to understand what you should never say to an ENFJ:
More questions on ENFJ relationships
Got more questions on ENFJ relationships. We have them sorted for you here. Read on:
Who is ENFJ least compatible with?
The ENFJ personality type is often seen as one of the most compatible types with others. However, there are a few personality types that the ENFJ is least compatible with. These types are ISTJ and INFJ. ISTJs enjoy spending time with their loved ones.
They find security in tradition and the consistent way things have always been done. They have strong moral principles and are usually very dependable people.
INFJs are creative, compassionate individuals who thrive on deep and meaningful connections with others. They have a strong sense of justice and are generally very loyal people. Neither of these personality types is very compatible with the ENFJ.
What are ENFJs like in a relationship?
ENFJs make wonderful partners because they are great listeners and have an innate ability to see the best in everyone they meet. They are highly intuitive people who are comfortable expressing their emotions.
An ENFJ partner will always be supportive and encouraging, and they will encourage their partner to pursue their dreams. They will offer their love and support without judgment and will be completely honest with their partner no matter what.
Relationship counseling can be extremely beneficial to couples who feel that they would benefit from additional help in resolving conflict or building a stronger relationship.
Takeaway
In summary, the ENFJ in relationships is committed and giving of themselves, making them good partners for a long-term commitment. They will aim to please you and will help you to achieve your dreams.
To ensure success with an ENFJ, be sure to compromise and be willing to do things to make them happy since they may set their own needs aside to please you.
Remember to express your appreciation for your ENFJ partner, approach conflict gently, and help them to see your point of view when you disagree.
Share this article on
Want to have a happier, healthier marriage?
If you feel disconnected or frustrated about the state of your marriage but want to avoid separation and/or divorce, the marriage.com course meant for married couples is an excellent resource to help you overcome the most challenging aspects of being married.
More On This Topic
You May Also Like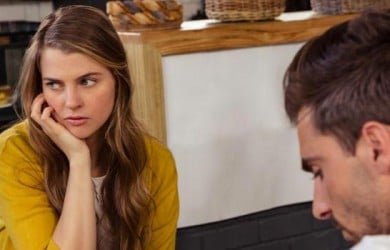 Popular Topics On Married Life