What Are INFP Relationships? Compatibality & Dating Tips
INFP relationships are based upon the Myers Briggs Type Indicator (MBTI) personality test. Knowing about this personality type can help you to determine whether you are dating an INFP or perhaps are an INFP yourself.
What is an INFP relationship?
An INFP relationship occurs when one member of the partnership is an INFP personality type, according to the MBTI. The INFP personality type is introverted, intuitive, feeling, and perceiving.
This means that an INFP lover focuses on their own inner world and likes to find a deeper meaning in everything.
As a feeler, the INFP also focuses on people and situations, and the perceiving aspect of this personality type is open to new ideas.
Related Reading: Personality Temperament Types and Marriage Compatibility
INFP personality traits
The INFP in relationships brings a unique set of personality traits to the table. In general, the INFP in love is calm and pleasant, but as with any personality type, there are both strengths and weaknesses in INFP relationships.
The main strengths of dating an INFP:
The INFP in relationships is caring and shows concern for their partner.

INFPs are sensitive to the feelings of others, meaning they will be in tune with what their partner is feeling.




The INFP will be

loyal to the relationship

, as INFP love is intended to be life-long.




The INFP is motivated to meet the needs of their partner.



An INFP in love will be nurturing and supportive of their partner.


The INFP personality type is flexible and values compromise.




INFP love tends to work well because the INFP partner will appreciate their partner's need for space.
The weaknesses of INFP love can include
:
This personality type can come across as shy and reserved and does not like when others intrude upon their personal space.




The INFP partner strongly dislikes conflict and criticism and likely will not respond well to either.




The INFP needs praise and positive affirmation.




INFPs in love may be hesitant to express their feelings with their partner and reluctant to scold their partner.




The INFP partner can become overly emotional when stressed.



INFP love may continue even when it is unhealthy, as INFPs have trouble leaving bad relationships.


INFPs are highly perfectionistic, so they tend to blame themselves for problems and not give themselves credit when it is due.
While the INFP personality type comes with both strengths and weaknesses, no relationship is perfect, and if you have INFP compatibility, you can work through relationship issues and overcome the weaknesses of INFP love.
INFPs as lovers
INFP love can be very rewarding, given the traits of INFPs in relationships. INFPs are deeply loving, caring individuals, and they are able to create and maintain meaningful relationships with those they love.
INFPs in relationships are also incredibly committed, as they value warmth and peace and are driven to seek out lasting partnerships. You can expect loyalty and lifelong love from your INFP partner if this is what you seek.
While INFP love is loyal and committed, INFPs may sometimes struggle internally with their desire for a perfect relationship. INFPs also tend to view their partners in an idealistic way, perceiving them as perfect when, in fact, no one is. This can create internal conflict as the INFP attempts to balance fantasy with reality, but in the end, the INFP's desire for harmony keeps them loyal to the relationship.
Even if the INFP's partner is not perfect as the INFP idealizes them to be, the INFP strives to maintain a positive view of their partner, keeping the partner on a pedestal. INFP love is deeply affirming and positive, and the INFP partner will likely reward their significant other with frequent praise.
INFP lovers also use sexual intimacy to express their strong feelings of love for their partners, but they tend to take time to build trust before opening up to sexual intimacy. Given the nature of the INFP in relationships, they will value their partner's satisfaction over their own.
Related Reading: What Are ISFP Relationships? Compatibality & Dating Tips
How do you know if an INFP loves you?
The INFP is deeply warm and affectionate toward those they love. If your INFP lover frequently praises you, gives you positive affirmations, and is nurturing and supportive, there is a good chance this person loves you.
In addition to giving affirmations, the INFP personality by nature seeks out loving, committed relationships. If the INFP has chosen to enter a serious relationship with you, the chances are that it is based upon love.
Other signs of INFP love include passionate romance. The INFP lover is a hopeless romantic, so when an INFP falls in love with you, they will go out of their way to do creative things to make you happy.
Since INFPs are also idealists, they want their partners to grow and be the best versions of themselves. If you have INFP love, your partner will encourage you to meet your goals, and they will be your biggest supporter.
Do INFPs fall in love easily?
While the INFP partner seeks out a loving relationship, INFP partners tend to be cautious at the beginning of relationships. They may not fall in love easily, but instead, they take time to build trust in relationships. That being said, once an INFP does fall in love, they stay loyal and committed, ideally for a lifetime.
An INFP may not appear to fall in love easily because they also tend to be slow to reveal themselves to their partners at the start of a relationship. INFP lovers take intimacy very seriously, and they want to be sure that love is present before they reveal the most intimate details of their lives.
Furthermore, the INFP in relationships requires time to process their emotions. This means that as they fall for their lover, the INFP needs time alone to sort through how they are feeling. This can make it seem as if the INFP is slow or hesitant to fall in love.
Related Reading: What Are ENFP Relationships? Compatibility & Dating Tips
Who are INFPs attracted to, and what do they seek in a partner?
As someone who values loyalty and lasting love, the INFP lover is attracted to someone who is sincere and authentic. They will seek someone who does not put up a facade or pretend to be stylish or trendy.
INFPs in relationships are also attracted to someone who does not impose rules upon them. In addition, they appreciate a partner who will give them plenty of time alone to process their thoughts.
The INFP in relationships is also likely to seek the following traits in a partner:
Someone who is able to share opinions without being negative




Someone who is able to listen attentively




A willingness to spend some quiet time alone together, instead of always socializing in groups




An ability to be spontaneous at times




Someone who is available and doesn't play "hard to get"




A person who is willing to compliment them, even over little things



A partner who is able to help with mundane tasks, like household chores
Also watch: Why INFP females are so unique.

INFPs as parents
INFPs make idealist parents who consistently put their best efforts to support their kids. They're gifted at understanding their kids' needs but tend to get so consumed in their job that they exhaust themselves attempting to comprehend their child's needs and feelings.
Their love and commitment to parenting often result in a battle of passionate over-burden. INFPs have exclusive requirements for themselves, and this particularly applies when they become parents.
They like having everything in perfect order, and in the event that they fizzle at any of their objectives, they're normally truly hard on themselves.
Dealing with emotional overload is especially difficult for an INFP parent. They are very sensitive towards their child's pain and some of the time accuse themselves of their kid's agony.
This is something that INFPs need to be cautious of; they need to understand that they can't do it all and should be content in their honest and genuine efforts.
Related Reading: What Are ENFJ Relationships? Compatibality & Dating Tips
INFP compatibility: Who is the perfect partner for an INFP?
The INFP is an idealist who can put any partner on a pedestal, so they can find success with any personality type.
In fact, it is possible for any two personality types to have a healthy relationship if both partners are willing to communicate effectively and overcome any differences. That being said, there are certain personality types that may have stronger INFP compatibility.
The INFP's best match is typical with the INTP, the INFP, the INFJ, or the ENFP, as these four personality types tend to have the most in common with the INFP, including shared values, interests, and lifestyles. It might be said that these personality types are the perfect match for INFP love.
While the INTP, INFJ, and ENFP have some differing traits from the INFP, these three personalities have enough in common with the INFP to get along well in a relationship. The INFP is a good match for other INFPs, because these two personalities will enjoy one-on-one time together, and they will appreciate each other's sensitivity.
INFP compatibility with other personalities
INFP compatibility with the INTP
Both the INFP and the INTP are quiet and reserved, making them a good match. Both of these personality types enjoy intellectual pursuits, such as reading and writing, and they both thrive when engaging in speculation.
The INFP will also get along well with an INTP because the INFP does not want rigid rules, and the INTP will not try to control the INFP.
The INFP may have INFP compatibility, but these two may sometimes run into trouble because the INTP evaluates things with logic and reason, which can be frustrating to the INFP, who is sensitive and emotional at times.
INFP & INFJ compatibility
INFP compatibility is also strong with the INFJ, as both personality types are empathetic, sensitive, and loyal. The two personalities also value harmony and are attentive to their partner's needs. In addition, both the INFP and the INFJ value their own alone time and will be willing to give alone time to the other.
ENFP & INFP compatibility
Since both personalities are intuitive, feeling, and perceiving, ENFP and INFP compatibility is strong. Both partners are affectionate, and they understand each other well. The only problem with ENFP & INFP love is that the INFP is reserved and needs alone time, whereas the ENFP is extremely social.
Related Reading: What Are INTP Relationships? Compatibality & Dating Tips
INFP relationships with other personality types
While INFP compatibility is strong with the types listed above, INFP relationships with other types may not be as successful. For example, the INFP is likely to clash with the ISTJ, the ESTP, the ESTJ, and the ESFJ. These personality types are just so different from the INFP in relationships, but in some cases, the partnership can work if the INFP relationships with other types result in the two personalities complementing each other.
ISTJ & INFP relationships
The ISTJ and INFP compatibility is not strong because the two personality types have different needs. The ISTJ values dependability and doing things the right away, whereas the ISTJ places a premium on love and romance.
INFP relationships with the ESTP
Furthermore, the INFP in relationships may clash with the ESTP because the two have big differences that can lead to resentments, and the ESTP worries about getting stuck in a mundane relationship. The INFP, on the other hand, values loyalty.
The INFP & ESTJ in relationships
The INFP in relationships may clash with the ESTJ, who is career-focused and expects a stable family and tidy house. The ESTJ also doesn't take well to drama, which can conflict with the INFP's sensitivity and mood swings.
INFP relationships with ESFJ
The INFP in relationships with the ESFJ can lead to conflict. These two have so many differences that they can annoy each other. For instance, the ESFJ has a lot of energy, whereas the INFP is slow to act because they must first think about things before making a decision. The ESFJ also values tradition and doing things the right way, whereas the INFP is open to new possibilities.
15 things to know about being in a relationship with an INFP
Given what is known about INFP compatibility and INFP love, there are 15 key points to know about the INFP in relationships:
The INFP needs time alone to process thoughts; this does not mean that your partner does not value the relationship.

INFP love has the potential to be

romantic and passionate

, as long as you have the patience to wait for the INFP to open up to you.




Your INFP partner will appreciate the time spent one-on-one with you at home.

The INFP can be extremely sensitive to criticism, so it is important to deliver it gently.

Mundane tasks like paying bills and doing household chores may not come easily to the INFP, but they are willing to do them with your help.

INFPs strongly dislike conflict, so you may have to encourage your INFP partner to discuss areas of disagreement and remind them that conflict is natural and sometimes healthy.

INFP likes to take on new relationships slowly. This doesn't mean they don't like you. It is simply how they operate.

Showing your appreciation

for INFP love through regular compliments will go a long way.

The INFP can struggle to manage stress and will rely upon you to be their source of support during difficult times.

The INFP in relationships is an idealist and will want you to grow and achieve your goals. This should not be taken as an insult but rather as a sign that the INFP wants the best for you.

While the INFP will quire alone time, they will also be very nurturing, supportive, and caring in the relationship.

Dating an INFP will require you to be mindful of the fact that this personality type thinks with their emotions and may place feelings before logic.

While the INFP in relationships tends to be emotional, they may have a difficult time with self-reflection, meaning they do not always know why they feel a certain way.

The INFP values spontaneity, so if you want to plan something in advance, you will probably have to sit down and have a talk about the importance of doing so.

The INFP tends to place their partner's needs above their own, so you may have to encourage your INFP lover to express their needs and ask for what they want.
Conclusion
As with any personality type, there are both pros and cons to dating an INFP.
INFP personality relationships may start slowly given the INFP's reserved nature, but once you have developed a committed partnership with an INFP, the INFP will be loyal and committed.
You can expect deep romance from your INFP partner, and they will be supportive, caring, and nurturing.
There may be some sources of conflict with the INFP in relationships, as this personality type can be very reserved and require plenty of time alone.
INFP love can also be complicated because of the INFP's distaste for conflict and dislike of being locked into their partner's rules.
Despite some potential challenges, INFP relationships can be very rewarding, so long as both partners are committed and willing to work through hard times together.
If you have been thinking, "What are INFP relationships?" there is a good chance you know an INFP or might be an INFP personality type.
Should you think you may be dating an INTP or perhaps are an INTP yourself, an INTP test can help you to determine what type of personality best describes you. You should also try the MBTI personality test to understand your personality type.
Finally, to discover a compendium of knowledge on the INFP personality type! As you explore and to get the answer to a number of crucial questions you can also refer to the 'The Idealist: Your Guide to the INFP Personality Type'.
Share this article on
Want to have a happier, healthier marriage?
If you feel disconnected or frustrated about the state of your marriage but want to avoid separation and/or divorce, the marriage.com course meant for married couples is an excellent resource to help you overcome the most challenging aspects of being married.
Learn More On This Topic
You May Also Like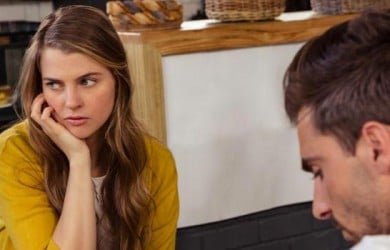 Popular Topics On Married Life