What Are INTP Relationships? Compatibility & Dating Tips
An INTP relationship is based upon the MBTI Personality Inventory by The Myers & Briggs Foundation. An INTP test result indicates that you have this personality type.
The INTP personality type is characterized by a person who is introverted, intuitive, thinking, and perceiving. An INTP personality tends to be logical and conceptual as well as intellectually curious. These traits can have unique effects on INTP relationships.
What are INTP relationships?
According to experts, INTP relationships are rare, since the INTP personality type is not very common. As an introvert, the INTP partner will prefer to socialize in small groups with close friends and family, instead of in big crowds.
An INTP partner also tends to look at the big picture, instead of fixating on small details, and they tend to be objective when solving problems, instead of focusing on their feelings.
Related Reading: 

Personality Temperament Types and Marriage Compatibility
INTP Personality Traits
According to The Myers & Briggs Foundation, INTP personality traits include being objective, independent, and analytical. This personality type is also complex and questioning. These features can come with both strengths and weaknesses in INTP dating.
Some strengths of INTP dating are as follows:
The INTP partner is naturally curious and will therefore approach life with interest and enthusiasm. They will want to get to know your interests.

The INTP personality type is laid back and not generally rattled by conflict.

INTPs are intelligent.

An INTP dating partner will be

incredibly loyal

.

INTPs tend to be easy to please; they don't have many demands or any hard-to-meet needs.

An INTP dating partner tends to be fun because this personality type is always coming up with new ideas.
On the other hand, some INTP personality traits that can cause INTP relationship problems include:
As someone who is logical and conceptual, the INTP partner may struggle to

express emotions

and will at times not be in tune with yours.

Since the INTP is not usually rattled by conflict. They may seem at times to avoid arguments or to hold in their anger until they explode.

The INTP dating partner can be distrusting of other people.

An INTP partner may seem shy and withdrawn, which often comes from a

fear of rejection

.
Can an INTP Love?
Since the INTP dating partner can be so logical, people may sometimes wonder if an INTP is capable of love. The answer, in short, is yes, but INTP love may appear different than what is typically associated with love.
For example, as Personality Growth explains, the INTP can appear incapable of love because of the tendency for the INTP partner to be logical and scientific, but these personality types are actually rather passionate. When an INTP dating partner develops a love for someone, this passion can transfer into the relationship.
Since the INTP partner tends to keep feelings to themselves, they may not outwardly express their love the same way that others do. Instead, an INTP in love thinks intensely about their feelings of love for their partner, sometimes becoming rather caught up in them.
The video below discusses INTP relationships and why it could be a little complex for them to find a partner. Find out:
Given the intensity and passion of the INTP dating partner's mind, this personality type is absolutely capable of love, even if they do not express it in the same way that other personality types do.
Related Reading: 

30 Signs Of True Love in a Relationship
What do INTPs look for in a partner?
As previously mentioned, the INTP personality is logical and intelligent, and they are always full of ideas. This means that the best match for an INTP is someone who is also intelligent and open to discussing creative ideas.
The INTP will look for someone who is open to deep discussion and the exploration of new intellectual pursuits. They also need a dating partner who will set goals and work to achieve them.
The best match for an INTP will also be someone who is interested in a real, committed relationship.
As experts have mentioned, the INTP partner allows few people into their close circle, and they do not care for shallow relationships. The INTP takes romantic relationships seriously, and in turn, they seek someone who takes the relationship just as seriously as they do.
Who are INTPs attracted to?
Given what is known about what INTPs look for in a partner, there are certain personality types they may be more attracted to than others. This is not to say that an INTP can only have a successful relationship with a specific personality type, but INTP compatibility can be higher with certain personalities.
Typically, the INTP partner is typically attracted to someone who shares their intuition. Besides, INTP partners are also attracted to someone who is intelligent and can have meaningful conversations.
INTP Compatibility
So, who are INTPs compatible with? The ENTJ personality shows INTP compatibility. The INTP dating partner is also compatible with the extraverted thinking ESTJ.
The INFJ personality type also shows INTP compatibility because the INTP does well with a partner who shares their intuition.
As can be seen with these compatible personality types, the INTP partner is attracted to someone who is intuitive or who is an extroverted thinker. While being introverted, the INTP dating partner can appreciate the balance that an extroverted thinker brings.
INTPs as Lovers
While the INTP is attracted to intelligence and is an intuitive thinker, this personality can also be creative and spontaneous, which can make them appealing as lovers. Experts report that the INTP personality is creative in all aspects of life, including in the bedroom.
What this means is that the INTP is open to experimentation in their sex lives. An INTP starting relationships will not be turned off by your sexual fantasies, and they will likely want to explore them with you. This can certainly keep the relationship interesting.
Related Reading: 

What Are ENFP Relationships? Compatibility & Dating Tips
Challenges in INTP Dating & Relationships
Despite the strengths of the INTP personality, INTP relationship problems can arise because of some of the tendencies that an INTP has. For example, because of the INTP's natural inclination to be an introverted thinker, the INTP may seem distant.
Furthermore, because the INTP is so logical and seeks a real connection, they may be picky about who they choose as a partner. This can sometimes make it difficult to establish a relationship with an INTP partner.
When an INTP does establish a relationship, they may have difficulty sharing their emotions with their partner. They can find it challenging to open up, and they may not always know how to express themselves.
Experts have also explained that the INTP personality can have difficulty trusting. This means that at the start of a relationship, when they are building trust, they may question their partners or analyze situations looking for deeper meaning. This can come across as accusatory for some people.
Finally, because the INTP has a need to engage in deep thinking and has an introverted nature, the INTP partner enjoys time alone to process their thoughts. This can make INTP dating challenging, as the INTP personality does need space and time on their own.
Related Reading: 

Dating vs. Relationships: 15 Differences You Must Know About
INTP Dating Tips
Given some of the challenges associated with INTP dating, the following tips can show you how to date an INTP:
Give your INTP partner time to explore their own interests. You may find that the INTP's need for space and personal time allows you some freedom to cultivate your own hobbies or spend time with friends.

If your INTP relationship match seems distant, keep in mind that they may just be lost in thought. Try engaging them in deep conversation.

Find interests that you and your INTP partner have in common, and take time sharing these interests. INTPs are often excited to share their interests with a committed partner.

Be patient as you approach INTP dating problems. Remember that the INTP partner may need extra time or encouragement to open up and express emotions.

Help the INTP partner to trust you by being consistent and following through on your word.

Take time to have calm, respectful

discussions about disagreements

or differences of opinion. The INTP partner can be hesitant to

discuss the conflict

, which can lead the anger to build up and boil over once disagreements are finally addressed.
Avoid this by regularly checking in with your partner and rationally discussing areas of disagreement.
Following these words of advice can reduce the likelihood of INTP relationship problems.
20 considerations for INTPs' partners
All that is known about the INTP personality can be summarized in the following 20 considerations for INTPs' partners:
It may take time for the INTP partner to open up to you; this doesn't mean they are standoffish. This is just their nature.

The INTP is attracted to intelligence and will prefer meaningful conversation over small talk.

The INTP may have difficulty expressing emotions, but that doesn't mean they do not feel strongly about their partners.

The INTP may need encouragement to discuss areas of disagreement within the relationship.

The INTP can come across as interrogating in the beginning

stages of the relationship

; they are simply trying to establish that you are someone they can trust.

INTPs enjoy creative pursuits and will be open to spontaneity.

Your INTP partner will want to share their interests with you.

INTPS seek lasting relationships and is not interested in short flings.

In INTP relationships, it is helpful to remember that your partner is an introvert and will prefer to spend time in small groups with close friends.

The INTP partner needs time to explore their own interests and will likely encourage you to explore yours, too.

If the INTP is quiet, you should not assume your INTP partner is angry or avoiding conversation with you. They may simply be lost in deep thought.

It is safe to share your wildest sexual fantasies in INTP relationships, as the INTP is open to new ideas in all areas of life, including the bedroom.

INTPs need time to process their thoughts, and it is important that you allow them to do this.

As introverted thinkers, INTPs can seem cold and distant at times. This should not be taken personally. As mentioned previously, the INTP may be lost in thought.

As rather logical folks, INTPs are not likely to be particularly romantic, but this doesn't mean they don't care about you.

INTPs may be introverted, but they care deeply about those whom they let into their inner worlds. If they choose a relationship with you, you can be certain that you mean very much to them, even if they do not always express deep emotions or engage in

romantic gestures

.

Similarly, INTP partners are extremely loyal in committed relationships, as they highly value the people with whom they have close relationships.

The INTP needs intelligent, deep conversation, so it may be helpful to learn more about their interests in order to have meaningful conversations.

As thinkers, INTPs may not be skilled in identifying emotions in their partners. This means that when dating an INTP, you should be prepared to share your feelings instead of assuming that your INTP partner knows how you feel.

Sometimes, love can be confusing for the INTP partner, because they are logical on the one hand but may develop strong feelings for their partner on the other hand, which can seem rather emotional instead of logical.
This does not mean that the INTP is incapable of love; this personality type may just show love in a different way or take time to build trust in a relationship.
FAQs
Check out this information on INTP relationships:
What do INTPs want in a relationship?
If you're looking for a partner who is intelligent, insightful, and perceptive, then an INTP may be the perfect fit for you. However, INTP in relationships needs a partner who is just as intelligent and insightful because they don't naturally gravitate toward discussions that are mundane or superficial.
Therefore, INTPs aren't typically very well-suited to relationships in which the partners have little intellectual or emotional depth.
Can two INTPs be together?
Generally speaking, INTPs are attracted to other INTPs because their relationship tends to revolve around intellectual and emotional discussions rather than superficial ones. However, INTPs tend to have a very independent nature and, therefore, may not be very comfortable in relationships in which they must compromise their individual identities.
They may also be attracted to other "introverted" types who share a similar interest in intellectual discussion and are comfortable with a bit of alone time now and then.
Who should an INTP marry?
An INTP is very conscious of who they are as an individual and, therefore, often prefers to date someone who is equally as conscious and independent of their own identity. Ideally, they should look for someone who shares their independent nature and complements it with their own high level of intelligence and insight.
Are INTPs good boyfriends?
INTPs are extremely capable of forming deep and meaningful relationships with those around them as long as they are afforded the opportunity to express their individuality freely.
They are also highly compassionate and nurturing towards others and can be very loyal and devoted to their partners as long as they feel that they can express themselves fully without fear of judgment or rejection.
Takeaways on how to date an INTP
The 20 things to know about an INTP relationship should teach you how to date an INTP. In summary, it is important to respect an INTPs need for time on their own.
An INTP enjoys their freedom, but this doesn't mean they don't care about the relationship. INTPS may also have a difficult time expressing their emotions, but they are capable of loving and caring deeply about someone once they establish a committed relationship.
An INTP will want to share their interests with you and will enjoy having meaningful conversations with their significant other.
It may take time to build trust in INTP relationships, but the investment pays off, as the INTP partner can be expected to be loyal, creative, and full of new ideas, including in the bedroom.
If you think you might be in an INTP relationship, an INTP test result can help you to determine your partner's traits and what this may mean for your relationship.
Share this article on
Want to have a happier, healthier marriage?
If you feel disconnected or frustrated about the state of your marriage but want to avoid separation and/or divorce, the marriage.com course meant for married couples is an excellent resource to help you overcome the most challenging aspects of being married.
More On This Topic
You May Also Like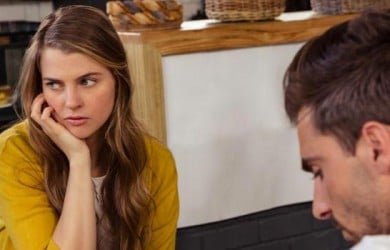 Popular Topics On Married Life