10 Tips on How to Bring Excitement Back Into Your Long-Term Relationship
Do you feel like the excitement in your relationship when you first started has changed over time?
When you first started dating, you couldn't get your hands off of each other, and if you could, you would always be together, but as your relationship progresses, the interest, excitement, and that overflowing longing faded.
Why does the excitement fade, and if you feel this way, do you think it's possible to learn how to bring excitement back into a relationship?
Is it possible to fall out of love in a long term relationship?
A couple's relationship love can start as passionate and full of fire. Here you can't get enough of each other, and you want to be together always. You may even think this love can't fade, but then it happens.
The excitement in a relationship, that fiery love you feel can fade, and it's perfectly normal. This is where your relationship transitions from passionate to compassionate.
Long-term relationship partners often experience major life changes that make them more mature.
Unfortunately, not all couples understand that this transition is a part of their relationship and would think that they should end it since the 'love' is gone. They might mistake the spark they feel for 'love,' but it's not like that.
Going from passionate to compassionate love isn't a bad thing. In fact, this allows you to grow and learn new things about your relationship.
Even if you transition to compassionate or mature love, your spark doesn't have to suffer. You can still learn how to bring excitement back into a relationship while growing together.
Do you need to get the spark back for your relationship to survive?
Many couples think that without passionate love, their relationship couldn't flourish, but it could. In fact, compassionate love endures and could last a lifetime.
However, the transition from passionate and compassionate could be tricky. It's the phase where a couple might feel that they're strangers again and that they are slowly growing apart.
There are also cases where they might miss and yearn for that passionate love that they might cheat to get that feeling of rush again.
That is why long-term relationships advice includes bringing back the spark in a relationship so that even though you're already in compassionate love, you still feel the passionate aspects of your love.
The good news is that learning how to be fun in a relationship isn't that hard. It's a goal that you and your partner can achieve.
This way, you will have the beauty of compassionate love for each other and still feel the fire of passionate love.
10 tips on how to bring excitement back into your long-term relationship
If you feel like your love is fading and you're in a boring relationship, don't think of it as a lost cost. Here are some easy and effective tips on how to rekindle romance in a long-term relationship.
1. Talk with each other
Get the spark back in a relationship by having deep conversations.
Being in a long-term relationship means getting busier, a shift in priorities, and more responsibilities, so in the long run, we lose the time to sit down and talk. This is one of the main reasons we feel like we're drifting apart from each other.
Do you still know what's happening in your partner's life? Do you still have the same hobbies? Maybe your partner is going through something.
When was the last time you checked on your partner?
Having a conversation is one of the best foundations of a solid relationship, and it could also bring back the intimacy of your fading passion in your relationship.
This also gives you an opportunity to tackle any issue, doubts, or even plans that you have.
Related Reading: 

How to Talk to Your Crush and Make Them Like You Back
2. Go on a weekly date
Fix your schedule and prioritize going on a weekly date with your partner. That's how to make a boring relationship fun again.
Have fun picking out different restaurants and trying them out. After that, have coffee or tea and discuss what you think about the food and even plan for your next date. You can also go out and watch movies.
Aside from learning how to bring excitement back into a relationship, these activities will also help you relieve stress. You're basically rekindling your relationship and relieving work-related stress.
3. Ignite your sexual intimacy
Even if you're both busy, you make love, but sometimes it becomes too familiar. Here's how to make a relationship exciting again. Ignite your sexual intimacy by trying out new things.
Make love in different parts of the house, try out role-playing, and introduce sex toys as well. There could be so much you can do to ignite your sexual intimacy.
Aside from fulfilling your sexual desires, it's so sexy and thrilling to be trying out new things. It's nice to get naughty with the person you love, isn't it?
As you try out different things, you'll see just how fun it could be to be at ease with your partner and fun enough to share intimate secrets like these.
Before you try BDSM, you need to know what communication and consent. Esther Perel gives you an insight into how this works.
4. Try exciting new hobbies
Learning how to make a relationship fun doesn't end there. Try new hobbies like sports, or maybe you can take cooking lessons together if you both like cooking.
Talk about it and choose which ones you can try first. It's always nice to venture into something new and learn new things with the love of your life, right?
Aside from learning a new skill, you will have time to bond and learn something new about your partner. Remember that in compassionate love, your special someone is not just a partner, but also your best friend.
Related Reading: 

6 Hobbies That Will Strengthen Your Relationship
5. Create a DIY project
Love creating DIY projects? Ask your special someone to help you. Create a small backyard pool, re-design your kitchen and so many more projects to choose from.
Bonding shouldn't be boring. You can do so much together and, in the process, get to know each other more. Maybe, your partner has a talent for baking. Who knows until you try!
While doing that, talk about your week, your plans, and just spend time with each other while being productive. While you're at it, take photos or create mini vlogs if you want to.
6. Flirt with each other
Learn how to have fun in a relationship by always flirting with each other. It works so well, and it's also really fun. Even if you've been together for five or ten years, you can still find many ways to flirt with your partner.
Try whispering naughty things, or tell your partner that you're not wearing any undergarments.
This will definitely make your partner smile. It's fun and will not just bring back the spark of your relationship; it will also make you feel loved and wanted. Oh, and you'll get to enjoy the renewed sexual tension between the two of you.
7. Go on adventures
If you have time and the budget, go on adventures and learn how to bring excitement back into a relationship. Go for a long drive, go hiking, or go camping.
Do the things that you've always wanted to do while you're young. Save up and plan for trips like this, and you'll end up looking forward to trying out new adventures.
There are so many ways to not only keep the fire of your relationship burning but also gives you ways to be active. Even if you have kids, you can still go camping and have lots of fun.!
Related Reading: 

5 Ways to Navigate Your Adventurous Relationship
8. Spend time apart from each other
Did you know that in premarital counseling, the therapist will advise you to actually spend time apart to strengthen your relationship?
In love, we want to give our all, but we must also maintain our individuality. It's nice to do things with our partners, but we should also learn how to do things on our own and enjoy it as well.
Sometimes, we need to spend a day with our friends or family and allow our partner to do the same. This gives you time to miss each other as well.
9. Write letters to each other
Cheesy as it may sound, this is a great way to learn how to bring excitement back into a relationship.
There are things you are not comfortable saying in person or you forget to. Writing a card or a letter to your significant other isn't just sweet, and it also gives you a way to express the feelings that you've wanted to share.
10. Create a happy memory album
Now that you know how to bring excitement back into a relationship, please take it to the next level and create a happy memory album. Take photos, save them and create adorable captions.
Having a tangible photo album of your adventures and bonding moments is different and more personal.
It's a sweet reminder of the things you've done together. You can go through your albums every anniversary and reminisce about those times.
Related Reading: 

15 Awesome Ways to Create Memories with Your Partner
Ways on how to keep the spark in long-term relationships
Since you now know how to get the spark back in a relationship, it's time to think of the many ways to keep that spark alive.
A solid relationship is constant work. Even if you're already in the compassionate love phase, you can still drift apart if you don't keep that spark burning.
There can be many reasons why a couple, no matter how in love they are, starts to feel like they're drifting apart.
Is it because they're being too comfortable? Maybe, there's less effort from both ends? Lastly, how do you keep that spark in your long-term relationship?
Always work on your relationship using these 6 ways how to keep passion in a relationship. These have been proven to work and rebuild the lost spark of your love and relationship.
FAQ
Is there a secret to a long lasting relationship?
Seeing grandparents still share sweet smiles and hold hands, even after decades of marriage, is something that we all want to achieve.
How can you make your love last a lifetime? Are there secrets?
We don't need to call them secrets because we may already know what we need for a lasting relationship. Love alone isn't enough. There should be the willingness to compromise, respect, fidelity, and compassion in your relationship.
Once you have these, you'll start seeing your spouse as a best friend, a partner, and a companion. You'll work hard together to achieve your goals.
If you see yourself growing old with this person, then you have the right ingredients for a lasting relationship.
Is it possible to revive the spark in a long-term relationship?
If you feel you need to learn how to bring excitement back into a relationship and that your relationship is getting boring, then maybe it's time to bring back the spark together.
Sure, you want to know if it's possible, and the answer will depend on your willingness to work together. If you do, then it's possible to rekindle the fire that you once thought was gone.
The fire of your relationship is never gone, but you need to work for it to keep it burning. If only one of you will give all the efforts, then it's no use. Bringing back the fire of your relationship is the work of two people in love.
Conclusion
You're in love, and you've been through so much. You know your partner loves you too, but somehow, you think that the fire of your relationship has been dull to the point where you have boring routines.
Then you realize that maybe you and your partner need to learn how to bring excitement back into a relationship.
The good news is that you can certainly bring back the spark of your relationship and enjoy the perks of having compassionate love with all the excitement of passionate love.
The secret is to work together. Once you do, you'll see how amazing it is to be in love and to look forward to a tomorrow together.
Share this article on
Want to have a happier, healthier marriage?
If you feel disconnected or frustrated about the state of your marriage but want to avoid separation and/or divorce, the marriage.com course meant for married couples is an excellent resource to help you overcome the most challenging aspects of being married.
More On This Topic
Recent Articles
You May Also Like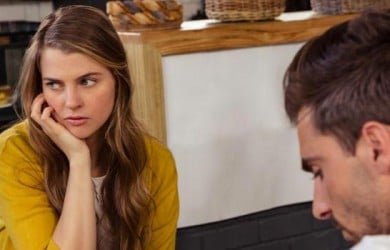 Popular Topics On Married Life