25 Signs He Is Seeing Someone Else
It can be difficult to give time to your partner and keep a relationship because of your busy life. Because of this, problems, such as your partner finding someone else for comfort, may arise. You might wonder, 'Is he seeing someone else?'
It's normal for him to admire other people. But it's different when he starts having an emotional attachment to them. Today, we'll go through the signs he is seeing someone else.
What does it mean when a guy is seeing someone?
A guy seeing someone usually happens at the start of a new relationship. Seeing someone means he's casually dating someone, but there's no serious intention yet.
He has this inner desire for this person, making him want to go out with them. Because of his high interest in another person, you can see signs that he's into someone else.
How do I know he's cheating if he says he's not seeing anyone else?
One of the clear signs he is in a relationship with someone else is if he's been doing things without you. You might notice that you spend less time together. When you try to contact him, he might be less responsive in calling or sending you a message. He might also cancel plans with you at short notice.
Why won't he tell me he's seeing someone else?
Well, there are a lot of reasons for that. One of which could be guilt. Most of the time, it could be because he does not want to be found out and wants the relationship to stay a secret.
25 subtle signs he is seeing someone else
What are some signs he is seeing someone else? Read on to know more.
1. He carries his phone with him all the time
It's not surprising that adults carry their phones with them everywhere. But, if your partner insists he needs his phone even when he takes a shower, he's likely hiding something from you.
Bringing his phone even on a short trip to the bathroom or taking out the trash is one of the signs he is talking to someone else. He has something on his phone that he does not want you to see.
2. He's less intimate
Though sex isn't the only form of intimacy, considering it unimportant is a mistake. If your partner suddenly doesn't have an interest in sex even though he's physically and mentally healthy, this is one of the significant signs he's moved on to someone else.
3. He gives you a lot of gifts
It's nice when your partner gives you gifts, but when he suddenly gives you a lot of gifts, this can be one of the signs he is seeing someone else.
The guilt can cause him to overreact to you by showering you with presents. Sadly, this action isn't likely the sign of love and devotion you thought it would be.
4. He often talks about another woman
If your partner often talks about a new colleague or friend, you can ask yourself, is he seeing someone else?
Does he always mention this person when he shares something? He's likely interested in someone if he's thinking about someone else so much that he can't stop talking about them.
Related Reading: 

25 Signs of a Married Man in Love With Another Woman
5. He tells you you're cheating
Constantly accusing you that you're cheating is one of the weirdest signs he is interested in someone else. It might be hard to believe, but some men cheat since they're worried their partners will do the same.
Because they're scared of getting cheated on, they decide to do it first. This action can be attributed to the fear of being left alone and insecurities.
To understand infidelity better, check out this book titled The State of Affairs by psychotherapist Esther Perel.
6. He suddenly takes care of himself
It can be nice to see your partner making an effort in his appearance and health. However, he might be doing these for other reasons.
When people cheat, they often feel like a new person. They feel more confident with themselves because of new love and desire excitement.
7. He frequently chats with someone but won't tell you who it is
A way of how to tell if he's seeing someone else is when he's chatting with someone late at night, especially if he only has a few friends.
The excitement of keeping the relationship a secret from you might be why he keeps doing it. He can feel the thrill when he takes the risk and doesn't get caught.
Related Reading: 

What to Do When Your Husband Is Texting Another Woman
8. He answers using one-word responses
A failure in communication can be one of the signs he is interested in someone else or starting to get interested in someone else.
If you only get a one-word answer after asking how his night out with his friends went, he might be hiding something from you. It's best to open up to him about this.
9. He starts fights
One of the signs he has moved on to someone else is he begins to notice every little imperfection you may have. You shouldn't be surprised if he starts strange arguments such as how you organize your kitchen or fix your hair.
Doing this can mean that he has found someone who breaks the monotony of your relationship.
10. He spends a lot
'Is he with someone else?' You can ask yourself this question if you notice his high credit card bills. Most men tend to give gifts to their new partners to keep the excitement of the relationship going. Therefore, this can result in a lot of spending.
11. He suddenly has a passion for new hobbies and interests
Have you spent many years trying to convince your partner to try new food or hobbies but to no avail? Then, suddenly, he shares how attractive a certain experience is?
This can be one of the signs he's in a relationship with someone else. That's because these new hobbies and interests don't just happen suddenly. He might be sharing them with someone else.
Related Reading: 

How Important Are Common Interests in a Relationship?
12. His everyday routine changed
You might have noticed your partner suddenly getting up very early to go to the gym when he always stayed in bed until the last minute before preparing to work. Sadly, this quick change in his everyday routine can indicate that he's cheating.
He might be making time for this new significant other. So, don't be surprised if his usual work schedule suddenly changes.
13. His friends are being friendly with you
There are times the guilt of being with someone else isn't limited to the person cheating.
If your partner's friends are suddenly very friendly with you if you haven't been that close before, it can be one of the signs he's seeing someone else and has talked about it to his friends.
Related Reading:

 Relationship Feels Like Friendship:15 Signs and Ways to Fix It
14. He has become insecure
Because affairs don't have the same security or commitment as relationships, people who cheat can show signs of insecurities toward their partners.
Therefore, your partner might be cheating if he becomes clingier to you or becomes more concerned about his appearance or success.
15. He has become less dependable
If you feel like your partner doesn't prioritize you as much as before, it can signify that he's found someone else. When he doesn't give much importance to your relationship, he would rather spend his time doing things without you.
Asking him when he would return after doing a specific activity, he would claim that he didn't know.
16. He expresses hatred towards others
Your partner rarely talks and suddenly is very eager to. You can ask yourself, "does he talk about how ugly others are?"
If you can relate to this, he could be trying to cover up his infidelity to make you feel more secure.
17. He tries to stop you from doing good things for him
Because there's guilt that comes with cheating, men who do this can try to stop their partners from doing nice things for them.
If he tells you not to get him any gifts or make him dinner, it can be one of the signs he is seeing someone else.
Some men can also manipulate by saying they're bad and don't deserve good things.
Related Reading: 

How To Deal With A Cheater? 7 Things To Note If You Have A Cheating Partner
18. He likes all of the posts of someone on social media platforms
Most people have affairs to find validation that they feel they're missing.
Men who cheat tend to show how much they like the person they're having an affair with by liking all the photos and posts on social media.
19. He doesn't talk to you anymore
Before, you and your partner might be able to talk about anything for hours. However, he's likely cheating if he suddenly does not want to have this intimate conversation with you anymore.
He likely has someone else who makes him feel more interested in having casual and deep conversations.
20. He doesn't kiss you when you're having sex
Sex is intimate, but when someone's cheating, it becomes significantly less intimate.
Some signs he is seeing someone else is he skips foreplay doesn't look at you during sex, and won't kiss you while doing it. These can indicate he's thinking about someone or something else.
21. He constantly wants to have sex
While others don't want to have sex when they've found someone else, some men want to do it constantly. One likely reason is his urge to do it is to feel rejuvenated.
Related Reading: 

10 Ways to Handle Being Pressured Into Having Sex
22. He says he's working for longer hours
Most men would want to give any excuse not to be with their partners when they're cheating. One way for them to do this is to work longer or pretend to work longer.
23. He talks about a "cheating" friend
Some men are careful when they've found someone else, but there are some who talk about it.
Most cheating men would want to check how their partners react to cheating by telling a story about someone they know who's "cheating." They can also ask what their partner would do if they were in the same situation.
24. His fashion sense changed suddenly
If his wardrobe is usually a shirt and jeans and suddenly, he wears suits, someone might be trying to influence his style.
Aside from having a great body, most cheating men want to make sure they look fashionable and attractive to their new partners.
25. He thinks you're crazy for accusing him of cheating
Cheaters won't admit to anything and deflect all the accusations thrown at them. If you confront your partner about it, he'll likely tell you that you're irrational and too jealous.
Related Reading: 

15 Tips on How to Stop Being Jealous in Your Relationship
What do you do when a guy starts seeing someone else?
How do you handle it when your partner starts showing signs he is seeing someone else? Here are some tips that can help.
1. Don't attack the other person
This means you shouldn't talk badly about the other person they are seeing. You shouldn't consider them competition and compare yourself to them. It won't help to stress yourself over your hatred for them.
2. Don't chase him
It's an indication for you to move on if he found someone else. You shouldn't be stubborn with your feelings. When you chase him, you'll likely end up hurting yourself more and worse when you chase him, causing drama.
3. You shouldn't think you're not worthy of love
You might feel the world ending because of missing an opportunity for true love. But you must remember that you're not unwanted or ugly because he found someone else.
Not all men are like him, so other men will be interested to know and love you better. The right one will value you and find you beautiful.
In this video, Coach Nat, a relationship expert talks about insecurities after you have been cheated on, and how to handle them.
4. It's his loss
Your perspective should be the opportunity he missed by giving up on your relationship. He let the chance go of having an ideal partner. So, remember, you didn't lose anything when he chose to see someone else.
5. Move on
It is a good thing even though you're feeling disappointed, hurt, and betrayed. That's because you realize how he feels about you. You don't have to waste effort and time on him. He decided to see someone else, so it means you can start meeting others, too.
6. Don't worry about being single
You might be worried that you'll be alone. But you must remember that you'll feel unhappy if you're in a relationship with the wrong person. Being single can be the best experience for you to discover yourself.
Takeaway
Finally, you better understand how to know if he's seeing someone else. One of the most common signs is that he doesn't give you as much time or attention as before.
You might ask, "He is seeing someone else; what do I do?" You have to keep in mind that these signs are not definitive. It's best to talk to him or go to counseling for professional help.
Share this article on
Want to have a happier, healthier marriage?
If you feel disconnected or frustrated about the state of your marriage but want to avoid separation and/or divorce, the marriage.com course meant for married couples is an excellent resource to help you overcome the most challenging aspects of being married.
Learn More On This Topic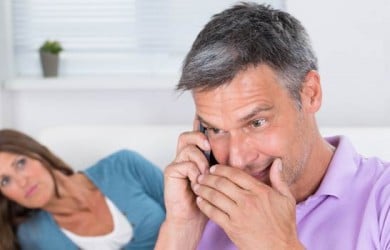 You May Also Like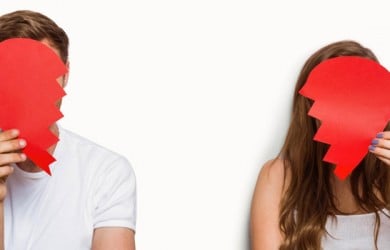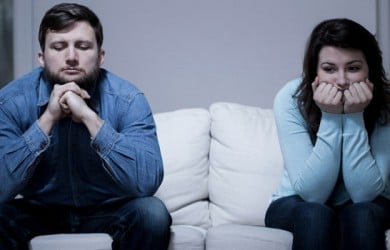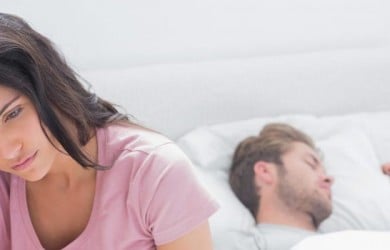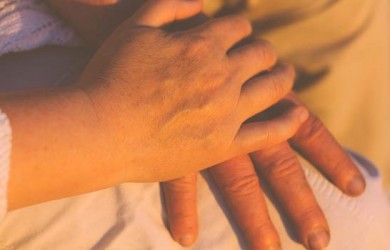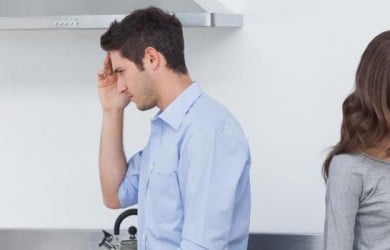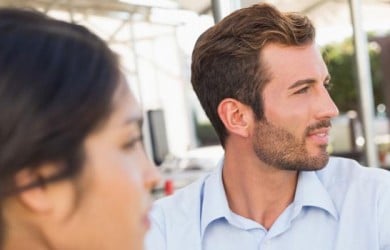 Recent Articles
Popular Topics On Marriage Help