What Is Sexual Aversion Disorder?
Sex is an integral part of our lives. We grow up and discover ourselves, our sexuality, and many other experiences that will influence us.
Each of us has our way of discovering our sexuality, and most of us don't encounter any issues about it.
But what if you discover signs of sexual aversion disorder?
What if you notice signs of psychological discomfort when you're trying to become sexually intimate? How can this affect you and your relationship?
Let's understand what aversion to sex is and how to deal with it.
How is Sexual Aversion Disorder defined?
When it comes to disorders about sexuality and sex, people have difficulty opening up. It's because they are afraid of being judged and ridiculed.
Most of them are already aware that they are experiencing signs and have already felt that something is different, but they are too afraid to seek help.
One of these conditions is called sexual aversion disorder or SAD.
What is sexual aversion disorder?
Sexual aversion disorder definition revolves around a person who exhibits extreme fear towards any form of sexual contact.
It's the recurrent avoidance of any form of sexual stimulation, contact, or even sexual intimacy with their partner.
Sexual aversion disorder (SAD) can affect both men and women.
In many ways, the people who have reported experiencing sexual aversion disorder have similar symptoms with an anxiety disorder rather than sexual.
What can cause Sexual Aversion Disorder?
In discussing the etiology of sexual aversion, there is little information about it and even its prevalence. It is, however, a subcategory of Hypoactive Sexual Desire Disorder or HSDD.
Studies showed that sexual aversion disorder is higher in women than in men.
In women, PTSD or post-traumatic stress disorder from traumatic experiences causes sexual aversion disorder. It may include trauma from molestation, rape, incest, or any form of sexual abuse that they have experienced.
A woman who's a victim of any form of sexual abuse may exhibit severe aversion to any intimacy. Even though the love and attraction are there, the trauma will remain for abused victims.
A touch, a simple hug, or a kiss can trigger panic.
It's one of the most heartbreaking side-effects of abuse. Some victims will have a hard time moving on from the trauma. Even if they get married, SAD can still manifest.
Because of the said trauma, any form of sexual intimacy that reminds them of their past can cause aversion.
Anxiety often causes sexual aversion disorder in men about their performance or size.
Some men who have experienced sexual trauma or issues about their size and performance can severely affect their confidence. This may lead them to avoid any sexual contact.
Soon, the anxiety can grow, and before they know it, any chance of sexual intercourse will trigger a panic attack.
Of course, the effects of panic or anxiety attacks will make arousal difficult, making the situation worse.
Sexual aversion tackles not only intercourse alone, but the aversion of sexual elements like semen can also define it and acts that may lead to sex, such as cuddling and kissing.
Also Try: 

Are You Good at Sex Quiz
What are the Sexual Aversion Disorder signs to watch out for?
When it comes to sexual aversion disorder symptoms, there is only one characteristic to watch out for – the aversion to any form of genital or sexual contact with someone.
Depending on the sexual aversion disorder causes and how the person has dealt with the issue, the severity of the aversion may vary.
Some people may avoid any form of contact, even holding hands, in fear that this act

may lead to sex

.

Some people who have sexual aversion disorder can already manifest anxiety just by the thought of being intimate.

At the sight of semen or even vaginal secretions, others can cause disgust and aversion.

There are other people with sexual aversion disorder who may feel revolted at the thought of being intimate.

Even kissing

can be unbearable for them.

Those who have sexual aversion disorder because of performance issues can avoid sexual contact because they're afraid of not satisfying their partners.

Panic attacks are a common reaction for people who have dealt with sexual abuse in the past and can lead to vomiting and fainting when faced with situations that remind them of their past trauma.
People dealing with sexual aversion disorder will suffer from different discomforts.
It's an unimaginable battle for each person with sexual aversion disorder.
Because of lack of information and support, they have to deal with the fear, the physical and psychological effects of sexual aversion alone.
Depending on the level of sexual aversion disorder, a person may experience some of the following:
Shaking

Palpitations

Nausea

Vomiting

Extreme fear

Dizziness

Breathing difficulties

Fainting
How it's like to deal with Sexual Aversion Disorder
A person experiencing sexual aversion disorder would often resort to diversion techniques to avoid being intimate with their partners.
They are often not comfortable explaining what they are feeling to their partners or even have doubts about getting treated.
Some diversion techniques used are:
Neglecting one's appearance so they would be unattractive.

They can also pretend to be asleep or just go to bed early to avoid any situations that could lead to intimacy.

They focus their whole time on work or household chores, so they won't have time to get close to their partners.

They can also choose work that involves relocation or frequent travel. This way, they don't have to

spend so much time with their spouse

.

Some people with sexual aversion disorder can pretend to be sick just so their partners would stop flirting with them or attempt to make love.
Sexual Aversion Disorder Types
After talking about sexual aversion disorder meaning; we also need to be aware of the two different types of sexual aversion disorder.
As of now, there are two types of sexual aversion disorder, and they are:
1. Acquired sexual aversion disorder
This means that a person may show signs of sexual aversion disorder just in a specific relationship with someone.
Also Try: 

What Is Your Sexual Fantasy Quiz
2. Lifelong sexual aversion disorder
A lifelong sexual aversion disorder may stem from past trauma, overly strict sexual background, and even sexual identity problems.
The effects of sexual aversion disorder in relationships
Sexual aversion disorder is a tough challenge in relationships.
Some people who have this disorder would choose to use diversion techniques rather than open up with their partners. Sadly, their partner would notice the pattern of avoidance.
Without proper communication, this can cause resentment, causing more damage to the person who has the disorder.
Aside from that, intimacy in marriage or partnership is essential. Without these foundations, a relationship will not last.
This can cause failed relationships.
A person who constantly battles sexual aversion disorder and ends up with failed relationships will eventually have poor social well-being and confidence.
Watch this video by therapist Kati Morton where she explains more about sexual aversion (also called erotophobia) and asexuality, to get a better idea:

Is it possible to get better from sexual aversion disorder?
Most people suffering from sexual aversion disorder refuse to seek professional help.
Even their friends, family, and partner might not even know the battle they are going through.
Those with sexual aversion disorder due to performance issues don't want to divulge private details to people, especially their partners.
That's why they would rather avoid intimacy and sexual acts rather than face humiliation.
The people who had to suffer trauma like rape, incest, molestation, or any form of sexual abuse will be too afraid to face those demons again.
Medical treatments, for them, would mean reliving their painful past and undergoing sessions that will be too stressful for them. They would also choose to suffer in silence than to open up.
Agreeing to professional help can also cause heightened anxiety to the patient.
However, it's the only way to address the issue.
If they don't seek treatment, the person with sexual aversion disorder will end up reliving failed relationships, unhappiness, low self-esteem, infidelity, and most of all, divorce.
Also, people with sexual aversion disorder may have other comorbid disorders, making them hard to diagnose.
A patient with sexual aversion disorder may also suffer from sleep apnea and a major depressive disorder. This can be pretty confusing to diagnose since two other disorders can also contribute to HSDD or hypoactive sexual desire disorder.
Sexual aversion disorder (SAD) treatments
Is there any form of sexual aversion disorder treatment available?
The answer is yes.
Today, many treatments are available to help deal with and treat sexual aversion disorders.
First, assessment is necessary.
There will be different sexual aversion disorder tests and interviews to help determine the cause, effect, and treatment necessary for the patient.
Some treatments available are:
1. Medications
Some patients may require taking medications similar to those given to people who have panic or anxiety attacks. They have also used hormonal replacements as an effective way to help treat sexual aversion disorder, depending on the cause.
However, you can only opt for these medications with approval and prescription.
Remember, do not self-medicate.
Not all people with sexual aversion disorder can be treated by taking medications. Those who have suffered from sexual abuse and trauma will need a different approach. Self-medicating may lead to substance abuse.
 

Also Try: 

Do I Have a High Sex Drive Quiz
2. Psychological treatment
This treatment mainly involves the help of a licensed sex therapist.
Most commonly used to treat acquired sexual aversion disorder, the therapist focuses on unresolved issues, resentments, communication problems, etc. This treatment usually addresses the couple together and resolves any issues that might affect one of them, causing sexual aversion.
For example, if a person has concerns about their performance, the therapist will create a plan for the couple to overcome the triggers causing the aversion.
It's crucial to only ask for help from a board-certified sex therapist.
3. Systematic desensitization
This treatment works by slowly introducing the patient to a list of subtle sexual activities.
Each level will expose the patient to increased triggers that may cause anxiety under the supervision of the licensed therapist.
Relaxation techniques and ways will accompany each level to deal with the stimuli.
This program aims to familiarize the patient with the stimuli that causes panic attacks or fear until they overcome the triggers before moving to the next level.
There will be many levels to work on, but the progress will depend on the person suffering from SAD. This treatment is all about facing your fear, dealing with triggers, and learning how to control your anxiety.
Also Try: 

When Will I Have Sex Quiz
4. Integrative treatment
In some cases where the sexual aversion disorder had stemmed from sexual abuse and trauma or if the effects are too severe, this treatment is preferable.
Integrative treatment is a combination of different programs from different professionals.
It may be a mix of treatments from psychologists, physical therapists, physicians, and sex therapists.
They would work together to address different issues concerning the patient's sexual aversion disorder.
Conclusion
People experiencing sexual aversion disorders are going through a lot.
There can be many reasons why a person develops sexual aversion disorder or sexual aversion disorder. If this disorder causes their partners to be offended or hurt, can you imagine what this can do to the person experiencing it?
The feeling of anxiety or even panic attack at the slightest trigger of intimacy or sexual contact can cause so many physical symptoms from trembling, nausea, dizziness, and palpitations.
Aside from the physical effects of the disorder, relationships will also suffer.
There is a way to get better.
Treatments are available, even for people who are experiencing severe SAD effects. The first step is to have the strength to open up and accept help so you can get better.
It's hard to talk and open up, but it's the first step to getting better.
With the help of professionals, proper treatment can be available. They will also make sure that they will guide you every step of the way.
Remember that you don't have to keep everything to yourself.
You deserve freedom from fear, panic, and anxiety. You owe it to yourself to seek treatment to get better. You deserve to live a normal and happy life.
The road to getting better from sexual aversion disorder may not be that easy, but it will be worth it.
Soon, you'll start enjoying intimacy and healthy sex life with your spouse or partner.
Share this article on
Want to have a happier, healthier marriage?
If you feel disconnected or frustrated about the state of your marriage but want to avoid separation and/or divorce, the marriage.com course meant for married couples is an excellent resource to help you overcome the most challenging aspects of being married.
Recent Articles
You May Also Like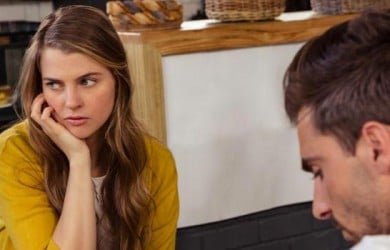 Popular Topics On Married Life