5 Reasons Why Exploring Sexuality Within a Marriage in Important
Exploring sexuality is an expedition that takes time and inner strength while being vulnerable at the same time. Here, one must allow themself to experiment and stumble upon exciting findings.
Although most new couples would wish for the honeymoon phase to last forever, the experienced ones know that the later stages of a relationship can be just as exciting and even more. All the aspects – physical and spiritual, together contribute to an overall happy marriage.
Intimacy and enjoying sexuality are important areas of discussion that shouldn't be left ignored in a relationship, especially if you're facing confusion or dissatisfaction. For this, you should know how to explore your sexuality, and how to talk about sex with your partner, no holds barred.
What is exploring sexuality?
Exploring sexuality means knowing your sexual likes, dislikes, preferences and the willingness to seek knowledge that will lead to a happy and satisfying physical relationship with your partner.
The importance of exploring your sexuality within marriage is not only about exploring sex, but first and foremost, it is about strengthening intimacy, developing trust, sexual communication and learning how to love ourselves.
How to explore your sexuality?
The journey of understanding one's sexuality starts at the moment you first question your desires and wants in an intimate relationship. It's alright if you want to take your time processing these feelings instead of jumping to conclusions.
Think of it as a process of discovery and exploration. Try to gain knowledge about aspects that are new to you. Talk to people, read books and find more authentic sources of information around it.
Ask questions to yourself and answer them. Do not freak out if those answers don't turn out as per your beliefs. While you introspect on determining your sexuality, take a break and embrace your true identity.
Some people wonder 'can you change your sexuality?'. So, take note here that the answer is always no. It's a natural instinct just like any other emotional urge you feel.
5 reasons why exploring your sexuality within marriage is important
From the term 'exploring sexuality,' you might derive the sole purpose of understanding. But there's more to it. While in a relationship or a marriage, knowing your sexual needs is liberating and contributes to mutual satisfaction.
1. Contentment
It might sound silly but knowing our own needs and desires can be something we might not be entirely aware of. Discovery is the first step in figuring out sexuality and leads to clarity on what you truly want.
A simpler interpretation of understanding your desire is thinking about certain detail that interests you more than others. For this part, you can write down all the things that you know you already like, things that you would like to try, and things that you are not interested in trying.
As you get on the journey of exploring your sexuality, you will become more aware of your emotional states, motivations, and urges.
It helps in building a good relationship not just with your partner but with yourself, too. So, the question is not only what you want to do but also what makes you feel satisfied. This can refer to either a specific situation or your sex life in general.
Moreover, while exploring sexuality, remember that this is not something you are supposed to understand the first time you think about it. On the contrary, it can be slightly concerning at the start. So be open, kind, and patient with yourself through the journey of sexual exploring.
2. Compatibility
Sexual compatibility within a marriage is not limited to having similar sexual needs. It includes being on the same page regarding areas of interest and preferences. It's possible for you to not feel satisfied within marriage even though you enjoy having sex with your partner.
Once you're fully aware of your sexual desires, you can realize what causes maximum pleasure and maximum discontent. It allows you to work on areas that can contribute to your marital satisfaction.
Sexual awareness also encourages you to be open with your partner on topics of intimacy. Nobody can engage in sex talk without exposing their vulnerabilities, so discussing sex with your partner will not be easy unless you're clear on what you want to say.
Related Reading

: 

15 Signs of Compatibility Between You and Your Partner
3. Confidence
Confidence is a key value to have in life. Multiple factors affect the amount of confidence we possess and demonstrate. Awareness of your sexual self can boost your confidence multiple folds. There may be individuals who feel under confident due to sexual confusion and an inability to communicate the same.
It makes you feel confident and positive when you begin to explore your sexuality and talk to your partner about it. You will be able to find a good place to start improving your sex life in general and feel more hopeful about it.
You can utilize this confidence in picking yourself up every time you feel let down by a certain event or aspect. You can also feel prepared when faced with a new sexual experience and not feel intimidated. As a confident person, you'll be able to engage in activities wholeheartedly.
Related Reading

: 

20 Things You Can Do To Feel More Confident In A Relationship
4. Communication
The conversation about sexual exploration in marriage needs to happen in a neutral setting.
Discovering your sexual identity gives you a platform to talk about it too. Communication is important in any marriage and the knowledge about your wants and needs only adds up to its credibility.
Try to direct the initial part of the conversation towards intimacy and being able to feel completely safe, honest, and free in front of each other. It is important to acknowledge if there is anything barring you from fully enjoying yourselves.
Don't expect every conversation to solve the issues at hand right away. Aim to be able to state your thoughts at first. It's important to listen and avoid judging at any point of time.
Feeling comfortable talking about one's own sexual needs sometimes takes practice, but it's the basis of a fulfilling married life.
Learn more about discussing sex with your partner through this video by sex therapist Vanessa Marin:

5. Cultivation
Exploring sexuality opens up horizons you never knew existed. Knowing yourself is the purest form of awareness, making you learn not just about yourself but the people around you. You will be able to attain a state of wisdom within yourself.
While you understand yourself, you will come across many sources and resources for gaining knowledge, discovering potential and embracing reality. Perhaps, you will also learn several facts about the LGBTQ+ community.
This knowledge can reach more people who are in need of it and are probably struggling with sexuality and dealing with similar anxieties in their life.
You can share your knowledge with others and keep the conversation around this topic going. It is important that people feel the need to discuss sexual orientation more.
Got questions? It's okay!
It's obvious to have questions about exploring sexuality. This one is a less-explored genre for many couples and calls for a proper discussion. Although feeling weird or uncomfortable about this topic is also an understandable trait, we should be willing to take this theme forward.
Why is it important to explore sexuality?
As we have discussed in detail, exploring sexuality is important on several levels and aspects. Sexual self-discovery is not restricted to experimenting with partners of same-sex, it is a deeper concept that people seldom realize.
Exploring sexuality is necessary to fully exercise the freedom of expression and be decisive about what you want from a partner. It affects not only your sex life but your overall romantic equation.
Is it normal to explore sexuality?
Many of us abandon the thought of exploring our sexuality, fearing judgment from society, family and friends. This idea has been confined within stereotypical notions of right and wrong, leaving individuals scared and confused forever. What's your sexuality type shouldn't be a matter of shame for you.
As controversial as it may sound, exploring sexuality is completely normal and healthy for any person. It is no use to linger in uncertainty, feeling repressed and dissatisfied over and over again.
Exploring sexuality is liberating!
Sexual exploration is not about finding comfort with whatever you have in your life even when you are urged to look beyond. It's about finding a voice to convey the things you like or doesn't like about sex, without feeling intimidated by a person, event or situation.
If you still feel unable to convey your feelings to your spouse, you can try couples counseling through a professional therapist.
Marriage is about partnership and if gaps are allowed within this framework, it can lead to disharmony and disappointment. It is important to that you let yourself uncover all the aspects of sexual pleasure not just for your but also for your partner's sake.
Share this article on
Want to have a happier, healthier marriage?
If you feel disconnected or frustrated about the state of your marriage but want to avoid separation and/or divorce, the marriage.com course meant for married couples is an excellent resource to help you overcome the most challenging aspects of being married.
More On This Topic
You May Also Like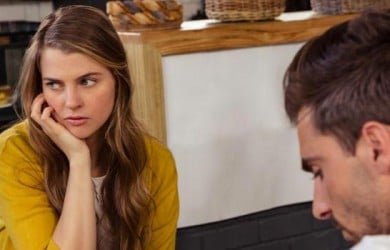 Popular Topics On Married Life