Respecting Boundaries: Meaning, Example and Why Is It Important
Setting and respecting boundaries are important components of any healthy relationship. Be it casual friendships, romantic relationships, or cliques in the workplace, it is non-negotiable that you understand the boundaries set by other people in these relationships and, very importantly, respect them.
While many set out to respect boundaries, they find themselves doing it all wrong, invariably causing the relationship to wither. This is why it becomes vital to investigate boundaries and respect, look at some ways to respect the boundaries of others, and, crucially, why it is all important.
But first…
What does it mean to respect boundaries in a relationship?
Before you can respect boundaries, you need to know what it means.
So, what are boundaries?
The Britannica dictionary defines boundaries as "unofficial rules about what should be done: limits that define acceptable behavior."
Simpler put, boundaries are emotional and mental lines people draw to ensure their wishes are kept and not overturned. These boundaries make it easy to separate a person's thoughts from those of others, and it can be as simple as not ringing up their phone past a particular hour or being called nicknames without their consent.
This brings me to an essential element as far as respecting the boundaries of others is concerned; consent.
As a rule of thumb, you always want to ensure that you seek consent and don't ever assume it is given. And there's no more straightforward way to ensure consent than to ask questions.
"Would you mind if I … ?"
"Can you kindly… ?"
"When would it be okay to …?"
Questions like these are a great way to seek content, at the same time respecting boundaries in a relationship.
5 examples of respecting boundaries
Still wondering how to respect boundaries? Here are five examples.
1. Communicate
According to research by Marie-Miche` le Boisvert et al., communication, or the lack of it, is one of the prevailing problems in most relationships and is usually one of the first few doors any relationship therapist would knock on during marriage therapy.
The inability to communicate effectively with a partner or other invested parties in any relationship makes it near impossible to recognize and set boundaries, let alone respect them.
You guessed it; the first step is finding ways to communicate with your partner or other people in the relationship. You can experiment with different communication tips that would make it easier to recognize boundaries and respect their boundaries.
2. Not confusing your boundaries for theirs
It is near effortless to imprint your expectations on your partner. Without care, you can impose your beliefs and preferences, which would inadvertently cause you to infringe on their boundaries.
You must accept that people are different and that sometimes they might act in ways you consider unacceptable. The sooner you realize these differences, the sooner you will be on your way to respecting them.
3. Respect their decisions
If their answer to your request is no, you should accept no as an answer. Even when you are convinced that their decision might be lacking, you should try to reason with them and understand why they have come to this decision instead of bullying them into changing their minds.
In the event that you are unable to make them see reason with you, you should respect their decision. Make it known that you hold no grudges and will put the relationship's health ahead of ego and any need to be right in the conversation.
Related Reading: 

10 Reasons Why Respect Is Important in a Relationship
4. Allow them their autonomy
Just as important as respecting their decisions is respecting their rights as fellow human beings. We often get carried away thinking we know what is best for people around us and often forget that they know themselves best and what works for them.
Even in situations where you have the purest intentions, it is still important to leave adults the opportunity to fend for themselves, even if it might lead them to mistakes. This way, they learn their lesson and appreciate your intention to help avoid the mistake.
5. Boundaries can change
Relationships do not develop in a linear progression; no road map dictates how things would build with no clear end or starting point. Things could go stronger, and sometimes they might wane. There would be times in the relationship when they would give consent, and it does not mean it can not be rescinded.
It is crucial that you keep an eye out for these changes; if you are lucky, they will communicate them verbally, and other times you might have to resort to interpreting non-verbal cues.
Related Reading: 

15 Ways of Setting Boundaries in a New Relationship
Why is it important to respect boundaries?
Having exhaustively answered the "What does respecting someone's boundaries mean" question, let us look at why it is important to respect boundaries and how it does a lot of good for all parties involved.
It ensures your boundaries are respected too
One way you can demand respect without having to utter the words "respect my boundaries" is by being an example. If you show by way of respecting the other party's or parties' boundaries, it invariably shows the advantages and why there is a need for it in your relationship.
Just by respecting other people's boundaries, you are paving the way for your boundaries to be respected too. While it might not have an immediate effect, you should trust the process.
A plus to respecting boundaries in any relationship is that it makes everything crystal clear.
It allows you to understand the dynamics in the relationship better, to understand yourself (based on your reactions to the differences in the other party) and your partner, as they become more expressive when allowed autonomy and their decisions respected.
It promotes self-development
Most people who don't respect boundaries in their relationships often show narcissistic traits.
Their inflated self-worth makes it challenging to see beyond themselves and to appreciate their partners' individuality or other people in the relationship. This can cause them to be seen as less desirable and, consequently, find it challenging to establish and maintain interpersonal relationships.
Unsure how to tell if you are involved with a narcissist? This video offers some telltale signs:
However, the ability or even the willingness to learn to respect other people's boundaries is a good step towards tackling the problem and self-development. It shows intentionality and a zeal to be better for the people around you.
It builds trust and intimacy
Once people start to see that you respect the boundaries they have set and decisions they have made, it allows them to trust you more readily. This way, they can see that you have begun to accept your differences, ultimately bringing all parties closer.
Related Reading: 

15 Ways on How to Build Trust in a Relationship
Fosters healthier and more fulfilling relationships
The only outcome when all parties to a relationship set and respect boundaries is a healthy relationship. This is because it allows people to be their truest selves without fear of being judged; they maintain their self-identity without compromising on the benefits of being in the relationship.
More questions on respecting boundaries in relationships
Check out more questions on respecting boundaries in the relationship:
What are some toxic boundaries?
Simply put, it is known that toxic or unhealthy boundaries are behaviors that can harm yourself or other people in the relationship. Some of these toxic boundaries can be mental, physical, or emotional. They include but are not limited to the following:
1. Control over other people
When one partner tries to take over, control, and manipulate all aspects of the other's life, it can create an unhealthy boundary.
This can be in the form of choosing or not allowing them to make friends or socialize with their friends, and it can be convincing them that they can not do anything on their own nor make decisions concerning the relationship.
2. Physical force
This is another way to control and manipulate the other person or people in the relationship, but this time with physical force. It can range from hair pulling and shoving to hitting, kicking, and choking.
How do you begin to respect boundaries?
Congratulations, you already figured out the first step seeing as your curiosity and need to respect boundaries in your relationship have already caused you to seek answers.
The next thing to do is stay curious and vigilant as you look for verbal and non-verbal cues that might give you an idea of what boundaries have been set. If you are ever unsure, you should consider asking questions.
What are the signs of boundary issues?
There are many signs, but the most obvious is not putting up any boundaries. If you cannot prioritize yourself in relationships or struggle to tell people what you think and how you feel most of the time, chances are that you have boundary issues.
Other signs include:
You feel like no one listens to you

You often feel like someone is taking advantage of you

You share everything about yourself with anybody who cares to ask
A recap
For a relationship to work, boundaries must be set and respected. These boundaries ensure that individuals are not lost in these relationships and maintain a semblance of their individuality. The challenge, however, is that most people set different boundaries, and reconciling them can often lead to chaos.
One way to maintain order in these relationships is by coming to terms with these differences, EVEN IF you do not understand them. This is where mutual respect for each other's decisions comes to the fore and prevents unhealthy relationships or resentment.
Share this article on
Want to have a happier, healthier marriage?
If you feel disconnected or frustrated about the state of your marriage but want to avoid separation and/or divorce, the marriage.com course meant for married couples is an excellent resource to help you overcome the most challenging aspects of being married.
More On This Topic
Recent Articles
You May Also Like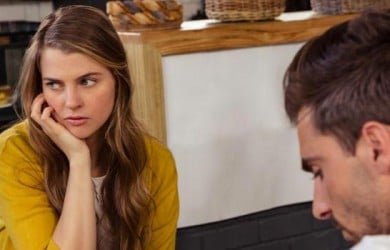 Popular Topics On Married Life