10 Ways to Handle Sexual Incompatibility in Relationships
For many couples, sexual intimacy is an important part of a relationship. It helps couples to strengthen their bond and enjoy each other's bodies.
When you find that there is sexual incompatibility in the relationship, you may worry that it's not going to work out, but this doesn't have to be the case. Learn how to manage when you're not sexually compatible with your partner.
What is sexual incompatibility?
Sexual incompatibility in marriage refers to differences in sexual needs, preferences, and desires. For example, a couple who struggles with sexual incompatibility may have different views regarding how often they prefer to have sex. One partner may prefer sexual intimacy three times per week, whereas the other may only require this type of intimacy a few times a month.
Partners can also have different opinions and preferences regarding sexual activities. Some may prefer more "vanilla" sex, whereas their partner may have a range of fantasies and prefer novelty.
The bottom line is that sexual incompatibility occurs when there is a disconnect between what one person wants and what their partner wants sexually.
What makes partners sexually compatible?
There are several factors that are generally regarded as contributing to sexual compatibility in marriage. These include:
Talking about sex

Knowing each other's sexual preferences

Meeting each other's sexual needs

Being able to

resolve sexual problems

Agreeing on the frequency of sex

Shared opinions on whether non-vaginal intercourse, such as oral sex, will be a part of the couple's sex life

Agreement on preferred sex positions

Agreement on methods of contraception

Similar sleep/wake schedules
As seen in the list above, sexual compatibility depends upon several factors. Couples may be compatible in some areas but differ in others. Because of this, sexual compatibility can be said to occur on a continuum.
Additional factors, such as being physically attracted to your partner and feeling like the sex is enjoyable, can also be signals of sexual compatibility.
Why sexual incompatibility doesn't end a relationship?
Physical intimacy can be an important part of a relationship, and extreme issues with sexual incompatibility can take a negative toll on the relationship. However, sexual incompatibility in marriage doesn't have to end a relationship.
Here's why:
It's unrealistic to expect to be completely compatible with your partner.

Sex is just one part of the equation.

In most cases, you must engage in teamwork to build sexual compatibility with your partner.

You can grow together as a couple, learning to become more compatible with each other.

Having identical sexual needs and preferences could actually get quite boring over time.

Sometimes, sexual incompatibility is just a temporary struggle. For instance, one person may be coping with significant stress, which temporarily reduces sex drive, or they may have a medical problem that interferes with their sex life and is resolved with treatment.
10 ways to improve sexual compatibility
If you find yourself noticing, "I'm married but sexually incompatible with my partner!" you may begin to panic or worry that the relationship is doomed. Fortunately, this isn't the case, and there are steps you can take to improve your compatibility.
Sexually incompatibility can be overcome by using some or all of the following strategies:
1. Talk about new things you'd like to try together
While some couples may feel an instant spark and sexual chemistry, in many cases, sexual compatibility is built over time. This can be achieved by trying new things together to find out what works for both of you.
2. Remain open-minded and flexible
Relationships require compromise, and this applies to sex as well. Your partner may have some interests that don't immediately appeal to you, but if you remain open-minded and try some of their fantasies, you may find that you have more in common than you once realized.
3. Establish strong communication
If you want to improve your sexual compatibility, you must communicate with each other about your wants and needs. This requires ongoing conversation.
Related Reading: 

7 Ways to Start Sexual Communication and Overcome the Difficulties You Face
4. Avoid blaming or criticizing
When two people have different sexual preferences, it doesn't mean one person is wrong or to blame for the differences. If you are sexually compatible with your partner and want to improve your compatibility, it's important to avoid blaming your partner for your sexual problems.
5. Have fun exploring
Couples often wonder what to do when sexually incompatible, and one of the best answers is this: have some fun! Differences in sexual preferences are an opportunity to explore together and learn what each of you likes.
6. Rule out underlying medical issues
In some cases, sexual incompatibility results from a medical problem, which will resolve with treatment.
For example, thyroid problems can interfere with sexual desire, arousal, and satisfaction. Seeking treatment for underlying medical problems can alleviate sexual incompatibility altogether for some couples.
7. Consider other areas of your marriage that work
We live in a sex-focused society, but there is more to a marriage than sexual intimacy.
If you aren't exactly on the same page sexually, put things into perspective by focusing on other areas of the partnership that are going well.
Maybe you don't agree completely on sexual frequency, but you have great communication, see eye-to-eye on parenting, and have shared goals for the future.
Related Reading: 

20 Things a Couple Can Do to Strengthen a Marriage
8. Rethink your idea of what constitutes sex
If things aren't clicking when you have sex, you may have to expand your definition of sex. Remove some of the pressure by exploring areas other than penile-vagina intercourse.
You might find that you enjoy oral sex together or sensual touching. This can open the door to an improved sex life.
9. Respect the journey
You can't expect that you'll be sexually in tune with your spouse at all times. Instead of expecting a blissful sex life, respect that learning about each other's sexual preferences is a lifelong journey, and both of you will evolve over the course of the marriage.
10. Consider couples counseling
Sexual incompatibility can be overcome using the tips mentioned above, but some couples may benefit from professional intervention.
Going through couples counseling together can help you better understand each other's needs and strengthen your communication, which can be helpful for addressing sexual issues in the relationship.
Some commonly asked questions
Here are the answers to some commonly asked questions about sexual incompatibility between partners that can help you clear up some doubts:
Can sexual incompatibility be a deal breaker?
Whether sexual incompatibility in a relationship is a deal breaker depends upon the nature and severity of the incompatibility and whether both partners are willing to work together to address their differences.
In many cases, sexual differences are expected when two people come together in marriage. By working together to find areas of agreement and trying new things together, many sexual incompatibilities can be resolved.
However, if sexual incompatibility is so severe that you and your partner cannot enjoy sexual intimacy, and neither of you is willing or able to compromise to improve your sex life, the relationship may not last.
Watch this video to learn more about the signs of relationship compatibility:
Is sexual compatibility a big deal?
The significance of sexual compatibility is unique to each relationship. Some couples may place high importance on sex; in that case, sexual compatibility is pretty important.
On the other hand, some couples believe that sex is just one aspect of the relationship and that sexual differences can be addressed so that both partners' needs are met.
Final thoughts
When you know what it feels like to be sexually incompatible with your partner, you may be worried or frustrated. Maybe you care about this person and want the relationship to work, but sex just isn't meeting your needs.
If this sounds like your situation, you may be relieved to learn that sexual incompatibility can be resolved, and it doesn't mean the end of a relationship. Expecting your partner to be 100% in agreement with you regarding matters like sexual frequency and preferred sex positions is just plain unrealistic.
Like anything else in a relationship, sex needs to be discussed. The two of you may have different preferences and opinions regarding sex, but when married couples are committed to open communication, they can resolve these differences.
Most of the time, if you have a healthy relationship and are intentional about meeting your partner's needs, you can create a sex life that is satisfying for both of you. You're not alone if you have difficulty getting on the same page.
Working with a couples therapist can help you to communicate more openly about sex and create a relationship that meets both of your needs.
Share this article on
Want to have a happier, healthier marriage?
If you feel disconnected or frustrated about the state of your marriage but want to avoid separation and/or divorce, the marriage.com course meant for married couples is an excellent resource to help you overcome the most challenging aspects of being married.
More On This Topic
You May Also Like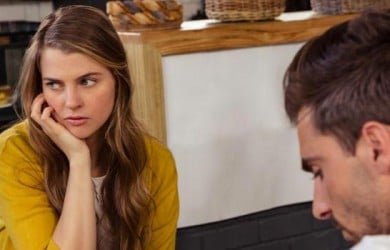 Popular Topics On Married Life