Hypersexuality and Relationship: 6 Signs & Tips for Couples
Exploring your sexuality and having an active sex life is normal.
It's a part of being human and a part of our lives to be in tune with our sexuality, but what if you have a condition called hypersexuality?
Do hypersexuality and relationship affect each other, and how can you confirm if you have it?
What is the meaning of hypersexuality?
One of the most common reasons couples drift apart is the lack of interest in sex, so having a fiery desire for it may sound good, right?
Well, not really. As they say, too much of a good thing can also be destructive.
So, what is hypersexuality?
The term hypersexuality is the extreme urge or craving for sexual activities. It's when a person shows signs of hard-to-control sexual thoughts, behaviors, and fantasies.
Other terms for hypersexuality are compulsive sexual behavior, hypersexuality disorder, and even sex addiction.
Hypersexuality is no joke. The effects of this sexual relationship disorder can be severe.
Imagine compulsively seeking or acting your sexual desires even though there are consequences not just to you but to other people as well?
When a person can no longer control the symptoms, hypersexuality and relationship can affect each other and cause problems in the relationship.
We also need to understand that hypersexuality is not the same as having a high sex drive.
Most of us will encounter a phase in our lives where we feel a surge of sex drive, but that doesn't mean that we already have hypersexuality.
What is the cause of hypersexuality?
Most of us would want to know what causes hypersexuality and how being in a relationship with a sex addict can affect your relationship.
There have been many debates and studies surrounding hypersexuality and relationship effects. Many scientists believe that triggers cause hypersexuality.
Here are just some of the potential factors that have been studied linking to what triggers hypersexuality:
Substance abuse/Medication
People who are taking certain medications can cause side effects leading to hypersexuality. Some people who are under substance abuse have also been diagnosed with hypersexuality.
People who have certain mental health conditions can also cause hypersexuality behaviors. People suffering from bipolar disorder hypersexuality happen when they are in their manic state.
Some studies suggest a connection between sexual trauma and hypersexuality. People who have had mental, physical, and sexual abuse are at a higher risk of showing signs of hypersexuality symptoms.
Chemical imbalance in the brain
People who have a chemical imbalance in their brains can cause them to show hypersexuality traits or a lack of interest in any form of sexual pleasure. For example, some studies have shown that an imbalance with dopamine can trigger hypersexuality.
Hypersexuality and relationship effects are more common than you think.
In fact, according to a study, roughly about 3 to 6% of our adult population here in the United States alone has shown signs of hypersexuality.
Experts say that the numbers may be far greater than what is shown in surveys. It's because most people experiencing the signs of compulsive sexuality in a relationship are too afraid to ask for help.
6 signs of sex addiction and hypersexuality
Hypersexuality and relationship effects are unavoidable. Some people discover their hypersexuality in marriage and others even before that.
Have you felt that something is wrong with your sexual urges?
Knowing the signs of hypersexuality disorder can help you understand this condition better.
Here are some of the signs of a person who has hypersexuality disorder.
Related Reading: 

 Breaking the Sex Addiction Cycle
1. You have uncontrollable sexual thoughts
Even though you're trying to be busy, your mind is still filled with sexual thoughts.
At first, they may seem pretty naughty and fun, but when the time comes that your hypersexuality and relationship meet, then you will realize how negatively it can affect your life.
Uncontrollable thoughts about sex can disrupt not just your personal life but also your work.
2. You suffer from excessive masturbation
Masturbating is normal for healthy people. In fact, masturbation can offer many benefits, but hypersexuality causes a person to do it excessively.
It's one of the early signs of being hypersexual.
People who suffer from the hypersexual disorder may masturbate multiple times a day. It's often accompanied by watching pornography or even engaging in phone or chat sex with their partner or just anyone willing to do it.
3. Obsession about a sexual fantasy
Bipolar hypersexuality in marriage can take a toll when a person suffering this condition becomes obsessed with someone they can't have.
This is another sign of hypersexuality disorder that is very dangerous. When someone develops a sexual obsession with someone they can't have, they develop risky and inappropriate acts just to have sex with this person.
The obsession can lead to extreme flirting, stalking and constant advances.
Not everyone who is suffering from hypersexuality will experience this, but if they do, it's still not a valid excuse to act dangerously.
Related Reading: 

9 Most Common Sex Fantasy of a Woman Revealed
4. Your only focus is sex and how to get it
When your sexual thoughts start to rule over your mind and interfere with your life, then you might already be hypersexual.
People who have hypersexual disorder could not help but fantasize about sex and everything about it – all the time.
It starts to consume their time until they can no longer work or give time to more important things.
They also begin to distance themselves from their friends, spouse, and even their own kids.
Soon, they will succumb to a fantasy world that revolves around sex.
Related Reading: 

Why Sex is Important for Health: 8 Reasons Sex Backed by Science
5. Frequent extramarital affairs
One of the most common hypersexuality and relationship effects is having extramarital affairs.
People dealing with hypersexual after marriage can engage in extramarital affairs, not just with one person, but with as many as they can.
They will also take whatever chance they have to try out one-night stands.
Even if they are already destroying their marriage, family, and even themselves, their addiction to sex controls them.
6. Always craving for sex
Having hypersexuality and relationships will always get mixed up.
A person with this disorder will always attempt to engage in physical contact to the point where they would disrespect their spouse.
It's not every day that we're in the mood to have sex, right?
Aside from this, if you have kids and work, they would also be compromised, not to mention your partner's respect for you.
How can hypersexuality affect relationships?
Hypersexuality and relationship with your partner or spouse will always be connected.
Sadly, people who have hypersexuality will or may hurt their partners and family. Despite their efforts to manage or control this desire, it continues to control their lives to the point where they start to see the effects that it causes.
Some of these consequences are:
After engaging in another extramarital affair or a one-night stand, the person who has hypersexuality may start feeling guilty. However, the urge to commit sexual acts is stronger. This creates a cycle of guilt and urge.
Many people suffering from this condition may have already tried to control their urges but have failed multiple times. The feeling of guilt and frustration builds overtime.
A person with hypersexuality only focuses on one goal – sex.
Sadly, time with his spouse and kids are no longer being met. They become strangers living in one home.
Related Reading: 

Six Things that Can Destroy Your Relationship
The expenses of going on dates just to have sex, buying porn, sex toys, and paying for hotels can accumulate, leading to financial debt.
Susceptible to substance abuse
People engaging in reckless one-night stands and extramarital affairs are more likely to belong to the wrong crowd. They can start getting addicted to alcohol and drugs as these substances heighten the senses, making sex better for some.
Related Reading: 

How Drug Addiction Affects Relationships?
A person experiencing hypersexuality may end up losing their job.
Even at work, they can't control their desire for lust, and often, their concentration only centers on watching pornography.
Skipping deadlines, losing projects, and being unproductive will end their career. Not to mention if this person has shown sexual advances to their co-workers.
Because of frequent one-night-stands and extramarital affairs, a person with hypersexuality has a greater chance of contracting HIV or other sexually transmitted diseases.
This also means passing the STD to your spouse. It's one of the saddest hypersexuality and relationship consequences that one has to face.
A person with hypersexuality may also develop mental health conditions such as anxiety, distress, depression, and even suicide.
These people know that there's something wrong, yet most of their efforts fail, which can lead to frustration and the conditions mentioned above.
If a person with hypersexuality disorder gets out of hand and develops substance abuse. This can lead to dangerous acts, such as harassment and other offenses stemming from sex and substance addiction.
These are just some of the most common consequences when a person suffers from hypersexuality.
Most of the time, people who are aware of the condition or the signs are too afraid to seek help. They are scared of being ridiculed and being an outcast in society.
Is hypersexuality treatable?
The answer is yes.
If you want to know how to stop being hypersexual, then the first step to changing your life is by accepting that you have this condition.
Hypersexuality can be treated by professionals through one or a combination of these treatments.
1. Psychotherapy
People suffering from hypersexuality disorder are given the tools to manage their condition. The therapy will involve dealing with intrusive sexual thoughts and learning to control them.
Treatment may include CBT or Cognitive behavioral therapy; Acceptance and commitment therapy, and even psychotherapy.
2. Self-help techniques
A person suffering from hypersexuality needs to understand its causes and triggers.
This way, the person would know how to deal with or cope whenever intrusive sexual thoughts start. Some may discover that they have been using sex to deal with stress and other emotions, which can be altered by the help of a professional.
This is where stress management and relaxation techniques are practiced.
3. Medications
Certain approved medication can help the person with their sexual thoughts. Of course, you can only opt for this if your healthcare prescribes them.
Medications may include:
Mood stabilizers

are also used for

bipolar disorders

, but they can also help control the urges of hypersexuality.

Anti-androgens

are used to control or reduce the effects of the body's sex hormones or what we know as androgens in men. This is often prescribed for men who have trouble controlling their sexual advances.

Antidepressants

will cater to treating depression, anxiety, and even OCD. This can help if a person who has hypersexuality also shows signs of depression.
How can you cope with hypersexuality?
Most people feel ashamed that they have this condition. They don't want to be called sex addicts, and they think about what the people around them would think.
Don't let fear control you. Here are some ways to cope up with hypersexuality.
This means that you have to stick to your treatment plan and be patient. It will take time. So, be patient and trust the process.
Remember you are doing it for your wee-being. Even if you hear comments, don't quit. Do it for yourself and for your loved ones.
Don't be hard on yourself and try to do it all alone. May it be your counselor or someone you trust, talk to someone. You need all the support that you can get.
You're not the only one who's suffering from hypersexuality, and you don't have to suffer alone. Join groups that aim to support each other until you get better.
There could be several positive and negative thoughts in your head. Don't let distractions get to you. You have one goal and focus on getting better.
Related Reading: 

4 Steps to Win Your Partner Back Post Sex Addiction and Betrayal
Conclusion
Dealing with hypersexuality and relationships is not easy, but if you have the will to change your life, then you can.
If you want to learn how to cope with hypersexuality, you first need acceptance. Then, you can seek the help of professionals.
You'll be given ways that will be comfortable for you and you can use them to cope and manage your symptoms.
Like any other mental condition, it will be challenging at first, but with the help of professionals, your will, and the love and support of your family, you can do it.
Soon, you'll be able to live a peaceful life with your loved ones.
Share this article on
Want to have a happier, healthier marriage?
If you feel disconnected or frustrated about the state of your marriage but want to avoid separation and/or divorce, the marriage.com course meant for married couples is an excellent resource to help you overcome the most challenging aspects of being married.
Recent Articles
You May Also Like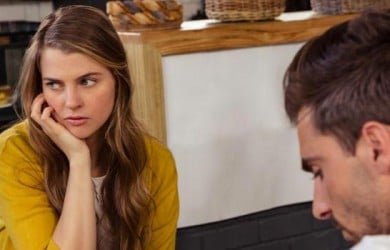 Popular Topics On Married Life