21 Valentine's Day Ideas for Married Couples
Most couples who have been married for a while believe that Valentine's Day is nothing but a Hallmark holiday. But are there any Valentine's Day ideas for married couples that are about celebrating their genuine love for each other?
It is possible that only naive young couples in romance-brimming relationships tend to fall for the commercial Valentine's frenzy. Married couples often dismiss the artificial commercialized Valentine's Day, but unfortunately, they may also end up ignoring the true essence of this day.
Amidst juggling kids, chores, and jobs, couples often forget to express love and care for each other. Valentine's Day for married couples can be the day for them to rejuvenate their relationship and spend some quality time with each other.
What can married couples do on Valentine's Day?
It can be challenging to come up with Valentine's Day ideas for married couples as there may be little motivation to do something different or plan out something. But doing something that is not a part of your routine can add new energy to your marriage.
There are so many options for you to choose from for married couples. You can choose to do something grand or intimate. You can plan something out with other couples, or you can plan something to do as a couple.
When thinking about what to do on Valentine's Day with your wife or husband, think about what you would enjoy as a couple. You should do something that will bring you closer to your partner, not prove some point about you as a couple.
Ways to make your partner feel special on Valentine's Day
Make it personal.
Unlike young couples, you have been with your spouse for some time now. Marriage ensures that couples get to know each other's likes and dislikes deeply. You can use this knowledge to determine what would make your partner feel special.
Creative things to do for Valentine's Day should be considered but with your partner's likes and dislikes as the driving force behind it at all times.
What does your partner like? Have an answer? Now plan things around that.
Related Reading

: 

Romantic Phrases & Sayings to Make Your Partner Feel Special Everyday
21 Valentine's Day ideas for married couples
Valentine's Day is the day to celebrate love and show affection and gratitude to your partner. With diminishing intimacy and simmering romance, often married couples are the ones who need Valentine's Day the most.
Treat Valentine's Day as the perfect occasion to add a burst of romance to your relationship.
So, here are some romantic things to do for Valentine's Day. Married couples can use these essential tips if they have been brooding over what to do on Valentine's Day.
1. Make a new tradition
One of the impactful Valentine's Day ideas for married couples is to pick an activity of your and your partner's choice specifically. You can watch a romantic movie, go for a picnic, a short romantic getaway, or have dinner at a fancy restaurant every year.
Make this activity a tradition for Valentine's Day in the following years. This tradition will remind you to celebrate love and fuel your relationship every year on this day.
Although you both could be indulging in some of these activities on other days, when you give it a touch of celebration, the same action can spark some excitement and joy in your routine life.
2. Reminisce old Valentine's Days
All married couples were once young and passionate lovers. You and your partner must have some sweet memories of your early Valentine's Day celebrations.
Reminisce about those days and maybe relive them with your spouse.
You can celebrate this Valentine's Day the way you did when your relationship was new. This can be very fun, an exciting change in your married life routine.
Related Reading: 

How to Keep Your Marriage Exciting
3. Spend the day with each other
If you have small children, hire a babysitter; if you have teenage children, send them away. Do your chores and run your errands in advance to make yourselves free for the day and spend it only with your partner.
If the two of you take a break from the routine chores and thoroughly enjoy yourselves, you can come back to your everyday life feeling rejuvenated.
Research shows that quality time spent by couples with each other can affect relationship satisfaction significantly.
The two of you can do whatever you want to do together, go for long walks, talk to each other for hours and you will be surprised to learn new things about each other even after all these years.
Related Reading: 

Making Time For You And Your Spouse
4. Give gifts
As cliche as it sounds, giving gifts on Valentine's Day can never go wrong. Things may be overpriced on Valentine's day, and it is perhaps foolish to buy gifts at that time.
But, gifts are not about money. It's the thought behind the gift that counts.
However big or small, give a thoughtful gift to your partner this Valentine's Day; it will bring a positive change in your relationship.
5. Surprise your spouse
If you feel that there is nothing that you can do to make this day memorable for both of you, you need not go entirely out of your way to please your spouse.
You can surprise your spouse by doing the little things they want you to do, but you end up not doing them.
So, think of all the possible things that your spouse least expects from you. It can be anything from cleaning up the room to doing the dishes or buying groceries or sprucing up the lawn.
At first, your spouse might take time to recover from this pleasant shock. But, undoubtedly, they would be completely bowled over and remember your sweet gesture for years.
6. Spa dates
Life can get hectic, so this Valentine's Day you can go on a relaxing spa date with your partner.
Getting massages and spa treatments is one of the best Valentine's Day ideas for married couples. It can help you truly have a calm day that provides healing energy to you both as individuals and as a couple.
7. Get your sexy on
Valentine's activities for couples can always include some sexy time with your partner.
If you are looking for Valentine's Day ideas for married couples, you can surprise your partner by wearing a sexy outfit. Or you can try out something new in the bedroom that excites both you and your partner.
Related Reading: 

Sexy Lingerie Styles That Will Drive Your Husband Crazy
8. Recreate your first date
Nostalgia is a magical stimulant. So, use it to your advantage when thinking of Valentine's Day ideas for married couples.
Think about your favorite date as a couple and find ways to recreate the same for yourself. A walk down memory lane will re-energize your marriage by remembering everything that made you fall for your spouse.
9. Look at old pictures
Looking for romantic Valentine's Day ideas? Grab a drink and go through old pictures with your partner.
Pictures from all the different phases of your relationship will take you on a journey through all the beautiful memories you have made with your spouse. You can laugh and smile together while talking about all the fun you had.
10. Go on a trip
Marriage can become monotonous if you don't change things up.
So, one of the best Valentine's Day ideas for married couples is to get away and go on a relaxing vacation with your spouse. It will breathe new life into your marriage by taking the stress of everyday life away so that you can enjoy the day with your spouse.
11. Dress for your spouse
Take time to dress your best for your partner this Valentine's Day.
Seeing you all dressed just for them will make them feel special and loved by you. It is the perfect Valentine's Day surprise as it will make both of you feel good too, and it will also set a romantic mood for the day.
12. Handmade gifts
You don't have to spend a lot of money to enjoy your Valentine's Day. Valentine's gifts for couples can be handmade too.
You can create something unique with your own hands and give it to them. This will be one of the good Valentine's day ideas for married couples as the gifts will be personalized, and you don't have to overdraw your monthly budget.
Related Reading

: 

Gift Ideas for Couples
Watch this video for some easy handmade gifts that you can make for your spouse:

13. Breakfast bliss
If you want Valentine's Day ideas for married couples, you can start the day right by making a romantic breakfast for your spouse.
As you are married to each other, you would know your spouse's favorite breakfast recipes. Make something that they like, something sweet and set the table up beautifully with some flowers.
14. Leave love notes
The magic is in the details.
One of the easier Valentine's Day ideas for married couples that doesn't require too much planning is writing and leaving love notes for your partner throughout the house. It will bring lighthearted fun back into your marriage.
Related Reading: 

15 Most Romantic Things to Do on Valentine's Day With Your Bae
15. Try adult games
Do you think your marriage has lost the spark? Try some adult games like strip poker to turn the heat on.
For you, Valentine's Day ideas for married couples can include researching some sexy games that you may not have played before with your spouse. Have a drink if that helps you get rid of your inhibitions and be less embarrassed when you play these games.
Related Reading:

 20 Hot Sex Games for Couples to Play Tonight 
16. Share love playlists
Both you and your partner can create your personal playlists of love songs and then share them with each other.
Sharing playlists is one of the better Valentine date ideas for married couples, as it does not involve too much effort. It can help set the mood for a romantic evening right at home if you don't have the time or energy to step out.
17. Bake something sweet
Most of us enjoy a delicious dessert, so why not make one with your spouse?
Don't pick a complicated recipe that will stress you out. Choose a simple recipe and make it fun so that you can have fun with your spouse, both while making it and eating it. Baking also offers psychological benefits that will enrich your relationship.
18. Try a fun hobby
Sometimes things can get a bit stale in a relationship. You can try a fun new hobby with your partner to refresh your relationship.
A new hobby can help you discover new things about your partner and see how they figure new things out. If it is your first Valentine's Day as husband and wife, this could help you bond together and learn to work together.
19. A lavish dinner
Valentine's day ideas for wife and husband can include going out on a fancy dinner.
If you are married to each other, it can be a treat to dress up and eat dinner together. It can give you a chance to have pleasant conversations and enjoy a date night without worrying about work.
20. Sultry dancing
Things to do for your wife on Valentine's Day can include dancing together.
Dance can help you break any residual tension after a fight before Valentine's Day. Whether you dance well or you don't, it can help you break down the walls and sensually stimulate your senses.
21. Attend a stand-up comedy show
If you are looking for something fun, you can surprise your spouse with tickets to a comedy show.
Going to a stand-up comedy show is one of the enjoyable things to do for your wife on Valentine's Day. It can give both of you a chance to laugh together and enjoy a stress-relieving moment with each other.
Also Try: 

The Fun Compatibility Quiz- Can You Two Have Fun Together?
Final takeaway
Being a married couple doesn't imply that the fun part of life is over. You don't have to merely pull through your lives by getting weighed down by the un-ending responsibilities of your house, kids, parents, managing finances, and things alike.
Being a married couple gives you an edge as you know your partner better and completely understand what would piss them off and what would genuinely make them happy. Married couples can use this fact to their benefit and recharge their relationship.
So, if you have been married for a while and are happy with your relationship, then you must celebrate Valentine's day. You should take some time out to thank your partner for their support, express your love and affection, and make efforts to replenish your relationship.

Share this article on
Want to have a happier, healthier marriage?
If you feel disconnected or frustrated about the state of your marriage but want to avoid separation and/or divorce, the marriage.com course meant for married couples is an excellent resource to help you overcome the most challenging aspects of being married.
More On This Topic
You May Also Like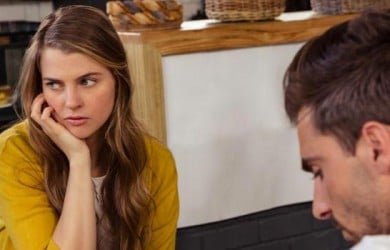 Popular Topics On Married Life