Break or Break Up? 3 Reasons to Break Up Instead of Taking a Break
There comes a time in our lives when the heart opens up to someone, the stomach becomes too small to contain the butterflies fluttering inside and the mind can't think of anything else but that one person that has suddenly become the reason behind our smile.
You both can't keep your hands to yourself, and can't bear to stay apart from each other (no thanks to responsibility). And everything is rosy and dreamlike until it's time to wake up.
Screaming becomes the order of the day and yelling is the only way you communicate with each other. Anything other than that is silence which can last for as long as the next day. You no longer understand your partner. They are not who you fell for in the beginning.
You are confused, you are not sure if you have reasons to break up or want to stay because a part of you still believes in what you had in the past. But the situation gets worse each day than the previous day; giving you reasons to break up and why you both should be apart instead of together.
At this point, it's either breaking up or giving each other a break/ space, especially when you have tried to make it work but it's just not working.
I once chose to give a break to the relationship. Things were going south and the sparkles were no longer there when he suggested we give each other a break (no contact at all). I was scared because I would be doing without him for the first time, confused because it was a lot to take in, and then I was hopeful because the break was only going to last for 2 weeks.
I counted days, nights until the two weeks. It was difficult not talking to someone you used to talk with on a regular basis for two weeks but it's all for the best, perhaps the sparkles will return afterward.
You only have to imagine how happy and surprised I was when he called me before the end of our 2 weeks break. He misses me after all; I thought but he wanted us to still complete the 2 weeks break.
I respected his opinion not because I had loads of patients inside of me but I had loads of his pictures and texts he sent when the going was full of sparkles. They were like the Christmas presents you see under the Christmas tree a few days before the day you have to open it; you just can't wait.
Knowing what I know now, I should have taken the time to figure out myself and what I wanted instead of waiting on the two weeks break to be over.
Here are the reasons to break up and why I would prefer it instead of a break.
Yes! I know it sounds final. What with the lingering feelings of the happy moments post-breakup? You are not sure you want them out of your life. You are yet not sure of your reasons to break up with your partner
Either way, feelings after relationship breakups, that is, heartbreak is inevitable whether you break up with them or give each other a break. The heart will always want what it wants even when you two don't talk anymore.
So why not break up? Here are some of the serious reasons to break up:
Break up is final
There is something different about building your hope around something and watching it fall apart and when you don't keep hope that things won't fall apart. It's the pain.
When there is a reason to break up with someone, it is assumed after the couples breaking up, the people involved will come back stronger.
What happens when after the break-up- one person is hopeful about the relationship while the other is uncertain?
It becomes a deep pain that could have been avoided for the hopeful party who perhaps has built castles in the air during the break on how things were going to be perfect. It is equally painful for the party who is doubtful of the relationship; knowing the reason for the break but didn't know the feelings were never coming back after the break.
Why not make it a sharp pain like when you are pricked with a needle by breaking up?
Your whole being would be conditioned to feel the pain from the heartache especially if you still have lingering feelings. Unlike giving each other a break, where you don't know what to expect, whether you both will come back still in love or out of love. A relationship is something you don't force. It takes two to tango before it can work.
So what happens when one party is still in love while the other is out of love? It becomes complicated, something you both were trying to avoid.
Break up and the heart will heal when you give it time. Give it a break and place a gamble on your heart. You might know what to do after the breakup or what to expect.
But guess what? One of the reasons to break up is that there would be an absence of anxiety in waiting.
New experience (new love)
What do you do when you meet someone while you are on break in your relationship?
Of course, you would say no if you still have feelings for your 'on break' partner or you would say yes if you no longer have feelings. But there is also a slight chance that you wouldn't care if you still have feelings or not and go with the flow. The bottom line is your decision will be influenced by the 'on break' relationship situation and will either hurt you or your said partner.
Again this is the answer to what are good reasons to break up. You both would know where you stand in each other's lives and are open to a new experience that won't hurt either of you.
Life is all about change and change comes with new experiences. We live, love, and die.
Breaking up will give you room for new experiences and not restrict you with the uncertainty of a break in a relationship.
And you can through that experience, decide what is best for you.
Build yourself again
The goal is to fall and rise again stronger not to remain down. After break up, the next step should be to heal and build yourself again, so you could become a better person it doesn't matter if you want to be single or mingle again.
The uncertainty in giving each other a break is like a time bomb waiting to detonate. You won't heal from the pains that caused the break up if after the break up you learn it's over.
Another reason to break up with someone is that it gives you time to heal, discover yourself again, and analyze what you did wrong and avoid it in your next relationship.
In the video below, Psychologist Guy Winch reveals how recovering from heartbreak starts with a determination to fight our instincts to idealize and search for answers that aren't there.
A break in a relationship will give you something to look forward to and we all know what happens when our expectations are not met.
Don't be like me that spent the two weeks break in my relationship, counting days until I will see my partner again instead of living the days. We all make mistakes but it stops being a mistake if we make the same mistake every day.
Instead of giving each other a break why not break up and rediscover yourself again. This is something that will help you in life, in your next relationship or if you want to get back together.
In the end, the ball is still in your court. I hope these reasons to break up will be able to guide you to make the best decision for yourself. But in all remember that break up doesn't mean you can't ever get back together.
Share this article on
Want to have a happier, healthier marriage?
If you feel disconnected or frustrated about the state of your marriage but want to avoid separation and/or divorce, the marriage.com course meant for married couples is an excellent resource to help you overcome the most challenging aspects of being married.
More On This Topic
You May Also Like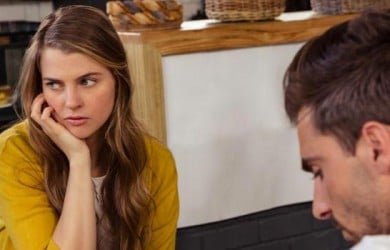 Popular Topics On Married Life