What to Do After a Breakup?
What happens when you wake up from a dream and realize that the person you love is not "the one" and you're left with a broken heart? We've all been through this. Did it make you wonder what to do after a breakup?
One of the questions we're going to ask ourselves is what actions help and hinder a breakup. The truth is, we've all experienced heartbreak at some point, and it helps to know the best approach on what to do after a bad breakup.
Your love was true, so expect that you will need time to heal positively. A person can get over a breakup with ease if they take the right steps and assess their behavior regularly.
Read on to learn more about what you can do after a breakup.
20 things to do after a breakup
When faced with a bad breakup, the first thing that you'll feel is denial and shock. It might feel like someone is stabbing your heart, which might be one reason why heartbreak is such a perfect term for what we feel.
Need tips on what to do when dealing with a breakup? How do you just "move on," and where do you start? Do you just erase your love when you realize that all those love, promises, and sweet words had meant nothing?
After a heartbreak – yes, things do get better but don't expect it to be better in an instant. Here are a few tips that can help you learn how to feel better after a breakup:
1. Give yourself time
Wondering what to do after a breakup? First, go easy on yourself and give yourself time to process your emotions calmly. Expecting too much from yourself too soon can change the path of your recovery post-breakup.
It takes time to stop hurting after a breakup; downtime to recover helps one reorganize their thoughts and deal with them more appropriately. Rushing through the feelings after a breakup can often lead to unresolved feelings that affect people for a long time.
2. Delete contact information
Yes, that's right. Sure, you might say that this won't work because you know your ex's phone number by heart, but it does help. It's one step towards your recovery. While at it, you can also remove anything that will remind you of their existence. It's not being bitter; it's moving on.
When you feel the urge to talk or to at least have closure, and you're tempted to call one last time – don't.
Instead, call your best friend, your sister, or brother – anyone who you know would help you or just divert your attention. Just don't contact your ex.
Related Reading: How to Get Closure After a Breakup
3. Embrace your emotions
What to do after a breakup with a boyfriend or girlfriend? Well, let out your emotions, just not in front of your ex, so don't try calling them. Cry, scream or get a punching bag and hit it as hard as you can.
You might ask why? Well, it's because you are hurting, and if you let it all out, it will help you.
The most common mistake that we make is hiding the pain, and that just makes it worse.
Let yourself feel the pain – listen to sad love songs, cry, write all your feelings on paper, and burn it. Scream or hit a punching bag like you're in a boxing arena. All in all, let it all out and deal with the pain now.
4. Accept reality
You know that it's over, right? You know this inside your heart, so why hold on to their promises? Why obsess over the reasons behind the breakup? It happened because it did, and your ex had their reasons, and that's it.
Accept the fact that it is over now and instead of making plans on how to win your ex back, make plans on how you can move on.
5. Social media purge
Still, stalking your ex on social media? Try to stop yourself right away. Delete all your social media applications for a few days, as it will give you a chance to purge yourself from its influence.
Social media has a way of keeping you informed about what your ex is up to, even after you have parted ways. You have access to their lives and words even after their separation, which can impact your mood daily.
Social media stops you from moving from your ex, as you don't get a chance to get away from them. An update from them can send you reeling into a state of anger, frustration, jealousy, or sadness.
Related Reading: 8 Ways Social Media Ruins Relationships
6. Plans with friends
Trying to figure out how to handle a breakup can be stressful. But the best breakup advice is to make plans to hang out with your friends.
Meeting friends can give you a chance to recharge and refresh your mind. You can vent out your emotions in front of your friends, as well as have a good time with them.
Life after breakup can seem hopeless and lonely. But friends offer a chance for you to forget your pain and rediscover yourself in a new way. They remind you that you can have a wonderful time and can enjoy yourself, even without your ex.
7. Try exercising
Even if you don't feel like getting out of bed, try to get your body moving. Exercising benefits include mental and physical betterment.
You can try to do some simple exercises that might help elevate your mood. Also, exercising keeps you mentally and physically engaged, which helps drive away unnecessary thoughts about the breakup from your mind.
8. Yay self-care
Have you lost the motivation to do little things for yourself post the breakup? Things to do after a breakup should include some self-care activities.
Find activities that help you relax and rejuvenate after a tough breakup. You can try meditation, going to the spa, or spending time with your pet. A recharged brain will help you feel cherished and cared for and not as vulnerable after a breakup.
9. Count your blessings
What to do after a breakup? Say thank you!
Make a list of all the things that you are grateful for, and have a look at it every day. Reminding yourself of all the good things that are a part of your life will help you get out of a negative headspace.
A separation from your partner might make life seem meaningless and empty. But by recognizing all the good things, people, and experiences in your life, you can learn to smile again.
10. Interiors revamp
A new look, for a new outlook.
Interiors impact the psychological well-being of their occupants in various ways. Every space holds memories of the past, and changing it can give you a fresh perspective.
Your room and home might hold memories of the time that you spent together with your ex. By changing the look of these spaces, you can remove the traces of your past from your present surroundings positively.
Change the curtains, add an indoor plant, use a throw, add some cushions or change your furniture's positioning. With just a few tiny steps, you can add a fresh vibe to your space and make it positive.
11. Get traveling
If work gives you a chance, take a break, travel to a new place, and enjoy an exotic vacation.
You can either travel alone or go on a vacation with friends or family. Either way, travel will help you get a chance to enjoy a new space and give you a fresh perspective on your problems.
Going to a new location can also help you avoid thinking about the sadness and anger associated with your breakup. And who knows, you might even be able to forget your pain entirely while you are there.
12. Retail therapy
Indulge a little and buy things that will cheer you up. Get yourself a new piece of clothing, a watch, a new piece of technology, or anything else that will make you smile ear to ear.
Shopping might not be on your priority list, as the breakup might be weighting your spirits down. But shopping is not a frivolous activity, especially when it can give you happiness during a tough time.
13. Take up a new hobby
What to do after a breakup? Develop a new and exciting hobby.
Take a risk and go for the activity that has always pulled you towards it. A new hobby can give you a chance to rediscover yourself and your limits, but it can also be simply fun.
Go scuba diving, try pottery, join a dance class, learn a new language, or do anything else that excites you. Bring back the energy into your life, and maybe make some new friends while you are at it.
14. Connect with family
Now that you are single, why not make the best of this moment and spend some quality time with your family.
Family time can ground you and remind you of what is truly important in life. It can help heal your wounds and make you strong after a breakup. Family can be a great support system during tough times.
15. Get busy
Avoiding your emotions is not advisable when learning how to overcome a breakup. However, it is also important not to overindulge in your feelings.
Find ways to keep yourself busy in productive ways so that you don't end up obsessing over the breakup for a long time. Try to achieve more goals at work, read a book, learn a new skill or take up a new project.
16. Journal
Get writing! Journal your feelings as it is an excellent way of processing your feelings.
If you are trying to figure out what to do when you break up, consider keeping a journal where you write down how you are feeling on a daily basis. You can also journal whenever your feelings post a breakup are overwhelming you.
17. Set aside their things
Relationships entail momentos and gifts being given to each other. But after a breakup, these things are painful reminders of your ex and the love you shared.
So, if you are wondering what to do after a breakup with a girlfriend or boyfriend, you can put aside your previous partner's things or gifts given by them. You can put them in a box so that they are out of your sight.
18. Respect yourself
What not to do after a breakup? Don't beg for your ex to reconsider or ask them to try again. Respect yourself.
No matter how hard or painful, you need to respect yourself even if you don't have any closure. Don't beg someone who doesn't want to be with you anymore.
It may seem harsh, but it's the truth that you have to hear. You deserve more than this – know your worth.
19. Routine for night-time
Wondering what to do after a breakup, especially during sleepless nights? Set a routine.
The stress and anxiety associated with a breakup can disturb the sleep routine of most people. In the silence of the night, thoughts of your ex might haunt you.
Try to maintain a soothing routine at night and follow it strictly. It might be challenging to stick to it initially, but eventually, your body will respect the pattern, and you will be able to get sound sleep every night.
20. Seek help
Breakups can be extremely painful. But what to do after a breakup should depend on what state of mind you are in.
If you are coming out of an abusive or intense relationship, professional help might help you process your feelings better. Expert advice will guide you through the pain and trauma that you might be experiencing.
What not to do after a breakup
Knowing what to do after a breakup is easy, but doing it is the real challenge, but as long as you know what you have to do and have your loved ones and friends here for you. You'll have everything you need to move on and start a new life.
Apart from the things that you should do after a breakup, there are some things that you should avoid, as they limit the pace and scope of your healing. Here are some pointers on what not to do after a breakup:
1. Don't have breakup sex
As tempting as it might be, resist the urge to go back to your ex. It puts you at risk of falling back into an unhealthy relationship with your ex.
Breakup sex can be hot and stimulating because the feeling of losing your partner makes the sex more passionate. However, it is not healthy as it can help you ignore the problems that you had with your partner.
2. Don't contact your ex
You and your ex broke up because something was wrong, which wasn't working for either or both of you. But it is easy to forget that when you are missing them desperately post the breakup.
Your might find things to say after a break up with your ex, which will give you a chance to connect with them again. But, connecting with your ex can slow down your process to move on by keeping you wrapped up in your feelings for your ex.
3. Don't get into a rebound
Moving on from your ex is important, but it should happen in a timely and organic manner. If you try to escape from the pain of your breakup by rushing into another relationship, it will not be healthy for you.
Rebound relationships lack organic connection, as often you imagine the connection you are feeling in a desperate attempt to move past the pain of your past relationship.
Check out this video to understand more about rebound relationships and why they often don't work:
4. Don't compare yourself
No two people are the same, and no two breakups are the same either.
Comparing yourself to other people, their relationships, and their ability to move on faster will stress you out. It also has the potential to make you act in ways that might be harmful to you in the long run.
Also, try not to compare yourself to how your ex seems to be dealing with the breakup. It will keep you wrapped up in your feelings towards your ex, and make you feel jealous and insecure.
5. Don't indulge in unhealthy habits
Cheers? Maybe not
When one is going through a tough time, alcohol or smoking can act as a crutch. Consuming these things in unhealthy quantities can be harmful to your health and lead to long-term issues. You might even develop an addiction to alcohol or smoking, which will be very hard to get over.
Related Reading: The 7 Stages of a Breakup and Tips to Heal Faster
Conclusion
Mending a broken heart is not easy. Sometimes it becomes unbearable, especially when memories haunt you or if you see your ex happy with someone else. It's just normal to feel anger, pain, and resentment.
We're humans, and we feel pain, and no one is counting how fast you can recover – so recover in your own time and accept everything slowly.
Use the list of dos and don'ts here to help you figure out what to do after a breakup. It will guide you through what might be a painful time and help you get past it with ease.
Don't feel weak when you cry and don't feel pity when you feel alone. Remember that there are people who love you and will support you.
Share this article on
Want to have a happier, healthier marriage?
If you feel disconnected or frustrated about the state of your marriage but want to avoid separation and/or divorce, the marriage.com course meant for married couples is an excellent resource to help you overcome the most challenging aspects of being married.
More On This Topic
You May Also Like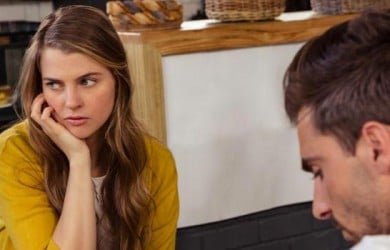 Popular Topics On Married Life