20 Useful Tips to Repair an Unhappy Relationship
It is known that human beings cannot thrive in the solitude of mind, body, and spirit. Therefore engaging in healthy relationships is an important part of a fulfilling life.
Being in relationships is a necessary part of a healthy and successful living. Relationships enrich our lives and add to our enjoyment of being alive, but we all know that no relationship is perfect.
If you're looking for tips to repair a relationship, you are in the right place.
A relationship is just like every other living thing in life, it needs care, love, and attention. Many couples overlook this and they later end up in an unhappy relationship. Find out how to repair an unhappy relationship and turn things around for the better.
Below are 20 tips to fix a relationship or repair an unhappy marriage.
1. Try to build up an effective communication structure
Communication is the most important key that keeps relationships healthy. Good couples make time to check in with one another regularly.
It is essential to talk about things that you deem fit to be discussed. Try to spend a few minutes each day discussing deeper or more personal subjects to stay connected to your partner in the long term.
In case your partner is not around you, always keep in touch with him or her. This might be through the use of social media like Whatsapp, Facebook, Twitter, etc., and other electronic media like faxes and emails.
2. Learn to leave the past in the past
We're all human beings, and all of us make mistakes, even the most perfect people make mistakes.
If you want to know how to repair a relationship and have a successful and healthy one, both of you must learn to forgive each other's mistakes.
When you forgive them, don't bring them up again, especially avoid this when you argue. To fend off being unsatisfied with a relationship, stop bringing past mistakes into present conversations or conflicts.
3. Be more committed to the relationship
Increasing your level of commitment in a relationship is an important step in repairing an unhappy relationship. Be much more into the relationship than before. Be supportive of your partner's individual goals and ambitions.
This doesn't mean staging a ceremony or renewing the vows you made but it means cutting down and stopping on the behaviors that diminish our sense of commitment to a relationship.
For example, nonverbal displays of love—the kind of smile that makes you crinkle your eyes in delight and happiness; gesticulating, or leaning toward each other—reinforce love and commitment in a relationship.
4. Acknowledge your differences
Knowing and understanding the qualities or features of your partner that differentiate him or her from your personality goes a long way in repairing a relationship.
Talking about your differences in a spirit of reconciliation will help each of you sort out a lot of pending issues in the relationship.
Don't look at your differences between you and your partner as a burden, but rather look at it as something that each of you can use to understand each other better.
5. Learn to trust one another
Trust is essential and vital in a relationship as it is the foundation or bedrock on which all relationships are built on. A relationship that does not involve trust is fake and in vain.
When you can trust someone, you have this strong feeling that they will always tell you the plain truth. You know they care about you and you know that they will always be there for you.
You will not have to worry about manipulation, unfaithfulness, deceit, or betrayal. Ultimately, you can relax when you can trust and rely on your partner.
6. Try to see the world through their eyes too
To avoid being unsatisfied with a relationship, you need to make an effort not to judge your partner.
It takes a lot of courage, boldness, integrity, and strength for your partner to confess about something that they feel may be bad or hurtful.
When you judge your partner for his or her mistakes, you make your partner feel worse, and you can also psychologically and mentally affect them.
To improve an unhappy relationship, put yourself in your partner's shoes and try to see the world how they see it. This will help you understand their perspective and choices better and judge them less.
7. Forgive often
What to do when you are unhappy in a relationship?
A little bit of forgiveness for the petty annoyances, mistakes, inactions, and acts of omission that litter our daily lives, goes a long way to increasing our satisfaction in a relationship.
If your partner has done something objectionable, talk to your partner without accusing them, shouting or cursing them. Help your partner understand how you feel about the wrong he or she has done.
Lastly, unless an unpardonable mistake is repeated several times, learn to forgive and forget easily.
8. Get to know them every day
How to fix an unhappy relationship?
Make a conscious effort to understand your partner's personality, hobbies, and most of all understand their behavior.
By understanding each other's thoughts, actions, and behaviors both of you can change and become better individuals and a better couple.
9. Understand their love map
There are many ways to show love. Each person enjoys receiving affection slightly differently.
Knowing what makes your loved one feel appreciated and loved helps you offer more of it.
Fixing a relationship can mean exploring together each other's love maps and working on providing more affection in the way they need it.
10. Show daily appreciation
One of the key elements of a happy relationship is feeling appreciated. When a person feels they are taken for granted, their satisfaction with relationships drops.
What are the things your partner does for you frequently? How can you show you value their effort today?
Start small so you can stay consistent. Unhappiness in a relationship can be mitigated when you actively and daily work on your relationship.
11. Schedule check-ins
What to do when unhappy in a relationship? What would you do if you run a company you want to see succeed?
Try to treat your relationship as if you were the CEO of it. Happy couples make an effort to check in with each other.
The same way you wouldn't let your company run itself and hope for the best, you shouldn't think your relationship will run itself. If you want to see it succeed and turn an unhappy relationship into a happy one, make sure you commit time and energy into it.
One of the ways you can do this is by having weekly check-ins with your partner to discuss what is going well and what needs improvement. When you do this remember to share gently and accept feedback.
12. Listen actively
If you wonder how to fix unhappy relationships, try improving your listening skills. Feeling heard is one of the main roads to feel appreciated and satisfied with a relationship.
When your partner shares something important, make an effort to concentrate and be curious.
Ask questions, clarify, reflect how you heard what they shared, and show you care about the story they are sharing with you. If you feel you are unable to do so, invite them to talk about it when you can be focused.
13. Show you care how they feel
To fix an unhealthy relationship you need to show how much you care about your partner and about the relationship itself. This can be challenging if you are not happy in a relationship and it feels you simply coexist together.
Therefore, you might want to start small. Ask them how their day went, was there anything that upset them, or something interesting they experienced today?
Be curious about how they are and what they are going through. This is sure to make them feel like you care and they will reciprocate.
14. Have new experiences together
How to fix a loveless marriage?
Start by remembering why you got together and try to notice those traits in your partner that once made you fall in love with them.
Besides going back to what attracted you to them and doing together activities you once did together, organize new ones. Exploring new adventures helps partners see each other in a new light and rekindle the flames.
Enjoying the time you have together will make you feel more connected and attracted to each other.
15. Have time apart
Mending relationships is not all about things you do together. It is about things you do apart too. How to repair your relationship? Have quality time together, and quality time apart. Mending the relationship with yourself helps improve all others.
16. Aim to provide and accept constructive feedback
Unhappiness in a relationship can come from many places, among other too much criticism.
Research shows hostile criticism was negatively associated with relationship functioning, compared to non-hostile or helpful criticism which was positively related to relationship functioning.
Be mindful of how you provide feedback and whether you're accepting it.
17. Learn to fight better
If you wonder how to repair relationships, consider this unhappy relationship advice asap. Conflict is an integral part of relationships and associated with relationship satisfaction.
Studies show that for females numbers and perceived resolution of conflicts matter most, while for men that is the number and stability of conflict.
How much conflict you have and how you go about solving it can change the face of your unhappy relationship.
Fight smarter by only discussing important matters when you feel you have the capacity to do so, and by focusing on the behavior, not on personality changes. Fight the problem, not each other.
18. Work on sex life
Being unhappy in a relationship can be a result of the state of a sex life too.
Good sex life doesn't necessarily make a relationship good, but bad sex life can make up for a bad one. Perhaps, good sex is the answer to why do guys stay in unhappy relationships.
Sexual energy is life energy, so it is important to work on improving sexual intimacy and keeping the flames alive.
Remember, sex starts with the things you do outside of the bedroom like flirting, teasing each other, spending quality time together, showing appreciation and support.
19. Spend time with happy couples
This unhappy relationship advice reminds of the old saying – who you spend time with the most is who you will become.
When we are positive people who work on their challenges in a respectful way we are inspired to do the same. It can be helpful to have a couple to look up to when trying to fix a miserable relationship.
20. Consider therapy or a course
Having a professional counselor help you repair an unhappy relationship can speed up the process. If you are not ready to visit a psychologist's office, you can try a marriage course.
Improving communication and conflict resolution will have immense benefits on your perspective of relationship quality.
Furthermore, if you find you are always unhappy in relationships, you might want to consider therapy to uncover why that is.
Couple therapy and individual therapy go well together, as some topics are better addressed when you're together, while others are on one partner to work on themselves.
Also Watch:
Keep caring and keep trying
If you find yourself in an unhappy relationship, don't despair. There are things you can try to repair and improve loveless relationship quality.
Tips to rehabilitate an unhappy relationship remind of things like the importance of communication, respectful conflict resolution, constructive feedback and criticism, and constant effort to make it better.
If you treat your relationship like you would your company, you won't expect it to fix itself and you will invest in making it work.
If you commit to caring more, asking more questions, being curious about your partner and their perspective, and listening closely, the results will follow.
The unhappy relationship was once happy and you can have that again if you both consistently devote time and energy to revitalizing it.
Share this article on
Want to have a happier, healthier marriage?
If you feel disconnected or frustrated about the state of your marriage but want to avoid separation and/or divorce, the marriage.com course meant for married couples is an excellent resource to help you overcome the most challenging aspects of being married.
More On This Topic
You May Also Like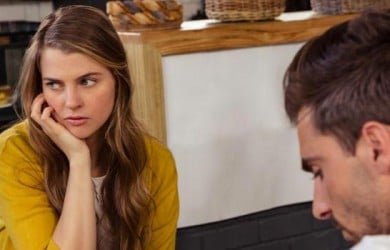 Popular Topics On Married Life