8 Clear Signs He is Really Serious about You
Men aren't always adept at expressing feelings of love towards their partners. Consequently, it is tough to tell the difference between a guy who wants to take the relationship to the next level and one who is just going with the flow.
If you are wondering whether your partner is serious about you, studying his gestures and attitude towards you can settle the turmoil in your head. There are some evident signs a relationship is getting serious. Recognizing these signs will help you take the step in the right direction.
Here are 8 things your bae will do when he truly loves you and wants you to be a part of his life
1. He will prioritize you over everything
One of the signs he wants a committed relationship with you is when you become a high priority for him.
When you are dating someone, the person must make you feel special and prioritize you over everything else. In no doubt, work, study, family, and health need to be on his priority list at some point in time; yet, if he truly loves you, he will confide in you about his challenges, making you feel important and wanted.
What's more, simple gestures can tell you a lot about his feelings for you, giving you cues about your place in his life. For instance, when you plan a movie night or a romantic dinner together, he makes an extra effort to be there before the decided time. Similarly, if he remembers to wish you on the special occasions and the important milestones in your life namely, your couple anniversary or your promotion day, it means that he is serious about you. It is one of the definite signs he wants to commit.
2. He will value your opinions
Is he serious about you? You will know the definite answer when you find your man placing importance on your opinions and inputs.
Since your man respects and loves you he feels the need to talk to you and listen to your views on a particular subject. Regardless of whether he agrees with you or not, he values your opinions and takes them seriously.
If your man is always open to your suggestions, constantly involves you when making critical decisions, and listens to your counsel, it is a sign that he's into you and respects your viewpoint. He not only finds you physically attractive but also admires your intellectual capabilities.
3. He feels proud of you
The most prominent sign of a healthy relationship is when a couple feels attracted to certain traits they see in their partner. A man who is serious about his lady-love takes time to understand her strengths and constraints and accepts her for who she is.
If your boyfriend has chosen you to be the love of his life, he will not miss a chance to convey how proud he is of you. When a man is serious about you, he will compliment you often and will boast about your achievements.
Having stated that, a few men may not be very good at expressing how much they value their partners' accomplishments. Yet, they may do certain things that will reveal their inner emotions.
For instance, your guy may bring you around his friends to show off a little bit (in a nice way!) about having you in his life. Similarly, if he is proud of your talent, he will gift you something related to it.
4. He motivates you to achieve your goals
If your boyfriend is in with you for a long haul, he will understand the significance of your dreams and goals and motivate you to achieve them.
When a guy is serious about you, he will try to bring out the best in you by offering you motivation, constructive criticism, advice, and innovative ideas to help you get closer to your aspirations. Your partner's involvement in your pursuit of achievements is one of the evident signs he wants a serious relationship.
5. He will want to get romantic with you
Regardless of whether he hugs you randomly, cuddles up with you, or simply holds your hand, physical touch sends non-verbal signals that say a lot about the relationship you share.
Though intimacy is a critical part of a relationship, your bae will not merely be interested in showing you the way to his bedroom. He may reveal his love for you by cooking dinner before you get home from work, sending you a passionate message during the day, silently observing you as you talk, or hiding a small note with a love quote in your wallet. If your man is serious about you, he will strive to spend time with you and make you feel loved.
6. He introduces you to his parents
Yet another sign of his commitment to the relationship is when he wants you to meet his folks. The fact that his parents know about you is a huge milestone in your relationship. Your bae will not ask his parents to meet any random girl.
By introducing you to his family, he is not only revealing the lesser-known aspects of his life but also stating to his parents that this relationship has a future.
Furthermore, pay attention to how he introduces you to his family. If he refers to you as 'my girl, love, or partner', he is serious about the commitment he made to you.
7. He stands by you through thick and thin
Even after millions of years of biological evolution, a man's desire and natural instinct to protect the one he loves hasn't changed.
Since your bae sees you as his girl, he will support you in challenging times, rejoice in your achievements, attend to your needs when you fall ill, and protect you from any mental and physical harm. If your boyfriend is committed to you, he will always make you feel safe and show that he cares for you.
8. He trusts you with his feelings
This may sound like a gender stereotype, but it's true that men often find it tough to express their emotions and talk about their fears, insecurities, and worries. A man can only confide in the woman he trusts about the sensitive issues in his lives. Trust is the cornerstone of a relationship and if he comes to you with his frustrations and tells you his private things, he is serious about you.
Your boyfriend confiding in you is a clear-cut sign of his emotional respect for you, proving that he loves you dearly. Thus, even if it may not sound like a big deal, by trusting you with his secrets he is giving you a special place in his life.
Wrapping up
When you are in a relationship, it can be challenging to determine whether your man truly loves you or not. There are some serious relationship questions you must ask yourself and your partner to determine if the relationship is for a long haul. You must check for basic character traits like humility, compassion, forgiveness, and patience in your partner. It would also be a good idea to identify what he needs from you and what is his idea of a perfect relationship. One of the signs your casual relationship is getting serious is when both start discussing shared life goals.
The above-mentioned points will help you find out whether your boyfriend is serious about you and the future you both may share.
Share this article on
Want to have a happier, healthier marriage?
If you feel disconnected or frustrated about the state of your marriage but want to avoid separation and/or divorce, the marriage.com course meant for married couples is an excellent resource to help you overcome the most challenging aspects of being married.
More On This Topic
You May Also Like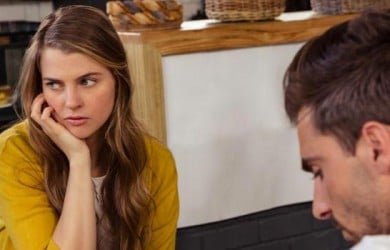 Popular Topics On Married Life